Abstract
The morphogenic potential and free-radical scavenging activity of the medicinal plant, Silybum marianum L. (milk thistle) were investigated. Callus development and shoot organogenesis were induced from leaf explants of wild-grown plants incubated on media supplemented with different plant growth regulators (PGRs). The highest frequency of callus induction was observed on explants incubated on Murashige and Skoog (MS) medium supplemented with 5.0 mg l−1 6-benzyladenine (BA) after 20 days of culture. Subsequent transfer of callogenic explants onto MS medium supplemented with 2.0 mg l−1 gibberellic acid (GA3) and 1.0 mg l−1 α-naphthaleneacetic acid (NAA) resulted in 25.5 ± 2.0 shoots per culture flask after 30 days following culture. Moreover, when shoots were transferred to an elongation medium, the longest shoots were observed on MS medium supplemented with 0.5 mg l−1 BA and 1.0 mg l−1 NAA, and these shoots were rooted on a PGR-free MS basal medium. Assay of antioxidant activity of in vitro and in vivo grown tissues revealed that significantly higher antioxidant activity was observed in callus than all other regenerated tissues and wild-grown plants.
Access options
Buy single article
Instant access to the full article PDF.
USD 39.95
Price excludes VAT (USA)
Tax calculation will be finalised during checkout.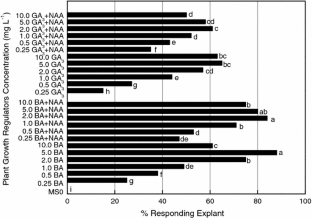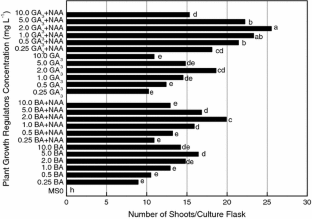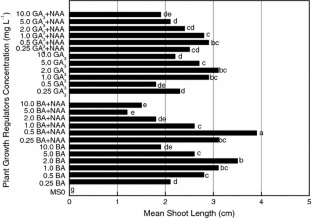 Abbreviations
BA:

6-Benzyladenine

DPPH 1:

1-Diphenyl-2-picrylhydrazyl

FRSA:

Free-radical scavenging activity

GA3 :

Gibberellic acid

Kn:

Kinetin

MS0:

MS medium without plant growth regulators

½ MS:

Half-strength macro-nutrients of MS medium

NAA:

α-Naphthaleneacetic acid

PGRs:

Plant growth regulators

Zn:

Zeatin
References
Abbasi BH, Saxena PK, Murch SJ, Liu CZ (2007) Echinacea biotechnology: challenges and opportunities. In Vitro Cell Dev Biol-Plant 43:481–492

Ahmad M, Khan MA, Hasan A, Zafar M, Sultana S (2008) Chemotaxonomic standardization of herbal drugs milk thistle and globe thistle. Asian J Chem 20:4443–4459

Alikardis F, Papadakis D, Pantelia K, Kephalas T (2000) Flavonolignan production from Silybum marianum transformed and untransformed root cultures. Fitoterapia 71:379–384

Becker H, Schrall R (1977) Callus und suspesionkulturen von Silybum marianum. Planta Med 31:185–192

Cacho M, Moran M, Corchete P, Fernandez-Tarrago J (1999) Influence of medium composition on the accumulation of flavonolignans in cultured cells of Silybum marianum (L.) Gaertn. Plant Sci 144:63–68

Cai Y, Luo Q, Sun M, Corker H (2004) Antioxidant activity and phenolic compounds of 112 traditional Chinese medicinal plants associated with anticancer. Life Sci 74:2157–2184

Cimino C, Cavalli SV, Spina F, Natalucci C, Priolo N (2006) Callus culture for biomass production of milk thistle as a potential source of milk clotting peptidases. Elec J Biotech 9:3

Ferreiro P, Pais MSS, Cabral JMS (1991) Production of silybin-like compounds in cell suspension cultures of Silybum marianum. Planta Med 57:2–3

Flora K, Hahn M, Rosen H, Benner K (1998) Milk Thistle (Silybum marianum) for therapy of liver disease. Am J Gastroenterol 93:139–143

Gamborg OL, Miller RA, Ojima K (1968) Nutrient requirements of suspension culture of soybean root cells. Exp Cell Res 9:213–218

George MW, Tripepi RR (2001) Plant preservation mixture can affect shoot regeneration from leaf explants of chrysanthemum, European birch, and rhododendron. HortScience 36:639–644

Hasanloo T, Kharai-Nejad RA, Majidi E, Ardakani MRS (2008) Flavonolignan production in cell suspension culture of Silybum marianum. Pharma Biol 46:876–882

Hetz E, Huancaruna Perales E, Liersch R, Schieder O (1995) Plant generation from mesophyll and suspension protoplasts of Silybum marianum. Planta Med 61:554–557

Iqbal SM, Srivastava PS (2000) In vitro micropropagation of Silybum marianum L. from various explants and silybin content. J Plant Biochem Biotech 9:81–87

Katiyar SK, Korman NJ, Mukhtar H, Agrawal R (1997) Protective effects of silymarin against photocarcinogenesis in a mouse skin model. J Natl Cancer Inst 89:556–566

Khan MA, Blackshaw RE, Marwat KB (2009) Biology of milk thistle (Silybum marianum) and the management options for growers in north-western Pakistan. Weed Biol Manag 9:99–105

Koksal E, Gulcin I, Beyza S, Sarikaya O, Bursal E (2009) In vitro antioxidant activity of silymarin. J Enz Inhibit Med Chem 24:395–405

Koroch A, Juliani HR, Kapteyn J, Simon JE (2002) In vitro regeneration of Echinacea purpurea from leaf explants. Plant Cell Tiss Organ Cult 21:525–530

Kurkin VA, Zapeschnaya GG, Volotsueva AV, Avdeeva EV, Pimenov KS (2001) Flavolignans of Silybum marianum fruit. Chem Nat Prod 37:315–317

Ligeret H, Brault A, Vallerand D, Haddad Y, Haddad PS (2008) Antioxidant and mitochondrial protective effects of silibinin in cold preservation-warm reperfusion liver injury. J Enthopharm 115:507–514

Liu CZ, Murch SJ, El-Demerdash M, Saxena PK (2004) Artemisia judaica L.: micropropagation and antioxidant activity. J Biotech 110:63–71

Lucchesini M, Bertoli A, Mensuali-Sodi A, Pistelli L (2009) Establishment of in vitro cultures from Echinacea angustifolia D.C adult plants for the production of phytochemical compounds. Sci Hort 122:484–490

Meratan AA, Ghaffari SM, Niknam V (2009) In vitro organogenesis and antioxidant enzymes activity in Acanthophyllum sordidum. Physiol Plant 53:5–10

Morazzoni P, Bombardelli E (1995) Silybum marianum (Cardus marianum). Fitoterapia 66:3–42

Murashige T, Skoog F (1962) A revised medium for rapid growth and bioassays with tobacco tissue cultures. Physiol Plant 15:473–497

Radice S, Caso OH (1997) Somatic embryogenesis and organogenesis in cultured cotyledons of Silybum marianum (L) Gaertn. Biocell 21:59–64

Sagare AP, Lee YL, Lin TC, Chen CC, Tsay HS (2000) Cytokinin-induced somatic embryogenesis and plant regeneration in Corydalis yanhusuo (Fumariaceae)- a medicinal plant. Plant Sci 160:139–147

Sanchez-Sampedro MA, Fernandez-Tarrago J, Corchete P (2005) Enhanced silymarin accumulation is related to calcium deprivation in cell suspension cultures of Silybum marianum. J Plant Physiol 162:1177–1182

Sanchez-Sampedro A, Kim HK, Choi YH, Verpoorte R, Corchete P (2007) Metabolomic alterations in elicitor treated Silybum marianum suspension cultures monitored by nuclear magnetic resonance spectroscopy. J Biotech 130:133–142

Selvakumar V, Anbudurai PR, Balakumar T (2001) In vitro propagation of the medicinal plant Plumbago zeylanica L. through nodal explants. In Vitro Cell Dev Biol-Plant 37:280–284

Stfaan P, Werbrouck O, Debergh PC (1994) Applied aspects of plant regeneration. In: Dixon RA, Gonzales RA (eds) Plant cell culture: a practical approach. Oxford University Press, Oxford, pp 127–145

Takahata Y, Ohnishi-Kameyama M, Furuta S, Takahashi M, Suda I (2001) Highly polymerized procyanidins in brown soybean seed coat with a high radical-scavenging activity. J Agric Food Chem 49:5843–5847

Tawaha K, Alali FQ, Gharaibeh M, Mohammad M, El-Elimat T (2007) Antioxidant activity and total phenolic content of selected Jordanian plant species. Food Chem 104:1372–1378

Tumova L, Tuma J (2009) Affecting production of secondary metabolites in Silybum marianum cell culture by Paraquat elicitor treatment. Chemicke Listy 103:503–510

Vaknin Y, Hadas R, Schafferman D, Murkhovsky L, Bashan N (2008) The potential of milk thistle (Silybum marianum L.), an Israeli native, as a source of edible sprouts rich in antioxidants. Intl J Food Sci Nutri 59:339–346

Valenzuela A, Guerra R, Videla LA (1986) Antioxidant properties of flavonoids silybin and silibinin, an active constituent of milk thistle: comparison with silymarin. Cancer Lett 147:77–84

Wallace S, Vaughn K, Stewart BW, Viswanathan T, Clausen E, Nagarajan S, Carrier DJ (2008) Milk thistle extracts inhibit the oxidation of low-density lipoprotein (LDL) and subsequent scavenger receptor-dependent monocyte adhesion. J Agric Food Chem 56:3966–3972

Wojdyło A, Oszmianski J, Czemerys R (2007) Antioxidant activity and phenolic compounds in 32 selected herbs. Food Chem 105:940–949

Zheng W, Wang SY (2001) Antioxidant activity and phenolic compounds in selected herbs. J Agric Food Chem 49:5165–5170

Zheng W, Xu XD, Dai H, Chen LQ (2009) Direct regeneration of plants derived from in vitro cultured shoot tips and leaves of three Lysimachia species. Sci Hort 122:138–141
Acknowledgments
Support of Pakistan Science Foundation (PSF) is highly acknowledged. Authors also appreciated Dr. Saleem A. Bokhari for his critical reading of manuscript.
About this article
Cite this article
Abbasi, B.H., Khan, M.A., Mahmood, T. et al. Shoot regeneration and free-radical scavenging activity in Silybum marianum L.. Plant Cell Tiss Organ Cult 101, 371–376 (2010). https://doi.org/10.1007/s11240-010-9692-x
Received:

Accepted:

Published:

Issue Date:

DOI: https://doi.org/10.1007/s11240-010-9692-x
Keywords
Silybum

Callus

Regeneration

Antioxidant

DPPH

Gibberellic acid