Abstract
A field test of wych elm (Ulmus glabra Huds.) trees micropropagated in tissue culture was established to compare their photosynthetic characteristics with those from control grafted scions. Measurements were made at the sixth growing season after planting. The results showed similarities between the two stock types in terms of height, diameter at breast height, and leaf morphology. Grafted trees, which were markedly less rejuvenated than micropropagated trees, performed better in many of the light absorption and leaf gas exchange attributes including maximum CO2 assimilation rate at saturating photosynthetic photon flux density (P max), apparent quantum yield of photosynthesis (α), transpiration rate (E), and stomatal conductance (g s). In the grafts, the direct effect of photosynthesis could be clearly identified by a significantly lower specific leaf area and a higher content of leaf dry mass. Chlorophyll a fluorescence parameters showed non-stressed growth patterns in both stock types. Rates of the maximal photochemical efficiency of photosystem II (F v/F m), potential electron capacity ('area'), and variable-to-initial fluorescence ratio (F v/F 0) were higher in micropropagated elms. Findings from this study indicate that micropropagated elm stock is ready for testing on a larger scale.
Access options
Buy single article
Instant access to the full article PDF.
USD 39.95
Price excludes VAT (USA)
Tax calculation will be finalised during checkout.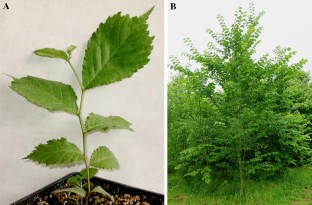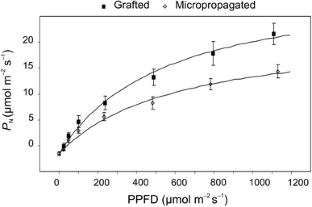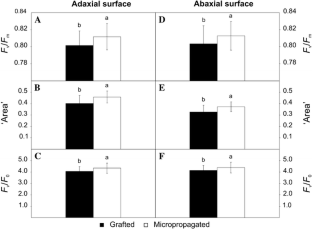 References
Becwar MR, Pullman GS (1995) Somatic embryogenesis in loblolly pine (Pinus taeda L.). In: Jain SM, Gupta PK (eds) Somatic embryogenesis in woody plants, vol 3. Kluwer Academic Publishers, Dordrecht, pp 287–301

Ben Jouira H, Hassairi A, Bigot C, Dorion N (1998) Adventitious shoot production from strips of stem in the Dutch elm hybrid 'Commelin': plantlet regeneration and neomycin sensitivity. Plant Cell Tissue Organ Cult 53:153–160

Benowicz A, Grossnickle SC, El-Kassaby YA (2002) Field assessment of Douglas-fir somatic and zygotic seedlings with respect to gas exchange, water relations, and frost hardiness. Can J Forest Res 32:1822–1828

Biroščíková M, Spišáková K, Lipták Š, Pichler V, Ďurkovič J (2004) Micropropagation of mature wych elm (Ulmus glabra Huds.). Plant Cell Rep 22:640–644

Bolhàr-Nordenkampf HR, Long SP, Baker NR, Öquist G, Schreiber U, Lechner EG (1989) Chlorophyll fluorescence as a probe of the photosynthetic competence of leaves in the field: a review of current instrumentation. Funct Ecol 3:497–514

Brasier C (1991) Ophiostoma novo-ulmi sp. nov., causative agent of current Dutch elm disease pandemics. Mycopathologia 115:151–161

Cicák A (1998) Knowledge of leaf area distribution in beech (Fagus sylvatica L.) spring shoots and possibility of its application in production ecology. Lesnictví–Forestry 44:250–255

Conde P, Loureiro J, Santos C (2004) Somatic embryogenesis and plant regeneration from leaves of Ulmus minor Mill. Plant Cell Rep 22:632–639

Conde P, Sousa A, Costa A, Santos C (2008) A protocol for Ulmus minor Mill micropropagation and acclimatization. Plant Cell Tissue Organ Cult 92:113–119

Corchete MP, Diez JJ, Valle T (1993) Micropropagation of Ulmus pumila L. from mature trees. Plant Cell Rep 12:534–536

Corredoira E, Vieitez AM, Ballester A (2002) Somatic embryogenesis in elm. Ann Bot 89:637–644

Corredoira E, Vieitez AM, Ballester A (2003) Proliferation and maintenance of embryogenic capacity in elm embryogenic cultures. In Vitro Cell Dev Biol Plant 39:394–401

Fenning TM, Gartland KMA, Brasier CM (1993) Micropropagation and regeneration of English elm, Ulmus procera Salisbury. J Exp Bot 44:1211–1217

Gautheret RJ (1940) Nouvelles recherches sur le bouregeonnement du tissue cambial d'Ulmus campestris cultivé in vitro. CR Acad Sci 210:744–746

George MW, Tripepi RR (1994) Cytokinins, donor plants and time in culture affect shoot regenerative capacity of American elm leaves. Plant Cell Tissue Organ Cult 39:27–36

Grossnickle SC, Major JE (1994a) Interior spruce seedlings compared with emblings produced from somatic embryogenesis. II. Stock quality assessment prior to field planting. Can J Forest Res 24:1385–1396

Grossnickle SC, Major JE (1994b) Interior spruce seedlings compared with emblings produced from somatic embryogenesis. III. Physiological response and morphological development on a reforestation site. Can J Forest Res 24:1397–1407

Hammatt N (1999) Delayed flowering and reduced branching in micropropagated mature wild cherry (Prunus avium L.) compared with rooted cuttings and seedlings. Plant Cell Rep 18:478–484

Harvengt L, Meier-Dinkel A, Dumas E, Collin E (2004) Establishment of a cryopreserved gene bank of European elms. Can J Forest Res 34:43–55

Kapaun JA, Cheng Z-M (1997) Plant regeneration from leaf tissues of Siberian elm. HortScience 32:301–303

Krajňáková J, Longauer R (1996) Culture initiation, multiplication and identification of in vitro regenerants of resistant hybrid elms. Lesnictví–Forestry 42:261–270

Lloyd GB, McCown BH (1980) Commercially feasible micropropagation of mountain laurel, Kalmia latifolia, by use of shoot-tip culture. Proc Int Plant Prop Soc 30:421–427

Malá J (2000) Micropropagation of mature elm trees in vitro. J Forest Sci 46:260–264

Malá J, Cvikrová M, Chalupa V (2007) Micropropagation of mature trees of Ulmus glabra, Ulmus minor and Ulmus laevis. In: Jain SM, Häggman H (eds) Protocols for micropropagation of woody trees and fruits. Springer, Dordrecht, pp 237–246

Maxwell K, Johnson GN (2000) Chlorophyll fluorescence–a practical guide. J Exp Bot 51:659–668

Maynard CA (1994) Six-year field test results of micropropagated black cherry (Prunus serotina). In Vitro Cell Dev Biol Plant 30:64–69

Meziane D, Shipley B (2001) Direct and indirect relationships between specific leaf area, leaf nitrogen and leaf gas exchange. Effects of irradiance and nutrient supply. Ann Bot 88:915–927

Mohammed GH, Binder WD, Gillies SL (1995) Chlorophyll fluorescence: a review of its practical forestry applications and instrumentation. Scand J Forest Res 10:383–410

Newhouse AE, Schrodt F, Liang H, Maynard CA, Powell WA (2007) Transgenic American elm shows reduced Dutch elm disease symptoms and normal mycorrhizal colonization. Plant Cell Rep 26:977–987

Nsangou M, Greenwood M (1998) Physiological and morphological differences between somatic, in vitro germinated and normal seedlings of red spruce (Picea rubens Sarg.). Can J Forest Res 28:1088–1092

Panda D, Dash PK, Dhal NK, Rout NC (2006) Chlorophyll fluorescence parameters and chlorophyll content in mangrove species grown in different salinity. Gen Appl Plant Physiol 32:175–180

Percival GC, Sheriffs CN (2002) Identification of drought-tolerant woody perennials using chlorophyll fluorescence. J Arboric 28:215–223

Prioul JL, Chartier P (1977) Partitioning of transfer and carboxylation components of intracellular resistance to photosynthetic CO2 fixation: a critical analysis of the methods used. Ann Bot 41:789–800

Rahman MS, Messina MG, Newton RJ (2003) Performance of loblolly pine (Pinus taeda L.) seedlings and micropropagated plantlets on an east Texas site II. Water relations. Forest Ecol Manag 178:257–270

Schneck V, Ewald D (2001) Growth and performance of micropropagated hybrid larch clones. Silvae Genet 50:240–243

Smalley EB, Guries RP (1993) Breeding elms for resistance to Dutch elm disease. Annu Rev Phytopathol 31:325–352

Thakur RC, Karnosky DF (2007) Micropropagation and germplasm conservation of Central Park Splendor Chinese elm (Ulmus parvifolia Jacq. 'A/Ross Central Park') trees. Plant Cell Rep 26:1171–1177

Viherä-Aarnio A, Ryynänen L (1995) Growth, crown structure and seed production of birch seedlings, grafts and micropropagated plants. Silva Fenn 29:3–12

Zimmerman RH, Miller SS (1991) Orchard growth and fruiting of micropropagated apple trees. J Am Soc Hortic Sci 116:780–785
Acknowledgments
The authors thank Dr. D. Gömöry for the statistical expertise, Dr. A. Cicák and Mr. P. Imre for their excellent technical assistance, and Mrs. Elizabeth Ritch-Krč for the language revision. This work was financed by the Slovak Grant Agencies VEGA (1/0831/09), APVV (0082–06), and the European Regional Development Fund (Adaptive Forest Ecosystems project).
About this article
Cite this article
Ďurkovič, J., Čaňová, I., Priwitzer, T. et al. Field assessment of photosynthetic characteristics in micropropagated and grafted wych elm (Ulmus glabra Huds.) trees. Plant Cell Tiss Organ Cult 101, 221–228 (2010). https://doi.org/10.1007/s11240-010-9680-1
Received:

Accepted:

Published:

Issue Date:

DOI: https://doi.org/10.1007/s11240-010-9680-1
Keywords