Abstract
Benzyladenine (BA) and/or gibberellic acid (GA3) were applied in 20% white exterior latex paint separately at 0, 0.3, 1, 3, 10, or 30 mM; and at 1, 10, or 30 mM of each plant growth regulator (PGR) in a 3 × 3 factorial to 40 cm long stem segments of Acer saccharinum L. Softwood shoots were forced from these stem segments at various times of the year in a greenhouse and in a laboratory, these resulting shoots were surface disinfested and used as explants in vitro on Driver and Kuniyuki Walnut medium with 0 or 0.01 μM thidiazuron (TDZ). There was some response to the plant growth regulators applied in paint for shoot production from the stem segments and in vitro. Explants from softwood shoots forced from stems painted with 3 mM BA and cultured on medium with 0.01 μM TDZ produced more shoots than explants taken from softwood shoots forced with other BA concentrations or controls. Callus also grew significantly more on explants from stems treated with 3 mM BA cultured on 0.01 μM TDZ than explants harvested from stems painted with other concentrations of BA excluding 10 mM BA. When stem segments treated with BA plus GA3 were compared as a group to controls, more and longer softwood shoots grew on the stems painted with PGRs when all four runs were pooled (Sept. 2005 through Feb. 2006). Application of PGRs in paint extends the season of production of softwood shoots that may be used as explant materials and their subsequent performance in vitro.
Access options
Buy single article
Instant access to the full article PDF.
US$ 39.95
Tax calculation will be finalised during checkout.
Subscribe to journal
Immediate online access to all issues from 2019. Subscription will auto renew annually.
US$ 119
Tax calculation will be finalised during checkout.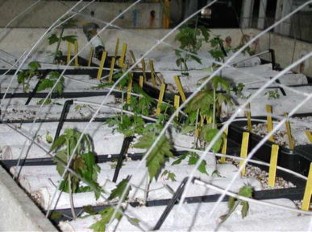 Abbreviations
BA:

Benzyladenine

DKW:

Driver and Kuniyuki Walnut nutrient salt formulation

GA3 :

Gibberellic acid

PGR:

Plant growth regulator

TDZ:

Thidiazuron, N-phenyl-N′-1,2,3-thiadiazol-5-yl urea
References
Ashby WC, Preece JE, Huetteman CA, Bresnan DF, Roth PL (1987) Silver maple tree improvement for biomass production. In: Proceedings of the 5th north central tree improvement conference. Sponsored by: North Central Tree Improvement Association, pp 6–23

Davies PJ (2004) Plant hormones: biosynthesis, signal transduction, action!. Kluwer, Dordrecht

Dirr MA (1990) Manual of woody landscape plants: their identification, ornamental characteristics, culture, propagation and uses, 4th edn. Stipes Publishing Company, Champaign

Driver JA, Kuniyuki AH (1984) In vitro micropropagation of paradox walnut rootstock. Hortic Sci 19:507–509

Gabriel WJ (1990) Acer saccharinum L. Silver maple. In: Burns RM, Honkala BH (Tech Coord). Silvics of North America vol 2. Hardwoods. USDA, Forest Service Agric. Handbook 654, Washington, pp 70–77

Henry PH, Preece JE (1997) Production of shoots from dormant species of Acer as influenced by length and caliper of stem sections. J Environ Hortic 15:153–156

SPSS Inc (2004) 13.0 version. http://www.spss.com

Preece JE (2008) Stock plant physiological factors affecting growth and morphogenesis. In: George EF, Hall MA, De Klerk GJ (eds) Plant propagation by tissue culture, vol 1 The background, 3rd edn. Springer, Dordrecht, pp 403–422

Preece JE, Read PE (2003) Novel methods in micropropagation. Acta Hortic 616:71–76

Preece JE, Read PE (2005) The biology of horticulture an introductory textbook, 2nd edn. Wiley, Hoboken

Preece J, Read P (2007) Forcing leafy explants and cuttings from woody species. Propag Ornam Plants 7:138–144

Preece JE, Huetteman CA, Ashby WC, Roth PL (1991) Micro- and cutting propagation of silver maple I results with adult and juvenile propagules. J Am Soc Hortic Sci 116:142–148

Preece JE, Van Sambeek JW, Henry PH, Zaczek J (2002) Forcing the tissue. Amer Nurseryman 196(7):26–30, 32, 34

Srivastava LM (2002) Plant growth and development hormones and environment. Elsevier, USA

Steel RGD, Torrie JH (1980) Principles and procedures of statistics a biometrical approach, 2nd edn. R.R. Donnelley and Sons Inc, Chicago

Van Sambeek JW, Lambus LJ, Preece JE (1997) Production of epicormic sprouts on branch stem segments of adult black walnut for in vitro culture. In: 88th Annual Report Northern Nut growers Association, pp 93–104

Weitzman S, Hutnik RJ (1965) Silver maple (Acer saccharinum L.) In: Silvics of forest trees in the United States. Fowells HA (comp) U.S. Dept Agric, Agriculture Handbook 271.Washington, pp 63–65

Yang G, Read PE (1993) In vitro culture of Vanhoutte's spirea explants from 'secondary cultures' and dormant stems forced in solutions containing plant growth regulators. Plant Cell Tissue Organ Cult 33:25–30
About this article
Cite this article
Mansouri, K., Preece, J.E. The influence of plant growth regulators on explant performance, bud break, and shoot growth from large stem segments of Acer saccharinum L. Plant Cell Tiss Organ Cult 99, 313 (2009). https://doi.org/10.1007/s11240-009-9606-y
Received:

Accepted:

Published:
Keywords
Benzyladenine (BA)

Gibberellic acid (GA3)

Epicormic shoots

In vitro

Silver maple

Shoot forcing