Abstract
Transgenic rice was developed from 'Swarna', the most popular indica rice cultivar (Oryza sativa L.) in South East Asia, with a potato chymotrypsin inhibitor gene (pin2) through Agrobacterium-mediated transformation. Four out of nine primary transgenic plants had a single-copy T-DNA insertion while other five plants had two copies. Mendelian pattern of inheritance of the transgene (pin2) was observed in the T1 generation progeny plants. Whole plant bioassays conducted at both vegetative and reproductive stages and cut stem assays showed enhanced levels of resistance of transgenic rice against yellow stem borer. The transgenic rice lines with plant derived proteinase inhibitor genes would develop into resistant cultivars to fit into resistance breeding strategies as an important component of integrated pest management in rice.
Access options
Buy single article
Instant access to the full article PDF.
US$ 39.95
Tax calculation will be finalised during checkout.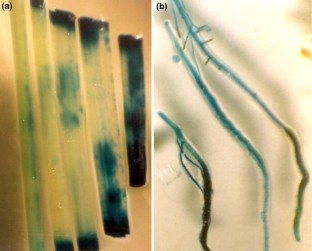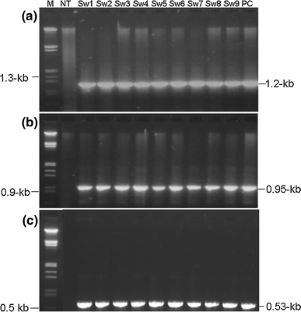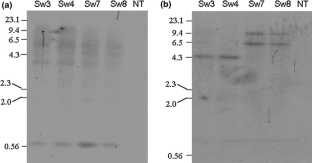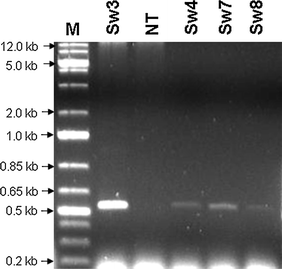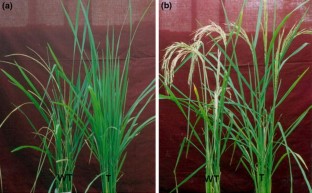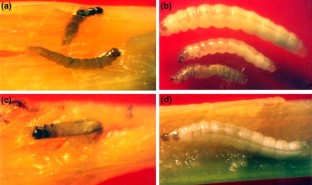 References
Baisakh N (2000) Improvement of rainfed lowland indica rice through in vitro culture and genetic engineering. Thesis submitted to Utkal University, Orissa, India

Baisakh N, Datta SK (2007) Stem borer resistance: Bt rice. In: Datta SK (ed) Rice in genomics era. Taylor & Francis publishers, London, pp 139–177

Baisakh N, Datta K, Oliva N, Ona I, Rao GJN, Mew TW, Datta SK (2001) Rapid development of homozygous transgenic rice using anther culture harboring rice chitinase gene for enhanced sheath blight resistance. Plant Biotechnol 18:101–108

Bu QY, Wu L, Yang SH, Wan JM (2006) Cloning of a potato proteinase inhibitor gene PINII-2x from diploid potato (Solanum phurejia L.) and transgenic investigation of its potential to confer insect resistance in rice. J Integr Plant Biol 48:732–739

Cluster PD, Odell M, Metzlaff M, Flavell RB (1996) Details of T-DNA structural organization from a transgenic petunia population exhibiting co-suppression. Plant Mol Biol 32:1197–1203

Comai L, Moran P, Maslyar D (1990) Novel and useful properties of a chimeric plant promoter combining CaMV 35S and MAS elements. Plant Mol Biol 15:373–381

Datta K, Vasquez A, Tu J, Torrizo L, Alam MF, Oliva N, Abrigo E, Khush GS, Datta SK (1998) Constitutive and tissue-specific differential expression of the cry1Ab gene in transgenic rice plants conferring resistance to rice insect pest. Theor Appl Genet 97:20–30

Datta K, Koukolikova-Nicola Z, Baisakh N, Oliva N, Datta SK (2000) Agrobacterium-mediated engineering for sheath blight resistance of indica rice cultivars from different ecosystems. Theor Appl Genet 100:832–839

Dirie A (1998) Dispersal behavior of stem borers relative to the design of resistance management strategies for transgenic Bt rice. PhD Dissertation, University of Philippines, Los Banos

Ditta G, Stanfield S, Corbin D, Helinski DR (1980) Broad host range DNA cloning system for gram-negative bacteria: construction of gene bank of Rhizobium meliloti. Proc Natl Acad Sci USA 77:7347–7351

Duan X, Li X, Xue Q, Abo-ei-saad M, Xu D, Wu R (1996) Transgenic rice plants harboring an introduced potato proteinase inhibitor II gene are insect resistant. Nature Biotechnol 14:494–498

Ghareyazie B, Alinia F, Menguito CA, Rubia LG, de Palma JM, Lapwing EA (1997) Enhanced resistance to two stem borers in an aromatic rice containing a synthetic cry1a(b)gene. Mol Breed 3:401–405

Huang J, Wei QZM, Long H, Yu A, Zhu X (2001) Agrobacterium tumefaciens-mediated transformation of rice with the spider insecticidal gene conferring resistance to leaf folder and striped stem borer. Cell Res 11:149–155

Irie K, Hosoyama H, Takeuchi T, Iwabuchi, Watanabe H, Abe M, Abe K, Arai S (1996) Transgenic rice established to express corn cystatin exhibits strong inhibitory activity against insect gut proteinases. Plant Mol Biol 30:149–157

Khanna HK, Raina SK (1999) Agrobacterium-mediated transformation of indica rice cultivars using binary and super binary vectors. Aust J Plant Physiol 26:311–324

Khanna HK, Raina SK (2002) Elite indica transgenic rice plants expressing modified Cry 1Ac endotoxin of Bacillus thuringiensis show enhanced resistance to yellow stem borer (Scirpophaga incertulas). Transgenic Res 11:411–423

Komari T, Hiei Y, Murai N, Kumashiro T (1996) Vectors carrying two separate T-DNAs for co-transformation of higher plants mediated by Agrobacterium tumefaciens and segregation of transformants free from selection markers. Plant J 10:165–174

Lee SI, Lee SH, Koo JC, Chun HJ, Lim CO, Mun JH, Song YH, Cho MJ (1999) Soybean kunitz trypsin inhibitor (SKTI) confers resistance to the brown planthopper (Nilaparvata lugens Stal) in transgenic rice. Mol Breed 5:1–9

Mellon M, Rissler J (1998) Now or never: serious new plants to save a natural pest control. MA: Union of Concerned Scientists, Cambridge

Mishra B (2000) High yielding rice varieties of India–2000, Directorate of rice research (DRR) Bulletin 2001, Mishra B (ed), pp. 1

Mochizuki A, Nishizawa Y, Onodera H, Tabei U, Toki S, Habu Y, Ogaki M, Ohasi Y (1999) Transgenic rice plants expressing a trypsin inhibitor are resistant against rice stem borers, Chilo suppressalis. Entomol Exp Appl 93:173–178

Murashige T, Skoog F (1962) A revised medium for rapid growth and bioassays with tobacco tissue cultures. Physiol Plant 15:473–497

Murray MG, Thompson WF (1980) Rapid isolation of higher molecular weight plant DNA. Nucl Acids Res 8:4321–4325

Nagadhara D, Ramesh S, Pasalu IC, Rao KY, Krishnaiah NV, Sarma NP, Brown DP, Gatehouse JA, Reddy VD, Rao KV (2003) Transgenic indica rice resistant to snap-sucking insects. Plant Biotechnol J 1:231–240

Rao VR, Reddy PS, Murthy N, Rao I, Rao PS, Rao CB, Rao GM (1983) Swarna (MTU 7029)–a new stable hybrid with wide adaptation. Oryza 20:240–242

Rueb S, Hensgens LAM (1997) Improved histochemical staining for β-d-glucuronidase activity in monocotyledonous plants. Rice Genet Newslett 6:168

Tu J, Datta K, Alam MF, Fan Y, Khush GS, Datta SK (1998) Expression and function of a hybrid Bt toxin gene in transgenic rice conferring resistance to insect pest. Plant Biotechnol 15:195–203

Vain P, Worland B, Clarke MC, Richard G, Beavis M, Liu H, Kohli A, Leech M, Snape J, Christou P (1998) Expression of an engineered cysteine proteinase inhibitor (Oryzacystatin-Idelta D86) for nematode resistance in transgenic rice plants. Theor Appl Genet 96:266–271

Vijayachandra K, Palanichelvam K, Veluthambi K (1995) Rice scutellum induces Agrobacterium tumefaciens vir genes and T-strand generation. Plant Mol Biol 29:125–133

Vila L, Quilis J, Meynard D, Breitler JC, Marfa V, Murillo I, Vassal JM, Messeguer J, Guiderdoni E, Segundo BS (2005) Expression of the maize proteinase inhibitor (mpi) gene in rice plants enhances resistance against the striped stem borer (Chilo suppressalis): effects on larval growth and insect gut proteinases. Plant Biotechnol J 3:187–202

Xu DP, Xue DQZ, McElory Y, Hilder VAM, Wu R (1996) Constitutive expression of a cowpea trypsin inhibitor gene, CpTI, in transgenic rice plants confers resistances to 2 major rice insect pests. Mol Breed 2:67–173

Xu K, Xia X, Fukao T, Canlas P, Maghirang-Rodriguez R, Heuer S, Ismail AI, Bailey-Serres J, Ronald PC, Mackill DJ (2006) Sub1A is an ethylene response factor like gene that confers submergence tolerance to rice. Nature 442:705–708
Acknowledgments
We thank Dr Richard A. Jefferson, CAMBIA, Australia for providing pCAMBIA1301 and Dr. K. Veluthambi, Madurai Kamaraj University, India for Agrobacterium strains. We thank Prof. Clarence A. Ryan, Washington State University, USA for gifting us the pin2 gene. MVR, KSB, and GJNR are thankful to the Director, CRRI and Head, Division of Crop Improvement, CRRI for the laboratory and field facilities used in the research. This work was supported by the Rockefeller foundation and IRRI in the form of a grant (ICAR/IRRI/CRRI collaborative project grant) and a senior research fellowship to MVR.
About this article
Cite this article
Rao, M.V.R., Behera, K.S., Baisakh, N. et al. Transgenic indica rice cultivar 'Swarna' expressing a potato chymotrypsin inhibitor pin2 gene show enhanced levels of resistance to yellow stem borer. Plant Cell Tiss Organ Cult 99, 277–285 (2009). https://doi.org/10.1007/s11240-009-9602-2
Received:

Accepted:

Published:

Issue Date:
Keywords
Agrobacterium
Indica rice

Proteinase inhibitor

Swarna

Transformation