Abstract
An efficient micropropagation system for mining ecotype Sedum alfredii Hance, a newly identified Zn/Cd hyperaccumulator, was developed. Frequency of callus induction reached up to 70% from leaves incubated on Murashige and Skoog (MS) medium supplemented with 1.0 mg l−1 2,4-dichlorophenoxy acetic acid (2,4-D) and 0.5 mg l−1 6-benzyladenine (BA), and 83% from internodal stem segments grown on MS medium with 0.1 mg l−1 2,4-D and 0.1 mg l−1 BA. Callus proliferated rapidly on MS medium containing 0.2 mg l−1 2,4-D and 0.05 mg l−1 thidiazuron. The highest number of adventitious buds per callus (17.3) and frequency of shoot regeneration (93%) were obtained when calli were grown on MS medium supplemented with 2.0 mg l−1 BA and 0.3 mg l−1 α-naphthalene acetic acid (NAA). Elongation of shoots was achieved when these were incubated on MS medium containing 3.0 mg l−1 gibberellic acid. Induction of roots was highest (21.4 roots per shoot) when shoots were transferred to MS medium containing 2.0 mg l−1 indole 3-butyric acid rather than either indole 3-acetic acid or NAA. When these in vitro plants were acclimatized and transferred to the greenhouse, and grown in hydroponic solutions containing 200 μM cadmium (Cd), they exhibited high efficiency of Cd transport, from roots to shoots, and hyperaccumulation of Cd.
Access options
Buy single article
Instant access to the full article PDF.
US$ 39.95
Tax calculation will be finalised during checkout.
Subscribe to journal
Immediate online access to all issues from 2019. Subscription will auto renew annually.
US$ 119
Tax calculation will be finalised during checkout.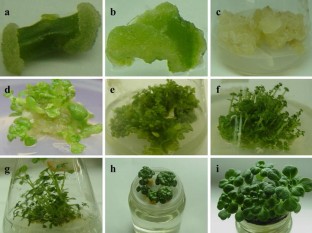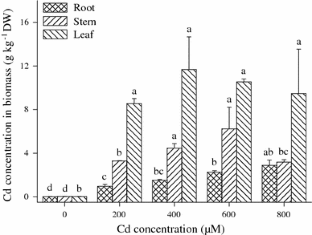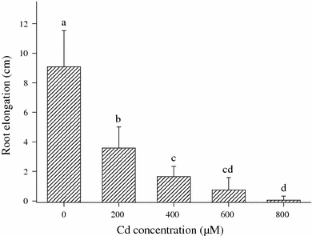 Abbreviations
2,4-D:

2,4-Dichlorophenoxy acetic acid

BA:

6-Benzyladenine

NAA:

α-Naphthalene acetic acid

GA3 :

Gibberellic acid

IBA:

Indole 3-butyric acid

TDZ:

Thidiazuron

IAA:

Indole 3-acetic acid
References
Amutha S, Muruganantham M, Ganapathi A (2006) Thidiazuron-induced high-frequency axillary and adventitious shoot regeneration in Vigna radiata (L.) Wilczek. In Vitro Cell Dev Biol Plant 42:26–30

Baker AJM, Brooks RR (1989) Terrestrial higher plants which hyperaccumulate metallic elements—a review of their distribution, ecology and phytochemistry. Biorecovery 1:81–126

Baker AJM, McGrath SP, Reeves RD, Smith JAC (2000) Metal hyperaccumulator plants: a review of the ecology and physiology of a biochemical resource for phytoremediation of metal-polluted soils. In: Terry N, Bañuelos G (eds) Phytoremediation of contaminated soil and water. Lewis Publishers, Boca Raton, pp 85–107

Bañuelos GS (2006) Phyto-products may be essential for sustainability and implementation of phytoremediation. Environ Pollut 144:19–23

Brandao J, Salema R (1977) Callus and plantlets development from cultured leaf explants of Sedum telephium L. Z Pflanzenphysiol 85:1–8

Brown SL, Chaney RL, Angle JS, Baker AJM (1995) Zinc and cadmium uptake by hyperaccumulator Thlaspi caerulescens and metal tolerant Silene vulgaris grown on sludge-amended soils. Environ Sci Technol 29:1581–1585

Chen Y, Fan J, Yi F, Luo Z, Fu Y (2003) Rapid clonal progagation of Dioscorea zingiberensis. Plant Cell Tiss Organ Cult 73:75–80

Corso GD, Borgato L, Furini A (2005) In vitro plant regeneration of the heavy metal tolerant and hyperaccumulator Arabidopsis halleri (Brassicaceae). Plant Cell Tiss Organ Cult 82:267–270

Cui J, Chen JJ, Henny RJ (2009) Regeneration of Aeschynanthus radicans via direct somatic embryogenesis and analysis of regenerants with flow cytometry. In Vitro Cell Dev Biol Plant 45:34–43

Deng DM, Shu WS, Zhang J, Zou HL, Lin Z, Ye ZH, Wong MH (2007) Zinc and cadmium accumulation and tolerance in populations of Sedum alfredii. Environ Pollut 147:381–386

Dobos É, Dános B, László-Bencsik Á (1994) Callus induction and shoot regeneration in Sempervivum tectorum. Plant Cell Tiss Organ Cult 36:141–143

Ebbs SD, Kochian LV (1997) Toxicity of zinc and copper to Brassica species: implication for phytoremediation. J Environ Qual 26:776–781

Evans DA, Sharp WR, Flick CE (1981) Growth and behavior of cell cultures. In: Thorpe TA (ed) Plant tissue culture: methods and application in agriculture. Academic Press, New York, pp 45–49

He B, Yang XE, Ni WZ, Wei YZ, Long XX, Ye ZQ (2002) Sedum alfredii: a new lead-accumulating ecotype. Acta Bot Sin 44:1365–1370

Holme IB, Petersen KK (1996) Callus induction and plant regeneration from different explant types of Miscanthus × ogiformis Honda 'Giganteus'. Plant Cell Tiss Organ Cult 45:43–52

Klein MA, Sekimoto H, Milner MJ, Kochian LV (2008) Investigation of heavy metal hyperaccumulation at the cellular level: development and characterization of Thlaspi caerulescens suspension cell lines. Plant Physiol 147:2006–2016

Küpper H, Lombi E, Zhao FJ, McGrath SP (2000) Cellular compartmentation of cadmium and zinc in relation to other elements in the hyperaccumulator Arabidopsis halleri. Planta 212:75–84

Liu CZ, Murch SJ, EL-Demerdash M, Saxena PK (2003) Regeneration of the Egyptian medicinal plant Artemisia judaica L. Plant Cell Rep 21:525–530

Liu HJ, Xu Y, Liu YJ, Liu CZ (2006) Plant regeneration from leaf explants of Rhodiola fastigiata. In Vitro Cell Dev Biol Plant 42:345–347

Long XX, Yang XE, Ye ZQ, Ni WZ, Shi WY (2002) Differences of uptake and accumulation of zinc in four species of Sedum. Acta Bot Sin 44:152–157

Luciani GF, Mary AK, Pellegrini C, Curvetto NR (2006) Effects of explants and growth regulators in garlic callus formation and plant regeneration. Plant Cell Tiss Organ Cult 87:139–143

McGrath SP, Zhao FJ (2003) Phytoextraction of metals and metalloids from contaminated soils. Curr Opin Biotechnol 14:277–282

Mohamed SV, Sung JM, Jeng TL, Wang CS (2006) Organogenesis of Phaseolus angularis L.: high efficiency of adventitious shoot regeneration from etiolated seedlings in the presence of N6-benzylaminopurine and thidiazuron. Plant Cell Tiss Organ Cult 86:187–199

Mok MC, Kim SG, Armstrong DJ, Mok DWS (1979) Induction of cytokinin autonomy by N, N′-diphenylurea in tissue cultures of Phaseolus lunatus L. Proc Natl Acad Sci USA 76:3880–3884

Murashige T, Skoog F (1962) A revised medium for rapid growth and bioassays with tobacco tissue culture. Physiol Plant 15:473–497

Nakano M, Nagai M, Tanaka S, Nakata M, Godo T (2005) Adventitious shoot regeneration and micropropagation of the Japanese endangered Hylotelephium sieboldii (Sweet ex Hook.) H. Ohba and H. sieboldii var. ettyuense (Tomida) H. Ohba. Plant Biotechnol 22:221–224

Ni TH, Wei YZ (2003) Subcellular distribution of cadmium in mining ecotype Sedum alfredii. Acta Bot Sin 45:925–928

Paiva Neto VB, Mota TR, Otoni WC (2003) Direct organogenesis from hypocotyl-derived explants of annatto (Bixa orellana). Plant Cell Tiss Organ Cult 75:159–167

Pence VC (2005) In vitro collecting (IVC). I. The effect of collecting method and antimicrobial agents on contamination in temperate and tropical collections. In Vitro Cell Dev Biol Plant 41:324–332

Raskin I, Smith RD, Salt DE (1997) Phytoremediation of metals: using plants to remove pollutants from the environment. Curr Opin Biotechnol 8:221–226

Salt DE, Blaylock M, Kumar PBAN, Dushenkov V, Ensley BD, Chet I, Raskin I (1995) Phytoremediation: a novel strategy for the removal of toxic metals from the environment using plants. Biotechnol 13:468–474

Santos FS, Hernández-Allica J, Becerril JM, Amaral-Sobrinho N, Mazur N, Garbisu C (2006) Chelate-induced phytoextraction of metal polluted soils with Brachiaria decumbens. Chemosphere 65:43–50

Selvaraj N, Vasudevan A, Manickavasagam M, Ganapathi A (2006) In vitro organogenesis and plant formation in cucumber. Biol Plant 50:123–126

Singh S, Ray BK, Bhattacharyya S, Deka PC (1994) In vitro propagation of Citrus reticulata Blanco and Citrus limon Burm. f. HortScience 29:214–216

Sun Q, Ye ZH, Wang XP, Wong MH (2005) Increase of glutathione in mine population of Sedum alfredii: a Zn hyperaccumulator and Pb accumulator. Phytochemistry 66:2549–2556

Thomas JC, Katterman FR (1986) Cytokinin activity induced by thidiazuron. Plant Physiol 81:681–683

Vázquez MD, Barceló J, Poschenrieder C, Mádico J, Hatton P, Baker AJM, Coupe GH (1992) Localization of zinc and cadmium in Thlaspi caerulescens (Brassicaceae), a metallophyte that can hyperaccumulate both metals. J Plant Physiol 140:350–355

Wu QT, Wei ZB, Ouyang Y (2007) Phytoextraction of metal-contaminated soil by Sedum alfredii H: effects of chelator and co-planting. Water Air Soil Pollut 180:131–139

Yang XE, Long XX, Ni WZ, Fu CX (2002) Sedum alfredii H: a new Zn hyperaccumulating plant first found in China. Chin Sci Bull 47:1634–1637

Yang XE, Long XX, Ye HB, He ZL, Calvert DV, Stoffella PJ (2004) Cadmium tolerance and hyperaccumulation in a new Zn-hyperaccumulating plant species (Sedum alfredii Hance). Plant Soil 259:181–189

Ye HB, Yang XE, He B, Long XX, Shi WY (2003) Growth response and metal accumulation of Sedum alfredii to Cd/Zn complex-polluted ion levels. Acta Bot Sin 45:1030–1036

Yookongkaew N, Srivatanakul M, Narangajavana J (2007) Development of genotype-independent regeneration system for transformation of rice (Oryza sativa ssp. indica). J Plant Res 120:237–245

Zhang ZC, Qiu BS (2007) Reactive oxygen species metabolism during the cadmium hyperaccumulation of a new hyperaccumulator Sedum alfredii (Crassulaceae). J Environ Sci 19:1311–1317

Zhang ZC, Gao X, Qiu BS (2008) Detection of phytochelatins in the hyperaccumulator Sedum alfredii exposed to cadmium and lead. Phytochemistry 69:911–918

Zhou WB, Qiu BS (2005) Effects of cadmium hyperaccumulation on physiological characteristics of Sedum alfredii Hance (Crassulaceae). Plant Sci 169:737–745
Acknowledgments
Funding for this work was provided by Program for New Century Excellent Talents in University (No. NCET-08-0786) and Natural Science Foundation of Hubei Province (No. 2008CDB073).
About this article
Cite this article
Zhao, SJ., Zhang, ZC., Gao, X. et al. Plant regeneration of the mining ecotype Sedum alfredii and cadmium hyperaccumulation in regenerated plants. Plant Cell Tiss Organ Cult 99, 9–16 (2009). https://doi.org/10.1007/s11240-009-9570-6
Received:

Accepted:

Published:

Issue Date:
Keywords
Callus induction

Hyperaccumulator

Plant regeneration

Rooting

Sedum alfredii