Abstract
An efficient plant regeneration protocol for shoot organogenesis from Hovenia dulcis callus cultures was established. Induction of organogenic callus was achieved on Murashige and Skoog (MS) medium supplemented with 4.65 μM kinetin and 4.5 μM 2,4-dichlorophenoxyacetic acid (2,4-D). Further differentiation of organogenic callus into primordia, shoot-like structures, and plantlets was achieved on MS medium supplemented with 0.23 μM gibberellic acid (GA3) and 0.46 μM kinetin. Numerous abnormal shoots developed upon transfer of callus to MS medium containing cytokinins, and these failed to grow further into whole plantlets. However, transfer of 'abnormal' shoots to a fresh MS medium lacking cytokinins resulted in growth of normal shoots. Elongated shoots subsequently were rooted in basal MS medium, and whole plantlets were established in a soil mix. Analysis of regenerated plants using random amplified polymorphic DNA (RAPD) confirmed the genetic stability of these regenerant plantlets.
Access options
Buy single article
Instant access to the full article PDF.
US$ 39.95
Tax calculation will be finalised during checkout.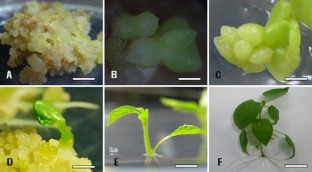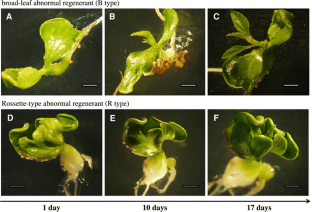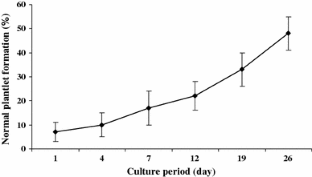 Abbreviations
2,4-D:

2,4-Dichlorophenoxyacetic acid

2iP:

N6-(2-isopentyl)adenine

BA:

6-Benzyladenine

GA3 :

Gibberellic acid

NAA:

a-Naphthaleneacetic acid

MS:

Murashige and Skoog

RAPD:

Random Amplified Polymorphic DNA
References
An SW, Kim YG, Kim MH, Lee BI, Lee SH, Kwon HI, Hwang B, Lee HY (1999) Comparison of hepatic detoxification activity and reducing serum alcohol concentration of Hovenia dulcis Thunb and Alnus japonica Steud. Korean J Med Crop Sci 7:263–268

Bhansali RR, Driver JA, Durzan DJ (1990) Rapid multiplication of adventitious somatic embryos in peach and nectarine by secondary embryogenesis. Plant Cell Rep 9:280–284. doi:10.1007/BF00232302

Carmen SJM, Ballester A, Vieitez AM (2001) Effect of thidiazuron on multiple shoot induction and plant regeneration from cotyledonary nodes of chestnut. J Hortic Sci Biotechnol 76:588–595

Eom SH, Shin DY, Lee HY, Kim MJ, Kim JD, Choi WC, Heo K, Yu CY (2002) Somatic embryogenesis and plant regeneration of Hovenia dulcis Thunb. Korean J Med Crop Sci 10:41–45

Fracaro F, Echeverrigaray S (2001) Micropropagation of Cunila galioides, a popular medicinal plant of south Brazil. Plant Cell Tissue Organ Cult 64:1–4. doi:10.1023/A:1010626200045

Goldfarb B, Howe GT, Bailey LB, Strauss SH, Zaerr JB (1991) A liquid cytokinin pulse induces adventitious shoot formation from Douglas-fir cotyledons. Plant Cell Rep 10:156–160

Hase K, Ohsugi M, Xiong Q, Basnet P, Kadota S, Namba T (1997) Hepatoprotective effect of Hovenia dulcis Thunb. on experimetal liver injuries induced by carbon tetrachloride or d-galactosamine/lipopolysa-ccharide. Biol Pharm Bull 20:381–385

Jeong CH, Shim KH (1999) Antimicrobial activity of Hovenia dulcis Thunb. leaf and fruit stalk extracts. J Inst Agric Fish Dev 18:25–32

Mondal TK, Bhattacharya A, Laxmikumaran M, Ahuja PS (2004) Recent advances of tea (Camellia Sinensis) biotechnology. Plant Cell Tissue Organ Cult 76:195–254. doi:10.1023/B:TICU.0000009254.87882.71

Murashige T, Skoog F (1962) A revised medium for rapid growth and bioassays of tobacco tissue cultures. Physiol Plant 15:473–497. doi:10.1111/j.1399-3054.1962.tb08052.x

Park DJ, Kang YM, Jung HN, Min JY, Kim YD, Karigar CS, Choi MS (2006) Rapid micropropagation of Hovenia dulcis Thumb. through in vitro stem nodal cultures. J Korean For Soc 95:155–159

Plana D, Fuentes A, Alvarez M, Lara RM, Félix Alvarez F, Pujol M (2006) A new approach for in vitro regeneration of tomato plants devoid of exogenous plant growth hormones. Biotechnol J 1:1153–1157. doi:10.1002/biot.200500042

Pontaroli AC, Camadro EL (2005) Somaclonal variation in Asparagus officinalis plants regenerated by organogenesis from long-term callus cultures. Genet Mol Biol 28:423–430. doi:10.1590/S1415-47572005000300015

Ramage CM, Williams RR (2004) Cytokinin-induced abnormal shoot organogenesis is associated with elevated Knotted1-type homeobox gene expression in tobacco. Plant Cell Rep 22:919–924. doi:10.1007/s00299-004-0774-2

Sederoff RR (1995) Forest trees. In: Wang K, Herrera-Estrella A, Van Montagu M (eds) Transformation of plants and soil microorganisms. Cambridge University Press, Cambridge, pp 150–163

Szasz A, Nervo G, Miklos F (1995) Screening for in vitro shoot-forming capacity of seedling explants in bell pepper (Capsicum annuum L.) genotypes and efficient plant regeneration using thidiazuron. Plant Cell Rep 14:666–669. doi:10.1007/BF00232735

Thomas TD, Puther JT (2004) Thidiazuron induced high frequency shoot organogenesis in callus from Kigelia pinnata L. Bot Bull Acad Sin 45:307–313

Valera-Montero LL, Ochoa-Alejo N (1992) A novel approach for chili pepper (Capsicum annuum L.) plant regeneration: shoot induction in rooted hypocotyls. Plant Sci 84:215–219. doi:10.1016/0168-9452(92)90137-B

Venkataiah P, Christopher T, Subhash K (2006) In vitro shoot multiplication and plant regeneration in four Capsicum species using thidiazuron. Scient Hortic 107:117–122. doi:10.1016/j.scienta.2005.06.010

Yun CW, Lee BC (2002) Vegetation structure of Hovenia dulcis community in South Korea. Korean J Ecol 25(2):93–99
Acknowledgments
This work was supported by the Grant funded by the Institute of Hadong Green Tea, and the Korea Research Foundation Grant funded by the Korean Government (MOEHRD, Basic Research Promotion Fund) (KRF-2006-521-F00023).
About this article
Cite this article
Jeong, M.J., Song, H.J., Park, D.J. et al. High frequency plant regeneration following abnormal shoot organogenesis in the medicinal tree Hovenia dulcis . Plant Cell Tiss Organ Cult 98, 59–65 (2009). https://doi.org/10.1007/s11240-009-9538-6
Received:

Accepted:

Published:

Issue Date:
Keywords
Organogenesis

Primordia

Abnormal shoots

Cytokinins

RAPD analysis