Abstract
Micropropagated plantlets derived from a superior 90+-year-old slow-growing true service tree (Sorbus domestica L.) have been successfully acclimatised to the ex vitro environment. The temporal pattern of developmental changes was examined in relation to secondary xylem growth during ex vitro acclimatisation. In vitro rooted plantlets already initiated lignification of secondary xylem cells. During early days after transfer to ex vitro conditions, the growth of woody tissue was slow. The most prominent increase in woody tissue development occurred between days 7 and 35. From days 35 to 63, sizes of vessel lumen areas significantly increased. In developing woody tissue, a characteristic diffuse-porous pattern of roughly even vessel area distribution throughout the growing season, typical for mature wood, was not followed. The proportion of woody area occupied by vessels was significantly higher in stems of fully acclimatised plantlets than in stems sampled 35 days after transfer. On day 63 after transfer, a proportion of woody tissue area in fully acclimatised plantlets represented up to 14.8% of the stem area. Early formation of wood during ex vitro acclimatisation provides brittle plantlets with a mechanical support to cope better with deformations and mechanical injuries during handling at the subsequent transplantations.
Access options
Buy single article
Instant access to the full article PDF.
USD 39.95
Price excludes VAT (USA)
Tax calculation will be finalised during checkout.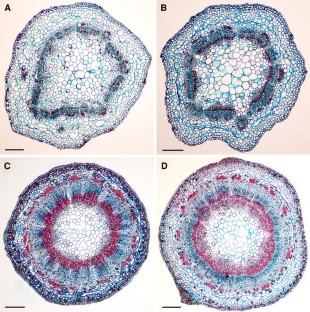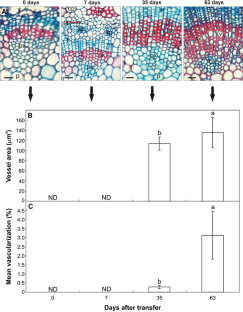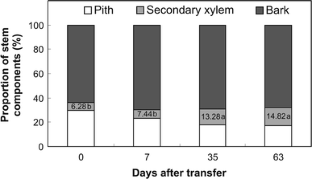 Abbreviations
MS:

Murashige and Skoog medium

NAA:

1-Naphthaleneacetic acid

PPFD:

Photosynthetic photon flux density

SH:

Schenk and Hildebrandt medium

WPM:

Woody plant medium
References
Arrillaga I, Marzo T, Segura J (1991) Micropropagation of juvenile and adult Sorbus domestica L. Plant Cell Tissue Organ Cult 27:341–348. doi:10.1007/BF00157600

Bisbis B, Kevers C, Crevecoeur M, Dommes J, Gaspar T (2003) Restart of lignification in micropropagated walnut shoots coincides with rooting induction. Biol Plant 47:1–5. doi:10.1023/A:1027360326886

Carvalho LC, Osório ML, Chaves MM, Amâncio S (2001) Chlorophyll fluorescence as an indicator of photosynthetic functioning of in vitro grapevine and chestnut plantlets under ex vitro acclimatization. Plant Cell Tissue Organ Cult 67:271–280. doi:10.1023/A:1012722112406

Ďurkovič J, Lengyelová A, Čaňová I, Kurjak D, Hladká D (2009) Photosynthetic performance and stomatal characteristics during ex vitro acclimatisation of true service tree (Sorbus domestica L.). J Hortic Sci Biotechnol (in press)

Fila G, Badeck F-W, Meyer S, Cerovic Z, Ghashghaie J (2006) Relationships between leaf conductance to CO2 diffusion and photosynthesis in micropropagated grapevine plants, before and after ex vitro acclimatization. J Exp Bot 57:2687–2695. doi:10.1093/jxb/erl040

Hatzilazarou SP, Syros TD, Yupsanis TA, Bosabalidis AM, Economou AS (2006) Peroxidases, lignin and anatomy during in vitro and ex vitro rooting of gardenia (Gardenia jasminoides Ellis) microshoots. J Plant Physiol 163:827–836. doi:10.1016/j.jplph.2005.06.018

Jeon M-W, Ali MB, Hahn E-J, Paek K-Y (2006) Photosynthetic pigments, morphology and leaf gas exchange during ex vitro acclimatization of micropropagated CAM Doritaenopsis plantlets under relative humidity and air temperature. Environ Exp Bot 55:183–194. doi:10.1016/j.envexpbot.2004.10.014

Kúdela J, Mamoňová M (2006) Tree-of-heaven wood (Ailanthus altissima Mill.)–structure and properties. In: Kurjatko S, Kúdela J, Lagaňa R (eds) Wood structure and properties '06. Arbora Publishers, Zvolen, Slovakia, pp 275–287

Lamhamedi MS, Chamberland H, Tremblay FM (2003) Epidermal transpiration, ultrastructural characteristics and net photosynthesis of white spruce somatic seedlings in response to in vitro acclimatization. Physiol Plant 118:554–561. doi:10.1034/j.1399-3054.2003.00146.x

Lee N, Wetzstein HY, Sommer HE (1988) Quantum flux density effects on the anatomy and surface morphology of in vitro-developed and in vivo-developed sweetgum leaves. J Am Soc Hortic Sci 113:167–171

Marjamaa K, Lehtonen M, Lundell T, Toikka M, Saranpää P, Fagerstedt KV (2003) Developmental lignification and seasonal variation in β-glucosidase and peroxidase activities in xylem of Scots pine, Norway spruce and silver birch. Tree Physiol 23:977–986

Mišalová A, Ďurkovič J, Mamoňová M, Priwitzer T, Lengyelová A, Hladká D, Lux A (2009) Changes in leaf organisation, photosynthetic performance and wood formation during ex vitro acclimatisation of black mulberry (Morus nigra L.). Plant Biol (in press)

Mosaleeyanon K, Cha-um S, Kirdmanee C (2004) Enhanced growth and photosynthesis of rain tree (Samanea saman Merr.) plantlets in vitro under a CO2-enriched condition with decreased sucrose concentrations in the medium. Sci Hortic (Amsterdam) 103:51–63. doi:10.1016/j.scienta.2004.02.010

Pospíšilová J, Tichá I, Kadleček P, Haisel D, Plzáková Š (1999) Acclimatization of micropropagated plants to ex vitro conditions. Biol Plant 42:481–497. doi:10.1023/A:1002688208758

Purohit VK, Tamta S, Chandra S, Vyas P, Palni LMS, Nandi SK (2002) In vitro multiplication of Quercus leucotrichophora and Q. glauca: Important Himalayan oaks. Plant Cell Tissue Organ Cult 69:121–133. doi:10.1023/A:1015296713243

Quinn GP, Keough MJ (2002) Experimental design and data analysis for biologists. Cambridge University Press, Cambridge

Seon J-H, Cui Y-Y, Kozai T, Paek K-Y (2000) Influence of in vitro growth conditions on photosynthetic competence and survival rate of Rehmannia glutinosa plantlets during acclimatization period. Plant Cell Tissue Organ Cult 61:135–142. doi:10.1023/A:1006473223286

Valero-Aracama C, Wilson SB, Kane ME, Philman NL (2007) Influence of in vitro growth conditions on in vitro and ex vitro photosynthetic rates of easy- and difficult-to-acclimatize sea oats (Uniola paniculata L.) genotypes. In Vitro Cell Dev Biol Plant 43:237–246. doi:10.1007/s11627-006-9014-5

Van Huylenbroeck JM, Piqueras A, Debergh PC (1998) Photosynthesis and carbon metabolism in leaves formed prior and during ex vitro acclimatization of micropropagated plants. Plant Sci 134:21–30. doi:10.1016/S0168-9452(98)00043-0

Yue D, Desjardins Y, Lamarre M, Gosselin A (1992) Photosynthesis and transpiration of in vitro cultured asparagus plantlets. Sci Hortic (Amsterdam) 49:9–16. doi:10.1016/0304-4238(92)90138-3

Zhou Y-H, Guo D-P, Zhu Z-J, Qian Q-Q (2005) Effects of in vitro rooting environments and irradiance on growth and photosynthesis of strawberry plantlets during acclimatization. Plant Cell Tissue Organ Cult 81:105–108. doi:10.1007/s11240-004-2775-9

Ziv M (1995) In vitro acclimatization. In: Aitken-Christie J, Kozai T, Smith LM (eds) Automation and environmental control in plant tissue culture. Kluwer Academic Publishers, Dordrecht, pp 493–516
Acknowledgements
The authors thank Dr. D. Gömöry for statistical advice, Mr. V. Bajcar for sampling of twigs from the mother tree, and Mrs. A. Lengyelová for excellent care for plantlets transferred to ex vitro conditions. Indispensable laboratory assistance by Mrs. H. Parobková is greatly appreciated. This work was financed by the Slovak Grant Agency VEGA (1/3262/06 and 1/0587/09).
About this article
Cite this article
Ďurkovič, J., Mišalová, A. Wood formation during ex vitro acclimatisation in micropropagated true service tree (Sorbus domestica L.). Plant Cell Tiss Organ Cult 96, 343–348 (2009). https://doi.org/10.1007/s11240-008-9492-8
Received:

Accepted:

Published:

Issue Date:

DOI: https://doi.org/10.1007/s11240-008-9492-8
Keywords