Abstract
In order to develop a sustainable source of metabolism-enhancing phytoecdysteroids, cell suspension and hairy root cultures were established from shoot cultures of wild-harvested Ajuga turkestanica, a medicinal plant indigenous to Uzbekistan. Precursors of phytoecdysteroids (acetate, mevalonic acid cholesterol) or methyl jasmonate (an elicitor) were added to subculture media to increase phytoecdysteroid accumulation. In cell suspension cultures, 20-hydroxyecdysone (20E) content increased 3- or 2-fold with the addition of 125 or 250 μM methyl jasmonate, respectively, compared to unelicited cultures. Precursor addition, however, did not provoke phytoecdysteroid accumulation. In hairy root cultures, addition of sodium acetate, mevalonic acid, and methyl jasmonate, but not cholesterol, increased phytoecdysteroid content compared to unelicited cultures. Hairy root cultures treated with 150 mg l−1 sodium acetate, or 15 or 150 mg l−1 mevalonic acid, increased 20E content approximately 2-fold to 19.9, 20.4 or 21.7 μg mg−1, respectively, compared to control (10.5 μg mg−1). Older hairy root cultures, extracted after the seventh subculture cycle, also showed increases in 20E content (24.8 μg mg−1), turkesterone (0.9 μg mg−1) and cyasterone (8.1 μg mg−1) compared to control cultures maintained for a shorter duration of four subculture cycles. Doses of 10 or 20 μg ml−1 hairy root extract increased protein synthesis by 25.7% or 31.1%, respectively, in a C2C12 mouse skeletal cell line. These results suggest that sustainable production of metabolically active phytoecdysteroid can be achieved through hairy root culture systems.
Access options
Buy single article
Instant access to the full article PDF.
USD 39.95
Price excludes VAT (USA)
Tax calculation will be finalised during checkout.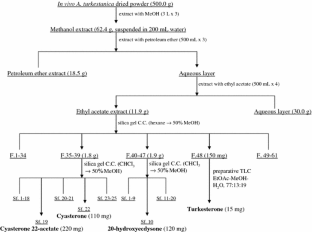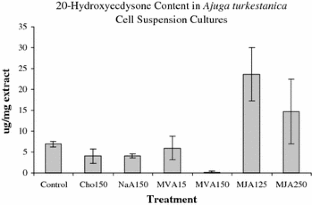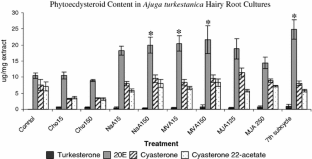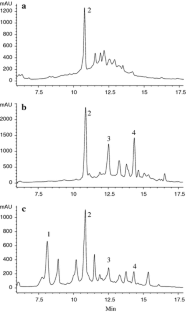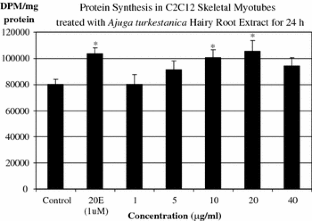 Abbreviations
20E:

20-Hydroxyecdysone

CC:

Column chromatography

CD3OD:

Deuterated methanol

DAD:

Diode array detector

DMEM:

Dulbecco's modified eagle's media

DPM:

Decays per minute

DW:

Dry weight

ESI-MS:

Electrospray ionization-mass spectroscopy

FW:

Fresh weight

HPLC:

High performance liquid chromatography

NMR:

Nuclear magnetic resonance

TLC:

Thin-layer chromatography

TMS:

Tetramethylsilane
References
Abdukadirov IT, Khodzhaeva MA, Turakhozhaev MT, Mamatkhanov AT (2004) Carbohydrates from Ajuga turkestanica. Chem Nat Compd 40:85–86

Adler JH, Grebenok RJ (1999) Occurrence, biosynthesis and putative role of ecdysteroids in plants. Crit Rev Biochem Mol Biol 34:253–264

Aird ELH, Hamill JD, Rhodes MJC (1988) Cytogenetic analysis of hairy root cultures from a number of plant species transformed by Agrobacterium rhizogenes. Plant Cell Tissue Organ Cult 15:47–57

Baltaev UA (2000) Phytoecdysteroids: structure, sources, and biosynthesis in plants. Russ J Bioorganic Chem 26:799–831

Báthori M, Pongrácz Z (2005) Phytoecdysteroids – from isolation to their effects on humans. Curr Med Chem 12:153–172

Chan Y, Wu T, Kuoh CS, Damu A (2005) A new phytoecdysteroid from Ajuga taiwanensis. Chem Pharm Bull 53:836–838

Chowdhury AR, Chaturvedi HC (1980) Cholesterol and biosynthesis of diosgenin by tuber-callus of Dioscorea deltoidea. Curr Sci 49:237–238

Darwish F, Reinecke MG (2003) Ecdysteroids and other constituents from Sida spinosa L. Phytochemistry 62:1179–1184

Davioud E, Petit A, Tate ME, Ryder MH, Tempé J (1988) Cucumopine – a new T-DNA-encoded opine in hairy root and crown gall. Phytochemistry 27:2429–2433

De Souza JN, Ghisalberti EL, Rees HH, Godwin TW (1970) Studies on insect moulting hormones: biosynthesis of ecdysone, ecdysterone and 5 beta-hydroxyecdysterone in Polypodium vulgare. Phytochemistry 9:1247

Easley CW (1965) Combinations of specific color reactions useful in the peptide mapping technique. Biochim Biophys Acta 107:386–388

Gamborg OL, Miller RA, Ojima K (1968) Nutrient requirements of suspension cultures of soybean root cells. Exp Cell Res 50:151–158

Gorelick-Feldman J, MacLean D, Poulev A, Lila MA, Cheng DM, Raskin I (2008) Phytoecdysteroids increase protein synthesis in skeletal muscle cells. J Agric Food Chem (in review)

Heftmann E, Sauer HH, Bennett RD (1968) Biosynthesis of ecdysterone from cholesterol by a plant. Naturwissenschaften 55:37

Joly RA, Svahn CM, Bennett RD, Heftmann E (1969) Investigation of intermediate steps in the biosynthesis of ecdysterone from cholesterol in Podocarpus elata. Phytochemistry 8:1917

Ketchum REB, Gibson DM, Croteau RB, Shuler ML (1999) The kinetics of taxoid accumulation in cell suspension cultures of Taxus following elicitation with methyl jasmonate. Biotechnol Bioeng 62:97–105

Kim Y, Wyslouzil BE, Weathers PJ (2002) Secondary metabolism of hairy root cultures in bioreactors. In vitro Cell Dev Biol-Plant 38:1–10

Koudela K, Tenora J, Bajer J, Mathova A, Slama K (1995) Stimulation of growth and development in Japanese quails after oral administration of ecdysteroid containing diet. Eur J Entomol 92:349–354

Lev SV, Zakirova RP, Saatov Z, Gorovits MB, Abubakirov NK (1990) Ecdysteroids from tissue and cell cultures of Ajuga turkestanica. Chem Nat Compd 1:51–52

Mamatkhanov AU, Yakubova MR, Syrov VN (1998) Isolation of turkesterone from the epigeal part of Ajuga turkestanica and its anabolic activity. Chem Nat Compd 34:150–154

Matsumoto T, Tanaka N (1991) Production of ecdysteroid by hairy root cultures of Ajuga reptans var atropupurea. Agric Biol Chem 55:1019

Mirjalili N, Linden JC (1996) Methyl jasmonate induced production of taxol in suspension cultures of Taxus cuspidata: Ethylene interaction and induction models. Biotechnol Prog 12:110–118

Montgomery JL, Harper WM, Miller MF, Morrow KJ, Blanton JR (2002) Measurement of protein synthesis and degradation in C2C12 myoblasts using extracts of muscle from hormone treated bovine. Methods Cell Sci 24:123–129

Moreno PRH, van der Heijden R, Verpoorte R (1993) Effect of terpenoid precursor feeding and elicitation on formation of indole alkaloids in cell suspension cultures of Catharanthus roseus. Plant Cell Rep 12:702–705

Murashigi T, Skoog F (1962) A revised medium for rapid growth and bio-assay with tobacco tissue cultures. Physiol Plant 15:473–497

Murray GC, Thompson WF (1980) Rapid isolation of high molecular weight plant DNA. Nucleic Acids Res 8:4321–4325

Nagakari M, Kushiro T, Matsumoto T, Tanaka N, Kakinuma K, Fujimoto Y (1994) Incorporation of acetate and cholesterol into 20-hydroxyecdysone by hairy root clone of Ajuga reptans var. atropurpurea. Phytochemisty 36:907–910

Okuzumi K, Hara N, Uekusa H, Fujimoto Y (2005) Structure elucidation of cyasterone steroisomers isolated from Cyathula officinalis. Org Biomol Chem 3:1227–1232

Panda AK, Bisaria VS, Mishra S (1992) Alkaloid production by plant cell cultures of Holarrhena antidysenterica: II. Effect of precursor feeding and cultivation in stirred-tank bioreactor. Biotechnol Bioeng 39:1052–1057

Purser DB, Baker SK (1994) Ecdysones used to improve productivity of ruminants. Chem Abstr 121:254–587

Ramazanov NS (2005) Phytoecdysteroids and other biologically active compounds from plants of the genus Ajuga. Chem Nat Compd 41:361–369

Roddick JG, Butcher DN (1972) Tomatine production in cultured excised tomato roots. Phytochemistry 11:2991–2997

Sambrook J, Fritsch EF, Maniatis T (1989) Molecular cloning: a laboratory manual. Cold Spring Harbor Laboratory Press, New York

Sauer HH, Bennett RD, Heftmann E (1968) Ecdysterone biosynthesis in Podocarpus elata. Phytochemistry 7:2027

Savka MA, Wang SY, Wilson M (2002) How to produce and characterize transgenic plants. Am Biol Teach 64:286–300

Schmelz EA, Grebenok RJ, Galbraith DW, Bowers WS (1999) Insect-induced synthesis of phytoecdysteroids in spinach, Spinacia oleracea. J Chem Ecol 25:1739–1757

Schmelz EA, Grebenok RJ, Ohnmeiss TE, Bowers WS (2000) Phytoecdysteroid turnover in spinach: long-term stability supports a plant defense hypothesis. J Chem Ecol 26:2883–2896

Seo S, Uomori A, Yoshimura Y, Takeda K, Seto H, Ebizuka Y, Noguchi H, Sankawa U (1988) Biosynthesis of sitosterol, cycloartenol, and 24-methylenecycloartanol in tissue cultures of higher plants and of ergosterol in yeast from [1,2-C2]- and [2-13C2H2]-acetate and [5-13C2H2] MVA. J Chem Soc Perkin Trans 1:2427–2414

Slama K, Koudela K, Tenora J, Mathova A (1996) Insect hormones in vertebrates: anabolic effects of 20-hydroxyecdysterone in Japanese quails. Experimentia 52:702–706

Stahl E (1969) Thin-layer chromatography. Springer, Berlin, Heidelberg, New York

Still WC, Kahn M, Mitra A (1978) Rapid chromatographic technique for preparative separations with moderate resolution. J Org Chem 43:2923–2923

Syrov VN (1984) Mechanism of the anabolic action of phytoecdisteroids in mammals. Biol Nauki 11:16

Tomas J, Camps F, Claveria E, Coll J, Mele E, Messeguer J (1992) Composition and location of phytoecdysteroids in Ajuga reptans in vivo and in vitro cultures. Phytochemistry 31:1585–1591

Usmanov VZ, Gorovits MB, Abubakirov NK (1971) Phytoecdysones of Ajuga turkestanica. Chem Nat Compd 4:535–536

Usmanov VZ, Gorovits MB, Abubakirov NK (1973) Phytoecdysones of Ajuga turkestanica II. Chem Nat Compd 1:125–126

Usmanov VZ, Gorovits MB, Abubakirov NK (1975) Phytoecdysones of Ajuga turkestanica III. Chem Nat Compd 4:466–470

Usmanov VZ, Rashkes YV, Abubakirov NK (1978) Phytoecdysones of Ajuga turkestanica VI. 22-acetylcyasterone. Chem Nat Compd 2:215–219

Yeoman MM, Yeoman CL (1996) Tansley Review No. 90: Manipulating secondary metabolism in cultured plant cells. New Phytol 134:553–569

Yoshida Y, Otaka T, Uchiyama M, Ogawa S (1971) Effect of ecdysterone on hyperglycemia in experimental animals. Biochem Pharmacol 20:3263–3268

Zakirova RP, Yakubova MR (2002) Productivity of Ajuga turkestanica callus tissue during multi-year cultivation. Chem Nat Compd 38:356–357

Zakirova RP, Malikova MK, Yu S (2000) Effect of N-nitroso-N-methylurea on the biosynthetic activity of Ajuga turkestanica callus tissue. Chem Nat Compd 36:384–386
Acknowledgements
We gratefully acknowledge the support of Fogarty International Center of the NIH under U01 TW006674 for the International Cooperative Biodiversity Groups. We would like to thank Drs. Olga Zernova and Jack Widholm for assistance with PCR and hairy root cultures. We would also like to thank Taylor Laboratory at the Donald Danforth Plant Science Center for assistance with A. rhizogenes primer sequences.
Electronic supplementary material
Below is the link to the electronic supplementary material.
About this article
Cite this article
Cheng, D.M., Yousef, G.G., Grace, M.H. et al. In vitro production of metabolism-enhancing phytoecdysteroids from Ajuga turkestanica . Plant Cell Tiss Organ Cult 93, 73–83 (2008). https://doi.org/10.1007/s11240-008-9345-5
Received:

Accepted:

Published:

Issue Date:

DOI: https://doi.org/10.1007/s11240-008-9345-5
Keywords