Abstract
Atrial fibrillation (AF) accounts for up to one third of strokes, one of the lead mortality causes worldwide. The European Society of Cardiology guidelines recommend opportunistic screening as a means to increase the odds of early detection and institution of appropriate treatment according to risk factors identified. However, in most countries there are various barriers to effective uptake of screening, including low awareness. The Atrial Fibrillation Association is a patient association engaged with raising awareness of AF. Establishing a partnership with the International Pharmacists for Anticoagulation Care Taskforce, we set as goals to test a model for raising awareness of AF involving pharmacists globally; and to identify barriers and enablers to its implementation. A cross-sectional study was conducted during the Arrhythmia Alliance World Heart Rhythm Week. Pharmacists from 10 countries invited individuals (≥ 40 years; without anticoagulation therapy of AF) to participate in the awareness campaign. Participants agreeing were engaged in the early detection of AF (EDAF) using pulse palpation. Individuals with rhythm discrepancies were referred and prospectively assessed to have information on the proportion of confirmed diagnosis, leading to estimate the detection rate. Interviews with country coordinators explored barriers and enablers to implementation. The study involved 4193 participants in the awareness campaign and 2762 in the EDAF event (mean age 65.3 ± 13.0), of whom 46.2% individuals were asymptomatic, recruited across 120 sites. Most common CHA2DS2-VASc risk factor was hypertension. Among 161 patients referred to physician, feedback was obtained for 32 cases, of whom 12 new arrhythmia diagnoses were confirmed (5 for AF, 2 for atrial flutter), all among elders (≥ 65 years). Qualitative evaluation suggested a local champion to enable pharmacists' success; technology enhanced engagement amongst patients and increased pharmacists' confidence in referring to physicians; interprofessional relationship was crucial in success. This study suggests pharmacists can contribute to greater outreach of awareness campaigns. Effective communication pathways for inter-professional collaboration were suggested enablers to gain full benefits of EDAF.
Access options
Buy single article
Instant access to the full article PDF.
US$ 39.95
Tax calculation will be finalised during checkout.
Subscribe to journal
Immediate online access to all issues from 2019. Subscription will auto renew annually.
US$ 79
Tax calculation will be finalised during checkout.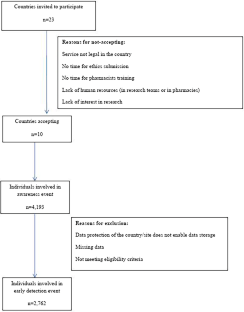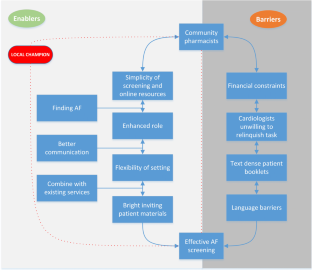 Data availability
The data that support the findings presented in this study are available from www.ipact.org. Data are available from the authors upon reasonable request.
Abbreviations
A-A:

Arrhythmia Alliance

AF:

Atrial fibrillation

AF Assoc:

Atrial Fibrillation Association

CHA2DS2-VASc:

Atrial Fibrillation Stroke Risk (Congestive heart failure history; hypertension; advanced age; diabetes; stroke or thromboembolism history; vascular disease history; sex)

CHF:

Congestive heart failure

DM:

Diabetes mellitus

ECG:

Electrocardiogram

EDAF:

Early detection of atrial fibrillation

ESC:

European Society of Cardiology

GPs:

General practitioners

iPACT:

International Pharmacists for Anticoagulation Care Taskforce

MI:

Myocardial infraction

UK:

United Kingdom

HIV:

Human immunodeficiency virus

PAD:

Peripheral artery disease

SD:

Standard deviation

SOB:

Shortness of breath
References
1.

Svennberg E, Engdahl J, Al-Khalili F et al (2015) Mass screening for untreated atrial fibrillation: the STROKESTOP Study. Circulation 131:2176–2184

2.

Hobbs FD, Fitzmaurice DA, Mant J et al (2005) A randomised controlled trial and cost-effectiveness study of systematic screening (targeted and total population screening) versus routine practice for the detection of atrial fibrillation in people aged 65 and over. The SAFE study. Health Technol Assess 9:iii–x, 1–74

3.

Peterson GM, Fitzmaurice KD, Kruup H et al (2010) Cardiovascular risk screening program in Australian community pharmacies. Pharm World Sci 32:373e80

4.

Krass I, Mitchell B, Song YJ et al (2011) Diabetes Medication Assistance Service Stage 1: impact and sustainability of glycaemic and lipids control in patients with Type 2 diabetes. Diabet Med 28:987e93

5.

Joyce A, Berbatis CG, Sunderland VB et al (2007) Analysis of primary prevention services for cardiovascular disease in Australia's community pharmacies. Aust N Z J Public Health 31:516e19

6.

Lowres N, Neubeck L, Salkeld G et al (2014) Feasibility and cost-effectiveness of stroke prevention through community screening for atrial fibrillation using iPhone ECG in pharmacies. The SEARCH-AF study. Thromb Haemost 111:1167–1176

7.

Lowres N, Krass I, Neubeck L et al (2015) Atrial fibrillation screening in pharmacies using an iPhone ECG: a qualitative review of implementation. Int J Clin Pharm 37:1111–1120

8.

Shaw J, Harrison J, Harrison J (2014) A community pharmacist-led anticoagulation management service: attitudes towards a new collaborative model of care in New Zealand. Int J Pharm Pract 22:397–406

9.

Sandhu RK, Dolovich L, Deif B et al (2017) High prevalence of modifiable stroke risk factors identified in a pharmacy-based screening programme. Open Heart 3:e000515

10.

Twigg MJ, Thornley T, Scobie N (2016) Identification of patients with atrial fibrillation in UK community pharmacy: an evaluation of a new service. Int J Clin Pharm 38(4):784–787

11.

Gomez-Doblas JJ, Muniz J, Alonso J et al (2012) Prevalence of atrial fibrillation in Spain. Preliminary results of the OFRECE study [abstract]. Eur Heart J 33:377

12.

Deif B, Lowres N, Freedman SB (2013) Screening for atrial fibrillation above age 65 detects an asymptomatic subset at high risk of stroke. Int J Cardiol 164:371–372

13.

Claes N, Van Laethem C, Goethals M et al (2012) Prevalence of atrial fibrillation in adults participating in a large-scale voluntary screening programme in Belgium. Acta Cardiol 67:273–278

14.

Kirchhof P, Benussi S, Kotecha D et al (2016) 2016 ESC guidelines for the management of atrial fibrillation developed in collaboration with EACTS. Eur Heart J 37:2893–2962

15.

Freedman B, Camm J, Calkins H et al (2017) Screening for atrial fibrillation. Circulation 135:1851–1867

16.

Know your pulse [instructional video]. http://www.heartrhythmalliance.org/aa/uk/know-your-pulse/. Assessed 16 June 2016

17.

Charmaz K (2006) Constructing grounded theory: a practical guide through qualitative analysis. Sage Publication, Thousand Oaks, p 208

18.

Antoniou S, Papastergiou J, De Rango F et al (2017) Benefits of active involvement of community pharmacists in know your pulse awareness campaign. Eur Heart J. https://doi.org/10.1093/eurheartj/ehx504.P4608

19.

Tarride JE, Dolovich L, Blackhouse G et al (2017) Screening for atrial fibrillation in Canadian pharmacies: an economic evaluation. CMAJ Open 5:E653

20.

Lowres N, Neubeck L, Redfern J et al (2013) Screening to identify unknown atrial fibrillation. Thromb Haemost 110:213–222

21.

Cooke G, Doust J, Sanders S (2006) Is pulse palpation helpful in detecting atrial fibrillation? A systematic review. J Fam Pract 55:130–134

22.

Sookaneknun P, Saramunee K, Rattarom R et al (2010) Economic analysis of the diabetes and hypertension screening collaboration between community pharmacies and a Thai government primary care unit. Prim Care Diabetes 4:155–164

23.

Heeringa J, van der Kuip DA, Hofman A et al (2006) Prevalence, incidence and lifetime risk of atrial fibrillation: the Rotterdam study. Eur Heart J 27:949–953

24.

Mairesse GH, Moran P, Van Gelder IC et al (2017) Screening for atrial fibrillation: a European Heart Rhythm Association (EHRA) consensus document endorsed by the Heart Rhythm Society (HRS), Asia Pacific Heart Rhythm Society (APHRS), and Sociedad Latinoamericana de Estimulacion Cardıaca y Electrofisiologıa (SOLAECE). Europace 19:1589–1623

25.

Halcox JP, Wareham K, Cardew A et al (2017) Assessment of remote heart rhythm sampling using the AliveCor heart monitor to screen for atrial fibrillation: the REHEARSE-AF study. Circulation 136:1784–1794

26.

Papastergiou J, Kheir N, Ladova K et al (2017) Multi-national pharmacists needs assessment in the management of anticoagulation therapy: results of the International Pharmacist Anticoagulation Care Taskforce (iPACT) survey. Int J Clin Pharm 39:1282–1290

27.

Orchard J, Freedman SB, Lowres N et al (2014) iPhone ECG screening by practice nurses and receptionists for atrial fibrillation in general practice: the GP-SEARCH qualitative pilot study. Aust Fam Physician 43:315–319

28.

Launching our life-saving Atrial Fibrillation Pathway at EXPO2017 [News and events]. http://www.carecity.london/news/updates/426-launching-our-life-saving-atrial-fibrillation-pathway-at-expo2017. Accessed 13 Aug 2018

29.

Rickham PP (1964) Human experimentation. Code of Ethics of the World Medical Association. Declaration of Helsinki. Can Med Assoc J 91(11):619
Acknowledgements
The authors acknowledge all individuals who took the pulse checks and engaged in the awareness initiative. We also thank all motivated pharmacists who collaborated in data collection and contributed to raise awareness across the globe. Specifically for Switzerland and Portugal, we acknowledge the contribution of two pharmacy groups, respectively Top Pharm and Holon. Finally, we acknowledge Dr. Jagjot Chahal for the critical revision of this manuscript.
Funding
This research received no specific grant from any funding agency in the public, commercial, or not-for-profit sectors.
Ethics declarations
Conflict of interest
T. Lobban is the Founder and CEO of AF Assoc and Arrhythmia Alliance, a non-profit registered charity aiming to raise awareness of atrial fibrillation (AF), which receives funding from various sources, including donations, fundraising, grants, and trusts. Most of the authors are members of International Pharmacist for Anticoagulation Care Taskforce (FAC, VL, SA, MCC, DG, RV, JP, KML), an organization representing pharmacists with interests in anticoagulation, under the statutes of DRM-Foundation. DRM-Foundation has received funding in the past from Bayer Global and from Pfizer, Canada. S. Antoniou received personal fees and/or non-financial support from Bayer, Boehringer Ingelheim, Daiichi Sankyo and BMS/Pfizer related to AF anticoagulant management. B. Freedman reports grants to the institution, for investigator-initiated studies from Pfizer/BMS, and Bayer and Boehringer Ingelheim personal fees and/or non-financial support from Bayer, Boehringer Ingelheim, and BMS/Pfizer, related to screening for AF. None of these companies had any influence on the study design, conduct or review of results presented; neither did they provide any funding for the development of the study described.
Ethics approval
The Project was approved by Egas Moniz Ethical Review Board, Portugal (No. 319), Univerzita Karlova Eticka Komise, Czech Republic (No. 911), Barts Health NHS Trust Ethics Committee (No. 10357), the National Institute of Pharmacy and Nutrition in Hungary (No. 29517) and The Chinese University of Hong Kong Ethics Committee (CRE-2014.012). The remaining countries after consulting with their Local or National Committees, because the law mentions that as long as the activity is within the normal scope of pharmacy practice data may be used for observational studies, it was considered that the precedent decisions were valid. As an example, regulatory law for observation studies in France states that ethical approval by an Ethics Committee is not mandatory when looking at healthcare professional practices (Article R1121-1-II of the Public Health Code, Decree No. 2017-844, 9th May 2017; available at https://www.legifrance.gouv.fr/affichTexte.do?cidTexte=JORFTEXT000034634217&categorieLien=id. In fact, the trend to use anonymous patient data as part of the provided care and support and acknowledge its use is being adopted in many countries by various research organisations following recommendations from patients themselves, quoting "This work uses data provided by patients and collected by the NHS as part of their care and support" available at www.usemydata.org.uk.Data collection was also notified to the competent bodies (e.g. Comissão Nacional de Proteção de Dados, Portugal). Patients agreeing to the EDAF gave their written consent. Only in Spain, France and Hungary were oral consent considered sufficient by the national legislation, as long as the pharmacist clearly provided all information orally, which was ensured.
Informed consent
The informed consent included a section authorising publication of data in a compiled and anonymized format. The investigation conforms with the principles outlined in the Declaration of Helsinki [29].
Additional information
Publisher's Note
Springer Nature remains neutral with regard to jurisdictional claims in published maps and institutional affiliations.
Electronic supplementary material
Below is the link to the electronic supplementary material.
About this article
Cite this article
da Costa, F.A., Mala-Ladova, K., Lee, V. et al. Awareness campaigns of atrial fibrillation as an opportunity for early detection by pharmacists: an international cross-sectional study. J Thromb Thrombolysis 49, 606–617 (2020). https://doi.org/10.1007/s11239-019-02000-x
Keywords
Atrial fibrillation

Awareness

Pharmacists

Pulse check

Early detection of disease