Abstract
Septic shock is characterized by a dysregulated response to infection, hypotension and activation of the coagulation system. Markers of coagulation activation are commonly used to diagnose and monitor ensuing coagulopathies. In this study, we sought to determine levels of circulating thrombin in patients with septic shock. To characterize levels of circulating, active thrombin in patients with septic shock. 48 patients with septic shock were included in this prospective, observational study. Blood samples were obtained on admission, day 1, day 3 and day 6. Levels of active thrombin were measured using a standardized, clinically applicable oligonucleotide (aptamer)-based enzyme-capture assay (OECA). Thrombin levels were correlated with established indirect thrombin parameters, conventional coagulation tests, laboratory parameters, patient characteristics and outcome. Elevated levels of thrombin were detected in 27 patients (56.3%) during the course of the study. Thrombin levels were positively correlated with thrombin-antithrombin complexes (r = 0.30, p < 0.05) and negatively associated with FVII levels (r = − 0.28, p < 0.05). Thrombin levels on admission did not predict 30-day mortality (OR 0.82, 95% CI 0.23–2.92, p = 0.77). Circulating levels of active thrombin can be measured in a subset of patients with septic shock. Although thrombin levels are correlated with established markers of coagulation, they do not provide additional prognostic information.
Access options
Buy single article
Instant access to the full article PDF.
US$ 39.95
Tax calculation will be finalised during checkout.
Subscribe to journal
Immediate online access to all issues from 2019. Subscription will auto renew annually.
US$ 79
Tax calculation will be finalised during checkout.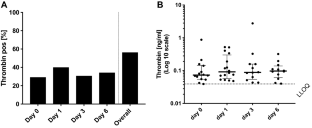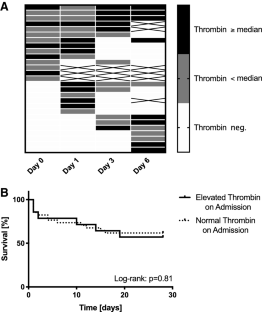 Data availability
The datasets analysed are available from the corresponding author on reasonable request.
Abbreviations
ANOVA:

Analysis of variance

APACHE II:

Acute physiology and chronic health evaluation II

APC:

Activated protein C

aPTT:

Activated partial thromboplastin time

ATIII:

Antithrombin

CRP:

C-reactive protein

DD:

D-dimer

DIC:

Disseminated intravascular coagulation

F1 + F2:

Prothrombin activation fragment F1 + 2

FVII:

Coagulation factor VII

ICU:

Intensive care unit

INR:

International normalized ratio

IQR:

Interquartile range

LLOQ:

Lower limit of quantification

NOAC:

New oral anticoagulant

OECA:

Oligonucleotide (aptamer)-based enzyme-capture assay

PC:

Protein C

PCT:

Procalcitonin

SAPS:

Simplified Acute Physiology Score

SC:

Septic coagulopathy

SD:

Standard deviation

TF:

Tissue factor

TAT:

Thrombin-antithrombin complexes

VKA:

Vitamin K antagonist

WBC:

White blood cell count
References
1.

Lelubre C, Vincent JL (2018) Mechanisms and treatment of organ failure in sepsis. Nat Rev Nephrol 14(7):417–427

2.

Rhee C, Dantes R, Epstein L et al (2017) Incidence and trends of sepsis in US hospitals using clinical vs claims data, 2009-2014. JAMA 318(13):1241–1249

3.

de Grooth HJ, Postema J, Loer SA, Parienti JJ, Oudemans-van Straaten HM, Girbes AR (2018) Unexplained mortality differences between septic shock trials: a systematic analysis of population characteristics and control-group mortality rates. Intensiv Care Med 44(3):311–322

4.

Lyons PG, Micek ST, Hampton N, Kollef MH (2018) Sepsis-associated coagulopathy severity predicts hospital mortality. Crit Care Med 46(5):736–742

5.

Saracco P, Vitale P, Scolfaro C, Pollio B, Pagliarino M, Timeus F (2011) The coagulopathy in sepsis: significance and implications for treatment. Pediatr Rep. 3(4):e30

6.

Mesters RM, Mannucci PM, Coppola R, Keller T, Ostermann H, Kienast J (1996) Factor VIIa and antithrombin III activity during severe sepsis and septic shock in neutropenic patients. Blood 88(3):881–886

7.

Becher T, Muller J, Akin I et al (2018) The evolution of activated protein C plasma levels in septic shock and its association with mortality: a prospective observational study. J Crit Care 47:41–48

8.

Ruhl H, Muller J, Harbrecht U et al (2012) Thrombin inhibition profiles in healthy individuals and thrombophilic patients. Thromb Haemost 107(5):848–853

9.

Muller J, Becher T, Braunstein J et al (2011) Profiling of active thrombin in human blood by supramolecular complexes. Angew Chem Int Ed Engl 50(27):6075–6078

10.

Ruhl H, Winterhagen FI, Berens C, Muller J, Oldenburg J, Potzsch B (2018) In vivo thrombin generation and subsequent APC formation are increased in factor V Leiden carriers. Blood 131(13):1489–1492

11.

Dellinger RP, Levy MM, Rhodes A et al (2013) Surviving sepsis campaign: international guidelines for management of severe sepsis and septic shock: 2012. Crit Care Med 41(2):580–637

12.

Muller J, Becher T, Mayer G, Potzsch B (2016) Aptamer-based enzyme capture assay for measurement of plasma thrombin levels. Methods Mol Biol 1380:179–189

13.

Muller J, Friedrich M, Becher T et al (2012) Monitoring of plasma levels of activated protein C using a clinically applicable oligonucleotide-based enzyme capture assay. J Thromb Haemost 10(3):390–398

14.

Konigsbrugge O, Koder S, Riedl J, Panzer S, Pabinger I, Ay C (2017) A new measure for in vivo thrombin activity in comparison with in vitro thrombin generation potential in patients with hyper- and hypocoagulability. Clin Exp Med 17(2):251–256

15.

Koyama K, Madoiwa S, Nunomiya S et al (2014) Combination of thrombin-antithrombin complex, plasminogen activator inhibitor-1, and protein C activity for early identification of severe coagulopathy in initial phase of sepsis: a prospective observational study. Crit Care 18(1):R13

16.

Simmons J, Pittet JF (2015) The coagulopathy of acute sepsis. Curr Opin Anaesthesiol 28(2):227–236

17.

Takahashi H, Wada K, Niwano H, Shibata A (1992) Comparison of prothrombin fragment 1 + 2 with thrombin-antithrombin III complex in plasma of patients with disseminated intravascular coagulation. Blood Coagul Fibrinolysis 3(6):813–818

18.

Franco RF, de Jonge E, Dekkers PE et al (2000) The in vivo kinetics of tissue factor messenger RNA expression during human endotoxemia: relationship with activation of coagulation. Blood 96(2):554–559

19.

Pawlinski R, Wang JG, Owens AP 3rd et al (2010) Hematopoietic and nonhematopoietic cell tissue factor activates the coagulation cascade in endotoxemic mice. Blood 116(5):806–814

20.

Gando S, Nanzaki S, Sasaki S, Aoi K, Kemmotsu O (1998) Activation of the extrinsic coagulation pathway in patients with severe sepsis and septic shock. Crit Care Med 26(12):2005–2009

21.

Kinasewitz GT, Yan SB, Basson B et al (2004) Universal changes in biomarkers of coagulation and inflammation occur in patients with severe sepsis, regardless of causative micro-organism [ISRCTN74215569]. Crit Care 8(2):R82–R90
Acknowledgements
The authors thank the Klaus Tschira Charitable Foundation for its kind support. The authors further thank Simone Gasper for expert technical assistance.
Funding
This study was funded by the Klaus Tschira Charitable Foundation (Grant No. 00.271.2015).
Ethics declarations
Conflict of interest
Martin Borggrefe declares financial relations, including speaker honoraria and research grants, with Boston Scientific, Medtronic, Impulse Dynamics, St. Jude Medical, CVRx, Biotronic, Pfizer, Bayer and Böhringer-Ingelheim. All other authors declare that they have no conflict of interest.
Ethical approval
All procedures performed in studies involving human participants were in accordance with the ethical standards of the institutional research committee (University of Heidelberg, Germany; reference number 2015-526N-MA) and with the 1964 Helsinki declaration and its later amendments.
Informed consent
Informed consent was obtained from all individual participants included in the study.
Additional information
Publisher's Note
Springer Nature remains neutral with regard to jurisdictional claims in published maps and institutional affiliations.
About this article
Cite this article
Becher, T., Müller, J., Akin, I. et al. Characterization of circulating thrombin in patients with septic shock: a prospective observational study. J Thromb Thrombolysis 50, 90–97 (2020). https://doi.org/10.1007/s11239-019-01992-w
Keywords
Hemostasis

Mortality

Sepsis

Shock, septic

Thrombin