Abstract
Patients taking oral anticoagulants (OACs) currently represent one-third of all patients treated for epistaxis and an upward trend is expected. New direct oral anticoagulants (DOACs) have been on the market for approximately 10 years. DOACs are favoured over Vitamin K-Antagonists (VKAs) in the current guidelines. There are barely studies that investigate the impact of DOACs on patients with epistaxis. A retrospective study was performed analysing all patients who had stationary treatment for epistaxis from 01.01.2011 to 01.01.2018 in a tertiary care centre. In a total of 466 patients, 46.1% were on OACs. The main indication was atrial fibrillation (AF, 67.4%).The number of DOACs taken surpassed that of the VKAs during the past 2 years. The length of hospital stay was significantly longer in the phenprocoumon group (3 ± 0.2 days) in comparison to both the rivaroxaban (2.3 ± 0.1) and the apixaban (2.2 ± 0.1) groups (p = 0.005). Posterior epistaxis occurred more frequently in the phenprocoumon group (10.8%) than in the rivaroxaban (0%) and apixaban (0%) groups (p = 0.03). A correlation between CHA2DS2–VASc score (risk score for apoplexy in patients with AF, p = 0.01), HAS-BLED score (score for assessment of major bleeding in patients taking anticoagulants with AF, p = 0.006), and length of hospital stay (p = 0.002) with recurrence of epistaxis was found. Shorter hospital stays and exclusively anterior bleeding was noted in AF patients taking rivaroxaban and apixaban, whereas AF patients taking phenprocoumon stayed in hospital longer and had more posterior bleeding.
This is a preview of subscription content, log in to check access.
Access options
Buy single article
Instant access to the full article PDF.
US$ 39.95
Price includes VAT for USA
Subscribe to journal
Immediate online access to all issues from 2019. Subscription will auto renew annually.
US$ 99
This is the net price. Taxes to be calculated in checkout.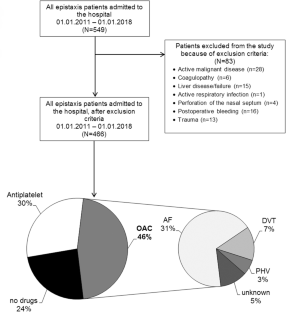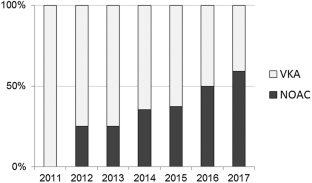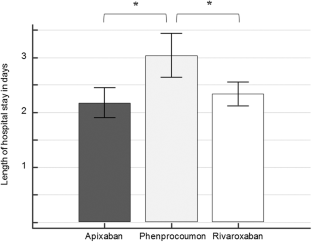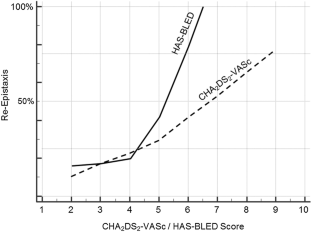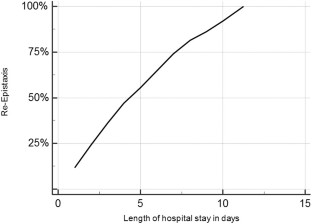 References
1.

Walker T, Macfarlane T, McGarry G (2007) The epidemiology and chronobiology of epistaxis: an investigation of Scottish hospital admissions 1995–2004. Clin Otolaryngol 32(5):361–365

2.

Destatis. Diagnosedaten der Krankenhäuser ab 2000 (Eckdaten der vollstationären Patienten und Patientinnen) (2018) Gesundheitsberichterstattung des Bundes. http://www.gbe-bund.de/

3.

Statistics NHe (2016) http://content.digital.nhs.uk/hes

4.

Destatis (2015) Sterbefälle, Sterbeziffern (je 100.000 Einwohner, altersstandardisiert). http://www.gbe-bund.de/

5.

Andreotti F, Rocca B, Husted S, Ajjan RA, ten Berg J, Cattaneo M et al (2015) Antithrombotic therapy in the elderly: expert position paper of the European Society of Cardiology Working Group on Thrombosis. Eur Heart J 36(46):3238–3249

6.

Bermuller C, Bender M, Brogger C, Petereit F, Schulz M (2014) Epistaxis and anticoagulation—a medical and economic challenge?. Laryngorhinootologie 93(4):249–255

7.

Biggs TC, Baruah P, Mainwaring J, Harries PG, Salib RJ (2013) Treatment algorithm for oral anticoagulant and antiplatelet therapy in epistaxis patients. J Laryngol Otol 127(5):483–488

8.

INTEGRATE (2017) Epistaxis 2016: national audit of management. J Laryngol Otol 131(12):1131–1141

9.

Smith J, Siddiq S, Dyer C, Rainsbury J, Kim D (2011) Epistaxis in patients taking oral anticoagulant and antiplatelet medication: prospective cohort study. J Laryngol Otol 125(12):38–42

10.

FDA (2010) Approval Dabigatran. https://www.accessdata.fda.gov/drugsatfda_docs/nda/2010/022512orig1s000toc.cfm

11.

FDA (2011) Approval Rivaroxaban. https://www.accessdata.fda.gov/drugsatfda_docs/appletter/2011/202439s000ltr.pdf

12.

FDA (2012) Approval Apixaban. https://www.fda.gov/downloads/drugs/drugsafety/postmarketdrugsafetyinformationforpatientsandproviders/ucm333723.pdf

13.

Avezum A, Lopes RD, Schulte PJ, Lanas F, Gersh BJ, Hanna M et al (2015) Apixaban in comparison with warfarin in patients with atrial fibrillation and valvular heart disease: findings from the Apixaban for reduction in stroke and other thromboembolic events in atrial fibrillation (ARISTOTLE) trial. Circulation 132(8):624–632

14.

Patel MR, Mahaffey KW, Garg J, Pan G, Singer DE, HackeW et al (2011) Rivaroxaban versus Warfarin in nonvalvular atrial fibrillation. New Engl J Med 365(10):883–891

15.

Musgrave KM, Powell J (2016) A systematic review of anti-thrombotic therapy in epistaxis. Rhinology 54(4):292–301

16.

Sauter TC, Hegazy K, Hautz WE, Krummrey G, Ricklin ME, Nagler M et al (2018) Epistaxis in anticoagulated patients: fewer hospital admissions and shorter hospital stays on rivaroxaban compared to phenprocoumon. Clin Otolaryngol 43(1):103–108

17.

García Callejo FJ, Bécares Martínez C, Calvo González J, Martínez Beneyto P, Marco Sanz M, Marco Algarra J (2014) Epistaxis and dabigatran, a new non-vitamin K antagonist oral anticoagulant. Acta Otorrinolaringol Esp 65(6):346–354

18.

Werdan K, Braun-Dullaeus R, Presek P (2013) Anticoagulation in atrial fibrillation: NOAC's the word. Dtsch Arztebl Int 110(31–32):523–524

19.

Lip GY, Nieuwlaat R, Pisters R, Lane DA, Crijns HJ (2010) Refining clinical risk stratification for predicting stroke and thromboembolism in atrial fibrillation using a novel risk factor-based approach: the euro heart survey on atrial fibrillation. Chest 137(2):263–272

20.

Pisters R, Lane DA, Nieuwlaat R, de Vos CB, Crijns HJ, Lip GY (2010) A novel user-friendly score (HAS-BLED) to assess 1-year risk of major bleeding in patients with atrial fibrillation: the Euro Heart Survey. Chest 138(5):1093–1100

21.

Camm AJ, Lip GY, De Caterina R, Savelieva I, Atar D, Hohnloser SH et al (2012) 2012 focused update of the ESC Guidelines for the management of atrial fibrillation: an update of the 2010 ESC Guidelines for the management of atrial fibrillation. Developed with the special contribution of the European Heart Rhythm Association. Eur Heart J 33(21):2719–2747

22.

Kearon C, Akl EA, Ornelas J, Blaivas A, Jimenez D, Bounameaux H et al (2016) Antithrombotic therapy for VTE Disease: CHEST Guideline and Expert Panel Report. Chest 149(2):315–352

23.

Granger CB, Alexander JH, McMurray JJV, Lopes RD, Hylek EM, Hanna M et al (2011) Apixaban versus warfarin in patients with atrial fibrillation. N Engl J Med 365(11):981–992

24.

Cohen O, Shoffel-Havakuk H, Warman M, Tzelnick S, Haimovich Y, Kohlberg GD et al (2017) Early and late recurrent epistaxis admissions: patterns of incidence and risk factors. Otolaryngol Head Neck Surg 157(3):424–431
Funding
This project was funded entirely by the Department of Otorhinolaryngology of the Sana Kliniken Leipziger Land, Germany.
Ethics declarations
Conflict of interest
All authors have indicated that they have no conflict of interest.
Additional information
Publisher's Note
Springer Nature remains neutral with regard to jurisdictional claims in published maps and institutional affiliations.
About this article
Cite this article
Stankovic, P., Georgiew, R., Frommelt, C. et al. Shorter hospital stays in epistaxis patients with atrial fibrillation when taking rivaroxaban or apixaban versus phenprocoumon. J Thromb Thrombolysis 47, 384–391 (2019). https://doi.org/10.1007/s11239-019-01824-x
Keywords
Epistaxis

Rivaroxaban

Apixaban

Phenprocoumon

Atrial fibrillation