Abstract
Peripherally-inserted central catheters (PICCs) are commonly used during hospitalization. Unfortunately, their use can be complicated by catheter-related thrombosis (CRT). Current guidelines recommend 3–6 months of anticoagulation for patients with CRT after catheter removal. This recommendation is based on extrapolation of data on lower extremity thrombosis, as data is lacking regarding the efficacy and safety of more specific management strategies. Many providers feel catheter removal alone is a reasonable treatment option, particularly for patients at risk for bleeding. We performed a retrospective analysis of hospitalized adult patients diagnosed with CRT at our center. We determined rates of progressive thrombosis and bleeding in cohorts of patients who underwent catheter removal vs those who had catheters removed and received anticoagulation. Among 83 total patients, 62 were treated with PICC removal alone, while 21 underwent PICC removal followed by therapeutic anticoagulation. Patients treated with PICC removal alone were more likely to have hematologic malignancy, receive chemotherapy, develop thrombocytopenia, and have brachial vein thrombosis. No patients in the PICC removal plus anticoagulation arm developed progressive thrombosis, while 6.4% of patients treated with catheter removal alone developed a secondary VTE event, including one PE, three DVTs, and five patients (8%) who developed progressive symptoms leading to initiation of anticoagulation. Major bleeding was significantly more common in the PICC removal + anticoagulation arm (28.5% vs. 4.8% p = 0.007). Catheter-removal alone results in significantly reduced major bleeding compared with catheter-removal plus anticoagulation. In select patients, catheter removal alone may be an option for CRT.
This is a preview of subscription content, log in to check access.
Access options
Buy single article
Instant access to the full article PDF.
US$ 39.95
Price includes VAT for USA
Subscribe to journal
Immediate online access to all issues from 2019. Subscription will auto renew annually.
US$ 99
This is the net price. Taxes to be calculated in checkout.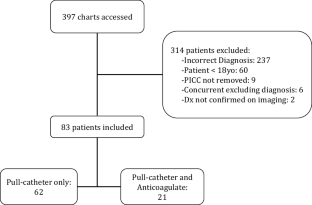 References
1.

Kearon C et al (2016) Antithrombotic therapy for VTE disease: CHEST Guideline and Expert Panel report. Chest 149(2):315–352

2.

Schiffer CA et al (2013) Central venous catheter care for the patient with cancer: American Society of Clinical Oncology clinical practice guideline. J Clin Oncol 31(10):1357–1370

3.

Sousa B et al (2015) Central venous access in oncology: ESMO Clinical Practice Guidelines†. Ann Oncol 26(Suppl_5):v152–v168

4.

Liu Y et al (2015) Peripherally inserted central catheter thrombosis incidence and risk factors in cancer patients: a double-center prospective investigation. Ther Clin Risk Manag 11:153–160

5.

Jones MA et al (2010) Characterizing resolution of catheter-associated upper extremity deep venous thrombosis. J Vasc Surg 51(1):108–113

6.

Malinoski DJ et al (2011) The natural history of upper extremity deep venous thromboses in critically ill surgical and trauma patients: what is the role of anticoagulation? J Trauma 71(2): 316–321; discussion 321–322

7.

Joffe HV et al (2004) Upper-extremity deep vein thrombosis: a prospective registry of 592 patients. Circulation 110(12):1605–1611

8.

Baumann Kreuziger L et al (2015) Systematic review of anticoagulant treatment of catheter-related thrombosis. Thromb Res 136(6):1103–1109

9.

Schulman S, Kearon C (2005) Definition of major bleeding in clinical investigations of antihemostatic medicinal products in non-surgical patients. J Thromb Haemost 3(4):692–694

10.

Kahn SR et al (2012) Prevention of VTE in nonsurgical patients. Chest 141(2):e195S–e226S

11.

Elman EE, Kahn SR (2006) The post-thrombotic syndrome after upper extremity deep venous thrombosis in adults: a systematic review. Thromb Res 117(6):609–614

12.

Heit JA et al (2001) Incidence of venous thromboembolism in hospitalized patients vs community residents. Mayo Clin Proc 76(11):1102–1110

13.

Kahn SR et al (2012) Prevention of VTE in nonsurgical patients: antithrombotic therapy and prevention of thrombosis, 9th ed: American College of Chest Physicians evidence-based clinical practice guidelines. Chest 141(2 Suppl):e195S–e226S

14.

Li A et al (2017) Management of venous thromboembolism during thrombocytopenia after autologous hematopoietic cell transplantation. Blood Adv 1(12):707–714

15.

Davies GA et al (2018) A prospective study of Rivaroxaban for central venous catheter associated upper extremity deep vein thrombosis in cancer patients (Catheter 2). Thromb Res 162:88–92

16.

Kovacs MJ et al (2007) A pilot study of central venous catheter survival in cancer patients using low-molecular-weight heparin (dalteparin) and warfarin without catheter removal for the treatment of upper extremity deep vein thrombosis (The Catheter Study). J Thromb Haemost 5(8):1650–1653
Ethics declarations
Conflict of interest
All authors have no relevant conflicts of interest to disclose.
About this article
Cite this article
Shatzel, J.J., Mart, D., Bien, J.Y. et al. The efficacy and safety of a catheter removal only strategy for the treatment of PICC line thrombosis versus standard of care anticoagulation: a retrospective review. J Thromb Thrombolysis 47, 585–589 (2019). https://doi.org/10.1007/s11239-019-01807-y
Keywords
Peripherally-inserted-central catheter

Thrombosis

Anticoagulation