Abstract
TV viewing is associated with risk of arterial vascular diseases, but has not been evaluated in relation to venous thromboembolism (VTE) risk in Western populations. In 1987–1989, the Atherosclerosis Risk in Communities Study obtained information on the frequency of TV viewing in participants aged 45–64 and followed them prospectively. In individuals free of prebaseline VTE (n = 15, 158), we used a Cox proportional hazards models to estimate hazard ratios (HRs) and 95% confidence intervals (CIs) of incident VTE according to frequency of TV viewing ("Never or seldom", "Sometimes", "Often" or "Very often"). During the 299,767 person-years of follow-up, we identified 691 VTE events. In a multivariable-adjusted model, the frequency of TV viewing showed a positive dose–response relation with VTE incidence (P for trend = 0.036), in which "very often" viewing TV carried 1.71 (95% CI 1.26–2.32) times the risk of VTE compared with "never or seldom" viewing TV. This association to some degree was mediated by obesity (25% mediation, 95% CI 10.7–27.5). Even among individuals who met a recommended level of physical activity, viewing TV "very often" carried 1.80 (1.04–3.09) times the risk of VTE, compared to viewing TV "never or seldom". Greater frequency of TV viewing was independently associated with increased risk of VTE, partially mediated by obesity. Achieving a recommended physical activity level did not eliminate the increased VTE risk associated with frequent TV viewing. Avoiding frequent TV viewing as well as increasing physical activity and controlling body weight might be beneficial for VTE prevention.
This is a preview of subscription content, log in to check access.
Access options
Buy single article
Instant access to the full article PDF.
US$ 39.95
Price includes VAT for USA
Subscribe to journal
Immediate online access to all issues from 2019. Subscription will auto renew annually.
US$ 99
This is the net price. Taxes to be calculated in checkout.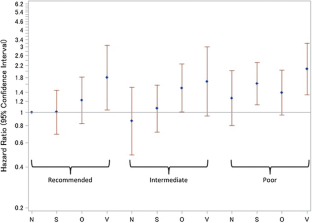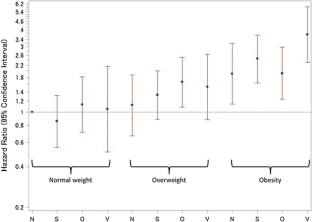 References
1.

Grøntved A, Hu FB (2011) Television viewing and risk of type 2 diabetes, cardiovascular disease, and all-cause mortality: a meta-analysis. JAMA 305:2448–2455

2.

Wilmot EG, Edwardson CL, Achana FA, Davies MJ, Gorely T, Gray LJ, Khunti K, Yates T, Biddle SJ (2012) Sedentary time in adults and the association with diabetes, cardiovascular disease and death: systematic review and meta-analysis. Diabetologia 55:2895–2905

3.

Biswas A, Oh PI, Faulkner GE, Bajaj RR, Silver MA, Mitchell MS, Alter DA (2015) Sedentary time and its association with risk for disease incidence, mortality, and hospitalization in adults: a systematic review and meta-analysis. Ann Intern Med 162:123–132

4.

Chomistek AK, Manson JE, Stefanick ML, Lu B, Sands-Lincoln M, Going SB, Garcia L, Allison MA, Sims ST, LaMonte MJ, Johnson KC, Eaton CB (2013) Relationship of sedentary behavior and physical activity to incident cardiovascular disease: results from the Women's Health Initiative. J Am Coll Cardiol 61:2346–2354

5.

Young DR, Reynolds K, Sidell M, Brar S, Ghai NR, Sternfeld B, Jacobsen SJ, Slezak JM, Caan B, Quinn VP (2014) Effects of physical activity and sedentary time on the risk of heart failure. Circ Heart Fail 7:21–27

6.

Hu FB, Li TY, Colditz GA, Willett WC, Manson JE (2003) Television viewing and other sedentary behaviors in relation to risk of obesity and type 2 diabetes mellitus in women. JAMA 289:1785–1791

7.

Heit JA (2015) Epidemiology of venous thromboembolism. Nat Rev Cardiol 12:464–474

8.

Kubota Y, McAdams-DeMarco M, Folsom AR (2016) Serum uric acid, gout, and venous thromboembolism: The atherosclerosis risk in communities study. Thromb Res 144:144–148

9.

Shirakawa T, Iso H, Yamagishi K, Yatsuya H, Tanabe N, Ikehara S, Ukawa S, Tamakoshi A (2016) Viewing Television and Risk of Mortality From Pulmonary Embolism Among Japanese Men and Women: The JACC Study (Japan Collaborative Cohort). Circulation 134:355–357

10.

The ARIC investigators (1989) The Atherosclerosis Risk in Communities (ARIC) Study: design and objectives. Am J Epidemiol 129:687–702

11.

Kubota Y, Alonso A, Folsom AR (2017) β-Thromboglobulin and incident cardiovascular disease risk: the Atherosclerosis Risk in Communities study. Thromb Res 155:116–120

12.

Baecke JA, Burema J, Frijters JE (1982) A short questionnaire for the measurement of habitual physical activity in epidemiological studies. Am J Clin Nutr 36:936–942

13.

Kubota Y, Heiss G, MacLehose RF, Roetker NS, Folsom AR (2017) Educational attainment and lifetime risk of cardiovascular disease: the atherosclerosis risk in communities study. JAMA Intern Med 177:1165–1172

14.

Kubota Y, Evenson KR, MacLehose RF, Roetker NS, Joshu CE, Folsom AR (2017) Physical activity and lifetime risk of cardiovascular disease and cancer. Med Sci Sports Exerc 29:1599–1605

15.

Ainsworth BE, Haskell WL, Whitt MC, Irwin ML, Swartz AM, Strath SJ, O'Brien WL, Bassett DR Jr, Schmitz KH, Emplaincourt PO, Jacobs DR Jr, Leon AS (2000) Compendium of physical activities: an update of activity codes and MET intensities. Med Sci Sports Exerc 32:S498-504

16.

Jacobs DR Jr, Ainsworth BE, Hartman TJ, Leon AS (1993) A simultaneous evaluation of 10 commonly used physical activity questionnaires. Med Sci Sports Exerc 25:81–91

17.

Pols MA, Peeters PH, Bueno-De-Mesquita HB, Ocké MC, Wentink CA, Kemper HC, Collette HJ (1995) Validity and repeatability of a modified Baecke questionnaire on physical activity. Int J Epidemiol 24:381–388

18.

Richardson MT, Ainsworth BE, Wu HC, Jacobs DR Jr, Leon AS (1995) Ability of the Atherosclerosis Risk in Communities (ARIC)/Baecke Questionnaire to assess leisure-time physical activity. Int J Epidemiol 24:685–693

19.

Haskell WL, Lee IM, Pate RR, Powell KE, Blair SN, Franklin BA, Macera CA, Heath GW, Thompson PD, Bauman A, American College of Sports Medicine; American Heart Association (2007) Physical activity and public health: updated recommendation for adults from the American College of Sports Medicine and the American Heart Association. Circulation 116:1081–1093

20.

Kubota Y, London SJ, Cushman M, Chamberlain AM, Rosamond WD, Heckbert SR, Zakai N, Folsom AR (2016) Lung function, respiratory symptoms and venous thromboembolism risk: the Atherosclerosis Risk in Communities Study. J Thromb Haemost 14:2394–2401

21.

Olson NC, Cushman M, Lutsey PL, McClure LA, Judd S, Tracy RP, Folsom AR, Zakai NA (2014) Inflammation markers and incident venous thromboembolism: the REasons for Geographic And Racial Differences in Stroke (REGARDS) cohort. J Thromb Haemost 12:1993–2001

22.

Benatti FB, Ried-Larsen M (2015) The effects of breaking up prolonged sitting time: a review of experimental studies. Med Sci Sports Exerc 47:2053–2061

23.

Wannamethee SG, Lowe GD, Whincup PH, Rumley A, Walker M, Lennon L (2002) Physical activity and hemostatic and inflammatory variables in elderly men. Circulation 105:1785–1790

24.

Howard BJ, Fraser SF, Sethi P, Cerin E, Hamilton MT, Owen N, Dunstan DW, Kingwell BA (2013) Impact on hemostatic parameters of interrupting sitting with intermittent activity. Med Sci Sports Exerc 45:1285–1291

25.

Hamer M, Smith L, Stamatakis E (2015) Prospective association of TV viewing with acute phase reactants and coagulation markers: English Longitudinal Study of Ageing. Atherosclerosis 239:322–327

26.

Anderson FA Jr, Spencer FA (2003) Risk factors for venous thromboembolism. Circulation 107:I9–16

27.

Suadicani P, Hannerz H, Bach E, Gyntelberg F (2012) Jobs encompassing prolonged sitting in cramped positions and risk of venous thromboembolism: cohort study. JRSM Short Rep 3:8

28.

Flinterman LE, van Hylckama Vlieg A, Rosendaal FR, Cannegieter SC (2015) Body height, mobility, and risk of first and recurrent venous thrombosis. J Thromb Haemost 13:548–554

29.

Engbers MJ, Blom JW, Cushman M, Rosendaal FR, van Hylckama Vlieg A (2014) The contribution of immobility risk factors to the incidence of venous thrombosis in an older population. J Thromb Haemost 12:290–296

30.

Parkin L, Sweetland S, Balkwill A, Green J, Reeves G, Beral V, Million Women Study Collaborators (2012) Body mass index, surgery, and risk of venous thromboembolism in middle-aged women: a cohort study. Circulation 125:1897–1904

31.

Allman-Farinelli MA (2011) Obesity and venous thrombosis: a review. Semin Thromb Hemost 37:903–907

32.

Wattanakit K, Lutsey PL, Bell EJ, Gornik H, Cushman M, Heckbert SR, Rosamond WD, Folsom AR (2012) Association between cardiovascular disease risk factors and occurrence of venous thromboembolism. A time-dependent analysis. Thromb Haemost 108:508–515
Acknowledgements
The authors thank the staff and participants of the ARIC study for their important contributions.
Funding
The National Heart, Lung, and Blood Institute (NHLBI) supported ARIC via contracts HHSN268201100005C, HHSN268201100006C, HHSN268201100007C, HHSN268201100008C, HHSN268201100009C, HHSN268201100010C, HHSN268201100011C, and HHSN268201100012C.
Ethics declarations
Conflict of interest
Authors declare no conflict of interest.
Ethical approval
The study protocol was approved by the institutional review boards of the collaborating universities.
Informed consent
ARIC obtained written informed consent from all participants.
About this article
Cite this article
Kubota, Y., Cushman, M., Zakai, N. et al. TV viewing and incident venous thromboembolism: the Atherosclerotic Risk in Communities Study. J Thromb Thrombolysis 45, 353–359 (2018). https://doi.org/10.1007/s11239-018-1620-7
Keywords
TV

Venous thromboembolism

Physical activity

Sedentary behavior