Abstract
The purpose of this study was to investigate the behavior of platelets (rolling and adhesion) in cerebral microvessels of angiotensin II type-2 receptor-knockout (AT2RKO) mice after transient bilateral carotid artery occlusion using intravital fluorescence microscopy. Twenty AT2RKO mice, consisting of 11 mice in the sham group and 9 mice in the ischemia reperfusion group (reperfusion after 15 min of bilateral, total carotid artery occlusion) were used in this study. The hole traversed the bone and dura mater, but arachnoid, pia mater, and cerebral parenchyma were preserved. Platelets were harvested from donor mice and stained using carboxyfluorescein diacetate succinimidyl ester. The number of platelets showing rolling and adhesion to pial vessels in AT2 deficient mice at 3 and 6 h after cerebral ischemia reperfusion was significantly higher than that in the sham group (P < 0.05). In addition, AT2 receptor has an inhibitory role in platelet rolling and adhesion after cerebral ischemia reperfusion.
Access options
Buy single article
Instant access to the full article PDF.
US$ 39.95
Tax calculation will be finalised during checkout.
Subscribe to journal
Immediate online access to all issues from 2019. Subscription will auto renew annually.
US$ 79
Tax calculation will be finalised during checkout.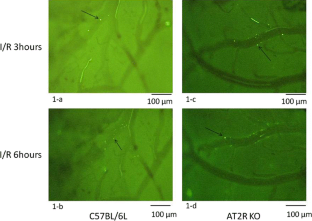 References
1.

Kagiyama T, Kagiyama S, Phillips MI (2003) Expression of angiotensin type 1 and 2 receptors in brain after transient middle cerebral artery occlusion in rats. Regul Pept 110(3):241–247

2.

Makino I, Shibata K, Ohgami Y, Fujiwara M, Furukawa T (1996) Transient upregulation of the AT2 receptor mRNA level after global ischemia in the rat brain. Neuropeptides 30(6):596–601

3.

Hein L, Barsh GS, Pratt RE, Dzau VJ, Kobilka BK (1995) Behavioural and cardiovascular effects of disrupting the angiotensin II type-2 receptor in mice. Nature 377(6551):744–747. doi:10.1038/377744a0

4.

Stoll M, Steckelings UM, Paul M, Bottari SP, Metzger R, Unger T (1995) The angiotensin AT2-receptor mediates inhibition of cell proliferation in coronary endothelial cells. J Clin Investig 95(2):651–657. doi:10.1172/jci117710

5.

Horiuchi M, Akishita M, Dzau VJ (1999) Recent progress in angiotensin II type 2 receptor research in the cardiovascular system. Hypertension 33(2):613–621

6.

Nakajima M, Hutchinson HG, Fujinaga M, Hayashida W, Morishita R, Zhang L, Horiuchi M, Pratt RE, Dzau VJ (1995) The angiotensin II type 2 (AT2) receptor antagonizes the growth effects of the AT1 receptor: gain-of-function study using gene transfer. Proc Natl Acad Sci USA 92(23):10663–10667

7.

Fukuoka T, Hayashi T, Hirayama M, Maruyama H, Tanahashi N (2013) Cilostazol inhibits platelet–endothelial cell interaction in murine microvessels after transient bilateral common carotid artery occlusion. J Stroke Cerebrovasc Dis 23:1056–1061. doi:10.1016/j.jstrokecerebrovasdis.2013.09.003

8.

Ishikawa M, Cooper D, Arumugam TV, Zhang JH, Nanda A, Granger DN (2004) Platelet–leukocyte–endothelial cell interactions after middle cerebral artery occlusion and reperfusion. J Cereb Blood Flow Metab 24(8):907–915. doi:10.1097/01.wcb.0000132690.96836.7f

9.

Ishikawa M, Cooper D, Russell J, Salter JW, Zhang JH, Nanda A, Granger DN (2003) Molecular determinants of the prothrombogenic and inflammatory phenotype assumed by the postischemic cerebral microcirculation. Stroke 34(7):1777–1782. doi:10.1161/01.str.0000074921.17767.f2

10.

Russell J, Cooper D, Tailor A, Stokes KY, Granger DN (2003) Low venular shear rates promote leukocyte-dependent recruitment of adherent platelets. Am J Physiol Gastrointest Liver Physiol 284(1):G123–G129. doi:10.1152/ajpgi.00303.2002

11.

Ishikawa M, Sekizuka E, Yamaguchi N, Nakadate H, Terao S, Granger DN, Minamitani H (2007) Angiotensin II type 1 receptor signaling contributes to platelet–leukocyte–endothelial cell interactions in the cerebral microvasculature. Am J Physiol Heart Circ Physiol 292(5):H2306–H2315. doi:10.1152/ajpheart.00601.2006

12.

Iwai M, Liu HW, Chen R, Ide A, Okamoto S, Hata R, Sakanaka M, Shiuchi T, Horiuchi M (2004) Possible inhibition of focal cerebral ischemia by angiotensin II type 2 receptor stimulation. Circulation 110(7):843–848. doi:10.1161/01.CIR.0000138848.58269.80

13.

Walther T, Olah L, Harms C, Maul B, Bader M, Hortnagl H, Schultheiss HP, Mies G (2002) Ischemic injury in experimental stroke depends on angiotensin II. FASEB J 16(2):169–176. doi:10.1096/fj.01-0601com

14.

Nishimura Y, Ito T, Saavedra JM (2000) Angiotensin II AT(1) blockade normalizes cerebrovascular autoregulation and reduces cerebral ischemia in spontaneously hypertensive rats. Stroke 31(10):2478–2486
Acknowledgments
This work was supported by Grants-in-Aid for Scientific Research from Ministry of Education, Culture, Sports, Science and Technology (Grant Number 26461278).
Electronic supplementary material
Below is the link to the electronic supplementary material.
Supplementary material 1 (MP4 15257 kb)
About this article
Cite this article
Fukuoka, T., Hayashi, T., Hirayama, M. et al. Platelet–endothelial cell interaction in brain microvessels of angiotensin II type-2 receptor knockout mice following transient bilateral common carotid artery occlusion. J Thromb Thrombolysis 40, 401–405 (2015). https://doi.org/10.1007/s11239-015-1254-y
Keywords
Platelet

Ischemia and reperfusion

Rolling

Adhesion

Mouse