Abstract
Objective The purpose of the study was to investigate the effects of 24 h of sleep deprivation on hematologic parameters. Methods Ten healthy subjects (5 Men, 5 Women, 19–23 years old) were studied from 07:00 on day 1 until 07:00 on day 3 and allowed to have normal sleep during night 1 (providing control data) followed by staying awake from 07:00 h on day 2 until 07:00 h on day 3 (providing sleep deprivation data). Blood samples were drawn from the antecubital vein on each day at 07.00 h. Blood cell counts were measured with an automated hematology analyzer. Hemostasis parameters included activated partial thromboplastin time (APTT), prothrombin time (PT), thrombin time (TT), and fibrinogen level (FIB), which were analyzed with an autoanalyser. ANOVA test with repeated measures was performed. Results The white blood cell and neutrophil granulocyte counts were significantly higher (P < 0.01) and PT, APTT, and TT significantly shorter (P < 0.05) on day 3 (following sleep deprivation) than on days 1 or 2. Conclusion Sleep deprivation may worsen systemic inflammation and hypercoagulable states, which are known to be involved in the pathogenesis of diseases such as cerebrovascular or cardiovascular disease.
Access options
Buy single article
Instant access to the full article PDF.
USD 39.95
Price includes VAT (USA)
Tax calculation will be finalised during checkout.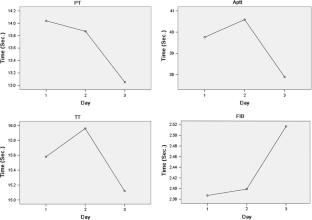 References
1.

Varughese GI (2005) Junior doctors' shifts and sleep deprivation: please make on-call rooms available to doctors at night. BMJ 331(7515):515. doi:10.1136/bmj.331.7515.515-a

2.

Puvanendran K, Venkatramani J, Jain A, Farid M (2005) Sleep deprivation in junior doctors—house officers in Singapore. Ind Health 43(1):129–132. doi:10.2486/indhealth.43.129

3.

Honkus VL (2003) Sleep deprivation in critical care units. Crit Care Nurs Q 26(3):179–189

4.

Velayos JL, Moleres FJ, Irujo AM, Yllanes D, Paternain B (2007) Anatomical basis of sleep. An Sist Sanit Navar 30(1):7–17

5.

Savard J, Miller SM, Mills M, O'Leary A, Harding H, Douglas SD et al (1999) Association between subjective sleep quality and depression on immunocompetence in low-income women at risk for cervical cancer. Psychosom Med 61:496–507

6.

Vitaliano PP, Scanlan JM, Ochs HD, Syrjala K, Siegler IC, Snyder EA (1998) Psychosocial stress moderates the relationship of cancer history with natural killer cell activity. Ann Behav Med 20(3):199–208. doi:10.1007/BF02884961

7.

Crofford LJ, Kalogeras KT, Mastorakos G, Magiakou MA, Wells J, Kanik KS et al (1997) Circadian relationships between interleukin (IL)-6 and hypothalamic–pituitary–adrenal axis hormones: failure of IL-6 to cause sustained hypercortisolism in patients with early untreated rheumatoid arthritis. J Clin Endocrinol Metab 82:1279–1283. doi:10.1210/jc.82.4.1279

8.

Miller MA, Cappuccio FP (2007) Inflammation, sleep, obesity and cardiovascular disease. Curr Vasc Pharmacol 5(2):93–102. doi:10.2174/157016107780368280

9.

Caples SM, Garcia-Touchard A, Somers VK (2007) Sleep-disordered breathing and cardiovascular risk. Sleep 30(3):291–303

10.

Wolk R, Gami AS, Garcia-Touchard A, Somers VK (2005) Sleep and cardiovascular disease. Curr Probl Cardiol 30(12):625–662. doi:10.1016/j.cpcardiol.2005.07.002

11.

Dimitrov S, Lange T, Nohroudi K, Born J (2007) Number and function of circulating human antigen presenting cells regulated by sleep. Sleep 30:401–411

12.

Irwin M, McClintick J, Costlow C, Fortner M, White J, Gillin JC (1996) Partial night sleep deprivation reduces natural killer and cellular immune responses in humans. FASEB J 10(5):643–653

13.

Heiser P, Dickhaus B, Schreiber W, Clement HW, Hasse C, Hennig J et al (2000) White blood cells and cortisol after sleep deprivation and recovery sleep in humans. Eur Arch Psychiatry Clin Neurosci 250(1):16–23. doi:10.1007/PL00007534

14.

Nishitani N, Sakakibara H (2007) Subjective poor sleep and white blood cell count in male Japanese workers. Ind Health 45(2):296–300. doi:10.2486/indhealth.45.296

15.

Dinges DF, Douglas SD, Hamarman S, Zaugg L, Kapon S (1995) Sleep deprivation and human immune function. Adv Neuroimmunol 5:97–110. doi:10.1016/0960-5428(95)00002-J

16.

Irwin M, Thompson J, Miller C, Gillin JC, Ziegler M (1999) Effects of sleep and sleep deprivation on catecholamine and interleukin-2 levels in humans: clinical implications. J Clin Endocrinol Metab 84:1979–1985. doi:10.1210/jc.84.6.1979

17.

Redwine L, Hauger RL, Gillin JC, Irwin M (2000) Effects of sleep and sleep deprivation on interleukin-6, growth hormone, cortisol, and melatonin levels in humans. J Clin Endocrinol Metab 85:3597–3603. doi:10.1210/jc.85.10.3597

18.

Meier-Ewert HK, Ridker PM, Rifai N, Regan MM, Price NJ, Dinges DF, Mullington JM (2004) Effect of sleep loss on C-reactive protein, an inflammatory marker of cardiovascular risk. J Am Coll Cardiol 43(4):678–683

19.

Alavez M, Conti B, Moroncini G, Criado JR (2007) Contributions of neuronal prion protein on sleep recovery and stress response following sleep deprivation. Brain Res 1158:71–80. doi:10.1016/j.brainres.2007.05.010

20.

Mills PJ, von Känel R, Norman D, Natarajan L, Ziegler MG, Dimsdale JE (2007) Inflammation and sleep in healthy individuals. Sleep 30(6):729–735

21.

Ayas NT, White DP, Manson JE (2003) A prospective study of sleep duration and coronary heart disease in women. Arch Intern Med 163(2):205–209. doi:10.1001/archinte.163.2.205

22.

Kraywinkel K, Heidrich J, Heuschmann PU (2007) Stroke risk perception among participants of a stroke awareness campaign. BMC Public Health 7:39–45. doi:10.1186/1471-2458-7-39

23.

Irwin MR, Wang M, Campomayor CO, Collado-Hidalgo A, Cole S (2006) Sleep deprivation and activation of morning levels of cellular and genomic markers of inflammation. Arch Intern Med 166(16):1756–1762. doi:10.1001/archinte.166.16.1756

24.

Gundersen Y, Opstad PK, Reistad T, Thrane I, Vaagenes P (2006) Seven days' around the clock exhaustive physical exertion combined with energy depletion and sleep deprivation primes circulating leukocytes. Eur J Appl Physiol 97(2):151–157. doi:10.1007/s00421-006-0150-8

25.

Murali NS, Svatikova A, Somers VK (2003) Cardiovascular physiology and sleep. Front Biosci 8:636–652. doi:10.2741/1105
Acknowledgment
The study was supported by Grant NSFC-30770724 from the National Natural Science Foundation of China.
About this article
Cite this article
Liu, H., Wang, G., Luan, G. et al. Effects of sleep and sleep deprivation on blood cell count and hemostasis parameters in healthy humans. J Thromb Thrombolysis 28, 46–49 (2009). https://doi.org/10.1007/s11239-008-0240-z
Received:

Accepted:

Published:

Issue Date:
Keywords
Sleep deprivation

Blood cell count

Hemostasis