Abstract
We consider the notions of static and dynamic reasonableness of requests by an authority in a trust game experiment. The authority, modeled as the experimenter, systematically varies the experimental norm of what is expected from trustees to return to trustors, both in terms of the level of each request and in terms of the sequence of the requests. Static reasonableness matters in a self-biased way, in the sense that low requests justify returning less, but high requests tend to be ignored. Dynamic reasonableness also matters, in the sense that, if requests keep increasing, trustees return less compared to the same requests presented in random or decreasing order. Requests never systematically increase trustworthiness but may decrease it.
Access options
Buy single article
Instant access to the full article PDF.
USD 39.95
Price includes VAT (USA)
Tax calculation will be finalised during checkout.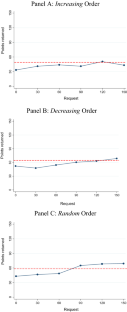 Notes
1.

Our external non-binding message manipulation, nicely complements the series of studies analyzing the role played by pre-play communication and cheap talk in trust games (Charness and Dufwenberg 2006; Ben-Ner and Putterman 2009; Bracht and Feltovich 2009; Ben-Ner et al. 2011; Bicchieri et al. 2010).

2.

Based on the finding of a lack of correlation, Ellingsen et al. (2010) argue that a false consensus effect drives evidence for guilt aversion. Khalmetski et al. (2015) show that heterogeneity in the responses to such knowledge may be an explanation for such lack of correlation. In different experimental settings, Vanberg (2008), Kawagoe and Narita (2014) and Conrads and Reggiani (2017) also argue against guilt aversion relative to alternative explanations. Evidence in support of guilt aversion relative to alternative explanations includes Reuben et al. (2009), Bellemare et al. (2011), Khalmetski (2016), Attanasi et al. (2016), Ederer and Stremitzer (2017) and Khalmetski et al. (2018). In a dictator game setting, Hauge (2016) finds evidence both of an aversion to letting down others' belief and an aversion to letting down moral standards.

3.

Companies and organizations often advertise their codes of conduct and standards of consumer service on their website.

4.

5.

Though we note that Battigalli et al. (2019) believe that anger is not relevant in trust games, on the ground that any return in this game requires players to place a positive weight on a co-player's material payoffs.

6.

Sliwka and Werner (2017) present an experiment focusing only on an increasing (wage profile) case, and specifically on the effect of the granularity of the wage increase profile: they find that gradually increasing wage profiles are better in achieving compliance than having large infrequent jumps. Marginal changes may be easier to adjust to than large changes in requests.

7.

We explain the reason for this specific sequence below.

8.

Player B: "In this scenario you are free to decide how many points to return to Player A, however if Player A has sent to you 50 points, we request you to return # % (# points)". The full experimental instructions are contained in Appendix A.

9.

As a potential limitation of this approach, we acknowledge that Burks et al. (2003) showed that playing both roles increases selfish behavior, leading to a reduction in trust as well as trustworthiness. That said, Brandts and Charness (2011) compiled a survey of the literature focusing on the implications generated by the adoption of the strategy method, including Burks et al. (2003). They conclude that in no cases is it found that treatment effects from an experiment with the strategy method are not observed if the direct-response method is implemented. We also note that none of our hypotheses depend on the absolute level of trust and trustworthiness but rather on how these differ across rounds and treatments. As such, the potential confound from a downward shift of the absolute levels observed in the trust interaction is not an issue for the conclusions of our experiment.

10.

To the text in footnote 8, the following was added for players B (trustees): "Player A is aware of this request". Player A's corresponding instructions read: "Player B receives the following message: 'In this scenario you are free to decide how many points to return to Player A, however if Player A has sent to you 50 points, we request you to return # % (# points)".

11.

To the text in footnote 8, the following was added for players B: "Player A is not aware of this request".

12.

A secondary reason for our stage sequence is that our interest in this experiment is mainly about Player B's behavior. By playing in the role of Player A first, we ensured a greater understanding of the game being played when they had to choose as players B.

13.

When points returned at individual level in round 1 are regressed against manipulation dummies, no coefficient turns out to be statistically significant at any conventional level (see Appendix B, Tables B1 and B2). A non-parametric Kruskal–Wallis test fails to reject the joint null hypothesis of equality of the means (p = 0.32). In the Dec treatment (both Com and NoCom) we observe a slightly higher natural trustworthiness than in the other treatments. The qualitative difference is mainly generated by a higher number of 'unconditional egalitarian' participants in that treatment (see Appendix C for participants' classification).

14.

All p values provided in this paper are two sided.

15.

Figure B1, in the Appendix B, provides a further graphical stratification by information setting (Com/NoCom).

16.

In this and later between-subjects bivariate tests with multiple observations per subject, we use mean values by subject as the independent observation to avoid within-subject non-independence of the observations.

17.

Since the outcome variable ranges in the truncated interval between 0 and 150, the adoption of Tobit models is a natural choice. Robust standard errors of the estimates (clustered at individual level since each subject plays repeatedly) are reported in brackets. Comparable results are delivered by GLS estimations with random effects (see Appendix B). We also ran regressions on round 2 return rate (see Appendix C).as well as regressions without treatment variables, again leading to comparable results.

18.

We have also tried to run the regressions with no interaction terms and the qualitative picture remains the same.

19.

We have also tried to use the difference of the individual round 1 trustworthiness rate from the average round 1 rate instead, in which case the constant takes values similar to those estimated in models 1–4. None of the other results changes. A parallel analysis for the regression in Table 4 leads to the same picture.

20.

A simple test just comparing the mean return rate when the first request (round 2) is received, shows that it is equal to 34.5 when the request is 0 and twice as much (68.2) when it is 150 (Mann–Whitney p < 0.001). Further supportive evidence is provided by the round 2 only regression reproduced in Appendix C, Table C2.

21.

Here and below, we focus on tests of requests that differ by 60 points or more, as we do not have the statistical power to detect differences for requests that differ by only 30 points.

22.

H2 is also supported by the round 2 only regressions reported in Appendix C. It also provides some additional analysis based on reasonable trustworthiness levels. It shows that the evidence for H1 and H2 is likely to be at least partially driven by trustees with an intermediate level of reasonable trustworthiness, i.e. round 1 trustworthiness rate of 50 points (33.3% of the amount received) or 75 (50% of the amount received). Note that Fig. 1 also shows that there is no systematic decrease in trustworthiness when requests are too high, e.g. out of anger or annoyance.

23.

That said, Table 3 shows still shows p < 0.1 or 0.05 depending on the regression.

24.

Wald test p = 0.088 in models 5 and 6 and 0.082 in models 7 and 8.

25.

Put it differently, players' A perceptions of how reasonable the requests may shape their offers.

26.

There is still some random variation in choices in these cases. This might be due to some combination of noise and mixed strategies in trustors' choices.

27.

28.

See also TablesB3, B4, B5 in Appendix B. We also checked whether round 1 trust rates are statistically different across treatments and they are not.

29.

For an example of use of cheap talk communication between trustor and trustee, see Charness and Dufwenberg (2006).

30.

We also cannot rule out that the trustees did not believe that the trustors' expectations would be affected by the requests. This is however somewhat implausible since, as previously noted, on average trustors did change their behavior as a result of knowing about the requests, and trustees previously played as trustors. A related scenario, which has been suggested to us, would be one where trustees thought that the expectations of the trustors at the end of the experiment mattered, and that at the end of the experiment trustors would simply think of the sequence of requests as opposed to remembering the request specific to any given round. Of course this specific argument is based on a process of fairly sophisticated inference by the trustees, which is unlikely to have held when NoCom trustees first saw a request in round 2. However, when we compare mean return rates in round 2 between Com and NoCom, we still find no difference (Mann–Whitney p = 0.31).

31.

See Zizzo (2010) for a methodological discussion of deliberately using experimenter demand as an experimental tool.

32.

Another direction for future research would be to provide request only as absolute numbers or only as percentages of the total amount, rather than as both as we did in our experiment.
References
Alm, J., McClelland, G. H., & Schulze, W. D. (1992). Why do people pay taxes? Journal of Public Economics, 48(1), 21–38.

Andreoni, J., & Rao, J. M. (2011). The power of asking: How communication affects selfishness, empathy, and altruism. Journal of Public Economics, 95, 513–520.

Attanasi, G., Battigalli, P., Nagel, R. (2016). Disclosure of belief-dependent preferences in a trust game. IGIER Working Paper 506, Bocconi University.

Babcock, L., & Loewenstein, G. (1997). Explaining bargaining impasse: The role of self-serving biases. Journal of Economic Perspectives, 11(1), 109–126.

Bacharach, M., Guerra, G., & Zizzo, D. J. (2007). The self-fulfilling property of trust: An experimental study. Theory and Decision, 63(4), 349–388.

Bartling, B., & Schmidt, K. M. (2015). Reference points, social norms, and fairness in contract renegotiation. Journal of the European Economic Association, 13, 98–129.

Battigalli, P., & Dufwenberg, M. (2007). Guilt in games. American Economic Review, 97(2), 170–176.

Battigalli, P., Dufwenberg, M., & Smith, A. (2019). Frustration, aggression, and anger in leader-follower games. Games and Economic Behavior, 117, 15–39.

Bellemare, C., Sebald, A., & Strobel, M. (2011). Measuring the willingness to pay to avoid guilt: estimation using equilibrium and stated belief models. Journal of Applied Econometrics, 26(3), 437–453.

Ben-Ner, A., & Putterman, L. (2009). Trust, communication and contracts: An experiment. Journal of Economic Behavior & Organization, 70(1–2), 106–121.

Ben-Ner, A., Putterman, L., & Ren, T. (2011). Lavish returns on cheap talk: Two-way communication in trust games. The Journal of Socio-Economics, 40(1), 1–13.

Bicchieri, C., Lev-On, A., & Chavez, A. (2010). The medium or the message? Communication relevance and richness in trust games. Synthese, 176(1), 125–147.

Blount, S., Thomas-Hunt, M. C., & Neale, M. A. (1996). The price is right—or is it? A reference point model of two-party price negotiations. Organizational Behaviour and Human Decision Process, 68, 1–12.

Bolle, F., Tan, J. H. W., & Zizzo, D. J. (2014). Vendettas. American Economic Journal: Microeconomics, 6(2), 93–130.

Bolton, G. E., & Karagözoğlu, E. (2016). On the influence of hard leverage in a soft leverage bargaining game: the importance of credible claims. Games and Economic Behavior, 99, 164–179.

Bracht, J., & Feltovich, N. (2009). Whatever you say, your reputation precedes you: Observation and cheap talk in the trust game. Journal of Public Economics, 93(9–10), 1036–1044.

Brandts, J., & Charness, G. (2011). The strategy versus the direct-response method: A first survey of experimental comparisons. Experimental Economics, 14, 375–398.

Burks, S. V., Carpenter, J. P., & Verhoogen, E. (2003). Playing both roles in the trust game. Journal of Economic Behavior and Organization, 51, 195–216.

Cadsby, C. B., Maynes, E., & Trivedi, V. U. (2006). Tax compliance and obedience to authority at home and in the lab: A new experimental approach. Experimental Economics, 9, 343–359.

Charness, G., & Dufwenberg, M. (2006). Promises and partnership. Econometrica, 74, 1579–1601.

Charness, G., Naef, M., & Sontuoso, A. (2019). Opportunistic conformism. Journal of Economic Theory, 180, 100–134.

Cialdini, R., & Goldstein, N. (2004). Social influence: Compliance and conformity. Annual Review of Psychology, 55, 591–622.

Conrads, J., & Reggiani, T. (2017). The effect of communication channels on promise-making and promise-keeping: Experimental evidence. Journal of Economic Interaction and Coordination, 12(3), 595–611.

Dana, J., Weber, R., & Kuang, J. X. (2007). Exploiting moral wiggle room: Behavior inconsistent with a preference for fair outcomes. Economic Theory, 33, 67–80.

Dufwenberg, M. (2002). Marital investment, time consistency and emotions. Journal of Economic Behavior and Organization, 48, 57–69.

Ederer, F., & Stremitzer, A. (2017). Promises and expectations. Games and Economic Behavior., 106, 161–178.

Ellingsen, T., Johannesson, M., Torsvik, G., & Tjotta, S. (2010). Testing guilt aversion. Games and Economic Behavior, 68(1), 95–107.

Esser, J. K., & Komorita, S. S. (1975). Reciprocity and concession-making in bargaining. Journal of Personality and Social Psychology, 31, 864–872.

Gächter, S., & Riedl, A. (2005). Moral property rights in bargaining with infeasible claims. Management Science, 51, 249–263.

Gilovich, T., Jennings, D. L., & Jennings, S. (1983). Causal focus and estimates of consensus: an examination of the false-consensus effect. Journal of Personality and Social Psychology, 45, 550–559.

Grossman, Z. (2014). Strategic ignorance and the robustness of social preferences. Management Science, 60(11), 2659–2665.

Harrington, W. (1988). Enforcement leverage when penalties are restricted. Journal of Public Economics, 37, 29–53.

Hauge, K. E. (2016). Generosity and guilt: The role of beliefs and moral standards of others. Journal of Economic Psychology, 54, 35–43.

Hilty, J. H., & Carnevale, P. J. (1993). Black-hat/white-hat strategy in bilateral negotiation. Organizational Behavior and Human Decision Processes, 55, 444–469.

Isoni, A. (2011). The willingness-to-accept/willingness-to-pay disparity in repeated markets: loss aversion or 'bad-deal'aversion? Theory and Decision, 71(3), 409–430.

Karakostas, A., & Zizzo, D. J. (2016). Compliance and the power of authority. Journal of Economic Behavior and Organization, 124, 67–80.

Kawagoe, T., & Narita, Y. (2014). Guilt aversion revisited: an experimental test of a new model. Journal of Economic Behavior and Organization, 102, 1–9.

Khalmetski, K. (2016). Testing guilt aversion with an exogenous shift in beliefs. Games and Economic Behavior, 97, 110–119.

Khalmetski, K., Danilov, A., Sliwka, D. (2018). Norms and guilt. CESifo Working Paper Series No. 6999.

Khalmetski, K., Ockenfels, A., & Werner, P. (2015). Surprising gifts: Theory and laboratory evidence. Journal of Economic Theory, 159, 163–208.

Kocher, M. G., Poulsen, O., & Zizzo, D. J. (2017). Social preferences, accountability, and wage bargaining. Social Choice and Welfare, 48, 659–678.

Konow, J. (2005). Blind spots: The effects of information and stakes on fairness bias and dispersion. Social Justice Research, 18, 349–390.

Korobkin, R., Guthrie, C. (2003–2004). Heuristics and biases at the bargaining table. Marquette Law Review, 87, 795–808.

Kristensen, H., & Gärling, T. (2000). Anchor points, reference points, and counteroffers in negotiations. Group Decision and Negotiation, 9, 493–505.

Levy, J. S. (1997). Prospect theory, rational choice, and international relations. International Studies Quarterly, 41, 87–112.

Pelligra, V., Reggiani, T., Zizzo, D.J. (2016). Responding to (un)reasonable requests. IZA Discussion Paper No. 10189.

Regner, T., Matthey, A. (2015). Do reciprocators exploit or resist moral wiggle room? An experimental analysis. Jena Economics Research Paper 2015-27.

Reuben, E., Sapienza, P., & Zingales, L. (2009). Is mistrust self-fulfilling? Economics Letters, 104, 89–91.

Rustichini, A., & Villeval, M. C. (2014). Moral hypocrisy, power and social preferences. Journal of Economic Behavior & Organization, 107, 10–24.

Sally, D. (1995). Communication and cooperation in social dilemmas: A meta-analysis of experiments from 1958 to 1992. Rationality and Society, 7(1), 58–92.

Schotter, A., & Sopher, B. (2007). Advice and behavior in intergenerational ultimatum games: An experimental approach. Games and Economic Behavior, 58(2), 365–393.

Siegel, S., & Fouraker, L. E. (1960). Bargaining and group decision making. New York: McGraw-Hill.

Silverman, D., Slemrod, J., & Uler, N. (2014). Distinguishing the role of authority in and authority to. Journal of Public Economics, 113(1), 32–42.

Sitzia, S., & Zizzo, D. J. (2012). Price lower and then higher or price higher and then lower? Journal of Economic Psychology, 33(6), 1084–1099.

Sliwka, D., & Werner, P. (2017). Wage increases and the dynamics of reciprocity. Journal of Labor Economics, 35(2), 299–344.

Sonntag, A., Zizzo, D.J. (2015). Institutional authority and collusion. Southern Economic Journal, 82(1), 13–37.

Valdesolo, P., & DeSteno, D. (2008). The duality of virtue: Deconstructing the moral hypocrite. Journal of Experimental Social Psychology, 44, 1334–1338.

Vanberg, C. (2008). Why do people keep their promises? An experimental test of two explanations. Econometrica, 76, 1467–1480.

Zizzo, D. J. (2003). Empirical evidence on interdependent preferences: Nature or nurture? Cambridge Journal of Economics, 27(6), 867–880.

Zizzo, D. J. (2010). Experimenter demand effects in economic experiments. Experimental Economics, 13, 75–98.
Acknowledgements
We thank Diya Elizabeth Abraham, Giuseppe Attanasi, Rym Ayadi, Nick Bardsley, Stefania Bortolotti, Eric Cardella, Gary Charness, Martin Dufwenberg, Giovanni Ferri, Milos Fisar, Felix Höffler, Kiryl Khalmetski, Bernd Irlenbusch, Michael Niekamp, Rainer Michael Rilke, Matteo Rizzolli, Stefania Sitzia, Dirk Sliwka, Alessandro Sontuoso, Jiri Spalek, two anonymous reviewers and participants to presentations at Cagliari, CERGE-EI, Cologne, Durham, Heidelberg, Lille, LUMSA, Maryland, Masaryk University, Middlesex, Norwich UEA, Pittsburgh, Sophia University Institute, Vienna and at the ESA 2016 European conference in Bergen for useful feedback. The appendices are provided online as supplementary material. The usual disclaimer applies. Financial support from the University of Cagliari is gratefully acknowledged. Financial support from the Czech Science Foundation—GACR: GA18-19492S—is gratefully acknowledged.
Additional information
Publisher's Note
Springer Nature remains neutral with regard to jurisdictional claims in published maps and institutional affiliations.
Electronic supplementary material
Below is the link to the electronic supplementary material.
About this article
Cite this article
Pelligra, V., Reggiani, T. & Zizzo, D.J. Responding to (un)reasonable requests by an authority. Theory Decis 89, 287–311 (2020). https://doi.org/10.1007/s11238-020-09758-0
Keywords
Trust

Trustworthiness

Authority

Reasonableness

Moral wiggle room

Oral licensing
JEL Classification