Abstract
With the growth of English medium instruction (EMI) on a global level, the number of multilingual students writing their master's theses in English is increasing. However, research on students' experiences of writing them in English in non-English speaking contexts is scarce. This paper reports on the challenges and strategic learning efforts of eight Kazakhstani students while working on their master's thesis projects in a Kazakhstani EMI university. The qualitative data collected from a written narrative and three subsequent semi-structured interviews revealed that almost all the participants had a clear preference for a directive supervision style, whereby supervisors give stage-by-stage guidance. The result was a clash of expectations, miscommunication and confusion between supervisors and supervisees in some cases, especially since most supervisors come from English-speaking countries. Two participants, however, favoured a laissez-faire supervisory style where the supervisor orchestrated their supervisees' learning efforts implicitly by giving them room to work independently. All participants also articulated certain effective strategies to confront the diverse challenges associated with constructing a new identity for themselves as researchers, time management, and 'imposter syndrome'. From this qualitative study, practical recommendations for developing the effectiveness (quality) of master's thesis supervision in EMI universities are made.
Access options
Buy single article
Instant access to the full article PDF.
US$ 39.95
Tax calculation will be finalised during checkout.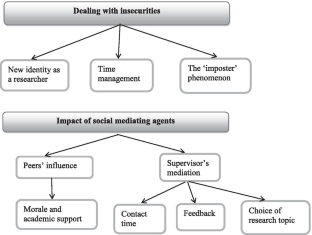 References
Badenhorst, C. (2010). Productive writing: Becoming a prolific academic writer. Van Schaik Publishers.

Block, D. (2003). The Social Turn in Second Language Acquisition. Edinburgh University Press.

Brown, L. (2007). A consideration of the challenges involved in supervising international masters students. Journal of Further and Higher Education, 31(3), 239–248.

Casanave, C. P. (2019). Performing expertise in doctoral dissertations: Thoughts on a fundamental dilemma facing doctoral students and their supervisors. Journal of Second Language Writing, 43, 57–62.

Clarke, V., & Braun, V. (2013). Successful Qualitative Research: A practical Guide for Beginners. Sage.

Coleman, J. (2013). Researching whole people and whole lives. In C. Kinginger (Ed.), Social and cultural aspects of language learning in study abroad (pp. 17–44). Amsterdam and Philadelphia: John Benjamins.

De Kleijn, R. A., Bronkhorst, L. H., Meijer, P. C., Pilot, A., & Brekelmans, M. (2016). Understanding the up, back, and forward-component in master's thesis supervision with adaptivity. Studies in Higher Education, 41(8), 1463–1479.

Dong, Y. R. (1998). Non-native graduate students' thesis/dissertation writing in science: Self-reports by students and their advisors from two US institutions. English for Specific Purposes, 17(4), 369–390.

Eriksson, A., & Nordrum, L. (2018). Unpacking challenges of data commentary writing in master's thesis projects: An insider perspective from chemical engineering. Research in Science & Technological Education, 36(4), 499–520.

Fan, Y. (2013). The Experiences of International Students with Dissertation Study: Business Education. York: Higher Education Academy.

Filippou, K. (2019). Students' Academic Self-Efficacy in International Master's Degree Programs in Finnish Universities. International Journal of Teaching and Learning in Higher Education, 31(1), 86–95.

Gatfield, T. (2005). An investigation into PhD supervisory management styles: Development of a dynamic conceptual model and its managerial implications. Journal of Higher Education Policy and Management, 27, 311–325. https://doi.org/10.1080/13600800500283585

Goode, J. (2010). Perhaps I should be more proactive in changing my own supervisions'? Student agency in 'doing supervision. In M. Walker & P. Thompson (Eds.), The Routledge Doctoral Supervisor's Companion: Supporting Effective Research in Education and the Social Sciences (pp. 38–50). Routledge.

Goodman, B. A., & Montgomery, D. P. (2020). "Now I always try to stick to the point": Socialization to and from genre knowledge in an English-medium university in Kazakhstan. Journal of English for Academic Purposes, 48, 100913.

Goodman, B. A., Kerimkulova, S. I., & Montgomery, D. P. (2021). 10 Translanguaging and Transfer of Academic Skills: Views of Kazakhstani Students in an English-Medium University. In English-Medium Instruction and Translanguaging (pp. 141–157). Multilingual Matters.

Hajar, A. (2018). Understanding Arab students' challenges, strategy use and future vision while writing their Masters dissertations at a UK University: A qualitative inquiry. Innovation in Language Learning and Teaching, 12(3), 260–273.

Hajar, A. (2019). International Students' Challenges, Strategies and Future Vision: A Socio-Dynamic Perspective. Multilingual Matters.

Halse, C. (2011). 'Becoming a supervisor': The impact of doctoral supervision on supervisors' learning. Studies in Higher Education, 36(5), 557–570.

Harwood, N., & Petrić, B. (2017). Experiencing Master's Supervision: Perspectives of International Students and their Supervisors. Routledge.

Harwood, N., & Petric, B. (2019). Helping international master's students navigate dissertation supervision: Research-informed discussion and awareness-raising activities. Journal of International Students, 9(1), 150–171.

Harwood, N., & Petrić, B. (2020). Adaptive master's dissertation supervision: A longitudinal case study. Teaching in Higher Education, 25(1), 68–83.

High, C. & Montague, J. (2006). Planning and organizing your research. In S. Potter (Ed.), Doing postgraduate Research (2nd ed.). Milton Keynes. UK: Sage

Huang, R. (2008) Decoding Critical Thinking for Chinese and Indian International Students Studying in Tourism and Hospitality Subjects. York: Higher Education Academy. See http://citeseerx.ist.psu.edu/viewdoc/download;jsessionid=0D80F9F3DA90ECBB8AD5EAE1F2413FBF?doi=10.1.1.609.939&rep=rep1&type=pdf (accessed 4 December 2020).

Hetrick, S., & Trafford, V. (1995). The mutuality of expectations: Mapping the perceptions of dissertation supervisors and candidates in a postgraduate department of a new university. Journal of Graduate Education, 2(2), 35–43.

Karabassova, L. (2020). Understanding trilingual education reform in Kazakhstan: Why is it stalled? In D. Egea (Ed.), Education in Central Asia: A kaleidoscope of challenges and opportunities (pp. 37–51). Springer.

Inouye, K. S., & McAlpine, L. (2017). Developing scholarly identity: Variation in agentive responses to supervisor feedback. Journal of University Teaching and Learning Practice, 14(2), 3.

Jackson, J. (2017). Intervening in the learning of L2 study abroad students: From research to practice. Language Teaching, 51(3), 365–382. https://doi.org/10.1017/S0261444816000392

Johnston, S. (1995). Building a sense of community in a research master's course. Studies in Higher Education, 20(3), 279–291.

Jonbekova, D. (2020). Educational research in Central Asia: methodological and ethical dilemmas in Kazakhstan, Kyrgyzstan and Tajikistan. Compare: A Journal of Comparative and International Education, 50(3), 352–370.

McCallin, A., & Nayar, S. (2012). Postgraduate research supervision: A critical review of current practice. Teaching in Higher Education, 17(1), 63–74.

McClure, J. W. (2005). Preparing a laboratory-based thesis: Chinese international research students' experiences of supervision. Teaching in Higher Education, 10(1), 3–16.

McKinley, J. (2013). Displaying critical thinking in EFL academic writing: A discussion of Japanese to English contrastive rhetoric. RELC Journal, 44(2), 195–208.

Mochizuki, N., & Starfield, S. (2021). Dialogic interactions and voice negotiations in thesis writing groups: An activity systems analysis of oral feedback exchanges. Journal of English for Academic Purposes, 50, 100956.

Morton, J., & Storch, N. (2019). Developing an authorial voice in PhD multilingual student writing: The reader's perspective. Journal of Second Language Writing, 43, 15–23.

Moses, I. (1984). Supervision of higher degree students—problem areas and possible solutions. Higher Education Research and Development, 3(2), 153–165.

Nguyen, L. T. T., & Pramoolsook, I. (2016). Citations in literature review chapters of TESOL master's theses by Vietnamese postgraduates. GEMA Online Journal of Language Studies, 16(2).

Norton, B., & Toohey, K. (2001). Changing perspectives on good language learners. TESOL Quarterly, 35(2), 307–322.

Odena, O., & Burgess, H. (2017). How doctoral students and graduates describe facilitating experiences and strategies for their thesis writing learning process: A qualitative approach. Studies in Higher Education, 42(3), 572–590.

Paltridge, B., & L. Woodrow. (2012). Thesis and Dissertation Writing: Moving Beyond the Text. In R. Tang (Ed.), Academic Writing in a Second or Foreign Language: Issues and Challenges Facing ESL/EFL Academic Writers in Higher Education Contexts. London: Continuum.

Paltridge, B., & Starfield, S. (2020). Thesis and Dissertation Writing in a Second Language: A Handbook for Students and their Supervisors. Routledge.

Pilcher, N. (2011). The UK postgraduate masters dissertation: An 'elusive chameleon'? Teaching in Higher Education, 16(1), 29–40.

Pringle Barnes, G., & Cheng, M. (2019). Working independently on the dissertation proposal: Experiences of international Master's students. Journal of Further and Higher Education, 43(8), 1120–1132.

Reagan, T. (2019). Language planning and language policy in Kazakhstan. In A. Kirpatrick & A. J. Liddicoat (Eds.), The Routledge International Handbook of Language Education Policy in Asia (pp. 442–451). Routledge.

Rudestam, K. E., & Newton, R. R. (2007). Surviving your Dissertation (3rd). Sage Publications.

Sadeghi, K., & Shirzad Khajepasha, A. (2015). Thesis writing challenges for non-native MA students. Research in Post-Compulsory Education, 20(3), 357–373.

Saeed, M. A., Al Qunayeer, H. S., & AL-Jaberi, M. A. . (2021). Exploring Supervisory Feedback Formulation on Academic Writing of Research Proposals and Postgraduates' Responses to Feedback: A Case Study. SAGE Open, 11(2), 21582440211007124.

Shamshidinova, K., Ayubayeva, N., & Bridges, D. (2014). Implementing radical change: Nazarbayev intellectual schools as agents of change. In D. Bridges (Ed.), Educational reform and Internationalisation: The Case of School Reform in Kazakhstan (pp. 71–82). Cambridge University Press.

Silova, I. (2009). Varieties of educational transformation: The post-socialist states of Central/ Southeastern Europe and the former Soviet Union. In R. Cowen & A. Kazamias (Eds.), International Handbook of Comparative Education (pp. 295–320). Springer.

Starfield, S. (2019). Supervisory feedback: Building writing scaffolds with doctoral students. In Hyland, K., & Hyland, F. (Eds.), Feedback in second language writing: Contexts and issues. Cambridge: Cambridge university press.

Woodrow, L. (2020). Doing a Master's Dissertation in TESOL and Applied Linguistics. Routledge.

Woolhouse, M. (2002). Supervising dissertation projects: Expectations of supervisors and students. Innovations in Education and Teaching International, 39(2), 137–144.

Xu, L., & Zhang, L. J. (2019). L2 doctoral students' experiences in thesis writing in an English-medium university in New Zealand. Journal of English for Academic Purposes, 41, 100779.
Funding
This project is supported by the Nazarbayev University Graduate School of Education [ 347/07122020 (Faculty Grant)].
Additional information
Publisher's note
Springer Nature remains neutral with regard to jurisdictional claims in published maps and institutional affiliations.
Appendices
Appendix 1
Prompts for Initial Essay.
Write an essay that covers the following points:
(1) Could you please write general information about your background (e.g. your parents' job, the number of your brothers and sisters, your city/village, etc.)?
(2) How long have you been learning English?
(3) What about your expectations of your master's supervisor?
(4) Which kind of support do you need most while writing a thesis?
(5) Did you choose your supervisor?
(6) When and how did you write your research proposal?
(7) What are your current learning goals? What kind of activities or steps do you intend to use to achieve your goals?
Appendix 2
Indicative interview protocol
(1) How did you choose your research topic?
(2) Why did you use a specific methodology in your study?
(3) Which kind of challenges did you face while writing your thesis?
(4) How did you deal with these challenges?
(5) Do you feel that you did well on your thesis writing? Why?
(6) How was your relationship with your dissertation supervisor?
(7) Were you satisfied with the feedback you received from your supervisor? Why?
(8) What were your learning goals while writing your master's thesis?
(9) Any person that either enhanced or deterred your learning goals?
(10) What do you think about your own identity as a researcher and as an academic?
About this article
Cite this article
Hajar, A., Mhamed, A.A.S. Exploring Postgraduate students' challenges and strategy use while writing a master's thesis in an English-medium University in Kazakhstan. Tert Educ Manag (2021). https://doi.org/10.1007/s11233-021-09072-6
Received:

Accepted:

Published:
Keywords
Master's theses

Challenges

learning strategies

Kazakhstani students

Qualitative inquiry