Abstract
A new clausidiid copepod was found associated with the ghost shrimp Neocallichirus jousseaumei (Nobili) in the Persian Gulf, on the Iranian coast. The new species shares the armature formula of swimming legs 2 to 4 with C. persiaensis, but can be easily distinguished from its congeners by unique characteristics of the females: the prominent spine on endopodal segment 1 of the antenna, the armature of the maxilliped, and the elongated basis of the swimming legs. Distinguishing features observed in males include the distinct projections on the maxilliped and the armature of legs 1 and 4. In addition to traditional light microscopy-based descriptions, confocal laser scanning microscopy (CLSM) was used to obtain high resolution images and 3-D reconstructions of entire copepods. Structures of taxonomic importance that exhibit complex shapes (male maxilliped and female urosome) were scanned to generate 3-D prints that gave valuable insights about female/male interlocking mechanisms. The taxonomic status and host specificity of Clausidium spp. are discussed and a key to valid species is provided.
This is a preview of subscription content, log in to check access.
Access options
Buy single article
Instant access to the full article PDF.
US$ 39.95
Price includes VAT for USA
Subscribe to journal
Immediate online access to all issues from 2019. Subscription will auto renew annually.
US$ 199
This is the net price. Taxes to be calculated in checkout.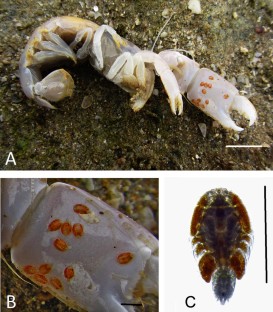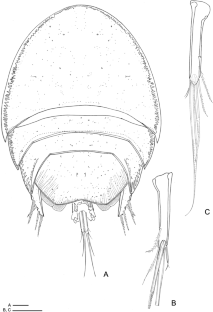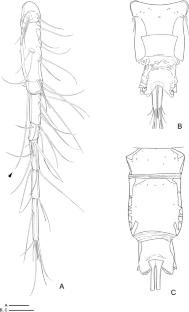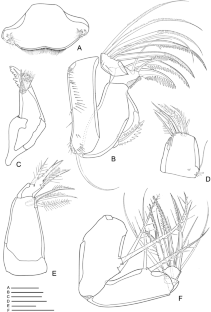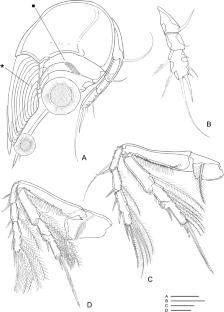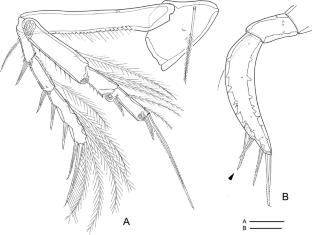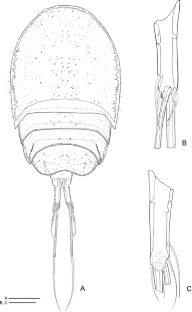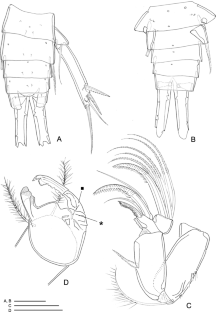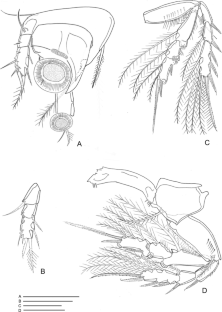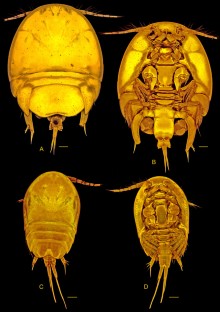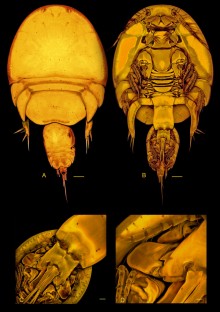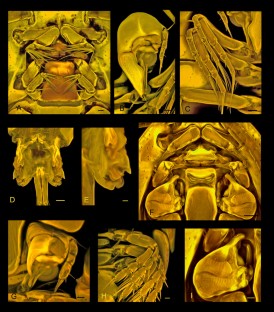 References
Begon, M., Harper, J. L., & Townsend, C. R. (1996). Ecology: Individuals, populations and communities (3rd ed.). Oxford: Blackwell Sciences.

Boxshall, G. A. (1990). Precopulatory mate guarding in copepods. Bijdragen to de Dierkunde, 60, 209–213.

Boxshall, G. A., & Halsey, S. H. (2004). An introduction to copepod diversity. London: The Ray Society, 966 pp.

Burns, T. P. (1993). Discussion: mutualism as pattern and process in ecosystem organization. In: Kawanabe, H., Cohen, J. E. & Iwaski K. (Eds) Mutualism and community organization. Oxford: Oxford University Press, pp. 239–251.

Campos, E., Campos, A. R., & Manriquez, I. (2009). Intertidal Thalassinidean shrimps (Thalassinidea: Callianassidae and Upogebidae) of the West Coast of Baja California, Mexico: Annotated checklist, keys for identification and symbionts. Crustaceana, 82, 1249–1263.

Claus, C. (1875). Neue Beträge zur kenntniss parasitischer Copepoden nebst Bemerkungen über des System derselben. Zeitschrift für Wissenschaftliche Zoologie 25, 327–360, pls. 22–26.

Corsetti, J. L., & Strasser, K. M. (2003). Host selection of the symbiotic copepod Clausidium dissimile in two sympatric populations of ghost shrimp. Marine Environmental Research, 256, 151–159.

Humes, A. G. (1949). A new copepod (Cyclopoida: Clausidiidae) parasitic on mud shrimps in Louisiana. Transactions of the American Microscopical Society, 68, 93–103.

Humes, A. G. (1957). Une nouvelle espèce de Clausidium (Copepoda, Cyclopoida) parasite d'une Callianassa au Senegal. Bulletin de l'Institute français d'Afrique noire (A), 19, 485–490.

Huys, R., & Boxshall, G. A. (1991). Copepod Evolution. London: The Ray Society, 468 pp.

Huys, R., Gee, J. M., Moore, C. G., & Hamond, R. (1996). Marine and brackish water harpacticoid copepods. Part 1. In: Kermack, D. M., Barnes, R. S. K. & Crothers, J. H. (Eds) Synopses of the British Fauna (New Series) No. 51. London: The Linnean Society of London and The Estuarine and Coastal Sciences Association, 352 pp.

Hwang, H., Lee, J., & Kim, I.-H. (2016). Two new species of Clausidiidae (Copepoda, Poecilostomatoida) from Korea. Animal Systematics, Evolution and Diversity, 32, 93–104.

Iannacone, I., Alvariño, L., & Alayo, M. (2008). Aspectos ecologicos de los metazoos parasitos de Callichirus seilacheri (Bott 1955) (Decapoda: Callianassidae) en Lima, Peru. Neotropical Helminthology, 2, 9–17.

Kensley, B. (1974). A new species of Clausidium from South Africa (Copepoda, Cyclopoida, Clausidiidae). Crustaceana, 27, 154–158.

Khodami, S., McArthur, J., Blanco-Bercial, L., & Martinez Arbizu, P. (2017). Molecular phylogeny and revision of copepod orders (Crustacea: Copepoda). Scientific Reports, 7, 9164.

Kihara, T. C., & Rocha, C. (2009). Técnicas para estudo taxonômico de copépodes harpacticóides da meiofauna marinha. Editora Asterisco.

Kihara, T. C., & Rocha, C. E. F. (2013). First record of Clausidium (Copepoda, Clausidiidae) from Brazil: a new species associated with ghost shrimps Neocallichirus grandimana (Gibbes, 1850) (Decapoda, Callianassidae). ZooKeys, 335, 47–67.

Kossmann, R. (1874). Ueber Clausidium testudo, einen neuen Copepoden, nebst Bemerkungen uber das System der halbparasitischen Copepoden. Verhandlungen der Physikalischen Gesellschaft zu Wurzburg, 7, 280–294.

Light, S. F., & Hartman, O. (1937). A review of the genera Clausidium Kossmann and Hemicyclops Boeck (Copepoda, Cyclopoida), with the description of a new species from the northeast Pacific. University of California Publications in Zoology, 41, 173–188.

Manning, R. B., & Stevčić, Z. (1982). Decapod fauna of the Piran Gulf. Quaderni dei Laboratorio di Technologia della Pesca, 3, 285–304.

Michels, J., & Buntzow, M. (2010). Assessment of Congo red as a fluorescence marker for the exoskeleton of small crustaceans and the cuticle of polychaetes. Journal of Microscopy, 238, 95–101.

Pearse, A. S. (1947). Parasitic copepods from Beaufort, North Carolina. Journal of the Elisha Mitchell Scientific Society, 63, 1–16.

Philippi, A. (1839). Einige zoologische Notizen. Archiv für Naturgeschichte, 5, 113–134.

Pillai, N. K. (1959). On two new species of Clausidium (Copepoda: Cyclopoida) parasitic on the shrimp Callianassa. Journal of the Marine Biological Association of India, 1, 57–65.

Pohl, M. E. (1946). Ecological observations on Callianassa major Say at Beaufort, North Carolina. Ecology, 27, 71–80.

Say, T. (1818). An account of the Crustacea of the United States. Journal of the Academy of Natural Sciences, Philadelphia, 1, 57–441.

Sepahvand, V., Sari, A., Salehi, H., Nabavi, S. M. B., & Ghorbanzadeh, S. G. (2013). Littoral mud shrimps (Decapoda: Gebiidea & Axiidea) of the Persian Gulf and Gulf of Oman, Iran. Journal of the Marine Biological Association of the United Kingdom, 95, 999–1008.

Sepahvand, V., Rastegar-Pouyani, N., & Kihara, T. C. (2017a). Two new species of Clausidium copepods (Crustacea, Poecilostomatoida) associated with ghost shrimps from Iran. Journal of the Marine Biological Association of the United Kingdom, 6, 1401–1409.

Sepahvand, V., Rastegar-Pouyani, N., Kihara, T. C., & Momtazi, F. (2017b). A new species of Clausidium Kossmann, 1874 (Crustacea, Copepoda, Cyclopoida, Clausidiidae) associated with ghost shrimps from Iran. Nauplius, 25, 1–16.

Walter, T. C., & Boxshall, G. (2018). World of Copepods database. Accessed through: World Register of Marine Species. http://www.marinespecies.org/aphia.php?p=taxdetails&id=346981. Accessed on 29 January 2018.

Wilson, C. B. (1921). The North American semiparasitic copepods of the genus Clausidium. Proceedings of the United States National Museum, 59, 425–431.

Wilson, C. B. (1932). The copepods of the Woods Hole region, Massachusetts. Bulletin of the United States National Museum, 158, 1–635.

Wilson, C. B. (1935). Parasitic Copepods from the Pacific Coast. American Midland Naturalist, 16, 776–797.

Wilson, C. B. (1937). Two new semi-parasitic copepods from the Peruvian Coast. Parasitology, 29, 206–211.
Acknowledgements
We are very grateful to Professor Dr Pedro Martinez Arbizu from Senckenberg am Meer, German Center for Marine Biodiversity Research, Wilhelmshaven for help and encouragement during this study. The authors express their gratitude to Dr Abdolvahab Maghsoudlou from Iranian National Institute for Oceanography and Atmospheric Science for his cooperation in this study. This is publication number 42 based on data from the Senckenberg am Meer Confocal Laser scanning Microscope Facility
Additional information
Publisher's Note
Springer Nature remains neutral with regard to jurisdictional claims in published maps and institutional affiliations.
This article was registered in the Official Register of Zoological Nomenclature (ZooBank) as C767274E-BA3B-4EBA-A295-9679C90A9C6C. This article was published as an Online First article on the online publication date shown on this page. The article should be cited by using the doi number. This is the Version of Record.
This article is part of the Topical Collection Arthropoda.
About this article
Cite this article
Sepahvand, V., Kihara, T.C. & Boxshall, G.A. A new species of Clausidium Kossmann, 1874 (Copepoda: Cyclopoida) associated with ghost shrimps from the Persian Gulf, including female-male interlocking mechanisms and remarks on host specificity. Syst Parasitol 96, 171–189 (2019). https://doi.org/10.1007/s11230-019-09839-x
Received:

Accepted:

Published:

Issue Date: