Abstract
The nematode Philometra pellucida (Jägerskiöld, 1893) (Philometridae) is redescribed from female specimens obtained from the abdominal cavity of the marine tetraodontiform fish (blackspotted puffer) Arothron nigropunctatus (Bloch & Schneider) (Tetraodontidae) off Lizard Island, Australia and off Okinawa, Japan. This is just the second record of this parasite since its description 125 years ago. Light and scanning electron microscopical examination of these nematodes revealed some taxonomically important, previously unreported morphological features, such as the number and arrangement of cephalic papillae, presence of the oesophageal cell nucleus and the size of first-stage larvae in the uterus. This new report of P. pellucida infecting A. nigropunctatus off Australia and Japan represents new host and geographical records. A key to the species of Philometra Costa, 1845 parasitising tetraodontiform fishes is provided.
Access options
Buy single article
Instant access to the full article PDF.
US$ 39.95
Tax calculation will be finalised during checkout.
Subscribe to journal
Immediate online access to all issues from 2019. Subscription will auto renew annually.
US$ 119
Tax calculation will be finalised during checkout.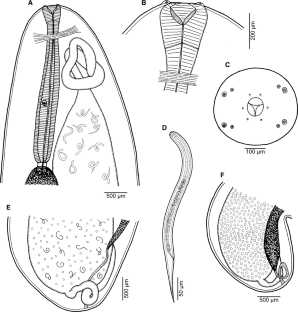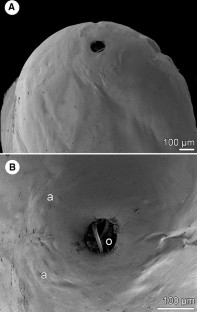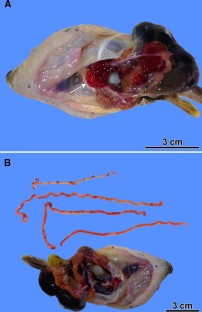 References
Deardorff, T. L., & Stanton, F. G. (1983). Nematode-induced abdominal distention in the Hawaiian puffer fish, Canthigaster jactator (Jenkins). Pacific Science, 37, 45–47.

Dewi, K., & Palm, H. W. (2017). Philometrid nematodes (Philometridae) of marine teleosts from Balianese waters, Indonesia, including the description of Philometra damriyasai sp. nov. Zootaxa, 4341, 577–584.

Froese, R., & Pauly, D. (Eds) (2018). FishBase. World Wide Web electronic publication. http://www.fishbase.org, version 4/2018.

Ivashkin, V. M., Sobolev, A. A., & Khromova, L. A. (1971). [Camallanata of animals and man and the diseases caused by them.] Osnovy Nematodologii, Vol. 22. Moscow: Nauka, 388 pp (in Russian).

Jägerskiöld, L. A. (1893). Bidrag till kännedomen om nematoderna. Stockholm: Akademisk Afhandling Uppsala, 86 pp. + 5 Plts.

Jägerskiöld, L. A. (1894). Beiträge zur Kenntniss der Nematoden. Zoologische Jahrbücher, Abtheilung für Anatomie und Ontogenie der Thiere, 7, 449–532 + Plts. 26–28.

Johnson, S. (1982). Life in a boat channel. Sea Frontiers, 28, 179–183.

Moravec, F. (1978). Redescription of the nematode Philometra obturans (Prenant, 1886) with a key to the philometrid nematodes parasitic in European freshwater fishes. Folia Parasitologica, 25, 115–124.

Moravec, F. (2006). Dracunculoid and anguillicoloid nematodes parasitic in vertebrates. Prague: Academia, 634 pp.

Moravec, F., & Barton, D. P. (2018). New records of philometrids (Nematoda: Philometridae) from marine fishes off Australia, including description of four new species and erection of Digitiphilometroides gen. n. Folia Parasitologica, 65, 005.

Moravec, F., & de Buron, I. (2013). A synthesis of our current knowledge of philometrid nematodes, a group of increasingly important fish parasites. Folia Parasitologica, 60, 81–101.

Moravec, F., Fiala, I., & Dyková, I. (2004). Philometra thaiensis sp. n. (Nematoda: Philometridae) from Tetraodon palembangensis and T. fluviatilis (Pisces) from fresh waters in Thailand, with a key to Philometra spp. parasitic in the host's abdominal cavity. Acta Parasitologica, 49, 319–324.

Moravec, F., & Justine, J.-L. (2008). Some philometrid nematodes (Philometridae), including four new species of Philometra, from marine fishes off New Caledonia. Acta Parasitologica, 53, 369–381.

Moravec, F., Möller, H., & Heeger, T. (1992). Philometra robusta sp. n. (Nematoda: Philometridae) from the abdominal cavity of the scribbled toadfish, Arothron mappa (Lesson) from the Philippines. Folia Parasitologica, 39, 227–234.

Moravec, F., Walter, T., & Yuniar, A. T. (2012). Five new species of philometrid nematodes (Philometridae) from marine fishes off Java, Indonesia. Folia Parasitologica, 59, 115–130.

Naidu, T. S., & Thakare, V. K. (1979). Studies on nematode parasites of Belone cancila and Suncus murinus from Naghpur (M. S.), India. Rivista di Parassitologia, 40, 281–289.

Parukhin, A. M. (1971). [Nematodes from fishes of the Red Sea and Indian Ocean.] Biologiya Morya, 23, 177–193 (in Russian).

Parukhin, A. M. (1989). [Parasitic worms of benthic fishes of the southern seas.] Kiev: Naukova Dumka, 154 pp (in Russian).

Quiazon, K. M. A., Yoshinaga, T., Doi, H., Araki, J., & Ogawa, K. (2014). First description of male Philometra thaiensis Moravec, Fiala et Dyková, 2004 (Nematoda: Philometridae) from the body cavity of the eyespot pufferfish Tetraodon biocellatus Tirant, and evolutionary relationship of this species with other dracunculoids as inferred from SSU rRNA gene sequences. Helminthologia, 51, 236–245.

Rasheed, S. (1963). A revision of the genus Philometra Costa, 1845. Journal of Helminthology, 37, 89–130.

Rasheed, S. (1965). Additional notes on the family Philometridae Baylis and Daubney, 1926. Journal of Helminthology, 39, 349–362.

Wang, S.-X., Li, L., & Zhang, L.-P. (2015). Redescription and genetic characterization of Philometra lagocephali Moravec et Justine, 2008 (Nematoda: Philometridae) from Lagocephalus lunaris (Bloch and Schneider) (Tetraodontiformes: Tetraodontidae) in the South China Sea. Acta Parasitologica, 60, 395–406.
Acknowledgements
We thank Dr James Reimer of the University of the Ryukyus for his support in the field in Japan and the staff of Lizard Island Research Station. Thanks are also due to the Laboratory of Electron Microscopy, Institute of Parasitology, Biology Centre CAS, institution supported by the MEYS CR (LM2015062 Czech-BioImaging) for their support with obtaining scientific data presented in this paper, and to Blanka Škoríková of the same Institute for help with the illustrations.
Funding
This study was partly supported by the Czech Science Foundation (Grant. No. P505/12G112) and by institutional support (RVO:60077344, Institute of Parasitology, BC AS CR). Collecting in Japan was supported by an Australian Society for Parasitology (ASP) Network Reseacher Exchange, Training and Travel Award grant to SC, collecting at Lizard Island by a Holsworth Wildlife Research Endowment to RY.
Ethics declarations
Conflict of interest
The authors declare that they have no conflict of interest.
Ethical approval
All applicable institutional, national and international guidelines for the care and use of animals were followed.
Additional information
This article is part of the Topical Collection Nematoda.
About this article
Cite this article
Moravec, F., Cutmore, S.C. & Yong, R.QY. Redescription of Philometra pellucida (Jägerskiöld, 1893) (Nematoda: Philometridae) parasitic in the abdominal cavity of the blackspotted puffer Arothron nigropunctatus (Bloch & Schneider) (Teleostei: Tetraodontidae) off Australia and Japan. Syst Parasitol 95, 665–671 (2018). https://doi.org/10.1007/s11230-018-9806-0
Received:

Accepted:

Published:

Issue Date: