Abstract
Micropleura huchzermeyeri n. sp. (Camallanida: Dracunculoidea: Micropleuridae) is described from the peritoneal cavity of Crocodylus niloticus Laurenti (Reptilia: Crocodylidae), based on a detailed study of its morphology using light and scanning electron microscopy. The new species is compared with its congeners, M. australiensis Moravec, Kay & Hobbs, 2004, M. vazi Travassos, 1933 and M. vivipara von Linstow, 1906 from crocodilians, and with M. indica Khera, 1951 from chelonian hosts. It can be distinguished from these by the length of its spicules, which are longer than in all described species and a combination of characters, including the presence of prominent lateral caudal papillae on the level of the cloaca in males, the presence of conspicuous phasmids on the female tail, the pre-equatorial position of the vulva and the length of the first-stage larvae. Micropleura huchzermeyeri n. sp. is further characterised by having 14 cephalic papillae in both sexes and ten pairs of caudal papillae in males. This is the first report of a representative of the genus Micropleura von Linstow, 1906 from a crocodilian in the Afrotropical region. Micropleura helicospicula Dey Sarkar, 2003 is considered a species incertae sedis.
Access options
Buy single article
Instant access to the full article PDF.
US$ 39.95
Tax calculation will be finalised during checkout.
Subscribe to journal
Immediate online access to all issues from 2019. Subscription will auto renew annually.
US$ 119
Tax calculation will be finalised during checkout.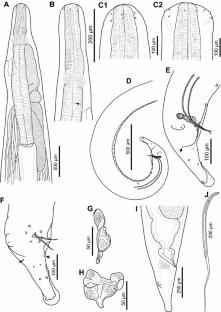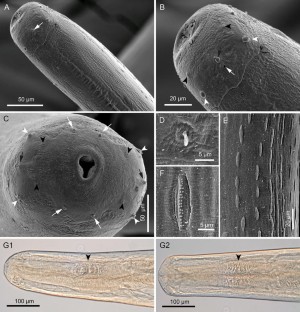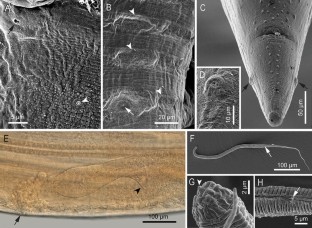 References
Agrawal, V. (1966). Three new reptilian nematodes from Lucknow. Transactions of the American Microscopical Society, 85, 107–114.

Anderson, R. C. (2000). Nematode parasites of vertebrates. Their development and transmission. 2nd edition. Wallingford: CABI Publishing, 650 pp.

Baylis, H. A. (1924). The male of Micropleura vivipara (Nematoda). Journal of Natural History, 13, 199–201.

Baylis, H. A., & Daubney, R. (1922). Report on the parasitic nematodes in the collection of Zoological Survey of India. Memoirs of the Indian Museum, 7, 263–347.

Dey Sarkar, S. R. (2003). Report on a collection of parasitic nematodes from the Kaimur wildlife sanctuary, Rohtas and Bhabua districts, Bihar, India, along with the descriptions of five new species. Records of the Zoological Survey of India, 101, 267–286.

ICZN (2012). International Commission on Zoological Nomenclature: Amendment of articles 8, 9, 10, 21 and 78 of the International Code of Zoological Nomenclature to expand and refine methods of publication. Zootaxa, 3450, 1–7.

Khera, S. (1951). A new nematode Micropleura indica n. sp. belonging to the family Philometridae Baylis and Daubney, 1926 from the Ganges tortoise, Trionyx gangeticus Cuvier. Indian Journal of Helminthology, 3, 55–58.

Maplestone, P. A. (1930). Parasitic nematodes obtained from the animals dying in the Calcutta Zoological Gardens. Records of the Indian Museum, 32, 385–412.

Moravec, F. (2001). Some helminth parasites from Morelet's crocodile, Crocodylus moreletii, from Yucatan, Mexico. Folia Parasitologica, 48, 47–62.

Moravec, F. (2006). Dracunculoid and Anguillicoloid nematodes parasitic in vertebrates. Praha: Academia, 636 pp.

Moravec, F., & Prouza, A. (2003). New data on the morphology of two nematode species from Caiman crocodilus from Venezuela. Acta Parasitologica, 48, 111–118.

Moravec, F., Kay, W. R., & Hobbs, R. P. (2004). Micropleura australiensis n. sp. (Nematoda: Micropleuridae) from the body cavity of Crocodylus johnsoni in Western Australia. Journal of Parasitology, 90, 322–326.

Moravec, F., Spratt, D., & Kay, W. (2006). New observations on Micropleura australiensis (Nematoda, Dracunculoidea), a parasite of crocodiles in Australia. Acta Parasitologica, 51, 273–278.

Siddiqi, A. H., & Jairajpuri, M. S. (1963). On Micropleura indica Khera, 1951 (Nematoda: Dracunculidae) from a new host Lissemys punctata, with studies on its life history. Zeitschrift für Parasitenkunde, 23, 99–105.

Travassos, L. (1933a). Sobre os filarideos dos crocodillos sul-americanos. Memórias do Instituto Oswaldo Cruz, 27, 159–164.

Travassos, L. (1933b). Filaridés des crocodiles Sud-américains. Comptes Rendus des Séances de la Société de Biologie de Rio de Janeiro, 113, 219–220.

von Linstow, O. (1906). Parasites from the gharial (Gavialis gangeticus Geoffr.). Journal and Proceedings of the Asiatic Society, Bengal, 2, 269–271.
Acknowledgements
The authors would like to thank Dr Danny Govender, Kruger National Park, for facilitating the collections. Professor Joop Boomker and the late Dr Fritz W. Huchzermeyer, University of Pretoria, are thanked for or their help with parasite collection.
Ethics declarations
Conflict of interest
The authors declare that they have no conflict of interest.
Ethical approval
All applicable institutional, national and international guidelines for the care and use of animals were followed.
Additional information
This article was registered in the Official Register of Zoological Nomenclature (ZooBank) as E64000D3-2A36-4977-84DC-AB55A79106AC. This article was published as an Online First article on the online publication date shown on this page. The article should be cited by using the doi number. This is the Version of Record.
This article is part of the Topical Collection Nematoda.
About this article
Cite this article
Junker, K., Mutafchiev, Y. Micropleura huchzermeyeri n. sp. (Camallanida: Dracunculoidea: Micropleuridae) from the Nile crocodile, Crocodylus niloticus Laurenti (Reptilia: Crocodylidae), in South Africa. Syst Parasitol 94, 785–795 (2017). https://doi.org/10.1007/s11230-017-9742-4
Received:

Accepted:

Published:

Issue Date: