Abstract
Mammalakis zambiensis n. sp. is described from the large intestine and caecum of Fukomys anselli (Burda, Zima, Scharff, Macholán & Kawalika), a bathyergid rodent endemic to Zambia. Morphological data for comparison with its three congeners, M. macrospiculum (Ortlepp, 1939), M. spalacis (Marcu, 1930) and M. spalaxi (Kozlov & Jangolenko, 1962) are provided. Based on studies of the type-material, observations of hitherto undescribed morphological characters of M. macrospiculum, a parasite of Bathyergus suillus (Schreber) (Hystricomorpha: Bathyergidae) in South Africa, are presented. To date, the generic diagnosis of Mammalakis Inglis, 1991 is based largely on characters of its type-species, M. macrospiculum. In having three rounded lips, not set-off from the body, a stout oesophagus with a flask-shaped posterior bulb, lateral alae that broaden on the level of the precloacal sucker and cloaca, and mature eggs with a smooth shell, M. zambienis n. sp. corresponds to the characters of the genus. However, the presence of lips with anterior flanges that were observed in M. zambiensis n. sp., and also for the first time in M. macrospiculum, are in contrast with the current diagnosis of Mammalakis. Further studies will be needed to determine if an amendment of the generic diagnosis is indicated.
Access options
Buy single article
Instant access to the full article PDF.
US$ 39.95
Tax calculation will be finalised during checkout.
Subscribe to journal
Immediate online access to all issues from 2019. Subscription will auto renew annually.
US$ 119
Tax calculation will be finalised during checkout.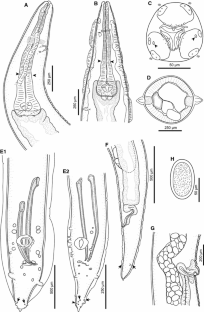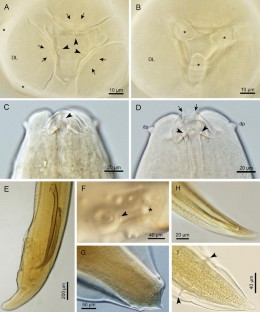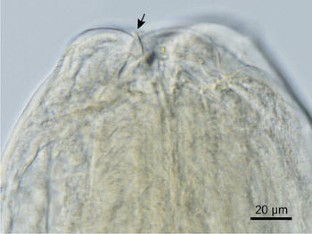 References
Cotterill, F. P. D., & Maree, S. (2008). Fukomys anselli. The IUCN Red List of Threatened Species 2008: e.T44858A10956247 http://dx.doi.org/10.2305/IUCN.UK.2008.RLTS.T44858A10956247.en. Downloaded on 18 July 2016.

De Graaf, G. (1964). On the parasites associated with the Bathyergidae. Koedoe, 7, 113–123.

Gannon, W. L., & Sikes, R. S. (2007). Guidelines of the American Society of Mammalogists for the use of wild mammals in research. Journal of Mammalogy, 88, 809–823.

Genov, T. (1984). [Helminths of insectivores and rodents in Bulgaria.]. Sofia: Publishing House of the Bulgarian Academy of Sciences, 348 pp (In Bulgarian).

ICZN (2012). International Commission on Zoological Nomenclature: Amendment of articles 8, 9, 10, 21 and 78 of the International Code of Zoological Nomenclature to expand and refine methods of publication. Zootaxa, 3450, 1–7.

Inglis, W. G. (1991). Mammalakis n. g. and Mammalakinae n. subfam. (Nematoda: Heterakoidea: Kiwinematidae): Parasites of mole rats (Rodentia: Bathyergidae and Spalacidae). Systematic Parasitology, 20, 89–95.

Inglis, W. G., & Harris, E. A. (1990). Kiwinematidae n. fam. (Nematoda) for Kiwinema n. g. and Hatterianema Chabaud & Dollfus, 1966: heterakoids of native New Zealand vertebrates. Systematic Parasitology, 20, 89–95.

Kozlov, D. P., & Jangolenko, E. I. (1962). Ganguleterakis spalaxi sp. nov. (Nematoda: Oxyurata) - a new nematode from Spalax microphthalmus. Helminthologia, 4, 213–216 (In Russian).

Lutermann, H., & Bennett, N. C. (2012). Determinants of helminth infection in a subterranean rodent, the Cape dune mole-rat (Bathyergus suillus). Journal of Parasitology, 98, 686–689.

Marcu, O. (1930). Eine neue Heterakis Art aus dem Darme von Spalax microphthalmus Güld. Bulletin de l'Academie Roumaine, 13, 14–16.

Ortlepp, R. J. (1939). South African helminths, Part VI. Some helminths, chiefly from rodents. Onderstepoort Journal of Veterinary Science and Animal Industry, 12, 75–101.

Scharff, A., Burda, H., Tenora, F., Kawalika, M., & Baruš, V. (1997). Parasites in social subterranean Zambian mole-rats (Cryptomys spp., Bathyergidae, Rodentia). Journal of Zoology, 241, 571–577.

Sichilima, A. M., Bennett, N. C., & Faulkes, C. G. (2011). Field evidence for colony size and aseasonality of reproduction of breeding and in Ansell's mole-rat, Fukomys anselli (Rodentia, Bathyergidae). African Zoology, 46, 334–339.

Tenora, F., Baruš, V., Prokeš, M., Šumbera, R., & Koubková, B. (2003). Helminths parasitizing the silvery mole-rat, Heliophobius argenteocinereus (Rodentia: Bathyergidae) from Malawi. Helminthologia, 40, 153–160.

Viljoen, H., Bennett, N. C., Ueckermann, E. A., & Lutermann, H. (2011). The role of host traits, season and group size on parasite burdens in a cooperative mammal. PLoS One, 6(11), e27003.
Acknowledgements
The authors are indebted to Professor N. C. Bennett, University of Pretoria, for providing the study material.
Ethics declarations
Conflict of interest
The authors declare that they have no conflict of interest.
Ethical approval
The project passed review by the Ethics Panel of the University of Pretoria (Ref. No. EC001-09). Mole rats were captured under authorisation of the Department of Veterinary and Nature Conservation in the Lusaka Province of Zambia (see Sichilima et al., 2011). Animals were humanely treated, following the guidelines of the American Society of Mammalogists (Gannon & Sikes, 2007).
Additional information
This article was registered in the Official Register of Zoological Nomenclature (ZooBank) as 14F23706-94BC-4651-A431-25624551DAD4. This article was published as an Online First article on the online publication date shown on this page. The article should be cited by using the doi number. This is the Version of Record.
This article is part of the Topical Collection Nematoda.
About this article
Cite this article
Junker, K., Lutermann, H. & Mutafchiev, Y. A new ascaridid nematode, Mammalakis zambiensis n. sp. (Heterakoidea: Kiwinematidae), from the mole rat Fukomys anselli (Burda, Zima, Scharff, Macholán & Kawalika) (Rodentia: Bathyergidae) in Zambia. Syst Parasitol 94, 557–566 (2017). https://doi.org/10.1007/s11230-017-9721-9
Received:

Accepted:

Published:

Issue Date:
Keywords
Total Body Length

Excretory Pore

Anterior Extremity

Maximum Body Width

Oesophageal Bulb