Abstract
Centrorhynchus sarehae n. sp. is described from the lizard buzzard Kaupifalco monogrammicus (Temminik) in Louis Trichardt City, Limpopo Province, South Africa. The new species can be distinguished from all other species of Centrorhynchus Lühe, 1911 except C. gendrei (Golvan, 1957) and C. mariauxi Smales, 2011 in having a dilated region in the posterior trunk of the female. Centrorhynchus sarehae differs from both these species in the characters of the proboscis armature, particularly the number of hooks per row and the lengths of the longest hooks. This is the first record of a fully identified species of Centrorhynchus in South Africa.
Access options
Buy single article
Instant access to the full article PDF.
USD 39.95
Price includes VAT (USA)
Tax calculation will be finalised during checkout.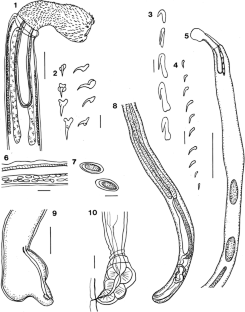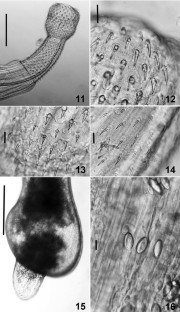 References
Amin, O. M. (2013). Acanthocephala. Folia Parasitologica, 40, 273–305.

Baker, M. K., Lange, L., Verster, A., & Van der Plaat, S. (1989). A survey of helminths in domestic cats in Pretoria area of Transvaal, Republic of South Afric. Part 1: The prevalence and comparison of burdens of helminths in adult and juvenile cats. Journal of the South African Veterinary Association, 60, 139–142.

Dimitrova, Z. M., & Gibson, D. I. (2005). Some species of Centrorhynchus Lühe 1911 (Acanthocephala: Centrorhynchidae) from the collection of the Natural History Museum, London. Systematic Parasitology, 62, 117–134.

Dollfus, R. P. (1951). Miscellanea Helminthologica Moroccana Quelques trématodes, cestodes et acanthocéphales. Archives de l'Institut Pasteur de Maroc, 4, 104–229.

Golvan, Y. J. (1956). Le genre Centrorhynchus Lühe 1911 (Acanthocephala-Polymorphidae) Révision des espèces Européennes et description d'une nouvelle espéce Africaine parasite de rapace diurne. Bulletin de l'Institut Française Afrique Noire, 18, sér A, 732–785.

Golvan, Y. J. (1957). Acanthocéphales d'oiseaux Sixième note. Deux espèces nouvelles parasites d'oiseaux d'Afrique Occidentale Française: Gorgiorhynchus (Gordiorhynchus) gendrei n. sp. et Pseudogordiorhynchus antomeyeri n. gen. et n. sp. Annales de Parasitologie Humaine et Comparée, 32, 83–97.

Golvan, Y. J. (1958). Acanthocéphales d'Afrique Occidentale Française récoltés par le Dr Pierre-Claude Morel. Bulletin de l'Institut Française Afrique Noire, 20, sér A, 60–72.

Golvan, Y. J. (1960). Le Phylum des Acanthocephala 3e note La Classe Palaeacnathocephala (Meyer, 1931). Annales de Parasitologie Humaine et Comparée, 35, 575–593.

Golvan, Y. J. (1994). Nomenclature of the Acanthocephala. Research and Reviews in Parasitology, 54, 135–205.

Kennedy, C. R. (2006). Ecology of the Acanthocephala (p. 249). Cambridge: Cambridge University Press.

Lepage, D. (Editor) (2016). Avibase. World Wide Web electronic publication. www.avibase.bsc-eoc.org, (8/2016).

Meyer, A. (1933). Acanthocephala. In: Dr H. G. Bronns Klassen und Ordnungen des Tierreichs Vierter Band 2. Abteilung 2. Leipzig: Akademische Verlagsgesellschaft M. B. H. 582 pp.

Petrochenko, V. I. (1958). [Acanthocephala of Domestic and Wild Animals Vol 2 Moskva: Izdatel'stvo Akademii Nauk SSSR.] Translated from Russian, Israel Program for Scientific Translations, Jerusalem, 1971, 478 pp.

Richardson, D. J., & Nickol, B. B. (1995). The genus Centrorhynchus (Acanthocephala) in North America with description of Centrorhynchus robustus n. sp., redescription of Centrorhynchus conspectus, and a key to the species. Journal of Parasitology, 81, 762–772.

Schmidt, G. D. (1985). Chapter 8. Development and life-cycles. In D. W. T. Crompton & B. B. Nickol (Eds.), Biology of the Acanthocephala (pp. 273–305). Cambridge: Cambridge University Press.

Schuster, R. K., Thomas, K., Sivakumar, S., & O'Donovan, D. (2009). The parasite fauna of stray domestic cats in Dubai, United Arab Emirates. Parasitology Research, 105, 125–134.

Smales, L. R. (2011). Centrorhynchidae (Acanthocephala) including a description of new species of Centrorhynchus from birds from the Côte d'Ivoire. Revue Suisse de Zoologie, 118, 307–318.

Troncy, P.-M. (1970). Contribution a l'étude des helminthes d'Afrique principalement du Tchad. Bulletin du Muséum National d'Histoire Naturelle 2eme Série, 41, 1487–1511.

Ward, H. L. (1956). A new species of Centrorhynchus (Acanthocephala) from the kite Milvus migrans, in Egypt. Journal of Parasitology, 42, 39–41.

Xhaxhiu, D., Kusi, I., Rapti, D., Kondi, E., Postoli, R., Rinaldi, L., et al. (2011). Principal intestinal parasites of dogs in Tirana, Albania. Parasitology Research, 108, 4341–4353.
Acknowledgements
Thanks are due to Dr Lourens Swanepoel, University of Venda, for providing the lizard buzzard, and Dr Leslie Chisholm, South Australian Museum, for assistance with the photomicrographs. Librarians from the Central Queensland University Library provided Document Delivery Services.
Funding
This work is partly based on research supported by the South African Research Chairs' Initiative (SARChI-Prof. Wilmien J Luus-Powell) of the Department of Science and Technology and National Research Foundation of South Africa (Grant No. 101054) and the University of Limpopo. Any opinion, finding and conclusion or recommendation expressed in this material is that of the author(s) and the NRF does not accept any liability in this regard.
Ethics declarations
Conflict of interest
The authors declare that they have no conflict of interest.
Ethical approval
All applicable institutional national and international guidelines for the care and use of animals were followed.
Additional information
This article was registered in the Official Register of Zoological Nomenclature (ZooBank) as 225D6399-ACBB-43FF-A1FA-A70305F6DA7E. This article was published as an Online First article on the online publication date shown on this page. The article should be cited by using the doi number. This is the Version of Record.
This article is part of the Topical Collection Acanthocephala.
About this article
Cite this article
Smales, L.R., Halajian, A., Mokgawa, M.P. et al. A new species of Centrorhynchus Lühe, 1911 (Acanthocephala: Centrorhynchidae) from the lizard buzzard Kaupifalco monogrammicus (Temminck) (Aves: Accipitridae) in South Africa. Syst Parasitol 94, 423–430 (2017). https://doi.org/10.1007/s11230-017-9710-z
Received:

Accepted:

Published:

Issue Date:
Keywords
Simple Root

Anterior Testis

Limpopo Province

Cement Gland

Trunk Length