Abstract
A new species of Dermoergasilus Ho & Do, 1982 is described from freshwater fish hosts in the south west of Western Australia. D. occidentalis n. sp. differs from previously described species in the genus principally by the armature of the legs. The new species was found on the gills of the freshwater cobbler Tandanus bostocki Whitely and western minnow Galaxias occidentalis Ogilby in two different river systems.
This is a preview of subscription content, log in to check access.
Access options
Buy single article
Instant access to the full article PDF.
US$ 39.95
Price includes VAT for USA
Subscribe to journal
Immediate online access to all issues from 2019. Subscription will auto renew annually.
US$ 199
This is the net price. Taxes to be calculated in checkout.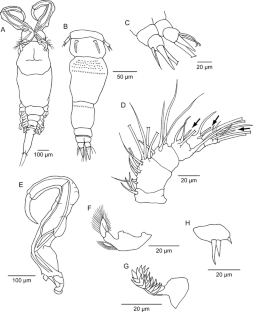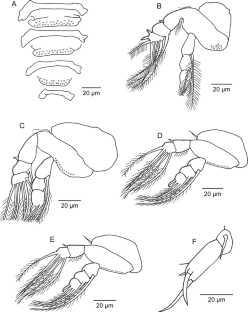 References
Byrnes, T. B. (1986). Some ergasilids (Copepoda) parasitic on four species of Australian bream, Acanthopagrus spp. Australian Journal of Marine and Freshwater Research, 37, 81–93.

El-Rashidy, H. H., & Boxshall, G. A. (2001). Biogeography and phylogeny of Dermoergasilus Ho & Do, 1982 (Copepoda: Ergasilidae), with descriptions of three new species. Systematic Parasitology, 49, 89–112.

Ho, J.-S., & Do, T. T. (1982). Two species of Ergasilidae (Copepoda: Poecilostomatoida) parasitic on the gills of Mugil cephalus Linnaeus (Pisces: Teleostei) with proposition of a new genus Dermoergasilus. Hydrobiologia, 89, 247–252.

Ho, J.-S., Jayarajan, P., & Radhakrishnan, S. (1992). Copepods of the family Ergasilidae (Poecilostomatoida) parasitic on coastal fishes of Kerala, India. Journal of Natural History, 26, 1227–1241.

Kabata, Z. (1992). Copepoda parasitic on Australian fishes, XV. Family Ergasilidae (Poecilostomatoida). Journal of Natural History, 26, 47–66.

Montu, M. A., & Boxshall, G. A. (2002). Gauchergasilus, a new genus for Ergasilus euripedesi Montu, 1980, an abundant parasitic copepod from the Patos Lagoon in southern Brazil. Systematic Parasitology, 51, 21–28.
Acknowledgements
This study was funded by the Australia and Pacific Science Foundation. It formed part of a PhD project undertaken by Marina Hassan at Murdoch University and supported by a scholarship from the Ministry of Higher Education Malaysia and Universiti Malaysia Terengganu. Thanks are due to David Morgan and Stephen Beatty for fish collections and to Belinda Cale for help with the figures.
About this article
Cite this article
Hassan, M., Jones, B. & Lymbery, A.J. A new species of Dermoergasilus Ho & Do, 1982 (Copepoda: Ergasilidae) from freshwater fishes in the south-west of Western Australia. Syst Parasitol 74, 143–148 (2009). https://doi.org/10.1007/s11230-009-9217-3
Received:

Accepted:

Published:

Issue Date:
Keywords
Posterior Margin

Lateral Margin

Outer Seta

Endopodal Segment

Caudal Ramus