Abstract
Syncuaria mackoi n. sp. is described, based on light and scanning electron microscopy, from the stomach of the black stork Ciconia nigra in Bulgaria. The new species is characterised by: body length 7.18–8.30 mm (males) and 10.13–11.40 mm (females); cordons anastomosing about the level of the middle of the muscular oesophagus and consisting of delicate cuticular plates; bifurcate deirids 7–9 μm long; lateral longitudinal cuticular band-like swellings; nine pairs of pedunculate caudal papillae, i.e. four precloacal and five postcloacal, the latter forming two groups (2 + 3); sixth pair of postcloacal papillae sessile; left spicule 854–907 μm long; right spicule 138–154 μm in length, with a curved distal end resembling a horn and a short lateral projection at some distance from its tip; and vagina vera provided with an anteriorly-directed blind appendix. The specimens identified as S. ciconiae (Gil'bert, 1927) by Macko (1964) from C. nigra in Slovakia are considered as belonging to S. mackoi. A pair of small cupolae situated dorsally and ventrally between bases of cordons of the new species is described for the first time in this genus; they are recognised as homologous to the pair of spines in the same position previously described in S. diacantha Petter, 1961 and S. plegadisi Digiani, 1999.
Access options
Buy single article
Instant access to the full article PDF.
US$ 39.95
Tax calculation will be finalised during checkout.
Subscribe to journal
Immediate online access to all issues from 2019. Subscription will auto renew annually.
US$ 119
Tax calculation will be finalised during checkout.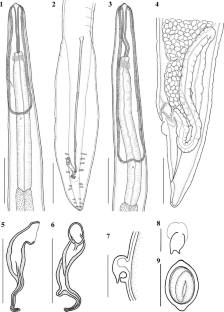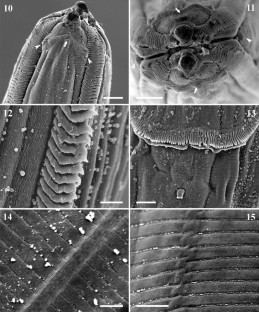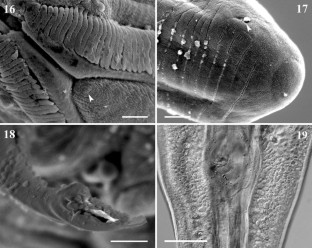 References
Baylis, H. A., & Daubney, R. (1923). Note on a new species of Acuaria (Nematoda) from the adjutant-stork. Annals and Magazine of Natural History, Series 9, 12, 95–96.

Digiani, M. C. (1999). First report of the genus Syncuaria (Nematoda: Acuariidae) in Argentina, with description of a new species. Folia Parasitologica, 46, 139–144.

Gendre, E. (1920). Description du mâle d'Echinuria leptoptili Gedoelst, dispharage parasite du Marabout. Procès-Verbaux de la Société Linnéenne de Bordeaux, 71, 45–49.

Gil'bert, L. (1927). [On the characteristics of two nematodes from birds in the Western areas of the USSR]. In I. M. Isaychikov, N. P. Popov, A. M. Petrov, & R. E. S. Shul'z (Eds.), Sbornik rabot po gel'mintologii posvyashcheniy professoru Konstantinu Ivanovichu Skryabinu ego uchenikami (pp. 54–61). Moscow: published by the authors (in Russian).

Gretillat, S. (1970). Helminthes parasites d'animaux sauvages au Sénégal (Deuxième note). Annales de Parasitologie Humaine et Comparée, 3, 279–288.

Gushanskaya, L. H. (1950). [Contribution to the knowledge of spirurate nematodes from waterfowl and marsh birds in the USSR]. Trudy Gel'mintologicheskoy Laboratorii Akademii Nauk SSSR, 4, 55–63 (in Russian).

Kurashvili, B. E. (1957). Gel'minty okhotnich'e-promyslovykh ptits Gruzii v faunisticheskom i ekologicheskom osveshchenii. Moscow: Izdatel'stvo Akademii Nauk SSSR, 434 pp (in Russian).

Macko, J. K. (1964). Zur Fauna der Nematoden des Schwarzstorches (Ciconia nigra L.) in der Slowakei (ČSSR). Helminthologia, 5, 21–32.

Mawson, P. M., Angel, L. M., & Edmonds, S. J. (1986). A checklist of helminths from Australian birds. Records of the South Australian Museum, 19, 219–325.

Petrova, K. (1984). [On Nematoda from wild birds in Bulgaria]. In I. Vasilev (Ed.), Fauna, taksonomiya i ekologiya na khelminti po ptitsi (pp. 172–184). Sofia: Izdatelstvo na Balgarskata Akademiya na Naukite (in Bulgarian).

Petter, A.-J. (1961). Un nouvel acuariide, Syncuaria diacantha, n. sp. parasite de la spatule: Ajaia ajaja (L.). Annales de Parasitologie Humaine et Comparée, 36, 764–769.

Smogorzhevskaya, L. A. (1990). [Nematodes. Part 3. Acuarioidea]. In V. P. Sharpilo (Ed.), Fauna Ukrainy (Vol. 32, 189 pp). Kiev: Naukova dumka (in Russian).

Wang, P. (1976). Notes on some new nematodes of the suborder Spirurata from Fujian, China. Acta Zoologica Sinica, 22, 393–402 (in Chinese).

Wong, P. L., & Anderson, R. C. (1987). Development of Syncuaria squamata (Linstow, 1883) (Nematoda: Acuarioidea) in ostracods (Ostracoda) and double-crested cormorants (Phalacrocorax auritus auritus). Canadian Journal of Zoology, 65, 2524–2531.

Wong, P. L., Anderson, R. C., & Bartlett, C. M. (1986). Revision of the genus Syncuaria Gilbert, 1927 (Nematoda: Acuarioidea). Canadian Journal of Zoology, 64, 1186–1196.

Zhang, L., Brooks, D. R., & Causey, D. (2003). A new species of Syncuaria Gilbert, 1927, (Nematoda: Acuarioidea: Acuariidae) in the wood stork, Mycteria americana L. (Aves: Ciconiiformes: Ciconiidae) from the Area de Conservacion Guanacaste, Costa Rica. Journal of Parasitology, 89, 1034–1038.
Acknowledgements
We are grateful to Ms A. Yoneva and Dr P.N. Nikolov for their assistance in preparing specimens for SEM observations. Dr F. Moravec and Dr P.N. Nikolov provided useful comments on the manuscript. The light-microscopical facilities used were provided by the BioCore Project (leader Dr V. Peneva) with the financial support of the National Science Fund, Ministry of Education and Science of the Republic of Bulgaria.
About this article
Cite this article
Mutafchiev, Y., Georgiev, B.B. A new acuariid nematode, Syncuaria mackoi n. sp. (Spirurida), from Ciconia nigra (L.) (Ciconiiformes: Ciconiidae) in Europe. Syst Parasitol 70, 71–79 (2008). https://doi.org/10.1007/s11230-008-9138-6
Received:

Accepted:

Published:

Issue Date:
Keywords
Buccal Cavity

Excretory Pore

Posterior Extremity

Anterior Extremity

Cuticular Plate