Abstract
This paper adds to the philosophical literature on mechanistic explanation by elaborating two related explanatory functions of idealisation in mechanistic models. The first function involves explaining the presence of structural/organizational features of mechanisms by reference to their role as difference-makers for performance requirements. The second involves tracking counterfactual dependency relations between features of mechanisms and features of mechanistic explanandum phenomena. To make these functions salient, we relate our discussion to an exemplar from systems biological research on the mechanism for countering heat shock—the heat shock response (HSR) system—in Escherichia coli (E. coli) bacteria. This research also reinforces a more general lesson: ontic constraint accounts in the literature on mechanistic explanation provide insufficiently informative normative appraisals of mechanistic models. We close by outlining an alternative view on the explanatory norms governing mechanistic representation.
This is a preview of subscription content, log in to check access.
Access options
Buy single article
Instant access to the full article PDF.
US$ 39.95
Price includes VAT for USA
Subscribe to journal
Immediate online access to all issues from 2019. Subscription will auto renew annually.
US$ 199
This is the net price. Taxes to be calculated in checkout.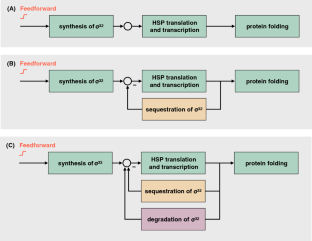 Notes
1.

Contrast this with the term abstraction, which is often used to refer to the omission of details without such intentional misrepresentation (Jones 2005). If omissions result in misrepresentations of a target system, and if these misrepresentations are intended, argues Godfrey-Smith (2006), they also counts as an idealisation. We will follow this usage as well as the qualification, which looms large in the case studies we discuss. More generally, such idealisations by omission are frequent in scientific practice (Potochnik 2017).

2.

HSR can also be triggered by non-thermal stress and pharmacological agents. For present purposes, focusing on thermal stress-induced HSR is sufficient.

3.

Let us stress that the mutant models in this research should not be understood as representations of alternative ways in which the E.coli HSR system could be organized, and thus have different non-existing targets. The mutant models do misrepresent wild type E.coli HSR systems because they are used to say something about that target, viz. that certain characteristics are present in the target system because these improve functionality. The researchers' aim is not to explore possible design variants so as to come up with a story about what the actual design looks like and how it functions. That is known from the start in their research; rather, they want to know why the target system functions the way it does. Given this request for explanation, it seems clear that the E.coli HSR wild type system is the target system driving the misrepresentations in the more unrealistic models.

4.

We do not claim completeness for our analysis: likely, there are other explanatory functions served by intentional misrepresentations of mechanistic difference-makers than the ones we and Love and Nathan (2015) identified. Our aim here was just to elaborate two salient and important ones.

5.

Determining which variables and dependencies ought to be articulated in a given mechanistic model is a different matter. Levy and Bechtel (2013) pitch their account of explanatory relevance against the views of e.g., Craver (2007). One of us argues (van Eck 2015a, 2017) that these sets of authors in fact endorse compatible rather than competing positions; they subscribe to different notions of difference-making, which are suitable for different explanatory requests.

6.

It might be that theorists committed to this accuracy perspective sanction the use of idealizations that distort irrelevant features; and it might also be that some of those theorists concede that idealizations may distort explanatorily relevant features as long as this is required to accurately represent more important explanatorily relevant features. But the concession contradicts the norm that mechanistic explanations should describe as accurately as possible the relevant ontic structures in the world; what is then minimally required is a theory of 'relative' explanatory importance that explains when, and when not, the distortion of explanatorily relevant features is sanctioned. As long as such a theory is not on offer, the second concession seems to entail giving up on the accuracy constraint. Also, given that organization is key to the operation of mechanisms, key features are distorted in the cases analysed here, not relatively minor details. Thus, the accuracy perspective would still be hard pressed to account for the cases of idealization discussed here.

7.

The term explain here refers both to design explanations that hinge on the comparison of mechanistic models and to the articulation of counterfactual dependencies using mechanistic models. On a side note, models that represent target mechanisms can be used both for mechanistic explanatory purposes (as in the latter case) and for non-mechanistic explanatory purposes (as in the former case). Also, when one is inclined to think that both explanatory purposes are mechanistic (cf. Matthiessen 2017), explain still has a twofold sense.

8.

We hasten to say that we do not take our suggestions to be the only way to spell out explanatory norms on (mechanistic) explanations. We do take our suggestions to embody widely endorsed commitments in the explanation literature and to enable accounting for the positive role of idealizations in mechanistic modeling, something which ontic constraint views have a hard time accommodating.
References
Arkin, A., & Schaffer, D. (2011). Network news: Innovations in 21st century systems biology. Cell, 144, 844–849.

Arsene, F., Tomoyasu, T., & Bukau, B. (2000). The heat shock response of Escherichia coli. International Journal of Food Microbiology, 55, 3–9.

Aubin, T., Jouventin, P., & Hildebrand, C. (2000). Penguins use the two-voice system to recognize each other. Proceedings Royal Society London, 267, 1081–1087.

Bokulich, A. (2016). Fiction as a vehicle for truth: Moving beyond the ontic conception. The Monist, 99, 260–279.

Boone, W., & Piccinini, G. (2016). Mechanistic abstraction. Philosophy of Science, 83, 1–13.

Braillard, P. A. (2015). Prospects and limits of explaining biological systems in engineering terms. In P. Braillard & C. Malaterre (Eds.), Explanation in biology (pp. 319–344). Berlin: Springer.

Callender, G., & Cohen, J. (2005). There is no special problem about scientific representation. Theoria, 55, 67–85.

Craver, C. (2006). When mechanistic models explain. Synthese, 153, 355–376.

Craver, C. (2007). Explaining the brain: Mechanisms and the Mosaic Unity of Neuroscience. Oxford: Oxford University Press.

Craver, C. (2014). The ontic conception of explanation. In M. Kaiser, O. Scholz, D. Plenge, & A. Hüttemann (Eds.), Explanation in the special sciences (pp. 27–52). Berlin: Springer.

Csete, M., & Doyle, J. (2002). Reverse engineering of biological complexity. Science, 295, 1664–1669.

El-Samad, H. J., Kurata, H., Doyle, J. C., Gross, C. A., & Khammash, M. (2005). Surviving heat shock: control strategies for robustness and performance. PNAS, 102, 736–2741.

Glennan, S. (2005). Modeling mechanisms. Studies in History and Philosophy of Biological and Biomedical Sciences, 36, 443–464.

Glennan, S. (2017). The new mechanical philosophy. Oxford: Oxford University Press.

Godfrey-Smith, P. (2006). The strategy of model-based science. Biology and Philosophy, 21, 725–740.

Green, S. (2015). Revisiting generality in biology: Systems biology and the quest for design principles. Biology and Philosophy, 30, 629–652.

Guisbert, E., Yura, T., Rhodius, V., & Gross, C. (2008). Convergence of molecular, modeling, and systems approaches for an understanding of the of Escherichia coli heat shock response. Microbiology and Molecular Biology Reviews, 72, 545–554.

Hochstein, E. (2016). One mechanism, many models: A distributed theory of mechanistic explanation. Synthese, 193, 1387–1407.

Illari, P. (2013). Mechanistic explanation: Integrating the ontic and epistemic. Erkenntnis, 78, 237–255.

Jones, M. (2005). Idealisation and abstraction: a framework. In M. Jones & N. Cartwright (Eds.), Idealisation XII: Correcting the model (pp. 173–217). Bulgaria: Rodopi.

Kaplan, D. (Ed.). (2017). Explanation and integration in mind and brain science. Oxford: Oxford University Press.

Kaplan, D., & Craver, C. (2011). The explanatory force of dynamical and mathematical models in neuroscience: A mechanistic perspective. Philosophy of Science, 78, 601–627.

Kaplan, D., & Craver, C. (2020). Are more details better? On the norms of completeness for mechanistic explanations. British Journal for the Philosophy of Science, 71, 287–319.

Kaufmann, S. (1990). Heat shock proteins and the immune response. Immunology Today, 11, 129–136.

Knuuttila, T. (2011). Modelling and representing: An artefactual approach to model-based representation. Studies in History and Philosophy of Science, 42, 262–271.

Kurata, H., El-Samad, H., Iwasaki, R., Ohtake, H., Doyle, J. C., Grigorova, I., et al. (2006). Module-based analysis of robustness tradeoffs in the heat shock response system. PLoS Computational Biology, 2, 663–675.

Levy, A., & Bechtel, W. (2013). Abstraction and the organization of mechanisms. Philosophy of Science, 80, 241–261.

Love, A., & Nathan, M. (2015). The idealisation of causation in mechanistic explanation. Philosophy of Science, 82, 761–774.

Mäki, U. (1992). On the method of isolation in economics. Poznań Studies in the Philosophy of the Sciences and the Humanities, 26, 319–354.

Mäki, U. (2009). Realistic realism about unrealistic models. In H. Kincaid & D. Ross (Eds.), Oxford Handbook of the philosophy of economics. Oxford: Oxford University Press.

Matthewson, J. (2017). Models of mechanisms. In S. Glennan & P. Illari (Eds.), Routledge Handbook of mechanisms and mechanical philosophy (pp. 225–237). London: Routledge.

Matthiessen, D. (2017). Mechanistic explanation in systems biology: Cellular networks. British Journal for the Philosophy of Science, 68, 1–25.

Newlyn, W. (1950). The Phillips/Newlyn hydraulic model. Yorkshire Bulletin of Economic and Social Research, 2, 111–127.

Nowak, L. (1980). The structure of idealization. Kufstein: Reidel.

Perini, L. (2005). Explanation in two dimensions: Diagrams and biological explanation. Biology & Philosophy, 20, 257–269.

Potochnik, A. (2017). Idealization and the aims of science. Chicago: University of Chicago Press.

Ratti, E. (2019). 'Models of' and 'models for': on the relation between mechanistic models and experimental strategies in molecular biology. British Journal for the Philosophy of Science, 71, 773–797.

Richter, K., Haslbeck, M., & Buchner, J. (2010). The heat shock response: Life on the verge of death. Molecular Cell, 40, 253–266.

Sheredos, B. (2016). Re-reconciling the epistemic and ontic views of explanation (or, why the ontic view cannot support norms of generality). Erkenntnis, 81, 919–949.

Stelling, J., Sauer, U., Szallasi, Z., Doyle, F., & Doyle, J. (2004). Robustness of cellular functions. Cell, 118, 675–685.

Straus, D., Walter, W., & Gross, C. (1987). The heat shock response of E. coli is regulated by changes in the concentration of σ32. Nature, 329, 348–351.

Strevens, M. (2008). Depth: An account of scientific explanation. Harvard: Harvard University Press.

van Eck, D. (2015a). Mechanistic explanation in engineering science. European Journal for Philosophy of Science, 5, 349–375.

van Eck, D. (2015b). Reconciling ontic and epistemic constraints on mechanistic explanation, epistemically. Axiomathes, 25, 5–22.

van Eck, D. (2017). Mechanisms and engineering science. In S. Glennan & P. Illari (Eds.), Routledge handbook of mechanisms and mechanical philosophy (pp. 447–461). London: Routledge.

van Eck, D., & Mennes, J. (2018). Mechanism discovery and design explanation: Where role function meets biological advantage function. Journal for General Philosophy of Science, 49, 413–434.

van Eck, D., & Weber, E. (2014). Function ascription and explanation: Elaborating an explanatory utility desideratum for ascriptions of technical functions. Erkenntnis, 79, 1367–1389.

Weisberg, M. (2007). Three kinds of idealisation. Journal of Philosophy, 104, 639–659.

Weisberg, M. (2013). Simulation and similarity: Using models to understand the world. Oxford: Oxford University Press.

Wong, H. (2005). Endogenous cytoprotective mechanisms. In L. Bertok & D. Chow (Eds.), Natural immunity (pp. 49–65). Amsterdam: Elsevier.

Woodward, J. (2003). Making things happen. Oxford: Oxford University Press.

Wouters, A. (2007). Design explanations: Determining the constraints on what can be alive. Erkenntnis, 67, 65–80.

Wouters, A. (2013). Biology's functional perspective: roles, advantages, and organization. In K. Kampourakis (Ed.), Philosophy of biology: A companion for educators (pp. 455–486). Berlin: Springer.

Wright, C. (2012). Mechanistic explanation without the ontic conception. European Journal of Philosophy of Science, 2, 375–394.

Wright, C. (2015). The ontic conception of scientific explanation. Studies in the History and Philosophy of Science, 54, 20–30.

Wright, C., & van Eck, D. (2018). Ontic explanation is either ontic or explanatory, but not both. Ergo, 5(38), 997–1029.

Ylikoski, P., & Kuorikoski, J. (2010). Dissecting explanatory power. Philosophical Studies, 148, 201–219.
Acknowledgements
Funding was provided to Dingmar van Eck by the Research Foundation Flanders (FWO). We thank our reviewers and the guest editors of this special issue for very useful comments and suggestions.
Additional information
Publisher's Note
Springer Nature remains neutral with regard to jurisdictional claims in published maps and institutional affiliations.
About this article
Cite this article
van Eck, D., Wright, C. Mechanist idealisation in systems biology. Synthese (2020). https://doi.org/10.1007/s11229-020-02816-8
Received:

Accepted:

Published:
Keywords
Idealisation

Mechanistic model

Heat shock response

Systems biology

Mechanistic explanation