Abstract
IoT is one of the most important technologies that are used over the past few years, where everything is connected to the Internet; it is used in many fields; one of these fields is healthcare system that includes mobile health and remote patient monitoring (patients with kidney, heart disease, cancer, blood pressure, diabetes, respiratory disease and stroke). Integration of IoT and cloud computing can improve the performance of healthcare system and the development of the innovative applications in future. One of the major problems that cannot be ignored in cloud computing system is load balancing. Solving that problem leads to reduce the response time, power consumption, cost and increase server availability. This paper is comprised of two parts which are creating and implementing healthcare system by using IoT, and solving the problem of load balancing of the cloud computing by using intelligent algorithm called sparrow search algorithm (SSA). The SSA is used to select the best virtual machine (VM) among a group of VMs depending on the its fitness value; also many and varied tasks are scheduled with priority and assign to the best VMs depending on the its instruction millions (IM), where the task that has high IM is assigned to the best VM that has high fitness value. The outcomes demonstrated that the proposed method focuses to reduce the latency and packet loss while maximizing the throughput in healthcare systems; also the SSA has proved its robustness, efficiency and success when compared to other methods in terms of reducing makespan time, total processing time and provides load balancing among VMs, where the value of makespan time, processing time and degree of imbalance has decreased into (23.05), (899.8979) and (177.7675), respectively, in case of applying 500 tasks.
Access options
Buy single article
Instant access to the full article PDF.
US$ 39.95
Tax calculation will be finalised during checkout.
Subscribe to journal
Immediate online access to all issues from 2019. Subscription will auto renew annually.
US$ 119
Tax calculation will be finalised during checkout.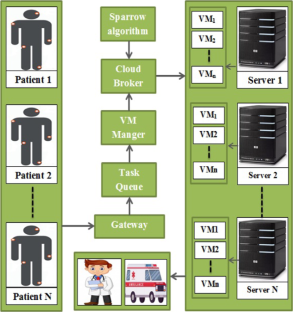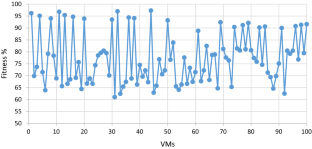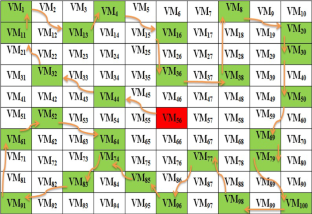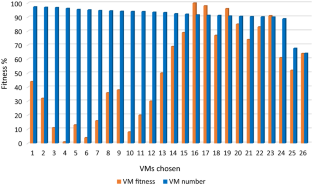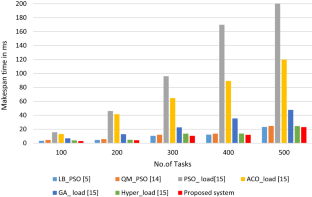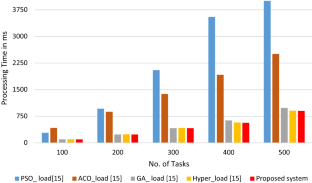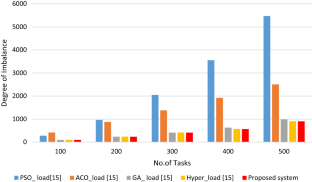 References
1.

Chudhary R, and Sharma S 2021 Fog-cloud assisted framework for Heterogeneous Internet of Healthcare Things. Procedia Computer Sci 184:194–201, The 12th International Conference on Ambient Systems, Networks and Technologies, Poland.

2.

Surantha N, Atmaja P, David and Wicaksono M (2021)A Review of Wearable Internet-of-Things Device for Healthcare. Procedia Computer Sci 179:936–943, 5th International Conference on Computer Science and Computational Intelligence.

3.

Javaid M, Haleem KI (2021) Internet of things (IoT) enabled healthcare helps to take the challenges of COVID-19 pandemic. J Or Biol Craniofac Res 11:209–214. https://doi.org/10.1016/j.jobcr.2021.01.015

4.

Gupta BB, and Quamara M (2018) An identity based access control and mutual authentication framework for distributed cloud computing services in IoT environment using smart cards. Procedia Computer Sci 132:189–197, International Conference on Computational Intelligence and Data Science.

5.

Pradhan A, Bisoy SK (2020) A novel load balancing technique for cloud computing platform based on PSO. J King Saud Univ Computer Inf Sci. https://doi.org/10.1016/j.jksuci.2020.10.016

6.

Li K, Xu G, Zhao G, Dong Y, and Wang D (2011) Cloud Task Scheduling Based on Load Balancing Ant Colony Optimization, Sixth Annual China grid Conference, Liaoning, pp. 3–9.

7.

Toosi AN, and Buyya R (2015) A fuzzy logic-based controller for cost and energy efficient load balancing in geo-distributed data centers. In: 2015 IEEE/ ACM 8th International Conference on Utility and Cloud Computing (UCC), pp. 186–194.

8.

Singh A, Juneja D, Malhotra M (2015) Autonomous agent based load balancing algorithm in cloud computing. Procedia Computer Sci Int Conf Adv Computing Technol Appl 45:832–841

9.

Al-Olimat HS, Alam M, Green R, Lee JK (2015) Cloudlet scheduling with particle swarm optimization. Proc IEEE Int Conf Commun Syst Netw Technol. https://doi.org/10.1109/CSNT.2015.252

10.

Rajput S, Kushwah V (2016) A genetic based improved load balanced min-min task scheduling algorithm for load balancing in cloud computing. Proc IEEE Int Conf Comput Intell Commun Netw. https://doi.org/10.1109/CICN.2016.139

11.

Elhady G, Tawfeek M (2016) A comparative study of swarm intelligence algorithms for dynamic task scheduling in cloud computing. Proc IEEE Int Conf Intell Comput Inf Syst. https://doi.org/10.1109/IntelCIS.2015.7397246

12.

Chiang M, Hsieh H, Tsai W, Ke M (2017) An improved task scheduling and load balancing algorithm under the heterogeneous cloud computing network. Proc IEEE Int Conf Aware Sci Technol. https://doi.org/10.1109/ICAwST.2017.8256465

13.

Zhang Y, Yang R (2017) Cloud computing task scheduling based on an improved particle swarm optimization algorithm. Proc IEEE Annu Conf Ind Electron Soc. https://doi.org/10.1109/IECON.2017.8217541

14.

Jena U, Das P, Kabat M (2020) Hybridization of meta-heuristic algorithm for load balancing in cloud computing environment. Journal of King Saud University. https://doi.org/10.1016/j.jksuci.2020.01.012

15.

Gupta A, Bhadauria H, Singh A (2020) Load balancing based hyper heuristic algorithm for cloud task scheduling. J Ambient Intell Humaniz Comput. https://doi.org/10.1007/s12652-020-02127-3

16.

Semmoud A, Hakem M, Benmammar B, Charr J (2020) Load balancing in cloud computing environments based on adaptive starvation threshold. Concurr Comput Pract Exp. https://doi.org/10.1002/cpe.5652

17.

Elhoseny M et al (2018) A hybrid model of internet of things and cloud computing to manage big data in health services applications. Futur Gener Comput Syst 86:1383–1394

18.

Aburukba OR et al (2019) Scheduling internet of things requests to minimize latency in hybrid fog-cloud computing. Future Gener Computer Syst 111:539–551

19.

Khoi NM (2015) Sensor communication in Smart cities and regions: An efficient IoT-based remote health monitoring system. Master's Thesis.

20.

Whitmore A, Agarwal A, Xu LD (2015) The internet of things—a survey of topics and trends. Inf Syst Front 17(2):261–274

21.

Chiuchisan I, Costin H, and Geman O (2014) Adopting the internet of things technologies in health care systems. 2014 International Conference and Exposition on Electrical and Power Engineering (EPE). IEEE, 2014.

22.

Ragmani A, Omri AE, Abghour N, Moussaid K, and Rida M (2016) An improved scheduling strategy in cloud computing using fuzzy logic In: Proceedings of the International Conference on Big Data and Advanced Wireless Technologies, Blagoevgrad, Bulgaria

23.

Zhan Z-H, Liu X-F, Gong Y-J, Zhang J, Chung HS-H, Li Y (2015) Cloud computing resource scheduling and a survey of its evolutionary approaches. ACM Comput Surv 47:1–33

24.

Hammami H, Yahia B, Obaidat M (2020) A lightweight anonymous authentication scheme for secure cloud computing services. J Supercomput. https://doi.org/10.1007/s11227-020-03313-y

25.

Bhattacherjee S, Das R, Khatua S, Roy S (2019) Energy-efficient migration techniques for cloud environment: a step toward green computing. J Supercomput. https://doi.org/10.1007/s11227-019-02801-0

26.

Tsai C, Rodrigues J (2014) Metaheuristic scheduling for cloud: a survey. IEEE Syst J 8(1):279–291

27.

Elhoseny M, Salama A, Abdelaziz A, Raid A (2017) Intelligent systems based on cloud computing for healthcare services: a survey. Int J Comput Intell Stud 6(2–3):157

28.

Thakur A, Goraya MS (2017) A taxonomic survey on load balancing in cloud. J Netw Computer Appl 98:43–57. https://doi.org/10.1016/j.jnca.2017.08.020

29.

Daraghmi EY, Yuan SM (2015) A small world based overlay network for improving dynamic load-balancing. J Syst Softw 107:187–203. https://doi.org/10.1016/j.jss.2015.06.001

30.

Babu D, Krishna PV (2013) Honey bee behavior inspired load balancing of tasks in cloud computing environments. Appl Soft Comput 13(5):2292–2303. https://doi.org/10.1016/j.asoc.2013.01.025

31.

Xu G, Pang J, Fu X (2013) A load balancing model based on cloud partitioning for the public cloud. Tsinghua Sci. Technol 18(1):34–39

32.

Ala'anzy M, Othman M (2019) Load balancing and server consolidation in cloud computing environments: a meta-study. IEEE ACCESS Digit Object Identif. https://doi.org/10.1109/ACCESS.2019.2944420

33.

Xue J, Shen B (2020) A novel swarm intelligence optimization approach: sparrow search algorithm. Syst Sci Control Eng 8(1):22–34. https://doi.org/10.1080/21642583.2019.1708830
Additional information
Publisher's Note
Springer Nature remains neutral with regard to jurisdictional claims in published maps and institutional affiliations.
About this article
Cite this article
Abdulhammed, O. Load balancing of IoT tasks in the cloud computing by using sparrow search algorithm. J Supercomput (2021). https://doi.org/10.1007/s11227-021-03989-w
Keywords
IoT

Load balancing

VMs

Sparrow search algorithm

Healthcare system