Abstract
During the last decade, Big Data has emerged as a powerful alternative to address latent challenges in scalable data management. The ever-growing amount and rapid evolution of tools, techniques, and technologies associated to Big Data require a broad skill set and deep knowledge of several domains—ranging from engineering to business, including computer science, networking, or analytics among others—which complicate the conception and deployment of academic programs and methodologies able to effectively train students in this discipline. The purpose of this paper is to propose a learning and teaching framework committed to train masters' students in Big Data by conceiving an intelligent tutoring system aimed to (1) automatically tracking students' progress, (2) effectively exploiting the diversity of their backgrounds, and (3) assisting the teaching staff on the course operation. Obtained results endorse the feasibility of this proposal and encourage practitioners to use this approach in other domains.
Access options
Buy single article
Instant access to the full article PDF.
USD 39.95
Price excludes VAT (USA)
Tax calculation will be finalised during checkout.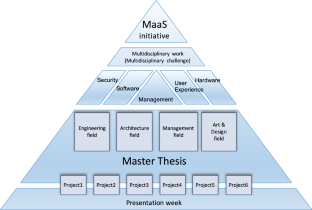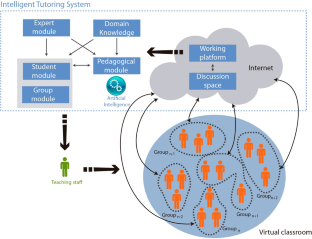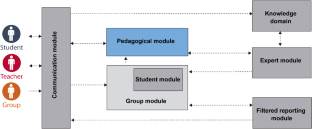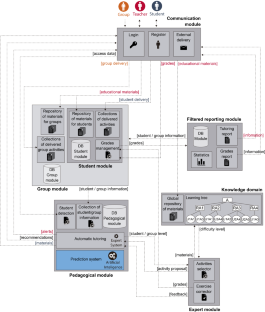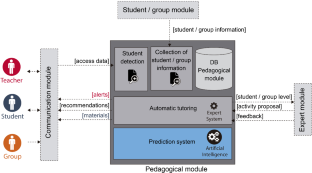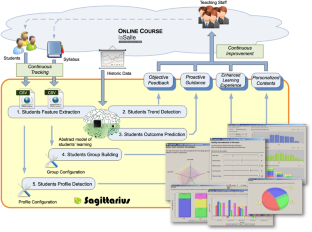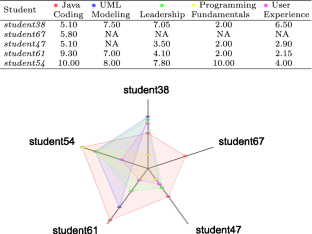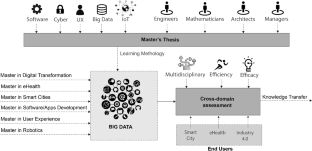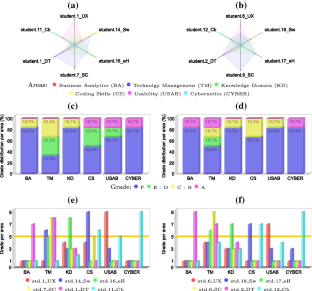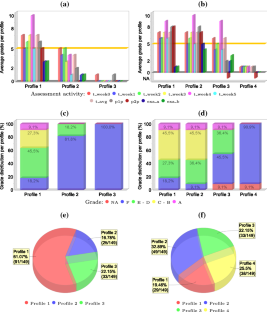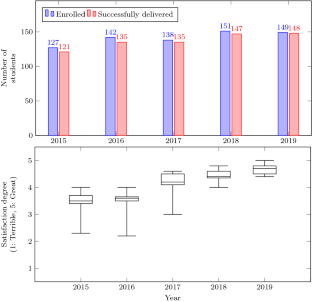 References
Agrawal R, Imieliński T, Swami A (1993) Mining association rules between sets of items in large databases. In: Proceedings of the 1993 ACM SIGMOD International Conference on Management of data, pp 207–216

Alliance IE (2013) Graduate attributes and professional competencies. Technical Report 3, International Engineering Alliance

Attwell G (2007) The personal learning environments-the future of elearning? Elearning papers, 2(1). ISSN 1887-1542. En ligne. http://www.elearningeuropa.info/files/media/media11561.pdf

Barkhuus L, Tashiro J (2010) Student socialization in the age of Facebook. In: Proceedings of the SIGCHI Conference on Human Factors in Computing Systems, CHI '10. ACM, pp 133–142

Bartual Figueras MT, Turmo Garuz J (2016) Higher education and employment related skills. The point of view of employers. Rev Complut Educ 27(3):1211–1228

Beas MI, Burriel R, Lapeña L (2009) Ajuste de competencias al puesto de trabajo en los titulados uji y sus experiencias previas a la inserción laboral. In: Proceedings from II Jornadas Nacionales de Estudios Universitarios. Castelló de la Plana: Publicacions de la Universitat Jaume I [CD-ROM]

Becerik-Gerber B, Gerber DJ, Ku K (2011) The pace of technological innovation in architecture, engineering, and construction education: integrating recent trends into the curricula. J Inf Technol Constr 16(24):411–432

Bell S (2010) Project-based learning for the 21st century: skills for the future. Clear house 83(2):39–43

Bishop JL, Verleger MA et al (2013) The flipped classroom: a survey of the research. ASEE Natl Conf Proc Atlanta GA 30:1–18

Bonastre OM, Peñalver A, Hernansaez JM, Lopez JJ, Lazcorreta E, Bia A (2008) UCD/SW: a distributed system to promote cooperative learning using semantic web and ubiquitous computing. Proc CDVE 2008:225–228

Bourdeau J, Grandbastien M (2010) Modeling tutoring knowledge. In: Nkambou R, Bourdeau J, Mizoguchi R (eds) Advances in intelligent tutoring systems. Springer, Berlin, pp 123–143

Burk E (2011) Online learning indicators. eLearn Mag. https://doi.org/10.1145/2001333.2001334

Burriel Calvet JR, Beas Collado M (2017) Ajuste de competencias transversales entre graduados y mercado de trabajo: Resultados en la Universitat Jaume I. Publicacions de la Universitat Jaume I

Cámara De La-Fuente M, Cano-Rodriguez M, Castilla-Polo F, Chamorro-Rufián E, Moreno-Aguayo A (2015) Conocimientos y competencias contables demandados por los empleadores de los alumnos de la universidad de jaén. In: Proceedings from X Jornadas de Docencia en Contabilidad de la Universidad de Jaén, pp 24–26

Campanini A (2015) Bologna process. In: Wright JD (ed) International encyclopedia of the social and behavioral sciences, 2nd edn. Elsevier, Oxford, pp 741–746

Carracedo FS, Soler A, Martín C, López D, Ageno A, Cabré J, Garcia J, Aranda J, Gibert K (2018) Competency maps: an effective model to integrate professional competencies across a stem curriculum. J Sci Educ Technol 27(5):448–468

Chrysafiadi K, Virvou M (2012) Dynamically personalized e-training in computer programming and the language C. IEEE Trans Educ PP(99):1–1. https://doi.org/10.1109/TE.2013.2243914

Cipollone S, Flores CA, Ahualli N, Fatica IF, Denardi P (2017) Valoración de competencias no técnicas en cirujanos en formación de la fuerza aerea argentina y sus estrategias de manejo. Hosp. Aeronáut. Cent, pp 44–52

Collazos CA, Guerrero LA, Pino JA, Ochoa SF (2002) Evaluating collaborative learning processes. In: International Conference on Collaboration and Technology. Springer, pp 203–221

Crouch CH, Mazur E (2001) Peer instruction: ten years of experience and results. Am J Phys 69(9):970–977

Espinar SR, Nebot AP, Arjona LB, Castiñeira SS (2010) Sobre la empleabilidad de los graduados universitarios en catalunya: del diagnóstico a la acción graduate employability in catalonia. Rev Educ Diagn Action 351:107–137

Everson M (2011) What can you gain by teaching online? eLearn Mag. https://doi.org/10.1145/1925037.1925058

Farrell G (1999) The development of virtual education: a global perspective: a study of current trends in the virtual delivery of education, conducted with funding provided by the Department for International Development, London, UK. Commonwealth of Learning

Fini A (2009) The technological dimension of a massive open online course: the case of the CCK08 course tools. Int Rev Res Open distance Learn 12(1):1–26

Flanagin AJ, Metzger MJ (2013) Trusting expert-versus user-generated ratings online: the role of information volume, valence, and consumer characteristics. Comput Hum Behav 29(4):1626–1634

Fonseca D, Conde MÁ, García-Peñalvo FJ (2018) Improving the information society skills: is knowledge accessible for all? Univ Access Inf Soc 17(2):229–245

Freire Seoane MJ, Teijeiro Alvarez MM, Pais Montes C (2013) The match between graduate-acquired and employer-required competencies. Rev Educ 1(362):13–41

Hamblen J, van Bekkum G (2013) An embedded systems laboratory to support rapid prototyping of robotics and the internet of things. IEEE Trans Educ 56(1):121–128

Hernick M, Hylton AC, Justice M (2016) A process for curricular improvement based on evaluation of student performance on milestone examinations. Am J Pharm Educ 80(9):159

Jagadish H, Gehrke J, Labrinidis A, Papakonstantinou Y, Patel JM, Ramakrishnan R, Shahabi C (2014) Big data and its technical challenges. Commun ACM 57(7):86–94

Jaimes EIG (2016) Competencias académicas de los egresados universitarios y su predicción de ocupación laboral. RICSH Revista Iberoamericana de las Ciencias Sociales y Humanísticas 5(10):1–19

Jong BS, Lai CH, Hsia YT, Lin TW (2012) Effects of anonymity in group discussion on peer interaction and learning achievement. IEEE Trans Educ PP(99):1–1

Kaisler S, Armour F, Espinosa JA, Money W (2013) Big data: issues and challenges moving forward. In: 2013 46th Hawaii International Conference on System Sciences. IEEE, pp 995–1004

Kop R (2011) The challenges to connectivist learning on open online networks: learning experiences during a massive open online course. Int Rev Res Open Distance Learn 12(3):19–38

Kulich M, Chudoba J, Kosnar K, Krajnik T, Faigl J, Preucil L (2013) SyRoTek—distance teaching of mobile robotics. IEEE Trans Educ 56(1):18–23

Labrinidis A, Jagadish HV (2012) Challenges and opportunities with big data. Proc VLDB Endow 5(12):2032–2033

Lacleta MLSE, Blanco ÁF, Peñalvo FJG (2014) Buenas prácticas de innovación educativa: Artículos seleccionados del ii congreso internacional sobre aprendizaje, innovación y competitividad, cinaic 2013. Revista de Educación a distancia 1(44):1–5

Laurillard D (2000) Rethinking university teaching: a framework for the effective use of educational technology. Routledge, London

Lemons J (2011) The urgent need for universities to comprehensively address global climate change across disciplines and programs. Environ Manag 48(3):379–391

Martín S, Díaz G, Cristóbal ES, Gil R, Castro M, Peire J (2011) New technology trends in education: seven years of forecasts and convergence. Comput Educ 57(3):1893–1906

Massy WF, Zemsky R (1995) Using information technology to enhance academic productivity. Educom, Washington, DC

Moreira MA, Vargas EF et al (2010) Buenas prácticas de aulas virtuales en la docencia universitaria semipresencial. Teoría de la Educación. Educación y Cultura en la Sociedad de la Información 11(1):7–31

Moreno L, González CS, Castilla I, González EJ, Sigut JF (2007) Applying a constructivist and collaborative methodological approach in engineering education. Comput Educ 49(3):891–915

Navarro J, Zaballos A, Fonseca D, Torres-Kompen R (2019) Master as a service: a multidisciplinary approach to big data teaching. In: Proceedings of the 7th International Conference on Technological Ecosystems for Enhancing Multiculturality. ACM, pp 534–538

O'Donoghue J, Singh G, Dorward L (2001) Virtual education in universities: a technological imperative. Br J Educ Technol 32(5):511–523

Orriols-Puig A, Casillas J (2010) Evolution of interesting association rules online with learning classifier systems. IWLCS 2008:21–37

Park JH, Choi HJ (2009) Factors influencing adult learners' decision to drop out or persist in online learning. Educ Technol Soc 12(4):207–217

Piedra N, Chicaiza J, López J, Tovar E, Bonastre OM (2009) Open educational practices and resources based on social software, UTPL experience. In: Proceedings of the EATIS 2009, p 34

Qiu M, Hewitt J, Brett C (2012) Online class size, note reading, note writing and collaborative discourse. Int J Comput Support Collab Learn 7(3):423–442

Searson M, Monty Jones W, Wold K (2011) Editorial: reimagining schools: the potential of virtual education. Br J Educ Technol 42(3):363–371

Sigman BP, Garr W, Pongsajapan R, Selvanadin M, Bolling K, Marsh G (2014) Teaching big data: experiences, lessons learned, and future directions. Decis Line 45(1):10–15

Solé-Beteta X, Navarro J, Sancho-Asensio A, Zaballos A, Jiménez-Ruano V, Canaleta X, Vernet D (2014) Sagittarius: A tool to enhance the collaboratibe work in virtual learning environments. In: 2014 9th Iberian Conference on Information Systems and Technologies (CISTI). IEEE, pp 1–6

Tsai WT, Li W, Elston J, Chen Y (2011) Collaborative learning using wiki web sites for computer science undergraduate education: a case study. IEEE Trans Educ 54(1):114–124

Vanderlinde R, van Braak J (2010) The gap between educational research and practice: views of teachers, school leaders, intermediaries and researchers. Br Educ Res J 36(2):299–316

Vernet D, Canaleta X, Navarro J, Zaballos A, Pallas G et al (2013) Setting up and tutoring the working groups of a virtual learning community. J Res Pract Inf Technol 45(3/4):219

Vernet D, Canaleta X, Pallàs G (2012) Intelligent tutoring of virtual learning communities. In: 2012 International Symposium on Computers in Education (SIIE). IEEE, pp 1–6

Vernet D, Canaleta X, Pallas G (2012) Intelligent tutoring of virtual learning communities. In: 2012 International Symposium on Computers in Education (SIIE), pp 1–6

Vernet Bellet D et al. (2016) Tutorització intel\(\cdot \) ligent de comunitats virtuals d'aprenentatge. Ph.D. thesis, Universitat Ramon Llull

Wells J, Barry RM, Spence A (2012) Using video tutorials as a carrot-and-stick approach to learning. IEEE Trans Educ 55(4):453–458

Wojciechowski A, Palmer LB (2012) Individual student characteristics: can any be predictors of success in online classes? Online J Distance Learn Admin 8(2):13

Wu X, Kumar V, Quinlan JR, Ghosh J, Yang Q, Motoda H, McLachlan GJ, Ng AFM, Liu B, Yu PS, Zhou ZH, Steinbach M, Hand DJ, Steinberg D (2008) Top 10 algorithms in data mining. Knowl Inf Syst 14(1):1–37

Xu R II, Wunsch W (2005) Survey of clustering algorithms. IEEE Trans Neural Netw Learn Syst 16(3):645–678
Acknowledgements
Authors acknowledge the help and collaboration of Guillem Villa on the restyling of the graphical artworks of this paper. This research was partially supported by Secretaria d'Universitats i Recerca of the Department of Business and Knowledge of the Generalitat de Catalunya under grants 2017-SGR-934 and 2017-SGR-977. Also, authors gratefully acknowledge the support of NVIDIA Corporation with the donation of the Titan Xp GPU used for this research.
Ethics declarations
Conflict of interest
The authors declare that they have no conflict of interest.
Additional information
Publisher's Note
Springer Nature remains neutral with regard to jurisdictional claims in published maps and institutional affiliations.
About this article
Cite this article
Solé-Beteta, X., Navarro, J., Vernet, D. et al. Automatic tutoring system to support cross-disciplinary training in Big Data. J Supercomput 77, 1818–1852 (2021). https://doi.org/10.1007/s11227-020-03330-x
Published:

Issue Date:

DOI: https://doi.org/10.1007/s11227-020-03330-x
Keywords