Abstract
The reactions of N-alkyliminodiacetamide derivatives, namely N-ethyliminodiacetamide (CH3CH2N(CH2CONH2)2; Etimda) and N-isopropyliminodiacetamide (CH3)2CHN(CH2CONH2)2; i-Primda), with sodium tetrachloropalladate(II) in aqueous solutions were investigated. Three new palladium(II) complexes, [Pd(Etimda−H)2]∙2H2O (1), [Pd(i-Primda−H)2]∙2H2O (2) and [PdCl2(i-Primda)] (3), were obtained and characterized by X-ray structural analysis, infrared spectroscopy and thermal analysis (TGA). The square planar coordination environments around the palladium(II) ions in complexes 1 and 2 consist of two N,N′-bidentate N-alkyliminodiacetamidato ligands, with imino N atoms in trans-position. The complex 3 also exhibits a square planar coordination environment around Pd(II), but with two chloride ions and one neutral N-isopropyliminodiacetamide ligand bound in an N,O′-bidentate coordination mode. The described coordination modes, as well as the presence of deprotonated amide groups in ligands in 1 and 2, are found for the first time in palladium(II) complexes with iminodiacetamide type ligands. The molecular geometries and infrared spectra of these three complexes were also modelled using DFT calculations, at the BP86-D3/def2-TZVPP/PCM level of theory. The RMSD values suggest a good agreement of the calculated and experimental geometries. A QTAIM analysis suggests a qualitative correlation between bond lengths and energy densities, also supported by an NBO analysis. The dimer interaction energy between complex units was estimated at about −15 kcal/mol for all complexes.
Access options
Buy single article
Instant access to the full article PDF.
US$ 39.95
Tax calculation will be finalised during checkout.
Subscribe to journal
Immediate online access to all issues from 2019. Subscription will auto renew annually.
US$ 79
Tax calculation will be finalised during checkout.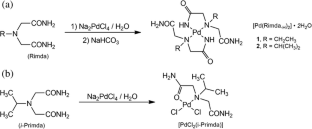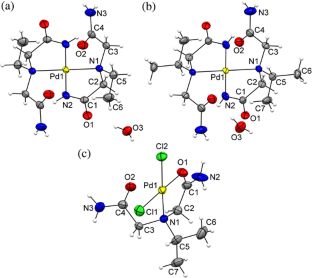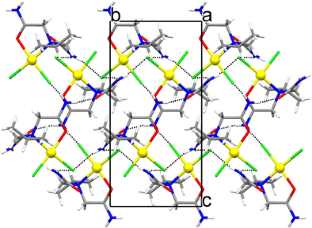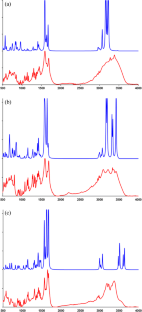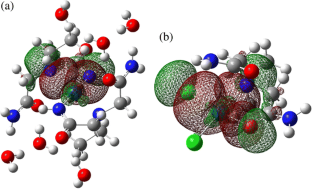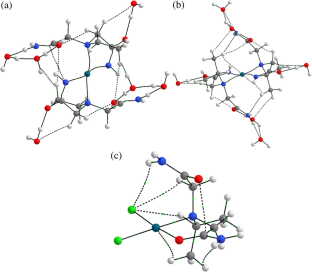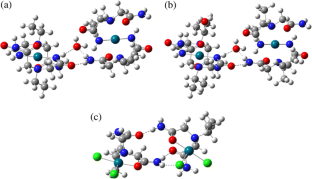 References
1.

Bell CF (1977) Principles and applications of metal chelation. Oxford Chemistry Series, Clarendon Press, Oxford University Press, Oxford

2.

Sekizaki M (1974). Bull Chem Soc Jpn 47:1447–1450

3.

Sekizaki M (1976). Acta Crystallogr B 32:1568–1570

4.

Sekizaki M (1981). Bull Chem Soc Jpn 54:3861–3862

5.

Clayden J, Greeves N, Warren S, Wothers P (2001) Organic chemistry. Oxford University Press, Oxford,

6.

Tsuji J (2004) Palladium reagents and catalysts. Wiley, Chichester,

7.

Abu-Surrah AS, Al-Sa'doni HH, Abdalla MY (2008). Cancer Therapy 6:1–10

8.

Smrečki N, Kukovec B-M, Đaković M, Popović Z (2015). Polyhedron 93:106–117

9.

Smrečki N, Stilinović V, Merkaš M, Lučić A, Kukovec B-M, Popović Z (2016). Aust J Chem 69:896–904

10.

Smrečki N, Stilinović V, Jović O, Kukovec B-M, Popović Z (2017). Inorg Chim Acta 462:57–63

11.

Smrečki N, Jović O, Molčanov K, Kukovec B-M, Kekez I, Matković-Čalogović D, Popović Z (2017). Polyhedron 130:115–126

12.

Ran J-W, Pei J (2013). Acta Crystallogr E69:m325–m325

13.

Deng X-H, Nie Q-J, Zhu F-J (2013). Acta Crystallogr E69:m89–m89

14.

Clapp LA, Siddons CJ, Van Deerver DG, Reibenspies JH, Jones SB, Hancock RD (2006) Dalton Trans 2001–2007

15.

Smith DA, Sucheck S, Pinkerton A (1992) J Chem Soc Chem Commun 367–368

16.

Claudio ES, Horst MA, Forde CE, Stern CL, Zart MK, Godwin HA (2000). Inorg Chem 39:1391–1397

17.

Clapp LA, Siddons CJ, Whitehead JR, Van Derveer DG, Rogers RD, Griffin ST, Jones SB, Hancock RD (2005). Inorg Chem 44:8495–8502

18.

Burdinski D, Pikkemaat JA, Lub J, de Peinder P, Garrido LN, Weyhemuller T (2009). Inorg Chem 48:6692–6712

19.

Krot K, Liamas-Saiz AL, Vembu N, Nollan KB (2007). Z Anorg Allg Chem 633:1900–1910

20.

Skrzypczak-Jankun E, Smith DA (1994). Acta Crystallogr C50:1585–1588

21.

CrysAlisPro (2014) Agilent Technologies, Yarnton, Oxfordshire, England. Version 1.171.37.35

22.

Sheldrick GM (2008). Acta Crystallogr A64:112–122

23.

Macrae CF, Bruno IJ, Chisholm JA, Edgington PR, McCabe P, Pidcock E, Rodriguez-Monge L, Taylor R, van de Streek J, Wood PA (2008). J Appl Crystallogr 41:466–470

24.

Smrečki N, Rončević I, Popović Z (2016). Aust J Chem 69:1285–1291

25.

Weigend F, Ahlrichs R (2005). Phys Chem Chem Phys 7:3297–2305

26.

Weigend F (2006). Phys Chem Chem Phys 8:1057–1065

27.

Cramer CJ, Truhlar DG (2009). Phys Chem Chem Phys 11:10757–10816

28.

Steinmetz M, Grimme S (2013). ChemistryOpen 2:115–124

29.

Raoufmoghaddam S, Mannathan S, Minnaard AJ, de Vries JG, Reek JN (2015). Chemistry 21:18811–18820

30.

Goerigk L, Grimme S (2011). Phys Chem Chem Phys 13:6670–6688

31.

Tsipis AC (2014). Coord Chem Rev 272:1–29

32.

Schlegel HB, McDouall JJ (1991) In: Ögretir C, Csizmadia IG (eds) Computational advances in organic chemistry. Kluwer Academic, The Netherlands, pp. 167–185

33.

Tomasi J, Mennucci B, Cammi R (2005). Chem Rev 105:2999–3093

34.

Gaussian 09, Revision A.02, Frisch MJ, Trucks GW, Schlegel HB, Scuseria GE, Robb MA, Cheeseman JR, Scalmani G, Barone V, Petersson GA, Nakatsuji H, Li X, Caricato M, Marenich A, Bloino J, Janesko BG, Gomperts R, Mennucci B, Hratchian HP, Ortiz JV, Izmaylov AF, Sonnenberg JL, Williams-Young D, Ding F, Lipparini F, Egidi F, Goings J, Peng B, Petrone A, Henderson T, Ranasinghe D, Zakrzewski VG, Gao J, Rega N, Zheng G, Liang W, Hada M, Ehara M, Toyota K, Fukuda R, Hasegawa J, Ishida M, Nakajima T, Honda Y, Kitao O, Nakai H, Vreven T, Throssell K, Montgomery JA Jr, Peralta JE, Ogliaro F, Bearpark M, Heyd JJ, Brothers E, Kudin KN, Staroverov VN, Keith T, Kobayashi R, Normand J, Raghavachari K, Rendell A, Burant JC, Iyengar SS, Tomasi J, Cossi M, Millam JM, Klene M, Adamo C, Cammi R, Ochterski JW, Martin RL, Morokuma K, Farkas O, Foresman JB, Fox DJ (2016) Gaussian, Inc., Wallingford

35.

AIMAll (Version 17.01.25), Todd A. Keith (2017) TK Gristmill Software, Overland Park KS, USA, (aim.tkgristmill.com)

36.

NBO 6.0., Glendening ED, Badenhoop JK, Reed AE, Carpenter JE, Bohmann JA, Morales CM, Landis CR, Weinhold F (2013) Theoretical Chemistry Institute, University of Wisconsin, Madison

37.

Yang L, Powell DR, Houser RH (2007) Dalton Trans 955–964

38.

Silverstein RM, Webster FX, Kiemle D (2005) Spectrometric identification of organic compounds, 7th edn. Wiley, New York,

39.

Nakamoto K (2009) Infrared and Raman spectra of inorganic and coordination compounds, part B, 6th edn. Wiley, Hoboken,

40.

Pandey KK, Patidar P, Vishwakarma R (2014). Eur J Inorg Chem 18:2916–2923

41.

Weymuth T, Couzijn EPA, Chen P, Reiher M (2014). J Chem Theory Comput 10:3092–3103

42.

Pirc G, Stare J, Mavri J (2010). J Chem Phys 132:224506–224513

43.

Stare J, Mavri J, Grdadolnik J, Zidar J, Maksić ZB, Vianello R (2011). J Phys Chem B 115:5999–6010

44.

Brela M, Stare J, Pirc G, Sollner-Dolenc M, Wojcik MJ, Mavri J (2012). J Phys Chem B 116:4510–4518

45.

Smrečki N, Jović O, Stilinović V, Kukovec B-M, Đaković M, Popović Z (2016). Inorg Chim Acta 453:95–103

46.

Kukovec B-M, Kodrin I, Mihalić Z, Popović Z (2011). Inorg Chim Acta 378:154–162

47.

Weinhold F (1998) Natural Bond Orbital Methods. In: Schleyer P v R (ed) Encyclopedia of Computational Chemistry, vol 3, pp. 1792–1811

48.

Bader RFW (1990) Atoms in molecules: a quantum theory. Oxford University Press, Oxford,

49.

Koch U, Popelier PLA (1995). J Phys Chem 99:9747–9754

50.

Dimić D, Petković M (2015). Int J Quantum Chem 116:27–34

51.

Smrečki N, Kukovec B-M, Jazwinski J, Liu Y, Zhang J, Mikecin A-M, Popović Z (2014). J Organomet Chem 760:224–230

52.

Smrečki N, Kukovec B-M, Rotim K, Oršolić D, Jović O, Rončević T, Režić Mužinić N, Vinković M, Popović Z (2017). Inorg Chim Acta 462:64–74
Acknowledgements
This research was supported by the Foundation of the Croatian Academy of Sciences and Arts (year 2015/2016.) and the Croatian Science Foundation (Grant No. 7444).
Electronic supplementary material
GA curves for the complexes (recorded in the oxygen). Mol2 files containing energies and geometries of the modelled complexes 1–3.
CCDC 1548186-1,548,188 contain the supplementary crystallographic data for this paper. These data can be obtained free of charge via www.ccdc.cam.ac.uk/data_request/cif (or from the Cambridge Crystallographic Data Centre (CCDC), 12 Union Road, Cambridge CB2 1EZ, UK; fax: +44(0)1223-336,033; email: deposit@ccdc.cam.ac.uk).
About this article
Cite this article
Smrečki, N., Kukovec, BM., Rončević, I. et al. New coordination modes of iminodiacetamide type ligands in palladium(II) complexes: crystallographic and DFT studies. Struct Chem 29, 195–206 (2018). https://doi.org/10.1007/s11224-017-1018-8
Received:

Accepted:

Published:

Issue Date:
Keywords
Palladium(II)

N-alkyliminodiacetamide

Crystal structure

IR spectroscopy

DFT calculations