Abstract
1,3,5-triaza-7-phosphaadamantane (PTA) was shown to form phosphonium alkanoate zwitterions with unsaturated dicarboxylic acids in water in the absence of strong acids. Solid-state structures of the phosphonium salt (1) derived from maleic or fumaric acids and that of the zwitterionic product (2) of the reaction of PTA with citraconic and mesaconic acids were determined by single-crystal X-ray diffraction. DFT calculations gave insight into the mechanism of the reaction, including the relative reactivity of the four dicarboxylic acids, and revealed the reasons for the lack of phosphonium salt formation by PTA in strongly acidic aqueous solutions.
This is a preview of subscription content,
to check access.
Access this article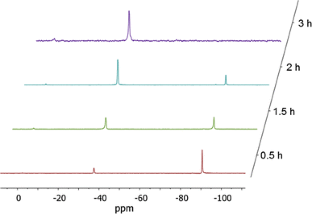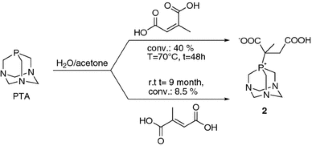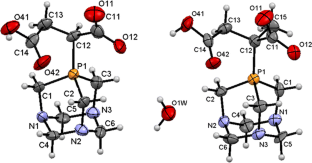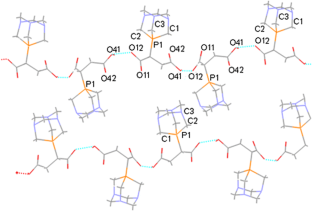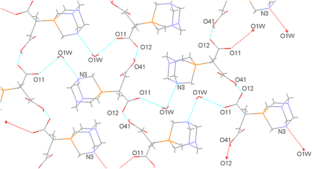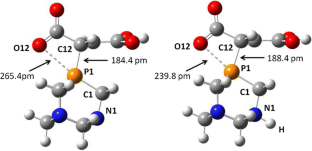 References
Byrne PA, Gilheany D (2013) Chem Soc Rev 42:6670–6696

Kolodiazhnyi OI (1999) Phosphorus ylides. Chemistry and applications in organic synthesis. Wiley, Weinheim

Shi M, Xu B (2002) J Org Chem 67:294–297

Wu J, Zhang D, Wei S (2005) Synth Commun 35:1213–1222

El-Batta A, Jiang C, Zhao W, Anness R, Cooksy AL, Bergdahl M (2007) J Org Chem 72:5244–5259

Islami MR, Yavari I, Tikdan AM, Ebrahimi L, Razee S, Bijanzadeh HR (2002) Russ Chem Bull 51:2244–2247

Li CJ, Chan TH (2007) Comprehensive organic reactions in aqueous media, 2nd edn. Wiley, Hoboken

Kim JN, Lee KA, Kim HS, Im YJ (2001) Bull Korean Chem Soc 22:351–352

Balema VP, Wiench JW, Pruski M, Pecharsky VK (2002) Chem Commun 2002:724–725

Joó F (2001) Aqueous organometallic catalysis. Kluwer, Dordrecht

Larpent C, Patin H (1988) Tetrahedron 44:6107–6118

Darensbourg DJ, Joó F, Kathó Á, Stafford JNW, Bényei A (1994) Inorg Chem 33:175–177

Moiseev DV, James BR, Hu TQ (2007) Inorg Chem 46:4704–4712

Moiseev DV, James BR, Gushchin AV (2014) Eur J Inorg Chem 2014:6275–6280

Moiseev DV, James BR, Gushchin AV (2013) Phosphorous Sulfur Silicon 188:678–690

Bényei A, Stafford JNW, Kathó Á, Darensbourg DJ, Joó F (1993) J Mol Catal 84:157–163

Phillips DA, Gonsalvi L, Romerosa A, Vizza F, Peruzzini M (2004) Coord Chem Rev 248:955–993

Bravo J, Bolano S, Gonsalvi L, Peruzzini M (2010) Coord Chem Rev 254:555–607

Scolaro C, Bergamo A, Brescacin L, Delfino R, Cocchietto M, Laurenczy G, Geldbach TJ, Sava G, Dyson PJ (2005) J Med Chem 48:4161–4171

Darensbourg MY, Daigle DJ (1975) Inorg Chem 14:1217–1218

Daigle DJ, Pepperman AB, Vail SL (1974) J Heterocycl Chem 11:407–408

Daigle DJ (1998) Inorg Synth 32:40–41

Fisher KJ, Alyea EC, Shahnazarian N (1990) Phosphorous Sulfur Silicon 48:37–40

Joó F, Nádasdi L, Bényei A, Csiba P, Kathó Á (1995) Aqueous organometallic chemistry and catalysis. In: Horváth IT, Joó F (eds) NATO ASI series, 3. High technology, vol 5. Kluwer, Dordrecht, pp 23–32

Joó F, Nádasdi L, Bényei A, Darensbourg DJ (1996) J Organomet Chem 512:45–50

Assmann B, Angermaier K, Paul M, Riede J, Schmidbaur H (1995) Chem Ber 128:891–900

He Z, Tang X, Chen Y, He Z (2006) Adv Synth Catal 348:413–417

Tang X, Zhang B, He Z, Gao R, He Z (2007) Adv Synth Catal 349:2007–2017

Romerosa A, Campos-Malpartida T, Lidrissi C, Saoud M, Serrano-Ruiz M, Peruzzini M, Garrido-Cárdenas JA, García-Maroto F (2006) Inorg Chem 45:1289–1298

Altomare A, Cascarano G, Giacovazzo C, Guagliardi A (1993) J Appl Crystallogr 26:343–350

Sheldrick GM (2008) Acta Cryst. A64:112–122

Farrugia LJ (1999) J Appl Cryst 32:837–838

Zhao Y, Truhlar D (2008) Theor Chem Acc 120:215–241

McLean AD, Chandler GS (1980) J Chem Phys 72:5639–5648

Frisch MJ, Trucks GW, Schlegel HB, Scuseria GE, Robb MA, Cheeseman JR, Scalmani G, Barone V, Mennucci B, Petersson GA, Nakatsuji H, Caricato M, Li X, Hratchian HP, Izmaylov AF, Bloino J, Zheng G, Sonnenberg JL, Hada M, Ehara M, Toyota K, Fukuda R, Hasegawa J, Ishida M, Nakajima T, Honda Y, Kitao O, Nakai H, Vreven T, Montgomery JA, Peralta JE, Ogliaro F, Bearpark M, Heyd JJ, Brothers E, Kudin KN, Staroverov VN, Kobayashi R, Normand J, Raghavachari K, Rendell A, Burant JC, Iyengar SS, Tomasi S, Cossi M, Rega N, Millam NJ, Klene M, Knox JE, Cross JB, Bakken V, Adamo C, Jaramillo J, Gomperts R, Stratmann RE, Yazyev O, Austin AJ, Cammi R, Pomelli C, Ochterski JW, Martin RL, Morokuma K, Zakrzewski WG, Voth GA, Salvador P, Dannenberg JJ, Dapprich S, Daniels AD, Farkas Ö, Foresman JB, Ortiz JV, Cioslowski J, Fox DJ (2009) Gaussian 09, Rev. A.1, Gaussian, Inc., Wallingford, CT

Tomasi J, Mennucci B, Cammi R (2005) Chem Rev 105:2999–3093

Scalmani G, Frisch GJ (2010) J Chem Phys 132:114110–114115

Peng C, Schlegel HB (1994) Isr J Chem 33:449–454

Peng C, Ayala PY, Schlegel HB, Frisch MJ (1996) J Comput Chem 17:49–56

Fluck E, Forster J-E, Weidlein J, Hadicke E (1977) Z Naturforsch B Chem Sci 32:499–501

Shahat M (1952) Acta Cryst 5:763–768
Acknowledgments
This research was supported by the European Union and the State of Hungary, co-financed by the European Social Fund in the framework of TÁMOP-4.2.4.A/2-11/1-2012-0001 'National Excellence Program' through a grant to A.U. Thanks are due to the Hungarian Research Fund (OTKA K101372) for financial support. The authors thank Dr. Gábor Papp for his help in the NMR measurements. The participation of Henrietta Molnár in the initial experiments is gratefully acknowledged. The research was supported by the EU and co-financed by the European Social Fund under the project ENVIKUT (TÁMOP-4.2.2.A-11/1/KONV-2012-0043).
Additional information
This paper is dedicated to Professor Magdolna Hargittai in recognition of her outstanding achievements in inorganic and structural chemistry.
Electronic supplementary material
Below is the link to the electronic supplementary material.
About this article
Cite this article
Udvardy, A., Purgel, M., Szarvas, T. et al. Synthesis and structure of stable water-soluble phosphonium alkanoate zwitterions derived from 1,3,5-triaza-7-phosphaadamantane. Struct Chem 26, 1323–1334 (2015). https://doi.org/10.1007/s11224-015-0618-4
Received:

Accepted:

Published:

Issue Date:

DOI: https://doi.org/10.1007/s11224-015-0618-4
Keywords