Abstract
Isomeric structures, energies, and properties of silacyclopropylidenoids, C2H4SiMX (where M = Li or Na and X = F, Cl or Br), were studied ab initio at the HF and MP2 levels of theory using the 6-31+G(d,p) and aug-cc-pVTZ basis sets. The calculations indicate that each of C2H4SiMXs has three stationary structures: silacyclopropylidenoid (S), tetrahedral (T), and inverted (I). All of the silacyclopropylidenoid (S) forms are energetically more stable than others except that S-LiF is by only 0.7 kcal/mol higher in energy than I-LiF. In contrast, all of the tetrahedral (T) forms are the most unstable ones except for T-NaF. Energy differences between S, T, and I forms range from 0.70 to 8.70 kcal mol−1 at the MP2/6-31+G(d,p) level. In addition, the molecular electrostatic potential maps, natural bond orbitals, and frontier molecular orbitals were calculated at the MP2/6-31+G(d,p) level.
Access options
Buy single article
Instant access to the full article PDF.
USD 39.95
Price includes VAT (USA)
Tax calculation will be finalised during checkout.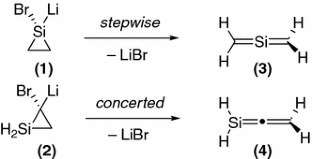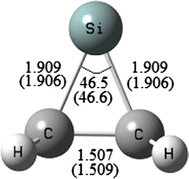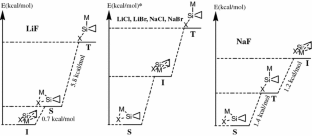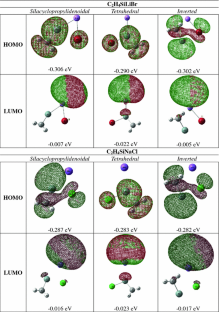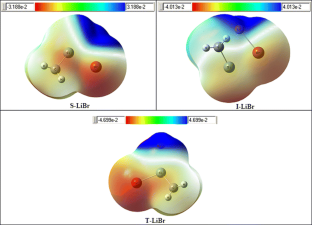 References
1.

Backes J, Brinker UH (1989) In: Regitz M (ed) Methoden der Organischen Chemie (Houben-Weyl), vol E19b, Thieme, Stuttgart, pp 391–510

2.

Siegel H (1982) Top Curr Chem 106:55

3.

Sydnes LK (2003) Chem Rev 103:1133

4.

de Meijere A, Schill H, Kozhushkov SI, Walsh R, Müller EM, Grubmüller H (2004) Russ Chem Bull Int Ed 53:947

5.

Sigal N, Apeloig Y (2001) J Organomet Chem 636:148

6.

Escudie J, Ranaivonjatovo H, Bouslikhane M, Harouch YE, Baiget L, Nemes GC (2004) Russ Chem Bull Int Ed 53:1020

7.

Escudie J, Ranaivonjatovo H (2007) Organometallics 26:1542

8.

Azizoglu A, Yildiz CB (2010) Organometallics 29:6739

9.

Azizoglu A, Özen R, Hökelek T, Balci M (2004) J Org Chem 69:1202

10.

Christl M, Brauen M, Fischer H, Groetsch S, Müller G, Leusser D, Deurlein S, Stalke D, Arnone M, Engels B (2006) Eur J Org Chem 2006:5045

11.

Azizoglu A, Demirkol O, Kilic T, Yildiz YK (2007) Tetrahedron 63:2409

12.

Azizoglu A, Balci M, Mieusset JL, Brinker UH (2008) J Org Chem 73:8182

13.

Kilbas B, Azizoglu A, Balci M (2009) J Org Chem 74:7075

14.

Sedenkova KN, Averina EB, Grishin YK, Rybakov VB, Kuznetzova TS, Zefirov NS (2010) Eur J Org Chem 2010:4145

15.

Doering WvE, LaFlamme PM (1958) Tetrahedron 2:75

16.

Moore WR, Ward HR (1960) J Org Chem 25:2073

17.

Skattebøl L (1961) Tetrahedron Lett 5:167

18.

Hehre WJ, Radom L, Schleyer PvR, Pople JA (1986) Ab initio molecular orbital theory. Wiley, New York

19.

Frisch MJ, Trucks GW, Schlegel HB, Scuseria GE, Robb MA,Cheeseman JR, Montgomery JA, Vreven NJ, Kudin TK, Burant JC, Millam JM, Iyengar SS, Tomasi JB, Mennucci V, Cossi BM, Scalmani GN, Rega G, Petersson A, Nakatsuji H, Hada M, Ehara M, Toyota K, Fukuda R, Hasegawa J, Ishida M, Nakajima T, Honda Y, Kitao O, Nakai H, Klene M, Li X, Knox JE, Hratchian HP, Cross JB, Bakken V, Adamo C, Jaramillo J, Gomperts R, Stratmann RE, Yazyev O, Austin AJ, Cammi R, Pomelli C, Ochterski JW, Ayala PY, Morokuma K, Voth GA, Salvador P, Dannenberg J, Zakrzewski VG, Dapprich S, Daniels AD, Strain MC, Farkas O, Malick DK, Rabuck AD, Raghavachari K, Foresman JB, Ortiz JV, Cui Q, Baboul AG, Clifford S, Cioslowski J, Stefanov BB, Liu G, Liashenko A, Piskorz P, Komaromi IR, Martin LD, Fox J, Keith T, AlLaham MA, Peng CY, Nanayakkara A, Challacombe M, Gill PM, Johnson WB, Chen W, Wong MW, Gonzalez C, Pople JA (2003) Gaussian 03. Revision C02. Gaussian, Inc., Pittsburgh

20.

Wiberg KB (1968) Tetrahedron 24:1083

21.

Politzer P, Landry SJ, Warnheim T (1982) J Phys Chem 86:4767

22.

Politzer P, Abrahmsen L, Sjoberg P (1984) J Am Chem Soc 106:855

23.

Dennington R, Keith T, Millam J, Eppinnett K, Hovell WL, Gilliland R (2003) GaussView, Version 3.09, Semichem, Inc., Shawnee Mission

24.

Barthelat JC, Trinquier G, Bertrand G (1979) J Am Chem Soc 101:3785

25.

Su MD, Amos RD, Handy NC (1990) J Am Chem Soc 112:1499

26.

Flock M, Marschner C (2005) Chem Eur J 11:4635

27.

Feng S, Feng D (2001) J Mol Struct (Theochem) 541:171

28.

Xie J, Feng D, Feng S, Ding Y (2007) Struct Chem 18:65

29.

Gomez PC, Palafox MA, Pacios LA (1999) J Phys Chem A 103:8537

30.

Reed AE, Curtiss LA, Weinhold F (1988) Chem Rev 88:899

31.

Reed AE, Schleyer PvR (1990) J Am Chem Soc 112:1434

32.

Fleming I (1976) Frontier orbitals and organic chemical reactions. Wiley, London

33.

Azizoglu A (2003) Struct Chem 14:575

34.

Azizoglu A, Ozer Z, Kilic T (2011) Collect Czech Chem Commun 76:95

35.

Odabasioglu S, Kurtaran R, Azizoglu A, Kara H, Oz S, Atakol O (2009) Cent Eur J Chem 7:402

36.

Tanak H, Koksal Y, Ünver Y, Yavuz M, Isik S, Sancak K (2009) Struct Chem 20:409

37.

Ugras HI, Cakir U, Azizoglu A, Kılıc T, Erk C (2006) J Incl Phenom Macrocycl Chem 55:159

38.

Turker L, Azizoglu A (2001) J Mol Struct (Theochem) 535:151

39.

Alpaslan G, Tanak H, Alaman AA, Erdonmez A, Isik S (2010) Struct Chem 21:1027

40.

Jovanovski G, Cahil A, Grupce O, Pejov L (2006) J Mol Struct 784:7

41.

Luque FJ, Lopez JM, Orozco M (2000) Theor Chem Acc 103:343

42.

Alpaslan G, Macit M, Erdonmez A, Buyukgungor O (2011) Struct Chem 22:681
Acknowledgments
This study was supported financially by the Scientific and Technological Research Council of Turkey (Grant No. TUBITAK TBAG 210T113). We are also grateful to the reviewer's valuable suggestions that improved the manuscript.
About this article
Cite this article
Yıldız, C.B., Azizoglu, A. Theoretical study on the structures and stabilities of silacyclopropylidenoids. Struct Chem 23, 1777–1784 (2012). https://doi.org/10.1007/s11224-012-9981-6
Received:

Accepted:

Published:

Issue Date:
Keywords
Silacyclopropylidenes

Organosilicon

Ab initio

Computational study