Abstract
DNA complexes with cationic polymers (polyvinylamine (PVA), polyallylamine (PAA), polydimethylaminoethylmethacrylate (PDMAEM), poly-(N,N,N-trimethylammonio)ethyl methacrylate chloride (PTMAEM), poly-l-lysine (PLL)) were investigated. It was shown that volume and persistent length of DNA do not change essentially at low cationic polymer concentration in a solution. DNA packaging in 0.005 M NaCl was observed at charge ratio N/P ≈ 1. Secondary DNA structure in complexes was not disrupted, and DNA was protected from protonation. The comparison between DNA packaging in complexes with polycations and DNA condensation induced by trivalent ions was made.
Access options
Buy single article
Instant access to the full article PDF.
USD 39.95
Price excludes VAT (USA)
Tax calculation will be finalised during checkout.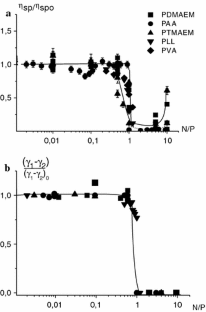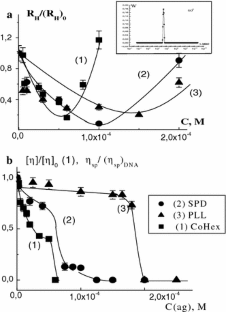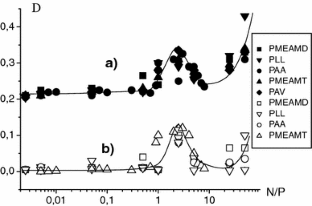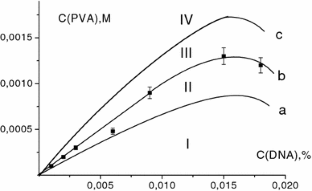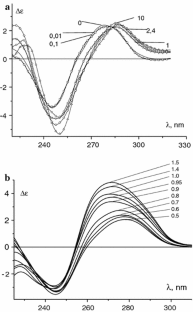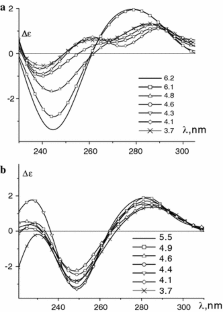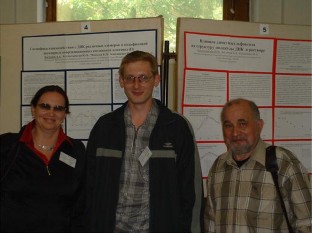 References
Lerman LS (1971) Proc Nat Acad Sci USA 68:1886

Gosule LC, Schellman JA (1976) Nature 259:333

Gosule LC, Schellman JA (1978) J Mol Biol 121:311

Wilson RW, Bloomfield VA (1979) Biochemistry 18:2192

Widom J, Baldwin RL (1980) J Mol Biol 144:431

Olins DE, Olins AL (1971) J Mol Biol 57:437

Marcuet R, Houssier C (1991) J Biomol Struct Dynam 9:159

Suwalski M, Traub W (1972) Biopolymers 11:2223

Girod JC, Johnson WCJ, Hungtington SK, Maestre MF (1973) Biochemistry 12:5092

Rau DC, Lee BK, Parsegian VA (1984) Proc Natl Acad Sci USA 81:2621

Flory P (1953) Principles of polymer chemistry. Cornell UP, Ithaca NY

Gerasimov OV, Boomer JA, Qualls MM, Thompson DH (1999) Adv Drug Delivery Rev 38:317

Mel'nikova YS, Mel'nikov SM, Löfroth JE (1999) Biophys Chem 281:125

Pouton CW, Lucas P, Thomas BJ, Uduehi AN, Milroy DA, Moss SH. (1998) J Control Release 53:289

Smith AE (1995) Annu Rev Microbiol 49:807

Kataoka K, Harada A, Naga Y (2001) Adv Drug Delivery Rev 47:113

Jones NA, Hill IRC, Stolnik S, Bignotti F, Davis SS, Garnett MC (2000) Biochim Biophys Acta 1517:1

Cherng J-Y, Schuurmans-Nieuwenbroek NME, Jiskoot W, Talsma H, Zuidam NJ, Hennink WE, Crommelin DJA (1999) J Control Release 60:343

Rungsardthong U, Deshpande M, Bailey L, Vamvakaki M, Armes SP, Garnett MC, Stolnik S (2001) J Control Release 73:359

Kabanov AV (1999) Pharm Sci Technol Today 2:365

Spack EG, Sorgi FL (2001) Drug Discov Today 6:186

Howard KA, Dash PR, Read ML, Ward K, Tomkins LM, Nazarova O, Ulbrich K, Seymour LW. (2000) Biochim Biophys Acta 1475:245

Kiselev OI, Slita AV, Smirnova AV, Deeva EG, Grudinin MP, Panarin EF, Nazarova OV (1999) Dokl Akad Nauk 366:699

Bloomfield VA. (1997) Biopolymers 44:1471

Deng H, Bloomfield VA (1999) Biophys J 77:1556

Vasilevskaya VV, Khokhlov AR, Kidoaki S, Yoshikawa K (1997) Biopolymers 41:51

Kasyanenko NA, Zanina AV, Nazarova OV, Panarin EF (1999) Langmuir 15:7912

Kasyanenko NA, Zanina AV, Plotnikova LV, Simonenkov AA, Defrenne S, Nazarova OV, Panarin EF (1998) Macromol Symp 136:25

Harada S, Hasagawa S (1984) Makromol Chem, Rapid Commun 5:27

Pavlov GM, Panarin EF, Korneeva EV, Kurochkin KV, Baikov VE, Ushakova VN (1990) Makromol Chem 191:2889

Panarin EF, Tarasova NN, Gorbunova OP (1993) Russ J Appl Chem 66

Stickler M (1984) Angew Makromol Chem 123/124:85

Pavlov GM, Korneeva EV, Ebel C, Gavrilova II, Nesterova N A, Panarin EF (2004) Polymer Sci, Ser A:46А

Berne, BJ, Pecora, R (2000) Dynamic light scattering with applications to chemistry. biology, and physics. Dover

Kasyanenko N, Abramchuk S, Blagodatskikh I, Bogdanov A, Gallyamov M, Kononov A, Kosmotynskaya Yu, Sitnikova N, Khokhlov A (2003) Polymer Sci, Ser A 45A:960

Provencher SW (1982) Comput Phys Commun 27:229

Sibileva MA, Osipova TN, Zalenski AO, Chebyschan MA, Golikova AI, Vorobiev VI, Frisman EV (1976) Mol Biol (Russia) 10:514

Kasyanenko N, Arikainen N, Frisman E (1998) Biophys Chem 70:93

Huey R, Mohr SC (1981) Biopolymers 20:2533

Lerman, LS (1973) In: Dushesne J (ed) Physico-chemical properties of nucleic acids, vol 3, Academic Press, NY, p 59

Kasyanenko NA, Bartoshevich SF, Frisman EV (1985) Mol Biol (Russia) 19:1386

Kasyanenko N, Prokhorova SA, Haya EEF, Sudakova SS, Frisman EV, Dyachenko SA, Smorygo NA, Ivin BA (1999) Colloids Surf A 148:121

Kasyanenko N, Aia EEF, Bogdanov A, Kosmotynskaya Yu, Yakovlev K (2002) Mol Biol 36:594
About this article
Cite this article
Kasyanenko, N., Afanasieva, D., Dribinsky, B. et al. DNA interaction with synthetic polymers in solution. Struct Chem 18, 519–525 (2007). https://doi.org/10.1007/s11224-007-9162-1
Published:

Issue Date:

DOI: https://doi.org/10.1007/s11224-007-9162-1
Keywords
DNA-polymeric complexes

DNA condensation

Polyvinylamine

Polyallylamine

Polydimethylaminoethylmethacrylate

Polytrimethylammonioethyl methacrylate

Poly-

l

-lysine