Abstract
In this paper we argue that transnational as well as national political demands and expectations on the educational field are contributing to (re)produce four ideological-based educational leadership discourses in the literature. In order to conceptualize these discourses, we turn to the work of Schmidt (Diagnosis I—Filosoferende eksperimenter. Aarhus University Press, Aarhus, 1999, On respect. Aarhus University Press, Aarhus, 2011) and Zizek (Mapping ideology. Verso, New York, 2000, The sublime object of ideology. Verso, New York, 2008a). On that basis we identify four dominant educational leadership discourses: (a) a personhood-based discourse, (b) a profession-based discourse, (c) a standard-based discourse, and (d) a resource-based discourse. These discourses have—as we will show—various consequences for the way we think and talk about education and educational leadership in our age. Using examples that stem from a project about educational leadership in Danish upper secondary school, we will illustrate how educational leaders' beings and doings are 'regulated' by these discourses, which place them in a tension field where different and conflicting (ideological) fantasies seem to be played out. Then, we will discuss how these fantasies can be challenged and how we can think and speak more intellectually about education and educational leadership. By using the term intellectual we are referring to educational leaders' ability as human beings to critically reflect on their contemporary doings and beings within and beyond the existing social order. Hopefully this can help them (and us) to establish new ways for discussing not only what educational leadership is and should be about, but also what it could be about.
This is a preview of subscription content, log in to check access.
Access options
Buy single article
Instant access to the full article PDF.
US$ 39.95
Price includes VAT for USA
Subscribe to journal
Immediate online access to all issues from 2019. Subscription will auto renew annually.
US$ 99
This is the net price. Taxes to be calculated in checkout.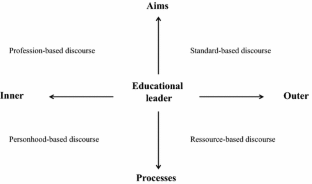 Notes
1.

The empirical data for this study stems from a study following a leader training program for educational leaders in Danish upper secondary schools. The program had 24 participants from different schools. The two authors have observed different parts of the program, including teaching sessions, group sessions, and organized network meetings. During the program we interviewed four educational leaders, and after the program ended we conducted a focus group interview with that group. Our data in this paper stem from these interviews, in which we talked to the leaders about how they experience the political demands and expectations they face.

2.

With the term win–win politics we have seen how the neo-liberal agenda makes it difficult to embrace conflicting ideological views and makes it difficult to live out the idea about democratic pluralism. Within the neo-liberal agenda it becomes more difficult to acknowledging the constitutive character of social division, where no final reconciliation between adversaries can be reached (Mouffe 2013).

3.

Fantasies are an unavoidable part of the reality. We can never escape them once and for all. Still, it can be argued that some fantasies seem to control us more than they should. That is, some fantasies are so absurd that they produce a lot of problems while at the same time providing us with (assumed) solutions to those problems.

4.

The huge number of management books has spawned a 'guru industry' (Crainer 1998). It has been argued that this industry is part of the entertainment industry. The term guru refers to wise men or women who are seen as religious prophets (Pattison 1997), providing a vision of good and evil, heaven and hell, and salvation and damnation. Around the great gurus emerge a herd of homages and hagiologies, or writers of redemptive texts (Collins 2000).

5.

Our "Leadership Cross" is inspired by Lars-Henrik Schmidt's social-analytical thoughts and the way Schmidt is trying to configure and re-configure social tension fields between conflictual rationalities, logics, and perspectives.
References
Adnett, N., and P. Davies. 2002. Education as a positional good: Implications for market-based reforms of state schooling. British Journal of Educational Studies 50(2): 189–205.

Agamben, G. 2009. Potentialities: Collected essays in philosophy. California: Stanford University Press.

Avolio, B.J., and L.W. Gardner. 2005. Authentic leadership development: Getting to the root of positive forms of leadership. Leadership Quarterly 16: 315–338.

Ball, S.J. 2008. The education debate. University of Bristol: The Policy Press.

Biesta, G.J.J. 2006. Beyond learning: Democratic education for a human future. London: Paradigm Publishers.

Biesta, G.J.J. 2009. Good education in an age of measurement: On the need to reconnect with the question of purpose in education. Educational Assessment, Evaluation and Accountability 21(1): 33–46.

Bourdieu, P. 1977. Cultural reproduction and social reproduction. In Power and ideology in education, ed. Jerome Karabel, and Albert H. Halsey. New York: Oxford University Press.

Boyett, J.H., and J.T. Boyett. 1998. The guru guide™: The best ideas of the top management thinkers. New York: Wiley.

Brown, T., D. Atkinson, and J. England. 2006. Regulatory discourses in education. A Lacanian perspective. Bern: Peter Lang.

Cerny, P.G. 1997. Paradoxes of the competition state: The dynamics of political globalization. Government and Opposition 32(2): 252–274.

Clarke, M. 2012. The (absent) politics of neoliberal education policy. Critical Studies in Education 53(3): 297–310.

Collins, D. 2000. Management fads and buzzwords. Critical-practical perspectives. London: Routledge.

Courtney, S.J., and H.M. Gunter. 2015. Get off my bus! School leaders, vision work and the elimination of teachers. International Journal of Leadership in Education 18(4): 395–417.

Crainer, S. 1998. The ultimate business guru book: 50 thinkers who made management. Oxford: Capstone.

Cranston, N. 2013. School leaders leading: Professional responsibility not accountability as the key focus. Educational Management, Administration and Leadership 41(2): 5–18.

Danish Ministry of Education. 2013. Endnu bedre uddannelser—for unge og voksne. (Even better education—for young and adults). Copenhagen: Danish Ministry of Education.

Darling-Hammond, L. and Rothman, R. (Eds.) (2011). Teacher and leader effectiveness in high-performing education systems. Washington, DC: Alliance for Excellent Education and Stanford, CA: Stanford Center for Opportunity Policy in Education.

Drucker, P.F. 2006. The effective executive: The definitive guide to getting the right things done. New York: Harper Collins Publishers.

Furedi, F. 2004. Therapy culture: Cultivating vulnerability in an uncertain age. London: Routledge.

Furedi, F. 2009. Wasted. Why education isn't educating. New York: Continuum.

Gardner, W.L., C.C. Cogliser, K.M. Davis, and M.P. Dickens. 2011. Authentic leadership: A review of the literature and research agenda. The Leadership Quarterly 22: 1120–1145.

Gellis, Z.D. 2001. Social work perceptions of transformational and transactional leadership in health care. Social Work Research 25(1): 17–25.

Grimmet, P.P. 2015. Revisioning decision making in educational leadership. In Decision making in educational leadership: Principles, policies, and practices, ed. Stephanie Chitpin, and Colin W. Evers. New York: Routledge.

Gronn, P. 2003. The new work of educational leaders. Changing leadership practice in an era of school reform. London: Paul Chapman Publishing.

Hammershøj, L.G. 2015. Diagnosis of the times vs description of society. Current Sociology Monograph 63(2): 140–154.

Hattie, J.A.C. 2009. Visible learning: A synthesis of over 800 meta-analyses relating to achievement. London and New York: Routledge.

Harris, A. 2005. Leading from the chalk-face: An overview of school leadership. Leadership 1(1): 73–87.

Hay, I. 2006. Transformational leadership: Characteristics and criticisms. E-Journal of Organizational Learning and Leadership 5(2): 1–19.

Hood, C. 1991. A public management for all seasons? Public Administration 69: 3–19.

Hopmann, S.T. 2008. No child, no school, no state left behind: Schooling in the age of accountability. Journal of Curriculum Studies 40(4): 417–456.

Jabbar, H. 2016. Between structure and agency: Contextualizing school leaders' strategic responses to market pressures. American Journal of Education 122(3): 399–431.

Kristensen, J.E. 2001. Den urene økonomiske fornuft. In Kritik af den økonomiske fornuft, ed. C. Fenger Grøn, and Jens Erik Kristensen. Hans Reitzels Forlag: København.

Leithwood, K., et al. 2004. How leadership influences student learning: A review of research for the learning from leadership project. New York: The Wallace Foundation.

Lewis, T.E. 2011. Rethinking the learning society: Giorgio Agamben on studying, stupidity, and impotence. Studies in Philosophy and Education 30(6): 585–599.

Lundahl, L., I.E. Arreman, A.S. Holm, and U. Lundström. 2013. Educational marketization the Swedish way. Education Inquiry 4(3): 497–517.

Masschelein, J., and M. Simons. 2013. In defence of the school: A public issue. Leuven: E-ducation, Culture & Society Publishers.

Meyer, H.-D., and A. Aaron Benavot (eds.). 2013. PISA, power, and policy: The emergence of global educational governance. Oxford: Symposium Books.

Miller, P., and N. Rose. 2008. Governing the present. Administering economic, social and personal life. Cambridge: Polity Press.

Mintzberg, H. 1983. Structure in fives: Designing effective organizations. New York: Prentice-Hall.

Mouffe, C. 2013. Agonistics: Thinking the world politically. London: Verso.

Mulford, B. 2003. School leaders: Changing roles and impact on teacher and school effectiveness. A paper commissioned by the Education and Training Policy Division, OECD, for the Activity Attracting, Developing and Retaining Effective Teachers. https://www.oecd.org/edu/school/2635399.pdf.

Parker, I. 1997. Psychoanalytic culture. Psychoanalytic discourse in western society. London: SAGE Publications.

Pattison, S. 1997. The faith of the managers: When management becomes religion. London: Cassell.

Peters, T.J., and R.H. Waterman. 1982. In search of excellence, lessons from America's best-run companies. Cambridge: Harper & Row.

Power, M. 1997. The audit society: Rituals of verification. New York: Oxford University Press.

Power, M., T. Scheytt, K. Soin, and K. Sahlin. 2009. Reputational risk as a logic of organizing in late modernity. Organization Studies 30(2&3): 301–324.

Robinson, V.M.J., C.A. Lloyd, and K.J. Rowe. 2008. The impact of leadership on student outcomes: An analysis of the differential effects of leadership types. Educational Administration Quarterly 44(5): 635–674.

Rosa, H. 2010. Alienation and acceleration. Towards a critical theory of late-modern temporality. Malmö: NSU Press.

Rose, N. 1998. Inventing our selves: Psychology, power, and personhood. Cambridge: Cambridge University Press.

Rose, N. 1999. Powers of freedom: Reframing political thought. Cambridge: Cambridge University Press.

Hansen, Rüsselbæk, and A. Qvortrup. 2013. Evaluerings- og synliggørelseskrav—undervisningskultur og lærerprofession. In Frihed og styring: En antologi om læringskulturer i forandring, ed. Steen Beck, and Dion Rüsselbæk Hansen. Odense: Syddansk Universitetsforlag.

Rüsselbæk Hansen, D., S. Beck, and J.D. Bøje. 2014. What are they talking about? The construction of good teaching among students, teachers and management in the reformed Danish upper secondary school. Education Inquiry 5(4): 583–601.

Rüsselbæk Hansen, D. and Frederiksen, L. F. 2015. Samtidens skoleledelse—tegn og tendenser i toneangivende ledelsesdiskurser. Gjallerhorn nr. 21. VIA University College.

Rüsselbæk Hansen, D., A.M. Phelan, and A. Qvortrup. 2015. Teacher education in Canada and Denmark in an era of neutrality. Transnational Curriculum Inquiry 12: 40–55.

Sadovnik, A. 2006. Toward a sociology of educational change: An application of Bernstein to the US "No Child Left Behind" Act. In Knowledge, power and educational reform: Applying the sociology of Basil Bernstein, ed. R. Moore, M. Arnot, J. Beck, and H. Daniels. Abingdon: Routledge.

Scalia, J., and L. Scalia. 2011. Ideological critique and ethical leadership. Philosophical Studies in Education 42: 55–64.

Scharmer, C.O. 2009. Theory U: Leading from the future as it emerges. Oakland: Berrett Koehler Publishers.

Schmidt, L.-H. 1999. Diagnosis I—Filosoferende eksperimenter. Aarhus: Aarhus University Press.

Schmidt, L.-H. 2002. Livsduelighed. In Kristendomskundskab/livsoplysning, ed. Lars-Henrik Schmidt, et al. Copenhagen: Gyldendal.

Schmidt, L.-H. 2011. On respect. Aarhus: Aarhus University Press.

Seery, A. 2008. Slavoj Zizek's dialectics of ideology and the discourses of Irish education. Irish Educational Studies 27(2): 133–146.

Simons, M., and J. Masschelein. 2007. The learning society and governmentality: An introduction. In The learning society from the perspective of governmentality, ed. Jan Masschelein, Maarten Simons, Ulrich Bröckling, and Ludwig Pongratz. Oxford: Blackwell Publishing.

Taubman, P.M. 2009. Teaching by numbers. Deconstructing the discourse of standards and accountability in education. New York: Routledge.

Taylor, C. 1992. Sources of the self: Making of the modern identity. Cambridge: Harvard University Press.

Tooley, J. 1995. Markets or democracy for education? A reply to Stewart Ranson. British Journal of Educational Studies 43(1): 21–34.

Tosas, M.R. 2016. Educational leadership reconsidered: Arendt, Agamben, and Bauman. Studies in Philosophy and Education 35(4): 353–369.

Uljens, M., J. Møller, H. Ärlestig, and L.F. Frederiksen. 2013. The professionalization of Nordic school leadership. In Transnational influences on values and practices in Nordic educational leadership. Is there a Nordic model?, ed. L. Moos. Dordrecht: Springer.

Vadolas, A. 2012. The bounced cheques of Neoliberal fantasy: Anxiety in times of economic crisis. Subjectivity 5(4): 355–375.

Wall, T., and D. Perrin. 2015. Slavoj Zizek. A Zizekian gaze at education. London: Springer.

Yukl, G. 1999. An evaluation of conceptual weaknesses in transformational and charismatic leadership theory. The Leadership Quarterly 10(2): 285–305.

Zizek, S. 2000. The spectre of ideology. In Mapping ideology, ed. Slavoj Zizek. New York: Verso.

Zizek, S. 2006. The parallax view. London: The MIT Press.

Zizek, S. 2008a. The sublime object of ideology. New York: Verso.

Zizek, S. 2008b. The plague of fantasies. New York: Verso.

Zizek, S. 2009. First as tragedy, then as farce. New York: Verso.
About this article
Cite this article
Hansen, D.R., Frederiksen, L.F. The 'Crucified' Leader: Cynicism, Fantasies and Paradoxes in Education. Stud Philos Educ 36, 425–441 (2017). https://doi.org/10.1007/s11217-016-9539-y
Keywords
Educational leadership

Paradoxes

Cynicism

Tendencies

Fantasies and ideologies