Abstract
Japan Aerospace Exploration Agency (JAXA) launched the asteroid exploration probe "Hayabusa2" in December 3rd, 2014, following the 1st Hayabusa mission. With technological and scientific improvements from the Hayabusa probe, we plan to visit the C-type asteroid 162137 Ryugu (1999 JU3), and to sample surface materials of the C-type asteroid that is likely to be different from the S-type asteroid Itokawa and contain more pristine materials, including organic matter and/or hydrated minerals, than S-type asteroids. We developed the Hayabusa2 sampler to collect a minimum of 100 mg of surface samples including several mm-sized particles at three surface locations without any severe terrestrial contamination. The basic configuration of the sampler design is mainly as same as the 1st Hayabusa (Yano et al. in Science, 312(5778):1350–1353, 2006), with several minor but important modifications based on lessons learned from the Hayabusa to fulfill the scientific requirements and to raise the scientific value of the returned samples.
In this paper, we will report the details of the sampling system of Hayabusa2 with results of performance tests during the development and the current status of the sampling system.
This is a preview of subscription content,
to check access.
Access this article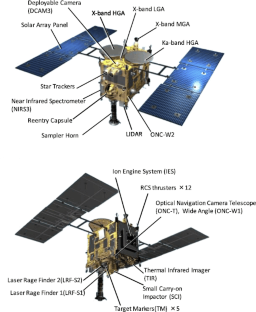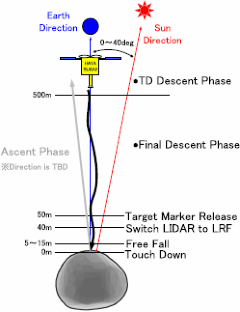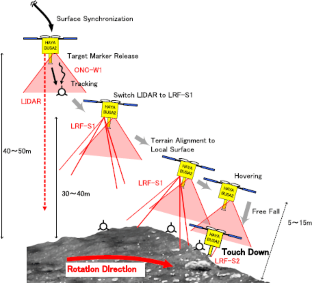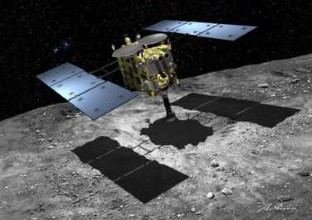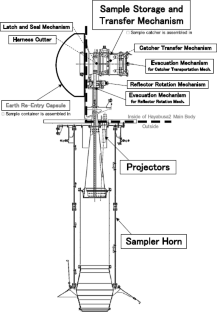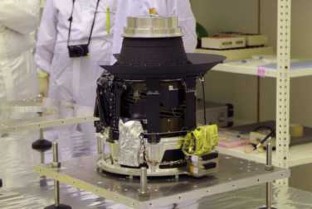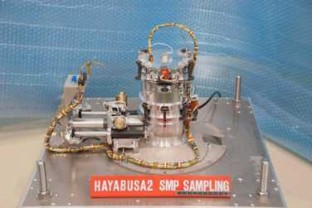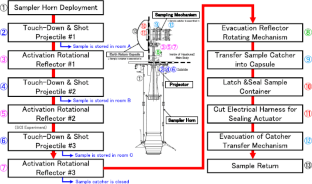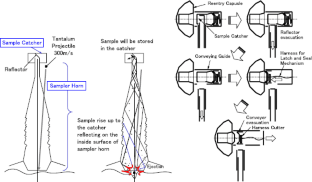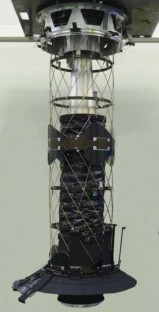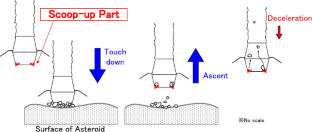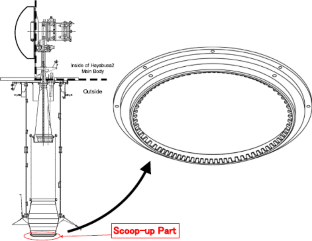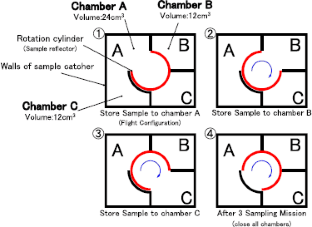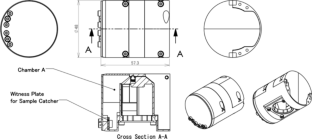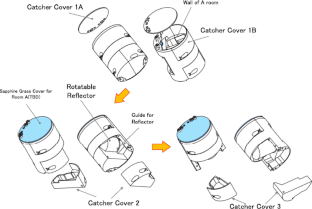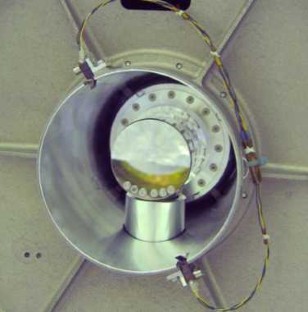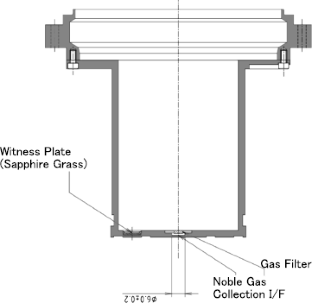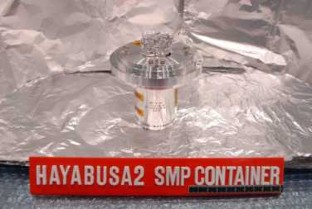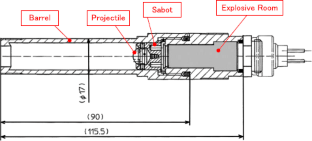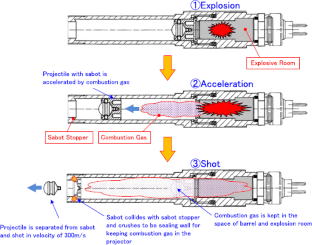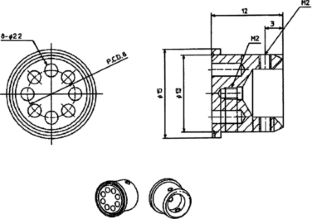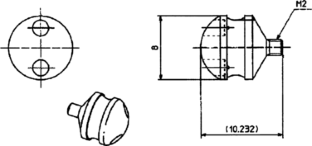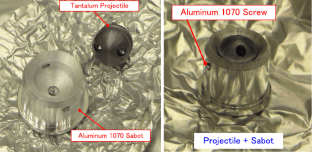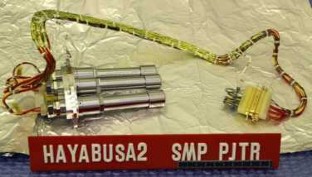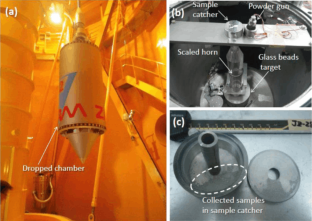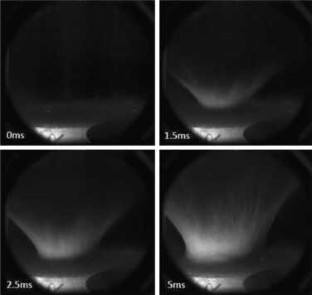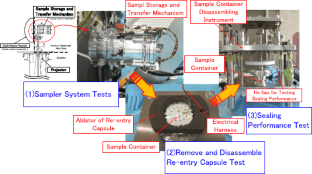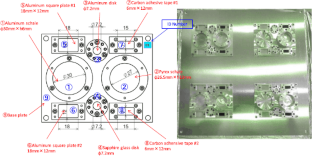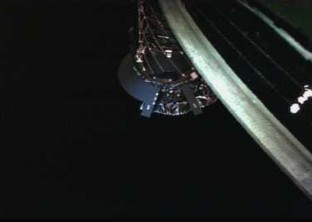 References
A. Bouvier, M. Wadhwa, The age of the Solar System redefined by the oldest Pb–Pb age of a meteoritic inclusion. Nat. Geosci. 3, 637–641 (2010)

J.E. Colwell, A.A.S. Gulbis, M. Horányi, S. Robertson, Dust transport in photoelectron layers and the formation of dust ponds on Eros. Icarus 175, 159–169 (2005)

M. Ebihara, S. Sekimoto, N. Shirai, Y. Hamajima, M. Yamamoto, K. Kumagai, Y. Oura, T. Ireland, F. Kitajima, K. Nagao, Neutron activation analysis of a particle returned from asteroid Itokawa. Science 333, 1119–1121 (2011)

S. Hasegawa, T.G. Müller, K. Kawakami, T. Kasuga, T. Wada, Y. Ita, N. Takato, H. Terada, T. Fujiyoshi, M. Abe, Albedo, size, and surface characteristics of Hayabusa-2 sample-return target 162173 1999 JU3 from AKARI and Subaru observations. Publ. Astron. Soc. Jpn. 60, S399–S405 (2008)

M. Ito, M. Uesugi, H. Naraoka, H. Yabuta, F. Kitajima, H. Mita, Y. Takano, Y. Karouji, Y. Ishibashi, T. Okada, M. Abe, H, C, and N isotopic compositions of Hayabusa category 3 organic samples. Earth Planets Space 66, 91 (2014). doi:10.1186/1880-5981-66-91

T. Kubota et al., Descent and touchdown dynamics for sample collection in Hayabusa mission, in 57th International Astronautical Congress, IAC-06-C1.3.02, Valencia, Spain (2006)

D. Lazzaro, M.A. Barucci, D. Perna, F.L. Jasmim, M. Yoshikawa, J.M.F. Carvano, Rotational spectra of (162173) 1999 JU3, the target of the Hayabusa2 mission. Astron. Astrophys. 549, L2–L5 (2013)

K. Nagao, R. Okazaki, T. Nakamura, Y.N. Miura, T. Osawa, K. Bajo, S. Matsuda, M. Ebihara, T.R. Ireland, F. Kitajima, Irradiation history of Itokawa regolith material deduced from noble gases in the Hayabusa samples. Science 333, 1128–1131 (2011)

T. Nakamura, T. Noguchi, M. Tanaka, M.E. Zolensky, M. Kimura, A. Tsuchiyama, A. Nakato, T. Ogami, H. Ishida, M. Uesugi, Itokawa dust particles: a direct link between S-type asteroids and ordinary chondrites. Science 333, 1113–1116 (2011)

E. Nakamura, A. Makishima, T. Moriguti, K. Kobayashi, R. Tanaka, T. Kunihiro, T. Tsujimori, C. Sakaguchi, H. Kitagawa, T. Ota, Space environment of an asteroid preserved on micrograins returned by the Hayabusa spacecraft. Proc. Natl. Acad. Sci. USA 109, E624–E629 (2012)

T. Noguchi, T. Nakamura, M. Kimura, M.E. Zolensky, M. Tanaka, T. Hashimoto, M. Konno, A. Nakato, T. Ogami, A. Fujimura, Incipient space weathering observed on the surface of Itokawa dust particles. Science 333, 1121–1125 (2011)

N. Ogawa, F. Terui, J. Kawaguchi, Precise guidance and landing strategy of space probe by using multiple markers in asteroid exploration mission, in 2011 AAS/AIAA Astrodynamics Specialist Conference, ASC 2011 Alaska, USA, Advances in the Astronautical Sciences, vol. 142, AAS 11-653 (2012), pp. 3817–3832

C. Okamoto et al. (2017, in preparation)

R. Okazaki, H. Sawada, S. Yamanouchi, S. Tachibana et al., Space Sci. Rev. (2016). doi:10.1007/s11214-016-0289-5

R. Okazaki, K. Nagao, Y.N. Miura, T. Osawa, K. Bajo, S. Matsuda, T. Nakamura, K. Shirai, M. Abe, T. Yada, T. Noguchi, Y. Ishibashi, A. Fujimura, T. Mukai, M. Ueno, T. Okada, M. Yoshikawa, J. Kawaguchi, Noble gases recovered from the Hayabusa sample container (abstract), in Lunar Planet. Sci. XXXXII, vol. 1653 (2011)

N. Pinilla-Alonso, V. Lorenzi, H. Campins, J. de Leon, J. Licandro, Near-infrared spectroscopy of 1999 JU3, the target of the Hayabusa 2 mission. Astron. Astrophys. 552, A79 (2013)

T. Saiki, H. Sawada, C. Okamoto, H. Yano, Y. Takagi, Y. Akahoshi, M. Yoshikawa, Small carry-on impactor of Hayabusa2 mission. Acta Astronaut. 84, 227–236 (2013)

H. Sawada et al., The sampling system of Hayabusa2 missions, in 63rd International Astronautical Congress, Naples, Italy (2012)

S. Tachibana et al., Geochem. J. 48, 571 (2014)

F. Terui, N. Ogawa, Y. Mimasu, G. Ono, S. Ueda, T. Yamamoto, T. Yamaguchi, T. Saiki, Y. Tsuda, GN&C of Hayabusa2 in "Cruising Phase" and "Asteroid Proximity Phase", in Proceedings of 2016 AAS GN&C Conference, AAS 16-106 (2016)

A. Tsuchiyama, M. Uesugi, T. Matsushima, T. Michikami, T. Kadono, T. Nakamura, K. Uesugi, T. Nakano, S.A. Sandford, R. Noguchi, Three-dimensional structure of Hayabusa samples: origin and evolution of Itokawa regolith. Science 333, 1125–1128 (2011)

M. Uesugi, H. Naraoka, M. Ito, H. Yabuta, F. Kitajima, Y. Takano, H. Mita, I. Ohnishi, Y. Kebukawa, T. Yada, Y. Karouji, Y. Ishibashi, T. Okada, M. Abe, Sequential analysis of carbonaceous materials in Hayabusa-returned samples for the determination of their origin. Earth Planets Space 66, 102 (2014). doi:10.1186/1880-5981-66-102

F. Vilas, Spectral characteristics of Hayabusa 2 near-Earth asteroid targets 162173 1999 JU3 and 2001 QC34. Astron. J. 135, 1101–1105 (2008)

H. Yabuta, M. Uesugi, H. Naraoka et al., Earth Planets Space 66, 156 (2014). doi:10.1186/s40623-014-0156-0

T. Yada, M. Abe, M. Uesugi, Y. Karouji, K. Kumagai, W. Satake, Y. Ishibashi, A. Nakato, T. Okada, A nature of particles in the Hayabusa sample catcher and contamination controls for Hayabusa 2 sample containers (abstract), in 77th Annual Meteoritical Society Meeting, vol. 5239 (2014)

H. Yano et al., Touchdown of the Hayabusa Spacecraft at the Muses Sea on Itokawa. Science 312(5778), 1350–1353 (2006)

H. Yano et al., Development of sampling systems for small solar system bodies onboard the Hayabusa follow-on missions, in 27th International Symposium on Space Technology and Science (ISTS), ISTS, 2009-k-11 (2009)

H. Yurimoto, K. Abe, M. Abe, M. Ebihara, A. Fujimura, M. Hashiguchi, K. Hashizume, T.R. Ireland, S. Itoh, J. Katayama, Oxygen isotopic compositions of asteroidal materials returned from Itokawa by the Hayabusa mission. Science 333, 1116–1119 (2011)
About this article
Cite this article
Sawada, H., Okazaki, R., Tachibana, S. et al. Hayabusa2 Sampler: Collection of Asteroidal Surface Material. Space Sci Rev 208, 81–106 (2017). https://doi.org/10.1007/s11214-017-0338-8
Received:

Accepted:

Published:

Issue Date:

DOI: https://doi.org/10.1007/s11214-017-0338-8
Keywords