Abstract
Sustainable development scholars are employing participatory action research to establish platforms for collaborative inquiry and knowledge integration. While this action research tradition supports the revitalization of scholarly influence in sustainability policy and practice, its recent expansion into new topics and disciplines suggests the need for broad-based evaluation. To fulfill this task, I conduct a systematic review of the last decade of peer-reviewed research. The results of this study advance scholarly knowledge in three critical ways. By mapping the field, I identify global patterns of engagement and assemble an interdisciplinary toolbox of methods for research and action. By interrogating descriptions of methodology and lessons learned, I uncover key issues with research and practice, including threats to methodological integrity. By connecting empirical insights with the discourse on ethics, I clarify research standards and suggest strategies for improving engagement. This article brings coherence to an emergent and potentially transformative field that is located at the crossroads of sustainability and participation.
Access options
Buy single article
Instant access to the full article PDF.
US$ 39.95
Tax calculation will be finalised during checkout.
Subscribe to journal
Immediate online access to all issues from 2019. Subscription will auto renew annually.
US$ 79
Tax calculation will be finalised during checkout.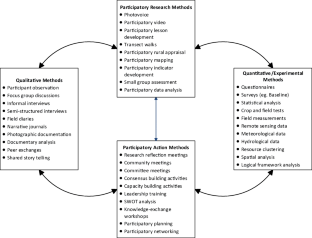 Notes
1.

Preferred Reporting Items for Systematic Reviews and Meta-Analyses.

2.

The EBSCO Host search was limited to academic databases not included in Proquest.

3.

Spreadsheets captured information on: (1) regions and topics; (2) lead author affiliations; (3) co-authorship and interdisciplinarity; (4) research methods and disciplines; (5) PAR methodology; and (6) lessons learned.

4.

Nearly all Oceanic studies were conducted in Australia, with the remainder in New Zealand.

5.

The United States, Canada, Europe, Australia, and New Zealand.

6.

In accordance with the standards set forth by Stember (1991), cross-disciplinary involves perceiving one discipline through the lens of another; multidisciplinary denotes scholars from different disciplines who are in collaboration; interdisciplinary signals the integration of two or more disciplinary knowledge systems; and transdisciplinary indicates the rise of a new discipline that has synthesized different disciplinary knowledges into a unified intellectual framework.

7.

Only 15% of the published studies were single authored and 55% had three or more authors.

8.

Nearly one fourth of the institutional affiliation names denoted either a transdisciplinary orientation or combined major branches of knowledge.

9.

See Duda et al. 2014 for an informative description of this emerging practice.

10.

See for example Kawabe et al. (2013).

11.

See for example Campos et al. (2016).
References
Adelman C (1993) Kurt Lewin and the origins of action research. Educ Action Res 1:7–24

Blanchard A, Vanderlinden JP (2013) Pre-requisites to interdisciplinary research for climate change: lessons from a participatory action research process in Ile-de-France. Int J Sustain Dev 16:1–22

Bodorkós B, Pataki G (2009) Linking academic and local knowledge: community-based research and service learning for sustainable rural development in Hungary. J Clean Prod 17:1123–1131

Bonny BP, Prasad RM, Paulose S (2010) Agro-ecosystem performance index (API): a quantitative approach to evaluate the sustainability of rice production systems. J Sustain Agric 34:758–777

Brydon-Miller M, Greenwood D, Maguire P (2003) Why action research? Action Res 1:9–28

Campos IS, Alves FM, Dinis J, Truninger M, Vizinho A, Penha-Lopes G (2016) Climate adaptation, transitions, and socially innovative action-research approaches. Ecol Soc 21(1):13

Coghlan D (2016) Retrieving a philosophy of practical knowing for action research. Int J Action Res 12:84–107

Cordeiro L, Baldini Soares C, Rittenmeyer L (2017) Unscrambling method and methodology in action research traditions: theoretical conceptualization of praxis and emancipation. Qual Res 17:395–407

Cordner A, Ciplet D, Brown P, Morello-Frosch R (2012) Reflexive research ethics for environmental health and justice: academics and movement building. Soc Mov Stud 11:161–176

Duda MA, Riopelle RJ, Brown J (2014) From theory to practice: an illustrative case for selecting evidence-based practices and building implementation capacity in three Canadian health jurisdictions. Evid Policy: J Res Debate Pract 10:565–577

Earth Charter Initiative (2015) The earth charter. https://earthcharter.org/discover/the-earth-charter/. Accessed 20 Dec 2019

Edwards R, Brannelly T (2017) Approaches to democratising qualitative research methods. Qual Res 17:271–277

Fals Borda O (1996) Power/knowledge and emancipation. Syst Pract Action Res 9:177–181

Ferreira FS (2017) Critical sustainability studies: A holistic and visionary conception of socio-ecological conscientization. J Sustain Educ 13:1–22

Freire P (1985) The politics of education: culture, power, and liberation. Bergin & Garvey, Westport

Fuchs C (2017) Critical social theory and sustainable development: the role of class, capitalism and domination in a dialectical analysis of un/sustainability. Sustain Dev 25:443–458

Godden NJ (2017) The participation imperative in co-operative inquiry: personal reflections of an initiating researcher. Syst Pract Action Res 30:1–18

Harper SG (2016) Keystone characteristics that support cultural resilience in Karen refugee parents. Cult Stud Sci Educ 11:1029–1060

Horlings LG (2015) The inner dimension of sustainability: personal and cultural values. Curr Opin Environ Sustain 14:163–169

Kawabe M, Kohno H, Ishimaru T, Baba O (2013) A university-hosted program in pursuit of coastal sustainability: the case of Tokyo Bay. Sustainability 5:3819–3838

Keahey J (2019) Ethics for Development Research. Sociology of Development (Forthcoming)

Kušová D, Těšitel J (2017) Action research in landscape ecology (Šumava biosphere reserve, Czech Republic case study). Ekológia 36:323–338

McRuer J, Zethelius M (2017) The difference biocultural "place" makes to community efforts towards sustainable development: youth participatory action research in a marine protected area of Colombia. Int Rev Educ 63:847–870

Nguyen TPL, Seddaiu G, Roggero PP (2014) Hybrid knowledge for understanding complex Agri-environmental issues: nitrate pollution in Italy. Int J Agric Sustain 12:164–182

Nikolakis W, Grafton RQ (2014) Fairness and justice in indigenous water allocations: insights from northern Australia. Water Policy 16:19–35

Okereke C (2008) Global justice and neoliberal environmental governance. Routledge, New York

Parkes M, Panelli R (2001) Integrating catchment ecosystems and community health: the value of participatory action research. Ecosyst Health 7:85–106

PRISMA (2015) PRISMA Statement. http://www.prisma-statement.org/. Accessed 15 July 2019

Purnomo H, Achdiawan R, Shantiko B et al (2016) Multi-stakeholder processes to strengthen policies for small and medium-scale forestry enterprises in Indonesia. Int For Rev 18:485–501

Pyles L (2015) Participation and other ethical considerations in participatory action research in post-earthquake rural Haiti. Int Soc Work 58:628–645

Rahman MA (1985) The theory and practice of participatory action research. In: Fals Borda O (ed) The challenge of social change. Sage Publications, London, pp 107–132

Rahman MA (1991) The theoretical standpoint of PAR. In: Fals Borda O, Rahman MA (eds) Action and knowledge: breaking the monopoly with participatory action-research. The Apex Press, New York, pp 13–23

Robinson NA (2011) Reflecting on Rio: environmental law in the coming decades. In: Benidickson J, Boer B, Benjamin AH, Morrow K (eds) Environmental law and sustainability after Rio. Edward Elgar, Northampton, pp 9–30

Rowell LL, Hong E (2017) Knowledge democracy and action research: pathways for the 21st century. In: Rowell LL, Bruce CD, Shosh JM, Riel MM (eds) The Palgrave international handbook of action research. Palgrave MacMillan, New York, pp 63–83

Santos BS (2014) Epistemologies of the south: justice against epistemicide. Routledge, New York

Stember M (1991) Advancing the social sciences through the interdisciplinary enterprise. Soc Sci J 28:1–14

Stoate C, Jarju AK (2008) A participatory investigation into multifunctional benefits of indigenous trees in west African savanna farmland. Int J Agric Sustain 6:122–132

Sultana F (2007) Reflexivity, positionality and participatory ethics: negotiating fieldwork dilemmas in international fieldwork. ACME 6:374–385

Trott CD, Weinberg AE, McMeeking LBS (2018) Prefiguring sustainability through participatory action research experiences for undergraduates: reflections and recommendations for student development. Sustainability 10

Vallance S, Perkins HC, Dixon JE (2011) What is social sustainability? A clarification of concepts. Geoforum 42:342–348

Velenturf APM, Purnell P (2017) Resource recovery from waste: restoring the balance between resource scarcity and waste overload. Sustainability 9:3332

Waas T, Hugé J, Verbruggen A, Wright T (2011) Sustainable development: a bird's eye view. Sustainability 3:1637–1661

Whitzman C (2017) Participatory action research in affordable housing partnerships: collaborative rationality, or sleeping with the growth machine? Plan Pract Res 32:495–507

Zaccai E (2012) Over two decades in pursuit of sustainable development: influence, transformations, limits. Environ Dev 1:79–90
Additional information
Publisher's Note
Springer Nature remains neutral with regard to jurisdictional claims in published maps and institutional affiliations.
Electronic supplementary material
About this article
Cite this article
Keahey, J. Sustainable Development and Participatory Action Research: A Systematic Review. Syst Pract Action Res (2020). https://doi.org/10.1007/s11213-020-09535-8
Keywords
Sustainable development

Participatory action research

Interdisciplinary methods

Development ethics