Abstract
This paper explores the usefulness of rich pictures as a method in Systemic Lean Intervention (SLI) process. It combines Lean and Systems Thinking analytical tools. Lean emerged with the main objectives of waste identification and removal in an operational system - which is synonymous to cost reduction, and value maximization. The research focuses on the use of rich pictures alongside lean tools such as workshop and interviews in a participatory research process, involving the identified stakeholders who are affected by the operational process. The research applies these tools with the intent to recognise the impacts of the various parts that function together in the operational process. A single case study organisation of a commercial Livestock farm in the Niger Delta region of Nigeria was used. The research found out that the application of rich pictures could be influenced by certain factors like the participants' interest, power and authority possession of some participants, familiarity with the issues considered, and the participants' level of background knowledge on the usage of rich pictures. Rich pictures were also found to be time-consuming in its interpretation and application to addressing identified issues.
This is a preview of subscription content, log in to check access.
Access options
Buy single article
Instant access to the full article PDF.
US$ 39.95
Price includes VAT for USA
Subscribe to journal
Immediate online access to all issues from 2019. Subscription will auto renew annually.
US$ 99
This is the net price. Taxes to be calculated in checkout.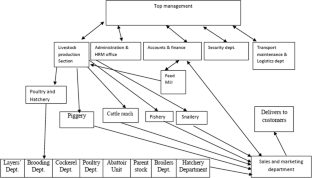 References
Bai C, Satir A, Sarkis J (2018) Investing in lean manufacturing practices: an environmental and operational perspective. Int J Prod Res 1–15

Bell S, Morse S (2013) Rich pictures: a means to explore the 'sustainable mind'? Sustain Dev 21(1):30–47

Bell S, Berg T, Morse S (2015) Rich pictures–beyond the tipping point in ISDR2015. oro.open.ac.uk. 1–8

Bell, S., Berg, T. and Morse, S. (2016). Rich Pictures: encouraging a resilient community. Routledge, London and New York

Berg T (2015) Rich picture: the role of the facilitator. Syst Pract Action Res 28(1):67–77

Bhasin S (2012) An appropriate change strategy for lean success. Manag Decis 50(3):439–458

Bronte-Stewart M (1999) Regarding rich pictures as tools for communication in information systems development. Comput Inf Syst 6:83–102

Brydon-Miller M (2003) Why action research? Action Res 1(1):9–28

Checkland P (1981) Systems thinking, systems practice. Wiley and Sons, Chichester

Checkland P (1985) Systems thinking, systems practice. Chichester, John Wiley and Sons Ltd

Checkland P (1999) Systems Thinking, Systems Practice: includes a 30-year retrospective. John Wiley and Sons, Chichester

Checkland P, Poulter J (2006) Learning for action. A short definitive account of soft system methodology and its use for practitioners, teachers and students. England, Wiley and Sons Ltd

Checkland P, Scholes J (1999) Soft systems methodology in action. Wiley and Sons Ltd, New York

Chen L, Meng B (2010) The application of value stream mapping based lean production system. Int J Bus Man 5(6):203

Cloutier R, Sauser B, Bone M, Taylor A (2015) Transitioning systems thinking to model-based systems engineering: Systemigrams to SysML models. IEEE Trans Syst Man Cybern Syst 45(4):662–674

Cristancho S (2015) Eye opener: exploring complexity using rich pictures. Perspect Med Educ 4:138–141

Cristancho S, Bidinosti S, Lingard L, Novick R, Ott M, Forbes T (2015) Seeing in different ways introducing "rich pictures" in the study of expert judgment. Qual Health Res 25(5):713–725

Cristancho S, Lingard L, Forbes T, Ott M, Novick R (2017) Putting the puzzle together: the role of 'problem definition'in complex clinical judgement. Med Educ 51(2):207–214

Elbert M (2016) Lean production for the small company. Productivity Press: New York

Fountas S, Sorensen CG, Tsiropoulos Z, Cavalaris C, Liakos V, Gemtos T (2015) Farm machinery management information system. Comput Electron Agric 110:131–138

Frerichs L, Lich KH, Dave G, Corbie-Smith G (2016) Integrating systems science and community-based participatory research to achieve health equity. Am J Public Health 106(2):215–222

Gibbert M, Ruigrok W, Wicki B (2008) What passes as a rigorous case study? Strateg Manag J 29:665–1474

Gilliers R, Jackson M (1997) Organisational theory and systems thinking: the benefits of partnership. Organisation 4(2):269–278

Gray D, Brown S, Macanufo J (2010) Gamestorming. O'reilly Media, Inc., Sebastopol

Grint K (2005) Problems, problems, problems: the social construction of leadership. Hum Relat 58(11):1467–1494

Habib L, Juell E (2014) Before and after Lightfoot/León. Using rich pictures to illustrate an educational journey through the world of opera and ballet. FormAkademisk-Research Journal of Design and Design Education (7)5

Hindle GA, Vidgen R (2018) Developing a business analytics methodology: a case study in the foodbank sector. Eur J Oper Res 268(3):836–851

Hines P, Holweg M, Rich N (2004) Learning to evolve: a review of contemporary lean thinking. Int J Oper Prod Manag 24(10):994–1011

Hogg R (2008) Executive proscription of terrorist organizations in Australia: exploring the shifting border between crime and politics. In Fresh perspectives on the "War on Terror". ANU E Press

Horan P (2000) Using rich pictures in information systems teaching. Proceedings of the first International Conference on Systems Thinking in Management, Geelong, Australia pp 257–262

Jackson MC (2000) System approaches to management. Kluwer academic/plenum Pub, New York

Jackson CM (2003) System thinking creative holism for managers. John Wiley and Sons Ltd, London

Kesby M (2000) Participatory diagramming: deploying qualitative methods through an action research epistemology. Area 32(4):423–435

Kish K, Bunch MJ, Xu BJ (2016) Soft systems methodologies in action: environment, Health & Shanghai's elderly. Syst Pract Action Res 29(1):61–77

Kwamina EB, Ockie JHB, Nam CN (2015) A systemic intervention to access resource impact on the quality of life among women farmers in developing countries: evidence from Ghana. Acad J Agric Res 3(2):15–22

Lane DE, Moll RH, Beigzadeh S, O'Sullivan T, Berkes F, Kuziemsky C, Charles A (2017) A system model of collaborative community response to environmental emergencies. Int J Clim Change Impacts Responses 9(4)

Liker JK, Convis GL (2012) The Toyota way to lean leadership. McGraw-Hill, Chicago

Liker JK, Hoseus M (2008) Toyota culture: the heart and soul of the Toyota way. McGraw Hill, New York

Liker JK, Ogden TN (2011) Toyota under fire: lessons for turning crisis into opportunity. McGraw-Hill, New York

Loosemore M (2010) Using multimedia to effectively engage stakeholders in risk management. Int J Manag Proj Bus 2(2):307–327

McKernan J (1991) Curriculum action research: a handbook of methods and resources for the reflective practitioner. KOGAN PAGE, London

McNiff J (1998) Action research principles and practice. USA: Routledge

Midgley G (2000) Systemic intervention: philosophy, methodology and practice. Kluwer academic/Plenum publishers, London

Midgley G (2003) Science as systemic intervention: some implications of systems thinking and complexity for the philosophy of science. Syst Pract Action Res 16(2):77–97

Midgley G, Milne A (1995) Creating employment opportunities for people with mental health problems: A feasibility study for new initiatives. J Oper Res Soc 46(1):35–42

Midgley G, Ochoa-Arias AE (2004) Community operational research. Kluwer Academic, London

Midgley G, Munlo I, Brown M (1998) The theory and practice of boundary critique: developing housing services for older people. J Oper Res Soc 49(5):467–478

Midgley G, Foote J, Ahuriri-Driscoll A, Wood D (2007) Towards a new framework for evaluating systemic and participative methods. Proceedings of the 51st Annual Conference of the International Society for the Systems Sciences, Tokyo, Japan, 5-10 August

Odukoya JA, Adekeye O, Igbinoba AO, Afolabi A (2018) Item analysis of university-wide multiple choice objective examinations: the experience of a Nigerian private university. Qual Quant 52(3):983–997

Papadopoulos T, Radnor Z, And Merali Y (2011) The role of actor associations in understanding the implementation of lean thinking in healthcare. Int J Oper Prod Manag 31(2):167–191

Percy R (2005) The contribution of transformative learning theory to the practice of participatory research and extension: theoretical reflections. Agric Hum Values 22(2):127–136

Rapoport A (1970) Three dilemmas in action research. Hum Relat 23:499

Rittel WJ, Webber MM (1973) Dilemmas in a general theory of planning. Policy Sci 4:155–169

Santos A, Powell JA (2001) Assessing the level of team work in Brazilian and English construction sites. Leadersh Org Dev J 22(4):166–174

Senge PM (2006) The fifth discipline. The art and practice of the learning organisation. UK. Mackays

Shah R, Ward PT (2003) Lean manufacturing: context, practice bundles, and performance. J Oper Manag 21(2):129–149

Stanton NA, Mcllory RC (2012) Designing mission communication planning: the role of rich pictures and cognitive work analysis. Theor Issues Ergon Sci 13(2):146–168

Tsang EWK (2014) Generalisation from research findings: the merits of case studies. Int J Manag Rev 16:369–383

Ufua DE (2015) Enhancing lean interventions through the use of systems thinking in the food production industry: a case in the Niger Delta Region, Nigeria. PhD Thesis, Hull: University of Hull, United Kingdom

Ufua, DE, Papadopoulos, T, Midgley, G (2015) Enhancing Lean Interventions through the use of Systems Thinking in the food production industry: A case in the Niger Delta region of Nigeria. In proceedings of the 58th Annual Meeting of ISSS. July27th-Aug. 1st. Washington D.C. USA. ISSN 1999–6918

Ufua DE, Papadopoulos T, Midgley G (2018) Systemic lean intervention: enhancing lean with community operational research. Eur J Oper Res 268(3):1134–1148

Venters W, Cushman M, Cornford, T (2003) Creating knowledge for sustainability: using SSM for describing knowledge environments and conceptualising technological interventions. London School of Economics and Political Science

White SM (2015) Systems theory, systems thinking. In Systems Conference (SysCon), 2015 9th Annual IEEE International (pg. 420–425). IEEE

Williams MC (1998) Interpreting rich pictures symbolically. Syst Res 15:55–59

Williams MC (1999) Rich pictures on the path towards systemic being. Syst Res Behav Sci 16:369–373

Williams P (2002) The competent boundary spanner. Public Adm 80(1):103–124

Williams A, Kennedy S, Philipp F, Whiteman G (2017) Systems thinking: a review of sustainability management research. J Clean Prod 148:866–881

Wilson B (1984) Systems: concepts, methodologies, and applications. John Wiley & Sons, Inc., Chichester

Womack JP, Jones DT (2005) Lean solutions. Simon and Schuster, London

Womack JP, Jones DT (2010) Lean thinking: banish waste and create wealth in your corporation. Simon and Schuster, London

Yamamoto Y, Bellgran M (2010) Fundamental mindset that drives improvements towards lean production. Assem Autom 30(2):124–130

Yin RK (1994) Discovering the future of the case study method in evaluation research. Eval Pract 15(3):283–290

Yin RK (2004) Case study research design and methods, 4th edn. Sage, London

Yin RK (2013) Case study research: design and methods. Sage Publications, London

Zabbey N, Vincent-Akpu IF, Etela I (2014) Green economy: challenges and prospects for improved aquatic agricultural system (AAS) in Niger delta communities. Environment 3(6–1):28–35

Zhan Y, Tan KH, Ji G, Chung L, Chiu AS (2018) Green and lean sustainable development path in China: Guanxi, practices and performance. Resour Conserv Recycl 128:240–249
Additional information
Publisher's Note
Springer Nature remains neutral with regard to jurisdictional claims in published maps and institutional affiliations.
About this article
Cite this article
Ufua, D.E., Adebayo, A.O.I. Exploring the Potency of Rich Pictures in a Systemic Lean Intervention Process. Syst Pract Action Res 32, 615–627 (2019). https://doi.org/10.1007/s11213-019-9479-x
Keywords
Commercial farming

Operational waste identification

Application of rich pictures

Systemic lean intervention

Affected stakeholders