Abstract
This article presents a community learning model formulated by Engineers Without Borders Colombia with the aim of providing communities with tools to create sustainable productive solutions which have relevancy for members and for potential customers. The goal of this formulation is to promote learning processes that are guided by decisions made by community members to propose sustainable and replicable initiatives. The model applicability is evidenced through a case study devoted to strengthening community-led green businesses in the Guavio Province, Colombia by collecting lessons and conclusions. Ultimately, this collection will prove useful in replicating the learning model in other similar rural communities.
This is a preview of subscription content, log in to check access.
Access options
Buy single article
Instant access to the full article PDF.
US$ 39.95
Price includes VAT for USA
Subscribe to journal
Immediate online access to all issues from 2019. Subscription will auto renew annually.
US$ 99
This is the net price. Taxes to be calculated in checkout.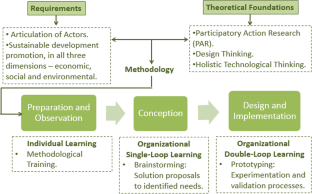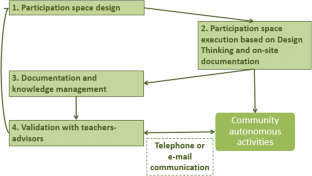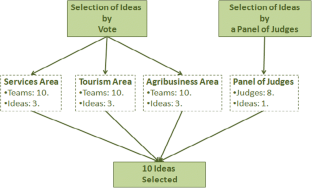 References
Alegre J, Chiva R, Lapiedra R (2007) Measuring organizational learning capability among the workforce. Int J Manpow 28(3/4):224–242

Ali MM, Yadav SKS, Nedelea AM (2017) Practicing green business with special reference to India: perception and cognizance of researchers. Ecoforum 6(1)

Argyris C, Schön D (1978) Organizational learning: a theory of action perspective. Addison-Wesley, Reading, Mass

Argyris C, Schön D (1996) Organizational learning II: theory, method and practice Reading. Addison-Wesley, Reading, Mass

Baquero AF, Giraldo M, Guarín A (2010) ANÁLISIS DE LA CADENA DE SUMINISTRO DE FRUTAS Y VERDURAS PARA BOGOTÁ D.C. Bogotá

Brown T, Wyatt J (2010) Design Thinking for Social Innovation. Stanford Social Innovation Review. Retrieved May 15, 2018 from http://ssir.org/articles/entry/design_thinking_for_social_innovation

Burns C, Cottam H, Vanstone C, Wihall J (2006) Red paper 02: transformation design. Design council, London. Retrieved December 6, 2018, from https://www.designcouncil.org.uk/resources/report/red-paper-02-transformation-design

Cámara de Comercio de Bogotá (2006) Descripción de la provincia del Guavio. Retrieved April 21, 2018, from https://isfcolombia.uniandes.edu.co/images/documentos/descripcionprovinciaguavio.pdf

Čekanavičius L, Bazytė R, Dičmonaitė A (2014) Green business: challenges and practices. Ekonomika 93(1):74–88

Coghlan D, Shani A (2014) IDEA: a collaborative organizational design process integrating innovation, design, engagement, and action. Syst Pract Action Res 26:523–536

de Guerre D, Séguin D, Pace A, Burke N (2013) IDEA: a collaborative organizational design process integrating innovation, design, engagement, and action. Syst Pract Action Res 26:257–279

Duncan RB, Weiss A (1979) Organizational learning: Implications for organizational design. In: Staw B (ed) Research in organizational behavior. JAI Press, Greenwich, CT, p 75–123

Espejo R, Schuhmann W, Schwaninger M, Bilello U (1996) Organizational transformation and learning. John Wiley, New York

Estensoro M (2015) How can social innovation be facilitated? Experiences from an action research process in a local network. Syst Pract Action Res 28:527–545

Fontaine SJ (2006) Integrating community-based participatory research into the curriculum. JHEOE 11(2):45–57

Friend G (2009) The Truth about Green Business, 1st edn. Pearson Education, New Jersey

Freitas H, Jenkins M, Oliveira M, Popjoy O (1998) The Focus Group, a qualitative research method. ISRC, Merrick School of Business, University of Baltimore (MD, EUA)

Garzón MA, Fisher AL (2008) Modelo teórico de aprendizaje organizacional. Pensamiento & Gestión. Redalyc 24:195–224

Gillis A, Jackson W (2002) Research for nurses: methods and interpretation. F.A. Davis Company, Philadelphia

Ha TM, Bosch OJ, Nguyen NC (2016) Practical contributions of the systems-based evolutionary learning laboratory to knowledge and stakeholder management. Syst Pract Action Res 29:261–275

Hansson T (2006) Workplace logics, kinds of knowledge and action research. Syst Pract Action Res 19:189–200

Hara K, Kumazawa T, Kimura M, Tsuda K (2016) Participatory approach in vision setting: emerging initiatives in local municipalities in Japan. Sustain Sci 11:493–503

Jacobs S (2016) The use of participatory action research within education-benefits to stakeholders. World Journal of Education 6(3):48–55

Kemmis S, McTaggart R (2007) Participatory action research: communicative action and the public sphere. In: Denzin N, Lincoln Y (eds) Strategies of qualitative inquiry. Sage, Thousand Oaks, p 271–330

Kim DH (1993) The link between individual and organizational learning. Sloan Manag Rev

Kofman F (1992) Lecture slides. MIT Sloan School of Management, Cambridge Massachusetts

Li M (2002) Fostering design culture through cultivating the user-Designer's design thinking and systems thinking. Syst Pract Action Res 15(5):385–410

MacDonald C (2012) Understanding participatory action research: a qualitative research methodology option. Canadian Journal of Action Research 13(2):34–50

March J, Olsen J (1975) The uncertainty of the past: organizational learning under ambiguity. Eur J Polit Res:147–171

Marshall C, Rossman G (2006) Designing qualitative research, 4th edn. Sage, Thousand Oaks

Miller TR, Wick A, Sarewitz D, Robinson J, Olsson L, Kriebel D, Loorbach D (2013) The future of sustainability science: a solutions-oriented research agenda. Sustain Sci 9(2):239–246

Narayan D (2002) Empowerment and Poverty Reduction: A Sourcebook. World Bank, Washington, DC. © World Bank. Retrieved May 15, 2018 from https://openknowledge.worldbank.org/handle/10986/15239 License: CC BY 3.0 IGO

Network of Community Exchange Systems in Asia, Africa & Latin America (2002) Retrieved february 10, 2018, from http://appropriate-economics.org/materials/Community_Exchange_Systems_screen.pdf

Nonaka I, Takeuchi H (1995) The knowledge-creating company: how Japanese companies create the dynamics of innovation. Oxford University Press, Oxford

Pardo C, Alfonso W (2015) Analysis of the primary causes of business failure in Colombia. Universidad del Rosario, Bogotá D.C.

Park P (1993) What is participatory research? A theoretical and methodological perspective. Participatory Research in the United States and Canada, Voices of Change

Prange C (1999) Organizational learning - desperately seeking theory? In: Easterby-Smith M, Burgoyne J, Araujo L (eds) Organizational learning and the learning organisation. Sage, London, pp 23–43

Singh P (2010) Intercultural communication using an action research approach. Syst Pract Action Res 23:341–352

Smith SE (2003) What is green business? Retrieved January 18, 2019, from https://www.wisegeek.com/what-is-green-business.htm

Smith EE, Perks S (2010) A perceptual study of the impact of green practice implementation on the business functions. Southern African Business Review 14(3):1–29

Styhre A, Sundgren M (2005) Action research as experimentation. Syst Pract Action Res 18(1):53–65

United Nations (2013) World Economic and Social Survey 2013

United Nations (2014) Más de la mitad de la población vive en áreas urbanas y seguirá creciendo. Obtenido de Naciones Unidas. Retrieved November 30, 2018 from http://www.un.org/es/development/desa/news/population/world-urbanization-prospects-2014.html

Uribe D (2018) What is Going on with Stakeholders Theory in Project Management Literature? 1–23. Sustainability (Switzerland)

Varela R, Moreno J, Bedoya M (2015) GEM Colombia 2006–2013. Universidad Icesi, Santiago de Cali

Vargas Z (2009) La investigación aplicada: una forma de conocer las realidades con evidencia científica. Revista Educación. Redalyc 33(1):155–165
Additional information
Publisher's Note
Springer Nature remains neutral with regard to jurisdictional claims in published maps and institutional affiliations.
About this article
Cite this article
Ramírez, M.C., Navas Castaño, L.A., Delgado, Á. et al. Promoting Entrepreneurship through a Community Learning Model – Case Study: Green Businesses. Syst Pract Action Res 32, 629–643 (2019). https://doi.org/10.1007/s11213-019-9477-z
Keywords
Green businesses

Organizational learning

Green entrepreneurship

Guavio region Colombia

Engineers without Borders Colombia