Abstract
Recently, demand-side innovation policies for securing new driving-force for economic growth centered on developed countries, especially on the importance of public procurement for innovation, (PPI) are emphasized. Although the previous studies on PPI have presented various innovations and economic effects of PPI, they are still focused on specific case-based analysis, failing to provide implications for policy decision-making. Therefore, this study aims to investigate the economy-wide effects of PPI within the innovation system in generalized terms including technology, market, institution-related elements. To be specific, this study reveals direct and indirect impact channels within the innovation system incorporating demand-pull and technology-push effects. In addition, we propose four different types of PPI in terms of the policy impact channels and analyze electric vehicle (EV) PPI case in Korea using this proposed taxonomy. This study has contributions both on academic research and policy decision-making dimensions, by stressing out the systemic perspective to understand the potential impact mechanisms across the innovation system induced by the implementation of PPI.
This is a preview of subscription content, log in to check access.
Access options
Buy single article
Instant access to the full article PDF.
US$ 39.95
Price includes VAT for USA
Subscribe to journal
Immediate online access to all issues from 2019. Subscription will auto renew annually.
US$ 99
This is the net price. Taxes to be calculated in checkout.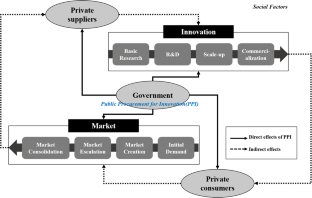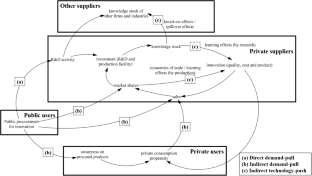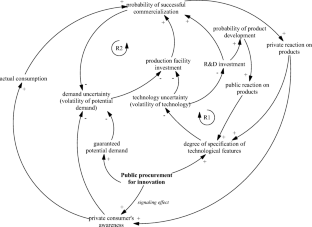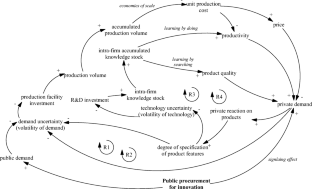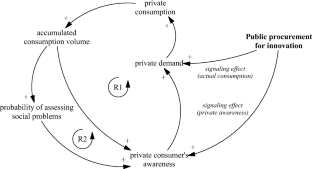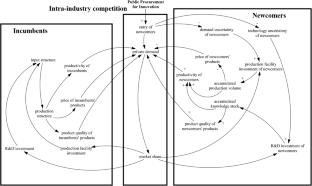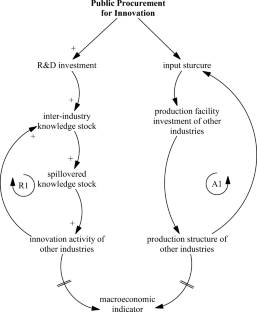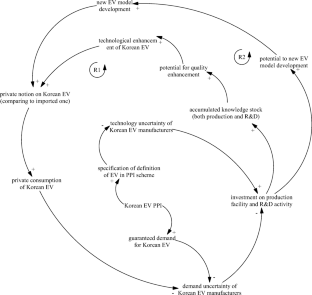 Notes
1.

In recent years, public procurement (the purchase by governments and state-owned enterprises of goods, services and public works) accounts for a very significant percentage of GDP in many countries. OECD member countries are found to spend about 12% of their GDP on public procurement (OECD 2015).

2.

For example, Hyundai IONIQ Electric from Hyundai Motors has 124 miles of driving range on a single charge and 28 kWh of battery storage. In contrast, Tesla Model S (P100DL) from Tesla Motors has 315 miles of driving range on a single charge and 100 kWh of battery storage. The driving range of Hyundai IONIQ Electric is not as long as half of that of Tesla Model S (P100DL), and the battery storage is even about quarter.

3.

Korean EV market share was 0.2% in 2016 and the total EV supplying equipment (charging station) stock was 113 per 1 million habitants in 2016.
References
Act on the Promotion of Development and Distribution of Environment-Friendly Automobiles (2016). (Kor)

Albano GL, Nicholas C (2016) The law and economics of framework agreements: designing flexible solutions for public procurement. Cambridge University Press, Cambridge

Arrow KJ (1971) The economic implications of learning by doing. In: Readings in the theory of growth. Palgrave Macmillan, London, pp 131–149

Aschhoff B, Sofka W (2009) Innovation on demand – can public procurement drive market success of innovations? Res Policy 38(8):1235–1247

Bauer B, Christensen J, Christensen K (2010) Benefits of green public procurement. Nordic Council of Ministers, Copenhagen

BDL (2003) The power of customers to drive innovation. Report to the European Commission. European Commission, Brussels

Blalock G, Gertler PJ (2008) Welfare gains from foreign direct investment through technology transfer to local suppliers. J Int Econ 74(2):402–421

Borras S, Edquist C (2013) The choice of innovation policy instruments. Technol Forecast Soc Chang 80(8):1513–1522

Brammer S, Walker H (2011) Sustainable procurement in the public sector: an international comparative study. Int J Oper Prod Manag 31(4):452–476

Brannlund R, Lundberg S, Marklund PO (2009) Assessment of green public procurement as a policy tool: cost-efficiency and competition considerations (Umeå Economic Studies No. 775). Umeå University, Umeå

Brouwer E, Kleinknecht A (1999) Innovative output, and a firm's propensity to patent.: an exploration of CIS micro data. Res Policy 28(6):615–624

Cabral L, Cozzi G, Denicolò V, Spagnolo G, Zanza M (2006) Procuring innovations. In: Dimitri N, Piga G, Spagnolo G (eds) Handbook of Procurement. Cambridge University Press, Cambridge, pp 483-529

Chirinko RS, Fazzari SM, Meyer AP (1999) How responsive is business capital formation to its user cost?: an exploration with micro data. J Public Econ 74(1):53–80

Crespo N, Fontoura MP (2007) Determinant factors of FDI spillovers–what do we really know? World Dev 35(3):410–425

Dalpé R (1994) Effects of government procurement on industrial innovation. Technol Soc 16(1):65–83

Dalpé R, DeBresson C, Xiaoping H (1992) The public sector as first user of innovations. Res Policy 21(3):251–263

Edler J (2013) Review of policy measures to stimulate private demand for innovation. Concepts and Effects. Manchester institute of innovation Research, Manchester business school, University of Manchester

Edler J, Georghiou L (2007) Public procurement and innovation – resurrecting the demand side. Res Policy 36(7):949–963

Edler J, Ruhland S, Hafner S, Rigby J, Georghiou L, Hommen L, Rolfstam M, Edquist C, Tsipouri L, Papadakou M (2005) Innovation and public procurement: review of issues at stake (ENTR/03/24). European Commission, Brussels

Edquist C (1996) Government technology procurement as an instrument of technology policy. In: Technological infrastructure policy. Springer, Dordrecht, pp 141–170

Edquist C, Hommen L (1999) Systems of innovation: theory and policy for the demand side. Technol Soc 21(1):63–79

Edquist C, Hommen L (2000) Public technology procurement and innovation theory. In: Edquist C, Hommen L, Tsipouri L (eds) Public technology procurement and innovation. Springer, Boston, pp 5–70

Edquist C, Zabala-Iturriagagoitia JM (2012) Public procurement for innovation as mission-oriented innovation policy. Res Policy 41(10):1757–1769

Edquist C, Vonortas NS, Zabala-Iturriagagoitia JM, Edler J (eds) (2015) Public procurement for innovation. Edward Elgar Publishing, Cheltenham

Ejermo O, Kander A (2006). The Swedish paradox. CIRCLE electronic working paper series 2006/01, CIRCLE, Lund University

Erridge A, Nondi R (1994) Public procurement, competition and partnership. Eur J Purch Supply Manag 1(3):169–179

European Commission (2012) Green public procurement: a collection of good practices. Publications Office of the European Union, Luxembourg

European Commission (2014) EU R&D scoreboard: the 2014 EU industrial R&D investment scoreboard. Luxembourg: Publications Office of the European Union

European Commission. (2017). EU R&D scoreboard: The 2017 EU industrial R&D investment Scoreboard. Luxembourg: Publications Office of the European Union

Fazzari SM (1993) The Investment-Finance Link: Investment and U.S. Fiscal Policy in the 1990s (public policy brief, 9). Jerome levy economics institute of bard college

Flanagan K, Uyarra E, Laranja M (2011) Reconceptualising the 'policy mix' for innovation. Res Policy 40(5):702–713

Gallup (2011) Flash Eurobarometer 315 attitudes of European entrepreneurs towards eco-innovation, Survey conducted by The Gallup Organization, Hungary upon the request of Directorate-General Environment of the European Commission

Georghiou L, Edler J, Uyarra E, Yeow J (2014) Policy instruments for public procurement of innovation: choice, design and assessment. Technol Forecast Soc Chang 86:1–12

Geroski PA (1990) Procurement policy as a tool of industrial policy. Int Rev Appl Econ 4(2):182–198

Ghisetti C (2017) Demand-pull and environmental innovations: estimating the effects of innovative public procurement. Technol Forecast Soc Chang 125:178–187

Hawkins DI, Mothersbaugh DL, Best RJ (2013) Consumer behavior: building marketing strategy. McGraw-Hill Irwin

Hommen L, Rolfstam M (2009) Public procurement and innovation: towards a taxonomy. Journal of public procurement 9(1):17–56

Hopwood B, Mellor M, O'Brien G (2005) Sustainable development: mapping different approaches. Sustain Dev 13(1):38–52

IISD (2012). Procurement, innovation and green growth: the story continues….Winnipeg, MB: International Institute for Sustainable Development (IISD)

Izsak K, Edler J (2011) Trends and challenges in demand-side innovation policies in Europe, Thematic Report 2011 Under Specific Contract for the Integration of INNO Policy Trendchart with ERAWATCH (2011–2012), Brussels: Technopolis Group Belgium

Javorcik BS (2004) Does foreign direct investment increase the productivity of domestic firms? In search of spillovers through backward linkages. Am Econ Rev 94(3):605–627

Korkmaz KA, Syal M, Harichandran RS, Korkmaz S (2012) Implementation of sustainable and green design and construction practices for bridges (RC-1586). Michigan State University, East Lansing

Kouvaritakis N, Soria A, Isoard S (2000) Modelling energy technology dynamics: methodology for adaptive expectations models with learning by doing and learning by searching. Int J Glob Energy Issues 14(1–4):104–115

Laranja M, Uyarra E, Flanagan K (2008) Policies for science, technology and innovation: translating rationales into regional policies in a multi-level setting. Res Policy 37(5):823–835

Marron D (2004) Greener public purchasing as an environmental policy instrument. OECD J Budg 3(4):71–105

Moon TW, Jang WJ (2011) A study on global LED standardization trends and dissemination policies. The Korean Institute of Illuminating and Electrical Installation Engineers 2011 Annual Autumn Conference, 11-12. (in Korean)

Morrison PD, Roberts JH, Von Hippel E (2000) Determinants of user innovation and innovation sharing in a local market. Manag Sci 46(12):1513–1527

Mowery D, Rosenberg N (1979) The influence of market demand upon innovation: a critical review of some recent empirical studies. Res Policy 8(2):102–153

Mytelka LK (2001) Innovation theory and innovation policy: bridging the gap. In OECD (ed). (2001). Social sciences and innovation. Paris: OECD

Nemet GF (2009) Demand-pull, technology-push, and government-led incentives for non-incremental technical change. Res Policy 38(5):700–709

OECD (2011) Demand-side innovation policy. OECD, Paris

OECD (2015) Government at a glance 2015. OECD, Paris

OECD (2016) OECD reviews of innovation policy: Sweden 2016, OECD Reviews of Innovation Policy, OECD Publishing, Paris, https://doi.org/10.1787/9789264250000-en

OFT (2002) Innovation and competition policy part I – conceptual issues. Office of Fair Trading, London

OFT (2004) Assessing impact of public sector procurement on competition. Office of Fair Trading, London

Palmberg C (2004) The sources of innovations–looking beyond technological opportunities. Econ Innov New Technol 13(2):183–197

Payne C, Weber A, Semple A (2013) Energy efficient public procurement: best practice in program delivery. Lawrence Berkeley National Laboratory, Berkeley

Qiu Y, Anadon LD (2012) The price of wind power in China during its expansion: technology adoption, learning-by-doing, economies of scale, and manufacturing localization. Energy Econ 34(3):772–785

Rolfstam M (2009) Public procurement as an innovation policy tool: the role of institutions. Sci Public Policy 36(5):349–360

Roolaht T (2010) The demand-side innovation policies in the context of small EU member country. Discussions on Estonian Economic Policy 18:404–427

Rothwell R (1994) Toward the fifth-generation innovation process. Int Mark Rev 11(1):7–31

Rothwell R, Zegveld W (1981) Industrial innovation and public policy. Pinter, London

Saarinen J (2005) Innovations & industrial performance in Finland, 1945–1998 (Lund Studies in Economic History). Lund University, Lund

Stern P, Hellman J, Rijnders-Nagle M, Terrell M, Astrom T (2011) How public procurement can stimulate innovative services (report to nordic innovation Centre). Faugert & Co Utvärdering AB, Stockholm

Stiglitz JE (1987) Learning to learn, localized learning and technological progress. In Dasgupta, P., & Stoneman, P. (Eds). (2015). Economic Policy and Technological Performance (pp. 125–153). Cambridge: Cambridge University Press

Urban GL, Von Hippel E (1988) Lead user analyses for the development of new industrial products. Manag Sci 34(5):569–582

Uyarra E, Flanagan K (2010) Understanding the innovation impacts of public procurement. Eur Plan Stud 18(1):123–143

Uyarra E, Edler J, Garcia-Estevez J, Georghiou L, Yeow J (2014) Barriers to innovation through public procurement: a supplier perspective. Technovation 34(10):631–645

Valentova M, Quicheron M, Bertoldi P (2012) Public procurement of LED lighting in European Union member states (Reference Report by the Joint Research Centre of the European Commission). Luxembourg: Publications Office of the European Union

van Calster G (2002) Green procurement and the WTO - shades of grey. Review of European Community & International Environmental Law 18(1):298–305

Vonortas, N. S. (2015). Innovation and public procurement in the United States. In Edquist, C., Vonortas, N. S., Zabala-Iturriagagoitia, J. M., & Edler, J. (Eds.). (2015). Public procurement for innovation (pp. 147–178). Cheltenham: Edward Elgar Publishing

Westling H (2000) Final management report – Annex III co-operative procurement of innovative technologies for demand-side management (EI 6:2000). IEA, Paris

Woolthuis RK, Lankhuizen M, Gilsing V (2005) A system failure framework for innovation policy design. Technovation 25(6):609–619

World Bank (2010) Innovation policy: a guide for developing countries. World Bank Group, Washington D.C.
Acknowledgements
This work was supported by the National Research Foundation of Korea (NRF) grant funded by the Korean government (MSIP) (No. NRF-2016K2A9A1A01952079).
Additional information
Publisher's Note
Springer Nature remains neutral with regard to jurisdictional claims in published maps and institutional affiliations.
The original version of this article was revised: Figure 2 is incorrect, as this should be Fig 3 and the current Fig 3 is a duplicate of Fig 4.
About this article
Cite this article
Shin, K., Yeo, Y. & Lee, J. Revitalizing the Concept of Public Procurement for Innovation (PPI) from a Systemic Perspective: Objectives, Policy Types, and Impact Mechanisms. Syst Pract Action Res 33, 187–211 (2020). https://doi.org/10.1007/s11213-019-09488-7
Keywords
Demand-side innovation policy

Public procurement for innovation

Innovation system

Taxonomy

Policy impact

Causal loop diagram