Abstract
The role played by family caregivers in delivering long-term care is crucial: they enhance the quality of care perceived by the patients and support the shift to out-of-hospital care. However, taking care of a relative entails a huge burden that usually begins with the patient's hospital discharge and may mean that caregivers become patients in need of care as well. Owing to socio-demographic trends, informal caregiving is the most important source of care in community settings; hence targeting the caregivers' burden properly is crucial. This study explores how action research (AR) can be used to develop new hospital practices to manage the burden borne by family caregivers when patients are discharged from hospital. The 7-month-long action research reported in this paper consisted of three stages (burden identification, burden sharing, and burden management) and it was conducted in a teaching hospital in Rome (Italy). Both quantitative (surveys) and qualitative (focus groups and simulation sessions) techniques were used to engage participants. The AR demonstrates that there is a feasible way in which hospital managers can address proactively the caregivers' needs in the hospital discharge process, to the advantage of the patients and the entire community.
This is a preview of subscription content, log in to check access.
Access options
Buy single article
Instant access to the full article PDF.
US$ 39.95
Price includes VAT for USA
Subscribe to journal
Immediate online access to all issues from 2019. Subscription will auto renew annually.
US$ 99
This is the net price. Taxes to be calculated in checkout.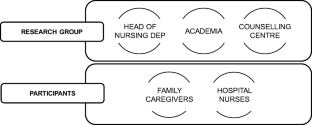 References
Al-Harthy N, Sudersanadas KM, Al-Mutairi M, Vasudevan S, Bin Saleh G, Al-Mutairi M, Hussain LW (2016) Efficacy of patient discharge instructions: a pointer toward caregiver friendly communication methods from pediatric emergency personnel. J Family Community Med 23(3):155–160. https://doi.org/10.4103/2230-8229.189128

Alvira MC, Risco E, Cabrera E, Farré M, Rahm Hallberg I, Bleijlevens MH, Meyer G, Koslcenniemi J, Soto ME, Zabalegui A, RightTimePlaceCare Consortium (2015) The association between positive–negative reactions of informal caregivers of people with dementia and health outcomes in eight European countries: a cross-sectional study. J Adv Nurs 71(6):1417–1434. https://doi.org/10.1111/jan.12528

Ament BH, Wolfs CA, Kempen GI, Ambergen T, Verhey FR, De Vugt ME (2015) The benefit of a geriatric nurse practitioner in a multidisciplinary diagnostic service for people with cognitive disorders. BMC Res Notes 8:217. https://doi.org/10.1186/s13104-015-1189-6

Avcı K, Çınaroğlu S, Top M (2017) Perceptions of pediatric nurses on ethical decision making processes. Syst Pract Action Res 30:67. https://doi.org/10.1007/s11213-016-9386-3

Bartolo M, De Luca D, Serrao M, Sinforiani E, Zucchella C, Sandrini G (2010) Caregiver burden and needs in community neurorehabilitation. J Rehabil Med 42(9):818–822. https://doi.org/10.2340/16501977-0612

Bastawrous M (2013) Caregiver burden - a critical discussion. Int J Nurs Stud 50(3):431–441. https://doi.org/10.1016/j.ijnurstu.2012.10.005

Batiashvili G, Gerzmava O (2013) Administration on aging. Global comparison of formal and informal caregiving. Eur Sci J 9(10). https://doi.org/10.19044/esj.2013.v9n10p%25p

Bauer M, Fitzgerald L, Haesler E, Manfrin M (2009) Hospital discharge planning for frail older people and their family. Are we delivering best practice? A review of the evidence. J Clin Nurs 18(18):2539–2546. https://doi.org/10.1111/j.1365-2702.2008.02685.x

Bélanger L, Bourbonnais A, Bernier R, Benoit M (2017) Communication between nurses and family caregivers of hospitalised older persons: a literature review. J Clin Nurs 26(5–6):609–619. https://doi.org/10.1111/jocn.13516

Boerboom TB, Jaarsma D, Dolmans DH, Scherpbier AJ, Mastenbroek NJ, Van Beukelen P (2011) Peer group reflection helps clinical teachers to critically reflect on their teaching. Med Teach 33(11):615–623. https://doi.org/10.3109/0142159X.2011.610840

Boltz M, Lee KH, Chippendale T, Trotta RL (2018) Pre-admission functional decline in hospitalized persons with dementia: the influence of family caregiver factors. Arch Gerontol Geriatr 74:49–54. https://doi.org/10.1016/j.archger.2017.09.006

Bové DG, Zakrisson AB, Midtgaard J, Lomborg K, Overgaard D (2016) Undefined and unpredictable responsibility: a focus group study of the experiences of informal caregiver spouses of patients with severe COPD. J Clin Nurs 25(3–4):483–493. https://doi.org/10.1111/jocn.13076

Bowen S, McSeveny K, Lockley E, Wolstenholme D, Cobb M, Dearden A (2013) How was it for you? Experiences of participatory design in the UK health service. CoDesign 9(4):230–246. https://doi.org/10.1080/15710882.2013.846384

Boyd H, McKernon S, Old A (2010) Health service co-design: working with patients to improve healthcare services: guide and toolkit. Waitemata District Health Board

Bradbury-Huang H (2010) What is good action research? Why the resurgent interest? Action Res 8(1):93–109. https://doi.org/10.1177/1476750310362435

Bremer P, Cabrera E, Leino-Kilpi H, Lethin C, Saks K, Sutcliffe C, Soto M, Zwakhalen SM, Wübker A, RightTimePlaceCare Consortium (2015) Informal dementia care: consequences for caregivers' health and health care use in 8 European countries. Health Policy 119(11):1459–1471. https://doi.org/10.1016/j.healthpol.2015.09.014

Brimblecombe N, Pickard L, King D, Knapp M (2017) Perceptions of unmet needs for community social care services in England. A comparison of working carers and the people they care for. Health Soc Care Community 25(2):435–446. https://doi.org/10.1111/hsc.12323

Brimblecombe N, Fernandez JL, Knapp M, Rehill A, Wittenberg R (2018) Review of the international evidence on support for unpaid carers. Journal of Long-Term Care 25–40. https://doi.org/10.21953/lse.ffq4txr2nftf

Brunton M, Jordan C, Fouche C (2008) Managing public health care policy: Who's being forgotten? Health Policy 88(2):348–358. https://doi.org/10.1016/j.healthpol.2008.04.007

Caswell G, Pollock K, Harwood R, Porock D (2015) Communication between family carers and health professionals about end-of-life care for older people in the acute hospital setting: a qualitative study. BMC Palliat Care 14:35. https://doi.org/10.1186/s12904-015-0032-0

Coghlan D, Brannick T (2014) Doing action research in your own organization, 4th edn. Sage, London. https://doi.org/10.1080/14767333.2015.1049453

Collatto DC, Dresch A, Lacerda DP, Bentz IG (2018) Is action design research indeed necessary? Analysis and synergies between action research and design science research. Syst Pract Action Res 31:239. https://doi.org/10.1007/s11213-017-9424-9

Corry M, While A, Neenan K, Smith V (2015) A systematic review of systematic reviews on interventions for caregivers of people with chronic conditions. J Adv Nurs 71(4):718–734. https://doi.org/10.1111/jan.12523

Courtin E, Jemiai N, Mossialos E (2014) Mapping support policies for informal carers across the European Union. Health Policy 118(1):84–94. https://doi.org/10.1016/j.healthpol.2014.07.013

Cramm JM, Nieboer AP (2016) The changing nature of chronic care and coproduction of care between primary care professionals and patients with COPD and their informal caregivers. Int J Chron Obstruct Pulmon Dis 11:175–182. https://doi.org/10.2147/COPD.S94409

Crawford MJ, Rutter D, Manley C, Weaver T, Bhui K, Fulop N, Tyrer P (2002) Systematic review of involving patients in the planning and development of health care. BMJ 325(7375):1263. https://doi.org/10.1136/bmj.325.7375.1263

Dal Pra Ponticelli M (2004) Prendersi cura e lavoro di cura (Taking care and care work). E. Zancan Foundation, Padova

Davison RM, Martinsons MG, Ou CXJ (2012) The roles of theory in canonical action research. MIS Q 36(3):763–778. https://doi.org/10.2307/41703480

Dieckmann P, Patterson M, Lahlou S, Mesman J, Nyström P, Krage R (2017) Variation and adaptation: learning from success in patient safety-oriented simulation training. Adv Simul 2:21. https://doi.org/10.1186/s41077-017-0054-1

Donetto S, Tsinakas V, Robert G (2014) Using experience-based co-design (EBCD) to improve the quality of healthcare: mapping where we are now and establishing future directions. King's College, London

Dujardin C, Farfan-Portet MI, Mitchell R, Popham F, Thomas I, Lorant V (2011) Does country influence the health burden of informal care? An international comparison between Belgium and Great Britain. Soc Sci Med 73(8):1123–1132. https://doi.org/10.1016/j.socscimed.2011.07.016

Exner K, Lindow K, Buchholz C, Stark R (2014) Validation of product-service systems–a prototyping approach. Procedia CIRP 16:68–73. https://doi.org/10.1016/j.procir.2014.03.004

Gelo O, Braakman D, Benetka G (2008) Quantitative and qualitative research: beyond the debate. Integr Psychol Behav Sci 42(3):266–290. https://doi.org/10.1007/s12124-008-9078-3

Gervès C, Chauvin P, Bellanger MM (2014) Evaluation of full costs of care for patients with Alzheimer's disease in France: the predominant role of informal care. Health Policy 116(1):114–122. https://doi.org/10.1016/j.healthpol.2014.01.001

Gibson MJ, Kelly K, Kaplan AK (2012) Family caregiving and transitional care: a critical review. Family Caregiver Alliance, San Francisco. https://www.caregiver.org/family-caregiving-and-transitional-care-critical-review-2012. Accessed 5 Sep 2016

Giovannetti ER, Reider L, Wolff JL, Frick KD, Boult C, Steinwachs D, Boyd CM (2013) Do older patients and their family caregivers agree about the quality of chronic illness care? Int J Qual Health Care 25(5):515–524. https://doi.org/10.1093/intqhc/mzt052

Glajchen M (2004) The emerging role and needs of family caregivers in cancer care. J Support Oncol 2(2):145–155

Groen van de Ven L, Smits C, Elwyn G, Span M, Jukema J, Eefsting J, Vernooij-Dassen M (2017) Recognizing decision needs: first step for collaborative deliberation in dementia care networks. Patient Educ Couns 100(7):1329–1337. https://doi.org/10.1016/j.pec.2017.01.024

Hagedoorn E, Paans W, Jaarsma T, Keers J, Van Der Schans C, Luttik ML (2017) Aspects of family caregiving as addressed in planned discussions between nurses, patients with chronic diseases and family caregivers: a qualitative content analysis. BMC Nurs 16(37). https://doi.org/10.1186/s12912-017-0231-5

Hazzan AA, Ploeg J, Shannon H, Raina P, Oremus M (2015) Caregiver perceptions regarding the measurement of level and quality of care in Alzheimer's disease. BMC Nurs 14:54. https://doi.org/10.1186/s12912-015-0104-8

Huzzard T, Ahlberg BM, Ekman M (2010) Constructing interorganizational collaboration. Action Res 8(3):293–314. https://doi.org/10.1177/1476750309335206

Johnson N, Barion A, Rademaker A, Rehkemper G, Weintraub S (2004) The activities of daily living questionnaire: a validation study in patients with dementia. Alzheimer Dis Assoc Disord 18(4):223–230

Kehusmaa S, Autti-Rämö I, Helenius H, Rissanen P (2013) Does informal care reduce public care expenditure on elderly care? Estimates based on Finland's age study. BMC Health Serv Res 13:317. https://doi.org/10.1186/1472-6963-13-317

Kemmis S, McTaggart R (2000) Participatory action research: communicative action and the public sphere. In: Denzin NK, Lincoln YS (eds) The sage handbook of qualitative research. Sage, Thousand Oaks, pp 559–603

King D, Pickard L (2013) When is a carer's employment at risk? Longitudinal analysis of unpaid care and employment in midlife in England. Health Soc Care Community 21(3):303–314. https://doi.org/10.1111/hsc.12018

Kinsella K, He W (2009) An aging world: 2008. International Population Reports, P95/09–1. U.S. Census Bureau, Washington, DC

Kramer BJ, Thompson EH (2004) Men as caregivers. Prometheus Books

Landers S, Madigan E, Leff B, Rosati RJ, McCann BA, Hornbake R, MacMillan R, Jones K, Bowles K, Dowding D, Lee T, Moorhead T, Rodriguez S, Breese E (2016) The future of home health care: a strategic framework for optimizing value. Home Health Care Manag Pract 28(4):262–278. https://doi.org/10.1177/1084822316666368

Lang A (2010) There's no place like home: research, practice and policy perspectives regarding safety in homecare. Int J Qual Health Care 22(1):75–77. https://doi.org/10.1093/intqhc/mzq007

Llanque S, Savage L, Rosenburg N, Caserta M (2016) Concept analysis: Alzheimer's caregiver stress. Nurs Forum 51(1):21–31. https://doi.org/10.1111/nuf.12090

Loewenson R, Laurell AC, Hogstedt C, D'Ambruoso L, Shroff Z (2014) Participatory action research in health systems: a methods reader. TARSC, AHPSR, WHO, IDRC Canada, Equinet, Harare. http://equinetafrica.org/sites/default/files/uploads/documents/PAR_Methods_Reader2014_for_web.pdf. Accessed 5 Apr 2018

MacFarlane A, Singleton C, Green E (2009) Language barriers in health and social care consultations in the community: a comparative study of responses in Ireland and England. Health Policy 92(2–3):203–210. https://doi.org/10.1016/j.healthpol.2009.03.014

Meyer J (2000) Qualitative research in healthcare. Using qualitative methods in health related action research. BMJ 320(7228):178–181. https://doi.org/10.1136/bmj.320.7228.178

Meyer J (2001) Action research. In: Fulop N et al (eds) Studying the organization and delivery of health services: research methods. Routledge, London, pp 172–187

Miravitlles M, Peña-Longobardo LM, Oliva-Moreno J, Hidalgo-Vega Á (2015) Caregivers' burden in patients with COPD. Int J Chron Obstruct Pulmon Dis 10:347–356. https://doi.org/10.2147/COPD.S76091

Moroni L, Sguazzin C, Filipponi L, Bruletti G, Callegari S, Galante E, Giorgi I, Majani G, Bertolotti G (2007) Caregiver need assessment: a questionnaire for caregiver demand. G Ital Med Lav Ergon 30(3 Suppl B):B84–B90

Navanandan N, Schmidt SK, Cabrera N, DiStefano MC, Mistry RD (2017) The caregiver perspective on unscheduled 72-hour return visits to pediatric acute care sites: a focus on discharge processes. Acad Pediatr 17(7):755–761. https://doi.org/10.1016/j.acap.2017.02.003

Novak M, Guest C (1989) Application of a multidimensional caregiver burden inventory. The Gerontologist 29(6):798–803. https://doi.org/10.1093/geront/29.6.798

O'Sullivan G, Hocking C, Spence D (2014) Action research: changing history for people living with dementia in New Zealand. Action Res 12(1):19–35. https://doi.org/10.1177/1476750313509417

OECD (2017) Health at a glance 2017: OECD indicators. OECD Publishing, Paris

Onwuegbuzie AJ, Johnson RB (2004) Validity issues in mixed methods research. American Educational Research Association, annual meeting San Diego, CA

Ottmann G, Laragy C, Allen J, Feldman P (2011) Coproduction in practice: participatory action research to develop a model of community aged care. Syst Pract Action Res 24:413. https://doi.org/10.1007/s11213-011-9192-x

Péraire, C, Sedano T (2014) Essence Reflection Meetings: Field Study. EASE '14 Proceedings of the 18th International Conference on Evaluation and Assessment in Software Engineering, Article no. 25. https://doi.org/10.1145/2601248.2601296

Perrott BE (2013) Including customers in health service design. Health Mark Q 30(2):114–127. https://doi.org/10.1080/07359683.2013.787882

Pickard L (2011) The supply of informal care in Europe. ENEPRI Research Report no 94. http://aei.pitt.edu/id/eprint/32514. Accessed 8 Oct 2018

Ranieri V, Madigan K, Roche E, McGuinness D, Bainbridge E, Feeney L (2017) Caregiver burden and distress following the patient's discharge from psychiatric hospital. BJPsych Bull 41(2):87–91. https://doi.org/10.1192/pb.bp.115.053074

Reason P, Bradbury H (2001) Handbook of action research: participative inquiry and practice. Sage Publications, London

Rodrigues R, Schulmann K, Schmidt A, Kalavrezou N, Matsaganis M (2013) The indirect costs of long-term care. Research note 8/2013, European Commission. http://ec.europa.eu/social/BlobServlet?docId=11780&langId=en. Accessed 7 Oct 2018

Roter DL, Narayanan S, Smith K, Bullman R, Rausch P, Wolff JL, Alexander GC (2018) Family caregivers' facilitation of daily adult prescription medication use. Patient Educ Couns 101(908–916). https://doi.org/10.1016/j.pec.2017.12.018

Schmeer K (1999) Guidelines for conducting a stakeholder analysis. Partnerships for Health Reform, Abt Associates Inc., Bethesda

Sexson K, Lindauer A, Harvath TA (2017) Discharge planning and teaching. Am J Nurs 117(5):S22–S24. https://doi.org/10.1097/01.NAJ.0000516390.43257.c8

Söderhamn U, Kjøstvedt HT, Slettebø Å (2015) Evaluation of ethical reflections in community healthcare: a mixed-methods study. Nurs Ethics 22(2):194–204. https://doi.org/10.1177/0969733014524762

Sonğur C, Özer Ö, Gün Ç, Top M (2018) Patient safety culture, evidence-based practice and performance in nursing. Syst Pract Action Res 31:359. https://doi.org/10.1007/s11213-017-9430-y

Top M, Tekingündüz S (2015) Patient safety culture in a Turkish public hospital: a study of nurses' perceptions about patient safety. Syst Pract Action Res 28:87. https://doi.org/10.1007/s11213-014-9320-5

Torlak NG, Müceldili B (2014) Soft systems methodology in action: the example of a private hospital. Syst Pract Action Res 27(4):325–361. https://doi.org/10.1007/s11213-013-9290-z

Van Exel J, De Graaf G, Brouwer W (2007) Care for a break? An investigation of informal caregivers' attitudes toward respite care using Q-methodology. Health Policy 83(2):332–342. https://doi.org/10.1016/j.healthpol.2007.02.002

Van Exel J, De Graaf G, Brouwer W (2008) Give me a break!: informal caregiver attitudes towards respite care. Health Policy 88(1):73–87. https://doi.org/10.1016/j.healthpol.2008.03.001

Varney J, Weiland TJ, Jelinek G (2014) Efficacy of hospital in the home services providing care for patients admitted from emergency departments: an integrative review. Int J Evid Based Healthc 12(2):128–141. https://doi.org/10.1097/XEB.0000000000000011

Watanabe A, Fukuda M, Suzuki M, Kawaguchi T, Habata T, Akutsu T, Kanda T (2015) Factors decreasing caregiver burden to allow patients with cerebrovascular disease to continue in long-term home care. J Stroke Cerebrovasc Dis 24(2):424–430. https://doi.org/10.1016/j.jstrokecerebrovasdis.2014.09.013

Zarit SH, Todd PA, Zarit JM (1986) Subjective burden of husbands and wives as caregivers: a longitudinal study. Gerontologist 26(3):260–266. https://doi.org/10.1093/geront/26.3.260
Ethics declarations
Conflict of Interest
The authors declare that they have no conflict of interest.
Additional information
Publisher's Note
Springer Nature remains neutral with regard to jurisdictional claims in published maps and institutional affiliations.
About this article
Cite this article
Reale, F., Segato, F., Tartaglini, D. et al. Action Research as a Method to Find Solutions for the Burden of Caregiving at Hospital Discharge. Syst Pract Action Res 33, 167–185 (2020). https://doi.org/10.1007/s11213-019-09486-9
Keywords
Family caregiver

Caregiver burden

Action research

Discharge process

Hospital management