Abstract
This paper provides an example of reconstruction of Public-Private Partnership (PPP) as governance structure at the ministrial level, using a perspective of transaction costs (Ho et al., J Manag Eng, Ho et al. 2015). This reconstruction is required since the performance of PPP scheme and interest of private sector to participate in the infrastructure provision is still practically low. Soft Systems Methodology-based Action Research (Checkland and Scholes 1990; Checkland and Poulter 2006; Hardjosoekarto, Syst Pract Action Res 25:493–509, 2012, Human Resource Manag Res. 3 49-53, 2013; Hardjosoekarto et al. 2013) is used to explore the form of PPP governance in organizational level as a part of hierarchy of policy formulation (Bromley 1989). According to previous study conducted by Ho, Levitt, Hsu, and Tsui, three main sources of transaction costs are identified: principal-principal conflict, renegotiation and hold-up problem, and soft budget constraint. This paper, however, only focuses on renegotiation and hold-up problem as the main sources of transaction costs. It is suggested that in the implementation of PPP, the Ministry of Public Works and Housing required a PPP Unit that serves as champion on the top by establishing new Directorate General that specially handling infrastructure investment.
This is a preview of subscription content, log in to check access.
Access options
Buy single article
Instant access to the full article PDF.
US$ 39.95
Price includes VAT for USA
Subscribe to journal
Immediate online access to all issues from 2019. Subscription will auto renew annually.
US$ 99
This is the net price. Taxes to be calculated in checkout.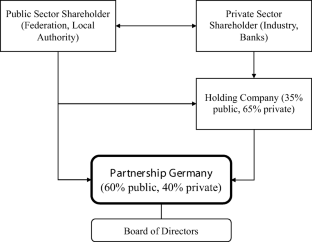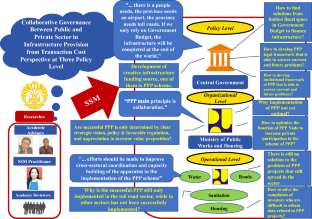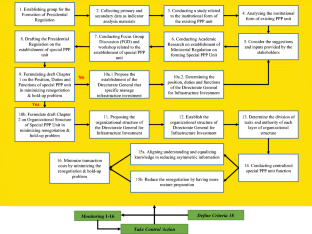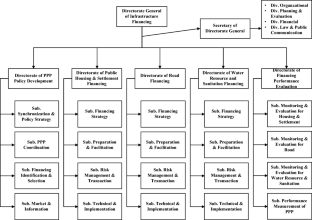 References
Akintoye A, Beck M, Kumaraswamy M (2015) Public-private partnership: a global review. Routledge, London

Asian Development Bank (2007) Public-private partnership handbook. ADB Business Centre

Barton J, Stephens J, Haslett T (2009) Action research: its foundations in open systems thinking and relationship to the scientific method. Syst Pract Action Res

Bromley DW (1989) Economic interests and institutions: the conceptual foundations of public policy. Blackwell, Oxford

Checkland P (1999) Systems thinking, systems practice. In: Jon Wiley & sons ltd. Baffins Lane, Chichester

Checkland P, Poulter J (2006) Learning for action: a short definitive account for soft system methodology and its use for practitioners, teachers and students. John Wiley & Sons Ltd, England

Checkland P, Poulter J (2010) Soft systems methodology. In: Reynold M, Holwell S (eds) System approaches to managing change: a practical guide. Springer, London

Checkland P, Scholes J (1990) Soft systems methodology in action. John Wiley & Sons Ltd, England

Economist Intelligence Unit, Asian Development Bank (2015) Evaluating the environment for public-private partnership in Asia-Pacific: the 2014 infrascope. Asia-Pacific Infrascope

Hardjosoekarto S (2012) Construction of social development index as a theorical research practice in action research by using soft systems methodology. Syst Pract Action Res 25:493–509. https://doi.org/10.1007/s11213-012-9237-9

Hardjosoekarto, S (2013) Dual imperatives of action research: lessons for theoretical research practice to construct social development index by using soft systems methodology. Human Resource Manag Res Sci Academic Pub 3:49–53. https://doi.org/10.5923/j.hrmr.20130301.10

Hardjosoekarto S, Yovani N, Santiar L (2013) Institutional strengthening for the role of mass media in disaster risk reduction in Japan and Indonesia: an application of SSM-based action research. Syst Pract Action Res. 27:227–246 https://doi.org/10.1007/s11213-013-9282-z

Ho SP, Levitt RE, Tsui CW, Hsu Y (2015) Opportunism-focused transaction cost analysis of public-private partnerships. J Manag Engin. https://doi.org/10.1061/(ASCE)ME.1943-5479.0000361

Kim KS, Jung MW, Park MS, Koh YE, Kim JO (2018) Public private Partnership Systems in the Republic of Korea, the Phillipines, and Indonesia. ADB Economics Working Paper Series

National Planning Agency (2014) Rencana pembangunan jangka menengah nasional (RPJMN) 2015–2019 [National medium-term development plan 2015–2019]. National Development Agency

OECD (2008) Dedicated public-private partnership units: a survey of institutional and governance structures. OECD Publishing, Paris

Sankaran S, Tay BH, Orr M (2009) Managing organizational change by using soft systems thinking in action research projects. Intl J of Managing Projs in Bus 2(2):179–197

Uchiyama K (2009) A concise theoritical grounding of action research: based on Checkland's soft systems methodology and Kimura's phenomenological psiciatry. Institute of Business of Daito Bunka University, Japan

Williamson OE (1979) Transaction cost economics: the governance of contractual relations. J Law Econ

Williamson OE (1999) Public and private bureaucracies: a transaction cost economics perspective. J Law, Econ Org 15(1):306–342

Yescombe ER (2007) Public-private partnership: principles of policy and finance. Butterworth-Heinemann
Additional information
Publisher's Note
Springer Nature remains neutral with regard to jurisdictional claims in published maps and institutional affiliations.
About this article
Cite this article
Permatasari, Y.I., Hardjosoekarto, S. & Salomo, R.V. Institutional Transformation of Public Private Partnership to Ensure Low Transaction Costs: Case Study of Infrastructure Provision at the Ministry of Public Works and Housing of the Republic of Indonesia. Syst Pract Action Res 33, 149–165 (2020). https://doi.org/10.1007/s11213-019-09485-w
Keywords
Public-private partnership

Governance structure

Transaction cost analysis

Institutional transformation