Abstract
This paper examines the concept of authentic innovation and the development of the animation industry in Malaysia. Authenticity is a concept that has been investigated from philosophical and institutional perspectives in the quest to explain the role of self-fulfillment and decision-making. It links with systems thinking because authenticity as a strategy requires a holistic approach since it is based upon values that influence action. The desire for authenticity can create expression outside the norms and produce innovation. We present interpretations of authenticity, explain the concept of authentic innovation and relate this to three case studies of Malaysian animation studios. We found that cultural authenticity contributed to the uniqueness of the product and was a significant factor in the success of the animations in South East Asia. Challenges for maintaining authentic innovation arise primarily from economic pressure.
Access options
Buy single article
Instant access to the full article PDF.
USD 39.95
Price excludes VAT (USA)
Tax calculation will be finalised during checkout.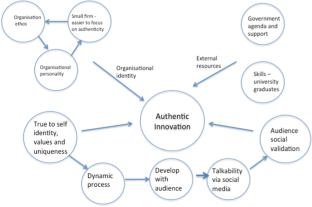 References
Aoyama Y, Izushi H (2003) Hardware gimmick or cultural innovation? Technological, cultural, and social foundations of the Japanese video game industry. Res Policy 32(3):423–444

Asian animation industry 2015: Strategies trends & opportunities. (2015). Research and Markets. http://www.researchandmarkets.com/reports/3073228/asian-animation-industry-2015-strategiestrends#pos-1. Accessed 1/10/2015

Beverland MB (2005) Crafting brand authenticity: the case of luxury wine. J Manag Stud 42(5):1003–1029

Beverland M (2009) Building brand authenticity: 7 habits of iconic brands. Palgrave Macmillan, Basingstoke

Bhargava R (2008) Personality not included: why companies lose their authenticity and how great brands get it back. McGraw Hill, New York

Chen J, Yin X, Mei L (2018) Holistic innovation: an emerging innovation paradigm. Int J Innov Stud 2(1):1–13

Choi H, Ko E, Kim EY, Mattila P (2015) The role of fashion brand authenticity in product management: a holistic marketing approach. J Prod Innov Manag 32(2):233–242

Cobb R (2014) Introduction: the artifice of authenticity in the age of digital reproduction. In: Cobb R (ed) The paradox of authenticity in a globalized world. Palgrave Macmillan, New York

Cole A, Barberá-Tomás D (2014) Negotiating conventions and creating community: the case of cartoon and European animation. J Econ Geogr 14:973–993

Cornet C (2015) Tourism development and resistance in China. Ann Tour Res 52(C):29–43

Cunha MPE, Rego A, Oliveira P, Rosado P, Habib N (2014) Product innovation in resource-poor environments: three research streams. J Prod Innov Manag 31(2):202–210

Daliot-Bul M (2014) Reframing and reconsidering the cultural innovations of the anime boom on US television. Int J Cult Stud 17(1):75–91

Franzese AT (2009) Authenticity: perspectives and experiences. In: Vannini P, Williams PJ (eds) Authenticity in culture, self and society. Ashgate, Farnham

Frater P (2014). Oriental DreamWorks unveils Chinese live-action slate. Variety US Edition. Retrieved 18/03/2015, 2015, from http://variety.com/2014/film/news/oriental-dreamworks-unveils-chinese-live- action-slate-1201221052/#

Gardner WL, Cogliser CC, Davis KM, Dickens MP (2011) Authentic leadership: a review of the literature and research agenda. Leadersh Q 22(6):1120–1145

Global and Chinese animation industry report 2012-2015. (2012). Research and Markets. http://www.researchinchina.com/htmls/report/2013/6641.html

Goldman BM, Kernis MH (2002) The role of authenticity in healthy psychological functioning and subjective well-being. Ann Am Psychother Assoc 5(6):18–20

Golomb JJ (1995) In search of authenticity : Existentialism from Kierkegaard to Camus. Routledge, Florence

Heppner WL, Kernis MH, Nezlek JB, Foster J, Lakey CE, Goldman BM (2008) Within-person relationships among daily self-esteem, need satisfaction, and authenticity. Psychol Sci 19(11):1140–1145

Holden D, Schrock D (2009) Performing authentic selfhood in an intentional community. In: Vannini P, Williams PJ (eds) Authenticity in culture, self and society. Ashgate, Farnham

Jackson MC (2006) Creative holism: a critical systems approach to complex problem situations. Syst Res Behav Sci 23(5):647–657

Johansson-Sköldberg U, Woodilla J, Çetinkaya M (2013) Design thinking: past, present and possible futures. Creat Innov Manag 22(2):121–146

Kapferer JN (2012) The new strategic brand management: advanced insights and strategic thinking, 5th edn. Kogan Page Publishers, London

Keane M (2009) Between the tangible and the intangible: China's new development dilemma. Chin J Comput Phys 2(1):77–91

Kolar T, Zabkar V (2010) A consumer-based model of authenticity; an oxymoron or the foundation of cultural heritage marketing? Tour Manag 31(5):652–664

Krippendorf K (2004) Content analysis: an introduction to its methodology, 2nd edn. Sage, Thousand Oaks

Krippendorff K (2006) The semantic turn: a new Foundation for Design. Taylor and Francis, Boca Raton

Lai KKY, Zaichkowsky JL (1999) Brand imitation: do the Chinese have different views? Asia Pac J Manag 16(2):179–192

Luthans F, Norman SM, Avolio BJ, Avey JB (2008) The mediating role of psychological capital in the supportive organizational climate - employee performance relationship. J Organ Behav 29(2):219–238

Malaysia population 2014. (2014). Retrieved 20 March 2015, 2015, from http://worldpopulationreview.com/countries/malaysia-population/. Accessed 2014

Maslow AH (1968) Toward a psychology of being, 2nd edn. Van Nostrand, Princeton

Ménard J, Brunet L (2011) Authenticity and well-being in the workplace: a mediation model. J Manag Psychol 26(4):331–346

Milne BT (2017) Elements of a holistic theory to meet the sustainability challenge. Syst Res Behav Sci 34(5):553–563

Moeran B (2005) Tricks of the trade: the performance and interpretation of authenticity. J Manag Stud 42(5):901–922

Mulej M (2007) Systems theory: a worldview and/or a methodology aimed at requisite holism/realism of humans' thinking, decisions and action. Systems research and behavioral science: the official journal of the international federation for. Syst Res 24(3):347–357

Napoli J, Dickinson SJ, Beverland MB, Farrelly F (2014) Measuring consumer-based brand authenticity. J Bus Res 67(6):1090–1098

Peterson RA (2005) In search of authenticity. J Manag Stud 42(5):1083–1098

Peterson RA, Anand N (2004) The production of culture perspective. Annu Rev Sociol 30:311–345

Silverman D (2000) Doing qualitative research: a practical handbook. Sage, Thousand Oaks

Standing C, Sims I, Love PED (2009) IT non-conformity in the institutional environments: E-marketplace adoption in the government sector. Inf Manag 46(2):138–149

Standing C, Standing S, Law F (2013) The role of the Lifeworld concept in wiki adoption and use. Des J 16(4):486–508

Steiner CJ (1995) A philosophy for innovation: the role of unconventional individuals in innovation success. J Prod Innov Manag 12(5):431–440. https://doi.org/10.1111/1540-5885.1250431

Svejenova S (2005) 'The path with the heart': creating the authentic career. J Manag Stud 42(5):948–974

Theodossopoulos D (2013) Laying claim to authenticity: five anthropological dilemmas. Anthropol Q 86(2):337–360. https://doi.org/10.1353/anq.2013.0032

Tucker MJ, Friar JH, Simpson TW (2012) New product development practices and early-stage firms: two in-depth case studies. J Prod Innov Manag 29(4):639–654

Urquhart C (2012) Grounded theory for qualitative research: a practical guide. Sage, Thousand Oaks

Urquhart C, Lehmann H, Myers MD (2010) Putting the 'theory'back into grounded theory: guidelines for grounded theory studies in information systems. Inf Syst J 20(4):357–381

Van de Ven AH (1986) Central problems in the Management of Innovation. Manag Sci 32(5):590–607

Verganti R (2009) Design-driven innovation. Harvard Business School Press, Boston

Yin RK (2009) Case study research : design and methods, 4th edn. Sage, Thousand Oaks

Yoon H, Maleck EJ (2009) Cartoon planet: worlds of production and global production networks in the animation industry. Ind Corp Chang 19(1):239–271. https://doi.org/10.1093/icc/dtp040
Additional information
Publisher's Note
Springer Nature remains neutral with regard to jurisdictional claims in published maps and institutional affiliations.
About this article
Cite this article
Standing, S., Standing, C. Innovating Authentically: Cultural Differentiation in the Animation Sector. Syst Pract Action Res 32, 557–571 (2019). https://doi.org/10.1007/s11213-018-9473-8
Published:

Issue Date:

DOI: https://doi.org/10.1007/s11213-018-9473-8
Keywords
Authenticity

Culture

Developing countries

Creativity

Social media

Communication