Abstract
Upgrading local food value chains is a promising approach to invigorating African food systems. This endeavour warrants multi-disciplinary North-South collaboration and partnerships through participatory action research (PAR) to help leverage appropriate upgrading strategies (UPSs) with a focus on local stakeholders. The more disciplines, cultures, and partner institutions that are involved, the more a project will present challenges in terms of communication and coordinating activities. Our aim was to determine the costs and investigate whether PAR with a multi-disciplinary approach was feasible in rural Tanzania with over 600 local stakeholders and more than 100 scientists. This article presents a self-evaluation of the collaboration and communication of project scientists during their research activities. Despite the overall high satisfaction, the more complex and complicated PAR activities required more cooperation, instructions and communication among the project scientists than had been anticipated in this multi-disciplinary, multi-cultural, and multi–institutional context, resulting in greater tension and dissatisfaction. The findings indicate that this type of large multi-disciplinary PAR is challenging in terms of flexibility in the planning of research activities, the administration of finances, and cross-cultural communication. Potential avenues to overcome these obstacles include a) more communication on PAR activities across cultures to develop a shared vocabulary; b) developing other modes of shared responsibility for a more horizontal collaboration; and c) more face-to-face cross-cultural activities to overcome cultural, disciplinary and geographical distance.
Access options
Buy single article
Instant access to the full article PDF.
USD 39.95
Price includes VAT (USA)
Tax calculation will be finalised during checkout.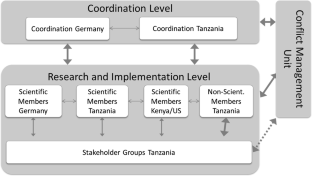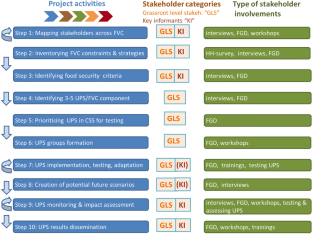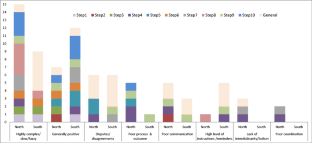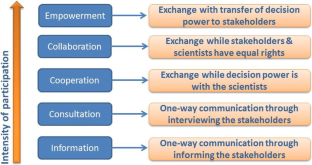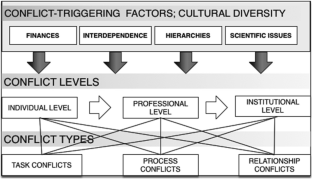 Notes
1.

The term stakeholder, as it is used in our context, refers to a) individuals who are directly affected by decisions and actions such as local farmers and b) key informants from groups and organizations that have power to influence the outcomes of these decisions, for instance, NGOs or local, regional, and national governments (Freeman 1984; Fig. 1).
References
Arnstein SR (1969) A ladder of citizen participation. J Am Inst Plann 35(4):216–224

Bradbury-Huang H (2010) What is good action research? Why the resurgent interest? Action Res 8(1):93–109

Brydon-Miller M, Greenwood D, Maguire P (2003) Why action research? Action Res 1(1):9–28

Čagran B, Grmek MI (2013) Critical self-evaluation: an attribute of systemic behavior: authors of natural science learning materials as evaluators. Syst Pract Action Res 26:537

Carlsson B, Jacobsson S, Holmen M, Rickne A (2002) Innovation systems: analytical and methodological issues. Res Policy 31:233–245

CGIAR (2012). CGIAR Research Program on Climate Change, Agriculture and Food Security (CCAFS). http://ccafs.cgiar.org/commission/reports#final

Chambers R (1994) Participatory rural appraisal (PRA): analysis of experience. World Dev 22:1253–1268

Cooke B, Kothari U (2001) Participation: the new tyranny? Zed Books, New York, 207 pages

Dant, T (2004) Critical social theory: culture, society and critique. SAGE Publications Limited

Farrell K, Luzzati T, van den Hove S (2013) What lies beyond reductionism? Taking stock of interdisciplinary research in ecological economics. In: Farrell K, Luzzati T, van den Hove (ed) Beyond reductionism: a passion for interdisciplinarity, pp. 36–75. Routledge

Freeman ER (1984) Strategic management: a stakeholder approach. Pitman, Boston

Graef F, Sieber S, Mutabazi KD et al (2014) Framework for participatory food security research in rural food value chains. Glob Food Secur-agr 3:8–15

Graef F, Uckert G, Schindler J et al (2017) Expert-based ex-ante assessments of potential social, ecological, and economic impacts of upgrading strategies for improving food security in rural Tanzania using the ScalA-FS approach. Food Secur. https://doi.org/10.1007/s12571-016-0639-x

Greer LL, Caruso HM, Jehn KA (2011) The bigger they are, the harder they fall: linking team power, team conflict, and performance. Organ Behav Hum Decis Process:116–128

Grimble R, Chan M-K (1995) Stakeholder analysis for natural resource management in developing countries. Nat Res Forum 19:113–124

Gustavsen B (2006) Learning organization and the process of regionalisation. Action Res 2(3):319–342

Gustavsen B, Hansson A, Qvale TU (2007) Action research and the challenge of scope. In: Reason P, Bradbury H (eds) Handbook of action research, 2nd edn. SAGE, London, pp 63–76

Hardy LJ, Hulen E, Shaw K, Mundell L, Evans C (2017) Ripple effect: an evaluation tool for increasing connectedness through community health partnerships. Action Res. https://doi.org/10.1177/1476750316688512

Harpe SE (2015) How to analyze Likert and other rating scale data. Curr Pharm Teach Learn 7(6):836–850

Hofstede G (1983) Cultural dimensions for project management. Int J Proj Manag 1(1):41–48

Hofstede (2018) In: Hofstede Insights [Internet]. Country comparison Germany, Tansania. https://www.hofstede-insights.com/product/compare-countries/ Cited 22nd March 2018

Kaburire L, Graef F, Mutabazi K, Makoko B, Swai E (2015) Multistakeholder platforms for sustainable upgrading agri-food value chains in rural Tanzania: creating a space for empowerment and effective engagement. Plant2030 status seminar, Berlin 4th–6th March 2015

Kaushal R, Kwantes CT (2006) The role of culture and personality in choice of conflict management strategy. Int J Intercult Rel 30(5):579–603

König B, Diehl K, Tscherning K, Helming K (2013) A framework for structuring interdisciplinary research management. Res Policy 42(1):261–272

Löhr K, Hochmuth C, Sieber S, Graef F, Wambura J (2016) Conflict management programs in transdisciplinary research projects: the case of a food security project in Tanzania. Food Secur 8(6):1053–1068

Mwinuka L, Schneider I, Maeda C et al (2015) Comparing stakeholder views for mutual acceptable food value chain upgrading strategies in Tanzania. Afr J Agric Res 10(12):1376–1385

Myers MD (1997) Qualitative research in information systems. MISQ Discovery, May. Retrieved from http://www.qual.auckland.ac.nz

Nygren A (1999) Local knowledge in the environment--development discourse from dichotomies to situated knowledges. Crit Anthropol 19(3):267–288

Ochieng EG, Price ADF (2010) Managing cross-cultural communication in multicultural construction project teams: the case of Kenya and UK. Int J Proj Manag 28(5):449–460

Pelletier DL, Kraak V, McCullum C, Uusitalo U, Rich R (1999) Community food security: salience and participation at community level. Agric HumValues 16:401

Popescu A-D, Borca C, Fistis G, Draghici A (2014) Cultural diversity and differences in cross-cultural project teams. Procedia Technol 16:525–531

Prowse M (2010) Integrating reflexivity into livelihoods research. Prog Dev Stud 10(3):211–231

Riisgaard L, Bolwig S, Matose F, Ponte S, du Toit A, Halberg N (2008) A strategic framework and toolbox for action research with small producers in value chains. DIIS, Copenhagen

Rodrigues JS, Costa AR, Gestoso CG (2014) Project planning and control: does national culture influence project success?. Paper presented at the Procedia Technology

Sarala RM (2010) The impact of cultural differences and acculturation factors on post-acquisition conflict. Scand J Manag 26(1):38–56. https://doi.org/10.1016/j.scaman.2009.07.001

Schindler J, Graef F, König HJ, Mchau D (2017) Developing community-based food security criteria in rural Tanzania. Food Secur 9(6):1285–1298

Schmid JC, Knierim A, Knuth U (2016) Policy-induced innovations networks on climate change adaptation – an ex-post analysis of collaboration success and its influencing factors. Environ Sci Pol 56:67–79

Shore B, Cross BJ (2005) Exploring the role of national culture in the management of international science projects. Int J Proj Manag 23:55–64

Stahl GK, Mäkelä K, Zander L, Maznevski ML (2010) A look at the bright side of multicultural team diversity. Scand J Manag 26:439–447

Stauffacher M, Flüeler T, Krütli P et al (2008) Analytic and dynamic approach to collaboration: a transdisciplinary case study on sustainable landscape development in a Swiss Prealpine region. Syst Pract Action Res 21(6):409–422

Waddell S (2018) NetworkingAction – Organising for the 21st century. https://networkingaction.net/2014/10/from-change-initiatives-to-change-systems/

Waddell S, Waddock S, Cornell S, Dentoni D, McLachlan M, Meszoely G (2015) Large systems change: an emerging field of transformation and transitions. J Corp Citizenship 58:5–30

Zander L, Butler CL (2010) Leadership modes: success strategies for multicultural teams. Scand J Manag 26(3):258–267

Zscheischler J, Rogga S, Weith T (2014) Experiences with transdisciplinary research. Syst Res Behav Sci 31(6):751–756
Acknowledgements
This publication is a product of the project Trans-SEC (www.trans-sec.org). The Trans-SEC project was funded by The German Federal Ministry of Education and Research (BMBF) and co-financed by the German Federal Ministry for Economic Cooperation and Development (BMZ). The views that are expressed are solely those of the authors and may not under any circumstances be regarded as representing an official position of the BMBF or BMZ. Thanks to the reviewers for their helpful suggestions.
About this article
Cite this article
Graef, F., Mutabazi, K.D., Sieber, S. et al. Multi-Disciplinary North-South Collaboration in Participatory Action Research on Food Value Chains: a German-Tanzanian Case Study on Perceptions, Experiences and Challenges. Syst Pract Action Res 32, 359–378 (2019). https://doi.org/10.1007/s11213-018-9458-7
Keywords
Participatory research

Food security

Food value chains

Communication

Tanzania

Multi-cultural context