Abstract
By applying systems thinking theory to capabilities literature, this paper examines the factors that support the development of dynamic capabilities towards sustainable management. For such, we conducted an in-depth single case study using Soft System Methodology (SSM) in an energy organisation from an emerging economy. Our analysis of the last twenty years of operation revealed that the organisation has developed new ways to change and adapt in a disturbing environment by integrating sustainability into three factors: (1) integrative strategy (green products, biodiversity, organic processes and self-sufficient electricity), (2) sustainable culture (sustainable mindset, environmental awareness, learning orientation and decision-making processes) and (3) organisational routines for innovation (new green processes and products, partnerships/alliances and knowledge management). Our results extend the literature by raising a conceptual framework of the fundamental dimensions of dynamic capabilities for sustainability. This is the first study that connects systems thinking and dynamic capabilities theories applied to sustainable management.
This is a preview of subscription content, log in to check access.
Access options
Buy single article
Instant access to the full article PDF.
US$ 39.95
Price includes VAT for USA
Subscribe to journal
Immediate online access to all issues from 2019. Subscription will auto renew annually.
US$ 99
This is the net price. Taxes to be calculated in checkout.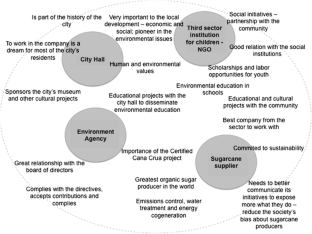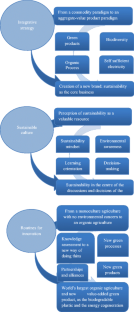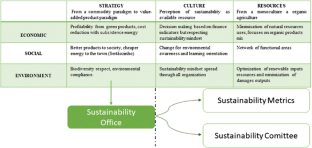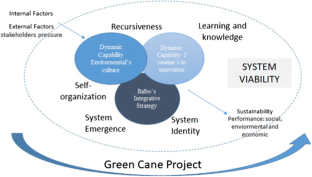 Notes
1.

EMBRAPA: Brazilian Agricultural Research Corporation, connected to the Ministry of Agriculture.
References
Ashby WR (1958) Requisite variety and its implications for the control of complex systems. Cybern 1(2):83–99

Ashby, W. R. (2013). Design for a brain: the origin of adaptive behaviour. Springer Science & Business Media

Barney JB (1991) Firm resources and sustained competitive advantage. J Manag 17:203–228

Barreto I (2009) Dynamic capabilities: a review of past research and an agenda for the future. J Manag 36(1):256–280

Bar-Yam Y (2004) Multiscale variety in complex systems. Complexity 9(4):37–45

Batista, L., Ng, I., & Maull, R. (2013). The homeostasis paradox of new business models. In: The Naples 2013 Forum on Service

Beer, S. (1981). Brain of the firm. 2nd Edition, Chichester: Wiley

Beer S (1984) The viable system model: its provenance, development, methodology and pathology. J Oper Res Soc 35(1):7–25

Beer, S. (1989). The viable system model. Viable Systems Model. Chichester: Wiley

Belico LR, Silveira S (2000) Electric energy for sustainable development. EDUSP, São Paulo

Bergvall-Kåreborn B, Mirijamdotter A, Basden A (2004) Basic principles of SSM modeling: an examination of CATWOE from a soft perspective. Syst Pract Action Res 17(2):55–73

Beske P (2012) Dynamic capabilities and sustainable supply chain management. Int Jnl Phys Dist Log Manage 42:372–387

Birol F (2010) World energy outlook 2010. Int Energy Agency 1(3)

Boscoianu M, Prelipcean G, Lupan M (2018) Innovation enterprise as a vehicle for sustainable development–a general framework for the design of typical strategies based on enterprise systems engineering, dynamic capabilities, and option thinking. J Clean Prod 172:3498–3507

Brundtland GH (1987) Our common future. The world commission on environment and development. Oxford University Press, New York

Burnes B (1996) Managing Change: a strategic approach to Organisational dynamics. Pitman Publishing, London

Caldana, A.C.F, Alves, M.F.R., Cezarino, L.O., & Liboni, L.B. (2015). Sustainability as a dynamic capability. In: 31th EGOS (European Group of Organization Studies) Colloquium, 2015, Athens

Cezarino LO, Liboni LB, Oliveira MF, Caldana AC (2015) Soft systems methodology and Interdisciplinarity in management education. Syst Res Behav Sci 33(2):278–288

Chakrabarty S, Wang L (2012) The long-term sustenance of sustainability practices in MNCs: a dynamic capabilities perspective of the role of R&D and internationalization. J Bus Ethics 110:205–217

Checkland P (1981) Systems thinking, systems practice. Wiley, Hoboken

Checkland P, Scholes J (1999) Soft systems methodology: a 30-year retrospective. Wiley, Chichester

Dyllick T, Hockerts K (2002) Beyond the business case for corporate sustainability. Bus Strateg Environ 11(2): 130–141

Ehnert, I. (2009). Sustainable human resources management: A conceptual and exploratory analysis from a paradox perspective. Springer

Eisenhardt KM, Graebner ME (2007) Theory building from cases: opportunities and challenges. Acad Manag J 50(1):25–32

Eisenhardt KM, Martin JA (2000) Dynamic capabilities: what are they? Strateg Manag J 21(10–11):1105–1121

Elkington J (1997) Cannibals with forks: the triple bottom line of 21st century business. Capstone, Oxford

Esty D, Winston A (2009) Green to gold: how smart companies use environmental strategy to innovate, create value, and build competitive advantage. John Wiley & Sons

Etzion D (2007) Research on organizations and the natural environment, 1992 – present: a review. J Manag 33(4):637–664

Fiksel J (2006) Sustainability and resilience: toward a systems approach. Sustain Sci Pract Policy 2(2)

François C (ed) (2004) International encyclopedia of systems and cybernetics. Walter de Gruyter, Berlin

Gabler, C.B., Richey, R.G., & Rapp, A. (2015). Developing an eco-capability through environmental orientation and organizational innovativeness, 1–11

Gebauer H (2011) Exploring the contribution of management innovation to the evolution of dynamic capabilities. Ind Mark Manag 40:1238–1250

Georgiou I (2012) Messing about in transformations: structured systemic planning for systemic solutions to systemic problems. Eur J Oper Res 223(2):392–406

Global Organization Learning and Development Network. (2011). GOLDEN - research handbook. Version 07th december, 2011

Hamin E, Gurran N (2009) Urban form and climate change: balancing adaptation and mitigation in the US and Australia. Habitat Int 33(3):238–245

Harries-Jones P (1995) A recursive vision: Ecological understanding and Gregory Bateson. University of Toronto Press

Hart SL (1995) A natural-resource-based view of the firm. Acad Manag Rev 20:986–101

Helfat CE (2007) Dynamic capabilities: understanding strategic change in organizations. Blackwell, Malden

Hofmann K H, Theyel G, Wood CH (2012) Identifying firm capabilities as drivers of environmental management and sustainability practices–evidence from small and medium‐sized manufacturers. Bus Strateg Environ 21(8): 530–545

Holman, P. (2010). Engaging emergence: turning upheaval into opportunity. Berrett-Koehler Publisher

Liboni-Amui LBL, Jabbour CJC, de Sousa Jabbour ABL, Kannan D (2017) Sustainability as a dynamic organizational capability: a systematic review and a future agenda toward a sustainable transition. J Clean Prod 142:308–322

Lindahl R (2006) The role of organizational climate and culture in the school improvement process: a review of the knowledge base. Educ Leadersh Rev 7(1):19–29

Lubin DA, Esty DC (2010) The sustainability imperative. Harv Bus Rev 88(5):42–50

Martinelli DP, Ventura CAA (2006) Visão Sistêmica e Administração: conceitos, metodologias e aplicações. Saraiva, São Paulo

Mebratu D (1998) Sustainability and sustainable development: historical and conceptual review. Environ Impact Assess Rev 18:493–520

Moallemi EA, Ahamdi A, Afrazeh A, Moghaddam NB (2014) Understanding systemic analysis in the governance of sustainability transition in renewable energies: the case of fuel cell technology in Iran. Renew Sust Energ Rev 33:305–315

Muff K, Kapalka A, Dyllick T (2017) The gap frame - translating the SDGs into relevant national grand challenges for strategic business opportunities. Int J Manag Educ 15 ((2):363–383

Nonaka L, Takeuchi H, Umemoto K (1996) A theory of organizational knowledge creation. Int J Technol Manag 11(7–8):833–845

NOVACANA. (2014). Setor sucroenergético brasileiro supera PIB de mais de 100 países. Retrieved from: http://www.novacana.com/n/etanol/marketing/sucroenergetico-supera-pib-100-paises-290514/

Reyers B, Stafford-Smith M, Erb KH, Scholes RJ, Selomane O (2017) Essential variables help to focus sustainable development goals monitoring. Curr Opin Environ Sustain 26:97–105

Russo MV, Fouts PA (1997) A resource-based perspective on corporate environmental performance and profitability. Acad Manag J 40(3):534–559

Schrettle S, Hinz A, Rathje MS, Friedli T (2014) Turning sustainability into action_ explaining organizations' sustainability efforts and their impact on firm performance. Int J Prod Econ 147:73–84

Senge, P. M. (1990). A quinta disciplina: arte, teoria e prática da organização de aprendizagem. Best Seller

Shuen A, Feiler PF, Teece DJ (2014) Dynamic capabilities in the upstream oil and gas sector: managing next generation competition. Energ Strat Rev 3:5–13

Spetic W, Marquez P, Kozak R (2012) Critical areas and entry points for sustainability-related strategies in the sugarcane-based ethanol industry of Brazil. Bus Strateg Environ 21(6):370–386

Stokes, P. A. (2004). Identity as a cybernetic process, construct and project. In A Paper presented to "Governance & Public Administration," a Conference by the Cybernetics Society and Metaphorum, London School of Economics, 3–4

Teece DJ (2007) Explicating dynamic capabilities: the nature and microfoundations of (sustainable) enterprise performance. Strateg Manag J 28(13):1319–1350

Teece DJ, Pisano G, Shuen A (1997) Dynamic capabilities and strategic management. Strateg Manag J 18(7):509–533

UNGC (2015). Sustainable Development Goals. Retrieved from: https://www.unglobalcompact.org/what-is-gc/our-work/sustainable-development/sdgs

UNGC (2018). Global Opportunity Report. Retrieved from: https://www.unglobalcompact.org/docs/publications/Global_Opportunity_Report_2018.pdf

United Nations (2017). The sustainable development goals report. Retrieved from: https://unstats.un.org/sdgs/files/report/2017/TheSustainableDevelopmentGoalsReport2017.pdf

Werbach A (2010) Estratégia para a sustentabilidade: uma nova forma de planejar sua estratégia empresarial. Elsevier, Rio de Janeiro

Yigitcanlar T, Teriman S (2015) Rethinking sustainable urban development: towards an integrated planning and development process. Int J Environ Sci Technol 12(1):341–352

Zhao P (2010) Sustainable urban expansion and transportation in a growing megacity: consequences of urban sprawl for mobility on the urban fringe of Beijing. Habitat Int 34(2):236–243

Zollo M, Winter SG (2002) Deliberate learning and the evolution of dynamic capabilities. Organ Sci 13(3):339–351
Acknowledgements
The authors are thankful for the insightful comments provided by the editor, Robert L. Flood, and by the anonymous reviewers. The paper also benefited from discussions with participants of the 31th European Group for Organizational Studies Colloquium (EGOS), 26th Production and Operations Management Society Annual Conference (POMS) and the 59th International Society for the Systems Sciences Annual Meeting (ISSS). The Brazilian National Council for Scientific and Technological Development (CNPq) financially supported this research.
About this article
Cite this article
Cezarino , L.O., Alves, M.F.R., Caldana, A.C.F. et al. Dynamic Capabilities for Sustainability: Revealing the Systemic Key Factors. Syst Pract Action Res 32, 93–112 (2019). https://doi.org/10.1007/s11213-018-9453-z
Keywords
Organisational capabilities

Environmental capabilities

Eco-capabilities

Corporate social responsibility

Systems thinking