Abstract
The agricultural sector in Ukraine and other transitional and developing countries is distinguished by the prominence of agroholdings, i.e., large-scale industrialized corporations, that offer extensive support to their stakeholders through the corporate social responsibility (CSR) initiatives. The stakeholder approach as a part of business ethics scholarship explains stakeholder salience in terms of the turbulence of the business environment. Drawing on the Luhmannian theory of complex social systems, the present paper shows this turbulence to be a relative concept that makes sense primarily in relation to the limited ability of dominant formal institutions, such as the function systems, to process the complexity of the societal environment. In line with this argument, the Ukrainian agroholdings are shown to direct their CSR efforts to stakeholders whose salience arises out of the transition-specific institutional shortcomings, such as the imperfections of land and labor markets. Paradoxically, the Ukrainian institutional environment has been conducive not only to the rise of agroholdings but also to the emergence of societal expectations which the agroholdings must face. The broader business ethics implication of the argument is the functional equivalence of the discretionary CSR activities and the quality of the dominant formal institutions, such as the function systems.
This is a preview of subscription content, log in to check access.
Access options
Buy single article
Instant access to the full article PDF.
US$ 39.95
Price includes VAT for USA
Subscribe to journal
Immediate online access to all issues from 2019. Subscription will auto renew annually.
US$ 99
This is the net price. Taxes to be calculated in checkout.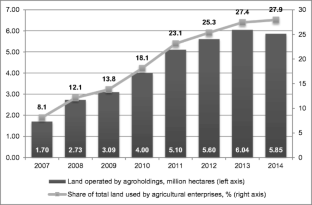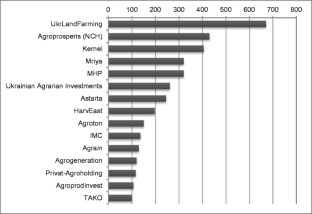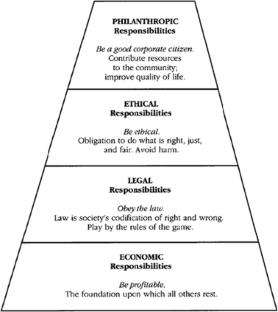 Notes
1.

In 2005–2014, some of the listed agroholdings merged while some were delisted due to poor performance. As a result, only 13 companies from primary agriculture of Ukraine are publicly listed today (see Table 5 in the Appendix).

2.
References
Ackoff R (1974) Redesigning the future: a systems approach to societal problems. Wiley, New York

Amstutz M, Fischer-Lescano A (2013) Kritische Systemtheorie: Zur Evolution einer normativen Theorie. Transcript Verlag, Bielefeld

Astarta (2016) Anuual Report 2016. Astarta Holding N.V, Kyiv/Amsterdam

Baland JM, Robinson JA (2008) Land and power: theory and evidence from Chile. Am Econ Rev 98(5):1737–1765

Balmann A, Curtiss J, Gagalyuk T, Lapa V, Bondarenko A, Kataria K, Schaft F (2013) Productivity and efficiency of Ukrainian agricultural enterprises. Agricultural Policy Report series. Kyiv, German-Ukrainian Agricultural Policy Dialogue

Carroll AB (1991) The pyramid of corporate social responsibility: toward the moral management of organizational stakeholders. Business Horizons 34(4):39–48

Churchman CW (1979) The systems approach. Dell Publishing, New York

Commons, J.R. [1934] (2005). Institutional economics: its place in political economy. New Brunswick: Transaction Publishers

von Cramon-Taubadel, S., & Zorya, S. (2001). Agricultural policy reform in Ukraine: sequencing and results. In S. von Cramon-Taubadel, S. Zorya, & L. Striewe (Eds.), Policies and agricultural development in Ukraine (pp. 20–31). Aachen: Shaker Verlag

Decree (1999) Decree of the President of Ukraine No. 1529/99 On immediate measures for accelerating reforms in agricultural sector

Decree (2000) Decree of the President of Ukraine No. 398/2000 On some measures for improving economic activity conditions of non-state agricultural enterprises

Deininger K, Byerlee D (2012) The rise of large farms in land abundant countries: do they have a future? World Dev 40(4):701–714

EBRD (2015) EBRD extends new loan to Ukraine's MHP. http://www.ebrd.com/news/2015/ebrd-extends-new-loan-to-ukraines-mhp.html. Accessed 13 April 2017

EBRD (2016) EBRD provides US$ 20 million to Ukraine's IMC Group. http://www.ebrd.com/news/2016/ebrd-provides-us-20-million-to-ukraines-imc-group.html. Accessed 13 April 2017

Eisenhardt KM (1989) Building theories from case study research. Acad Manag Rev 14(4):532–550

FAO (2012) Assessment of the agriculture and rural development sectors in the eastern partnership countries: Ukraine. Food and Agriculture Organization of the United Nations Regional Office for Europe and Central Asia, Budapest

Frederick WC (1995) Values, nature, and culture in the American corporation. Oxford University Press, New York

Freeman RE (1984) Strategic management: a stakeholder approach. Pitman, Marshfield

Freeman RE, Harrison JS, Wicks AC, Parmar B, de Colle S (2010) Stakeholder theory: the state of the art. Cambridge University Press, Cambridge

Fuchs C (2003) Structuration theory and self-organization. Syst Pract Action Res 16(2):133–167

Gagalyuk T, Schaft F (2016) Corporate social Reponsibility in agribusiness. Agricultural policy report series. German-Ukrainian Agricultural Policy Dialogue, Kyiv

Heath J (2014) Morality, competition, and the firm: the market failures approach to business ethics. Oxford University Press, Oxford

Hermans FLP, Chaddad FR, Gagalyuk T, Senesi SI, Balmann A (2017) The emergence and proliferation of agroholdings and mega farms in a global context. International Food and Agribusiness Management Review 20(2):175–185

Horster D (2012) Ethik. In: Jahraus O, Nassehi A, Grizelj M, Saake I, Kirchmeier C, Müller J (eds) Luhmann Handbuch: Leben – Werk – Wirkung. Verlag J.B.Metzler, Stuttgart, pp 336–340

IFC (2013) IFC Lends to Ukrainian Poultry Producer MHP to Help Firm Expand, Create Jobs. http://ifcext.ifc.org/ifcext/pressroom/IFCPressRoom.nsf/0/955200B0FE1A0E9085257AF3003FE8D8. Accessed 13 April 2017

IFC (2014a) IFC Invests in Ukraine's IMC to Support Innovation, Sustainable Agriculture. http://ifcext.ifc.org/ifcext/pressroom/IFCPressRoom.nsf/0/F49AB31716942E3A85257C63003E09BF. Accessed 13 April 2017

IFC (2014b) IFC Invests Up to $250 Million in Poultry Producer MHP to Fuel Ukraine Agribusiness. http://ifcext.ifc.org/ifcext/pressroom/IFCPressRoom.nsf/0/CA1B4445BB36F87085257D0100468E23. Accessed 13 April 2017

IMC (2006) http://www.imcagro.com.ua/en/about-company/history. Accessed 26 June 2017

IMC (2007) http://www.imcagro.com.ua/en/about-company/history. Accessed 26 June 2017

IMC (2016) http://www.imcagro.com.ua/en/business-overview/social-program-imc-aid-to-people. Accessed 26 June 2017

Jackson MC (2000) Systems approaches to management. Kluwer, New York

Jimenez A, Russo M, Kraak JM, Jiang GF (2017) Corruption and private participation projects in central and Eastern Europe. Manag Int Rev. https://doi.org/10.1007/s11575-017-0312-4

Kernel (2016) Annual report 30 June 2016. Kernel Holding S.A, Kyiv/Luxembourg City

Keyzer MA, Merbis MD, Witt R, Heyets V, Borodina O, Prokopa I (2013) Farming and rural development in Ukraine: making dualisation work. European Commission Joint Research Centre, Institute for Prospective Technological Studies, Seville

Kirchmeier C (2012) Moral. In: Jahraus O, Nassehi A, Grizelj M, Saake I, Kirchmeier C, Müller J (eds) Luhmann Handbuch: Leben – Werk – Wirkung. Verlag J.B.Metzler, Stuttgart, pp 105–107

Kneer G, Nassehi A (2000) Niklas Luhmanns Theorie sozialer Systeme. Wilhelm Fink, Paderborn

Koester U, Schumann C, Lissitsa A (2010) The agricultural knowledge and information system in Ukraine – call for reforms. Agricultural Policy Report series. German-Ukrainian Agricultural Policy Dialogue, Kyiv

Krasnozhon L (2013) Political economy of agricultural market reform in Ukraine: "good bye Lenin". The Journal of Private Enterprise 29(1):119–140

Kuns B, Visser O, Wästfelt A (2016) The stock market and the steppe: the challenges faced by stockmarket financed, Nordic farming ventures in Russia and Ukraine. J Rural Stud 45:199–217

Kyiv School of Economics homepage (2013) Mriya Leaders Academy is being launched. http://www.kse.org.ua/en/about/kse-news/?newsid=162. Accessed 12 Oct 2016

KyivPost (2014) Mriya's nightmare grows as lenders call in loans. https://www.kyivpost.com/article/content/business/mriyas-nightmare-grows-as-lenders-call-in-loans-369190.html. Accessed 21 Jan 2016

Lapa V, Gagalyuk T, Ostapchuk I (2015) The emergence of agroholdings and patterns of land use in Ukraine. In: Schmitz A, Meyers WH (eds) Transition of agricultural market economies – the future of Kazakhstan, Russia and Ukraine. CABI, Wallingford, pp 102–110

Lerman Z, Sedik D, Pugachov N, Goncharuk A (2007) Rethinking agricultural reform in Ukraine. Studies on the Agricultural and Food Sector in Central and Eastern Europe. IAMO, Halle

Levin M (2004) Cross-boundary learning systems – integrating universities, corporations, and governmental institutions in knowledge generating systems. Syst Pract Action Res 17(3):151–159

Levine DP (2005) The corrupt organization. Human Relations 58(6):723–740

Luhmann N (1989) Ecological Communication. The University of Chicago Press, Chicago

Luhmann N (1990) Essays on self-reference. Columbia University Press, New York

Marsden T, Murdoch J (1998) Editorial: the shifting nature of rural governance and community participation. J Rural Stud 14:1–4

Mascarenhas B, Kumaraswamy A, Day D, Baveja A (2002) Five strategies for rapid firm growth and how to implement them. Manag Decis Econ 23(4–5):317–330

Matyukha A, Voigt P, Wolz A (2015) Agro-holdings in Russia, Ukraine and Kazakhstan: temporary phenomenon or a permanent business form? Farm level evidence from Moscow and Belgorod regions. Post-Communist Econ 27(3):370–394

MHP (2016a) Anuual report and accounts 2016. MHP S.A, Kyiv/Luxembourg City

MHP (2016b) Myronivsky Hliboproduct sustainable development report 2015. MHP S.A, Kyiv/Luxembourg City

Mriya (2016) http://mriya.ua/. Accessed 12 Oct 2016

Nivyevskyi O, Stepaniuk O, Movchan V, Ryzhenkov M, Ogarenko Y (2015) Country report: Ukraine. AGRICISTRADE Project. Institute of Economic Research and Policy Consulting, Kyiv

OECD, World Bank (2003) Achieving Ukraine's agricultural potential: Stimulating agricultural growth and improving rural life. Joint Publication by the Organization for Economic Co-operation and Development and the Environmentally and Socially Sustainable Development Unit, Europe and Central Asia Region, The World Bank. The International Bank for Reconstruction and Development/The World Bank, Washington, DC

Petrick M, Wandel J, Karsten K (2013) Rediscovering the virgin lands: agricultural investment and rural livelihoods in a Eurasian frontier area. World Dev 41:164–179

Pies I, Beckmann M, Hielscher S (2014) The political role of the business firm: an ordonomic re-conceptualization of an Aristotelian idea. Business & Society 53(2):226–259

Post J (1978) Corporate behavior and social change. Reston Publishing Company, Reston

Rawlinson P (2002) Capitalists, criminals and oligarchs: Sutherland and the new "robber barons". Crime Law Soc Chang 37:293–307

Roth S (2015) Free economy! On 3628800 alternatives of and to capitalism. J Interdiscip Econ 27:107–128

Roth S, Sales A, Kaivo-oja J (2017) Multiplying the division of labour: functional differentiation of the next key variables in management research. Syst Res Behav Sci 34(2):195–207

State Statistics Service of Ukraine (2015a) Population of Ukraine. Statistical Yearbook

State Statistics Service of Ukraine (2015b) National Accounts of education in Ukraine. Statistical Yearbook

State Statistics Service of Ukraine (2015c) National Accounts of health protection in Ukraine. Statistical Yearbook

Strengthening Communities Charity Fund (2017) http://mitsna-gromada.org.ua/aktivnist-fondu?lang=en. Accessed 29 June 2017

Svarog (2017) http://svarog-agro.com/en/home. Accessed 29 June 2017

Thompson S, Valentinov V (2017) The neglect of society in the theory of the firm: a systems-theory perspective. Camb J Econ 41(4):1061–1085

UCAB (2012a) Entry to international financial markets: guidelines for agribusiness. Ukrainian Agribusiness Club, Kyiv

UCAB (2012b) Largest Ukrainian crop holdings 2011. Ukrainian Agribusiness Club, Kyiv

UCAB (2015) Largest Agroholdings of Ukraine 2014. Ukrainian Agribusiness Club, Kyiv

Valentinov V (2014) The complexity-sustainability trade-off in Niklas Luhmann's social systems theory. Syst Res Behav Sci 31:14–22

Valentinov V, Hielscher S, Pies I (2016) Emergence: a systems Theory's challenge to ethics. Syst Pract Action Res 29(6):597–610

Visser O, Mamonova N, Spoor M (2012) Oligarchs, megafarms and land reserves: understanding land grabbing in Russia. The Journal of Peasant Studies 39(3–4):899–931

Williamson OE (1981) The economics of organization: the transaction cost approach. Am J Sociol 87(3):548–577

Williamson OE (1991) Comparative economic organization: the analysis of discrete structural alternatives. Adm Sci Q 36(2):269–296
Appendix
Appendix
About this article
Cite this article
Gagalyuk, T., Valentinov, V. & Schaft, F. The Corporate Social Responsibility of Ukrainian Agroholdings: the Stakeholder Approach Revisited. Syst Pract Action Res 31, 675–698 (2018). https://doi.org/10.1007/s11213-018-9448-9
Keywords
Agroholdings

Corporate social responsibility

Environmental turbulence

Stakeholder management

Social systems theory