Abstract
This paper explores a systems thinking approach to the persistent and urgent issue of youth unemployment in the Kingdom of Saudi Arabia, a complex problem given the unique social contract between government and citizens in the Kingdom. Generations of government-dependent Saudi nationals have come of age in recent decades, unfit for private sector needs and unprepared for its realities. Attempts to force this population into the private workforce are futile, resisted by Saudi workers and by private sector employers. The authors present a systems map inclusive of employment trends, education, and social dynamics, whose interactions undermine employment among Saudi youth. This mental model indicates that unemployment among this particular demographic is exacerbated by increased government spending on education, and by government-initiated measures aimed at protecting Saudi nationals in the private sector. Uncovering an archetypal systems thinking relationship between major stakeholders, that of accidental adversaries, the authors present the first steps towards modeling solutions.
Access options
Buy single article
Instant access to the full article PDF.
USD 39.95
Price includes VAT (USA)
Tax calculation will be finalised during checkout.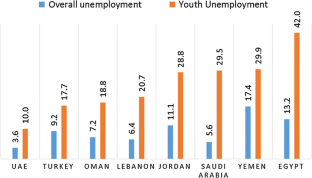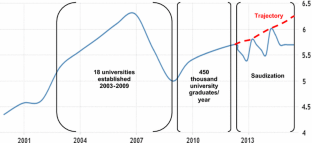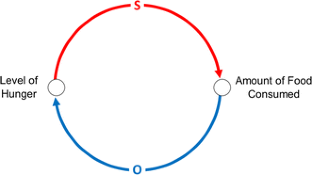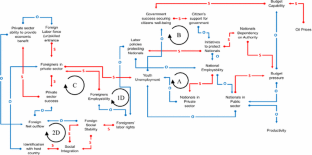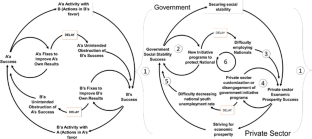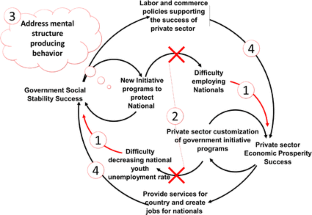 Notes
1.

While social contracts are borne of political, economic, socio-historical, cultural, and other influences, the legal-administrative basis for the Saudi social contract is the official Saudi Basic System of Governance. This document sets forth parameters for the relationship between government and citizenry. Articles relevant to employment include: The state will aspire to strengthen family ties, maintain its Arab and Islamic values and care for all its members, and provide the right conditions for the growth of their resources and capabilities [Article 10].

All God's bestowed wealth, be it under the ground, on the surface or in national territorial waters, in the land or maritime domains under state control, are the property of the state as defined by law. The law defines means of exploiting, protecting, and developing such wealth in the interests of the state, its security and economy [Article 14].

The state guarantees the rights of the citizen and his family in cases of emergency, illness and disability, and in old age; it supports the system of social security and encourages institutions and individuals to contribute in acts of charity [Article 27].

2.

Article 28 of the Saudi Basic System of Governance, states: "The state provides job opportunities for who-ever is capable of working; it enacts laws that protect the employee and employer.".

3.

Joshua Landis, head of the Center for Middle East Studies at the University of Oklahoma.

4.

The World Economic Forum report titled "Rethinking Arab Employment: A systemic Approach for Recourse-Endowed Economies" provided critical insight.

5.

To fulfill government-imposed quotas on national hires, some companies maintain recruitment of nationals' staff information on paper that does not correspond to actual employees but meet Saudization quotas.

6.

Donella H. Meadows is a pioneering American environmental scientist, teacher, and writer. Meadows is lead author of the influential book The Limits to Growth and Thinking in Systems: a Primer.
References
Abedalhakeem TE, Siddiek AG (2012) Higher education in the Arab world and challenges of labor market. Int J Bus Soc Sci 3(9):146–151

Alamri M (2011) Higher education in Saudi Arabia. J High Educ Theory Pract 11(4):88–91

Aldukheil A (2013) Saudi government revenues and expenditures: a financial crisis in the making. Palgrave, New York

Aleqtisadiah (2013) Saudi spends more than 1 trillion on education in ten years. Riyadh: Aleqtisadia. http://www.aleqt.com/2013/01/08/article_723145.html. Accessed 1 Aug 2015

Aljazeera (2015, October 9) India protests after maid's arm cut off in Saudi Arabia. (Aljazeera) 10 16, 2015, http://www.aljazeera.com/news/2015/10/india-protests-maid-arm-cut-saudi-arabia-151009142232220.html. Accessed 16 Oct 2015

Al-Osaimi N (2015) Demands to invest in oil procces drop in the removal of subsidies for petrochemicals. Al-Watan, Economy. Al-Watan online. http://alwatan.com.sa/Economy/News_Detail.aspx?ArticleID=211526&CategoryID=2

Alriyadh (2011, July 26) Ghost hiring prevents local company from recruiting foreigners. 10 16, 2015 http://www.alriyadh.com/653961. Accessed 16 Oct 2015

Alriyadh (2013, May 5) Employment of 615 thousand Saudi Arabia and in the private sector since the announcement of «Nitaqat»  Saad M (ed) http://www.alriyadh.com/832354. Accessed 16 Oct 2015

Arab News (2015, June 10) Private sector to blame 'for rise in unemployment'.http://www.arabnews.com/news/759116. Accessed 10 June 2015

Arabian Business (2014, February 24) The Saudi Ministry of Labor: sponsorship transfer without the consent of the sponsor is only in 3 cases http://arabic.arabianbusiness.com/politics-economics/2014/feb/24/354731/#.VpKcUvl97IVAccessed 16 Oct 2015

Bellinger G (2010) Systems Thinking. http://www.systems-thinking.org/stada/stada.htm. Accessed 1 Aug 2015

Beydoun K (2013, November 28) The colour of slavery. (Aljazeera) 10 16, 2015 http://www.aljazeera.com/indepth/opinion/2013/11/colour-slavery-2013112483045927138.html. Accessed 16 Oct 2015

Central Department of Statistics and Information (2015) Latest statistical releases. (Saudi Arabia) October 16, 2015, from http://www.cdsi.gov.sa/english/. Accessed 16 Oct 2015

Dokhaiel A (2010) For history and generations: Abdullah ibn Hamoud Tariki (first Saudi oil minister). Dar Alfarabi, Riyadh

Eide EB, Rosler P (2014) Rethinking Arab employement: a systemic approach for resource-endowed economies. World Economic Forum

Ernst, Young (2013) Chapter 4: Saudi Arabia. In Developing renewable energy projects: a guide to achieving success in the Middle East p 43–55)

Glum J (2015, January 23) Saudi Arabia's youth unemployment problem among king Salman's many new challenges after Abdullah's death.http://www.ibtimes.com/saudi-arabias-youth-unemployment-problem-among-king-salmans-many-new-challenges-after-1793346. Accessed 16 Oct 2015

Hamdan A (2010, October 2) Ministry of Labor discribes permanent ban on foreign hiring as privat sector capital punishment. http://www.alriyadh.com/564260. Accessed 16 Oct 2015

Hildebrandt J, El Abbouri M, Alibraheem M (2014, June 10) What Matters Most to Saudi Arabia's Youth? Helping Policy Makers Address the National Challenges https://www.bcgperspectives.com/content/articles/public_sector_community_economic_development_what_matters_most_saudi_arabias_youth/. Accessed 16 Oct 2015

Human Rights Watch (2014) World report 2015: Saudi Arabia https://www.hrw.org/world-report/2015/country-chapters/saudi-arabia. Accessed 16 Oct 2015

Idris AM (2007, March 22) Cultural barriers to improved organizational performance in Saudi Arabia. http://www.freepatentsonline.com/article/SAM-Advanced-Management-Journal/166537561.html. Accessed 16 Oct 2015

International Labour Organization (2014) Global employment trends 2014: risk of job recovery? Geneva: International Labour Organization. http://www.ilo.org/wcmsp5/groups/public/—dgreports/—dcomm/—publ/documents/publication/wcms_233953.pdf

Juma FM (2013, July 30) Saudis get least a share of the oil revenues in the Gulf. http://www.alriyadh.com/855947. Accessed 16 Oct 2015

Mckinsey global institute (2015) Saudi Arabia beyond oil: the investment and productivity transformation. Mckinsey & Company

Meadows D (1999) Leverage points: places to intervene in a system. The Sustainability Institute, Hartland VT

Ministry of Higher Education (2009) The national report. Ministry of Higher Education, Riyadh

Muhaimed, H (2015, April 6) Ghost Saudinizaation "Stay at home, and your paycheck will come at the end of the month". http://www.alriyadh.com/1036687. Accessed 16 Oct 2015

Murphy C (2011) Saudi Arabia's Youth and the Kingdom's Future. Woodrow Wilson Center for Scholars.https://www.wilsoncenter.org/sites/default/files/Saudi%20Arabia%E2%80%99s%20Youth%20and%20the%20Kingdom%E2%80%99s%20Future%20FINAL.pdf

Naffee I (2014, September 21) Heavy penalties for hiring female 'ghost workers'.http://www.arabnews.com/news/633201. Accessed 16 Oct 2015

Paven A (2013) A new perspective on the quest for education: the saudi arabian way to knowledge society. Can Cent Sci Educat 3(6):25

Russia Today (2015, December 10) Report sees poverty and unemployment in Saudi Arabia's future. https://www.rt.com/business/325499-saudi-unemployment-poverty-report/. Accessed 16 Dec 2015

Saad, M (2013, May 6) «Target» program called «ready» for the employment of 450 thousand graduates from Saudi universities and scholarships.http://www.alriyadh.com/832659. Accessed 16 Oct 2015

Stroh DP (2015) Systems thinking for social change: a practical guide to solving complex problems, avoiding unintended consequences, and achieving lasting result. Chelsea Green Publishing, Vermont

Sullivan, K (2012, December 3) In Saudi Arabia, unemployment and booming population drive growing poverty. https://www.washingtonpost.com/world/in-saudi-arabia-unemployment-and-booming-population-drive-growing-poverty/2012/12/02/458e648c-3987-11e2-a263-f0ebffed2f15_story.html. Accessed 16 Oct 2015

Taylor G (2015, August 26) Saudi royals' grasp on power threatened by sharp drop in oil prices. The Washington Times. http://www.washingtontimes.com/news/2015/aug/26/saudi-arabia-royal-familys-grasp-on-power-threaten/?page=all. Accessed 16 Oct 2015

The World Bank (2014) Saudi Arabia.http://data.worldbank.org/country/saudi-arabia. Accessed 16 Oct 2015

U.S. -Saudi Arabian Business Council (2014, December 16) http://www.us-sabc.org/custom/news/details.cfm?id=1645. Accessed 16 Oct 2015

World Bank (2015, October 16) Data: Indicators: Unemployment, total (% of total labor force). The World Bank: http://data.worldbank.org/indicator/SL.UEM.TOTL.ZS
About this article
Cite this article
Assidmi, L.M., Wolgamuth, E. Uncovering the Dynamics of the Saudi Youth Unemployment Crisis. Syst Pract Action Res 30, 173–186 (2017). https://doi.org/10.1007/s11213-016-9389-0
Keywords
Policy Resistance

Saudi Arabia

Social Programs

Systems Thinking

Unemployment

Youth