Abstract
Where power lies and how it is conceived in studies of governance and institutions is often not discussed. This is due to the ubiquitous nature of the topic. Power is shaped by a variety of institutional factors, including the architecture of governing structures, questions of scale and level, and access to key resources including knowledge and capital, among other factors. To date, there are relatively few tools available that allow policy makers, researchers, and development practitioners to render these power dynamics explicit and thus take steps to mitigate the potentially deleterious effects of power orientations. This paper proposes a methodology, multi-level stakeholder influence mapping (MSIM), for elucidating power dynamics between actors in complex system regimes. MSIM departs from existing power mapping techniques in that it relies on individual interviews conducted across multiple actor levels and utilizes a participatory mapping process for shared system boundary critique. MSIM was piloted in Nepal's agricultural climate change adaptation regime with actors from the central, regional, and local operational levels. The results suggest that without proper consideration of the role of power in agricultural adaptation regimes, the resulting interventions will likely be insufficient in catalyzing adaptation pathways and moderating the negative impacts of climate change. Furthermore, power analyses produced from the perspective of a single actor level or respondent type can risk sub optimization of adaptation outcomes and can misdirect the lobbying efforts of those agencies utilizing mapping outputs.
Access options
Buy single article
Instant access to the full article PDF.
US$ 39.95
Tax calculation will be finalised during checkout.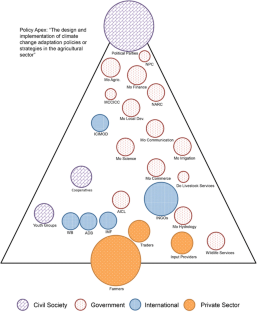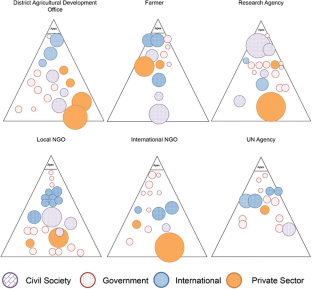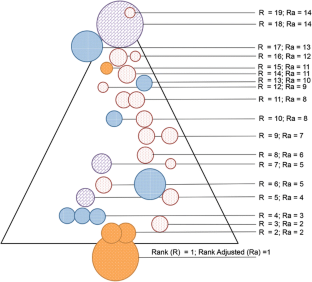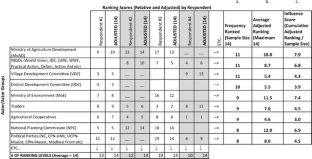 References
Adger WN (2001) Scales of governance and environmental justice for adaptation and mitigation of climate change. Int Dev 13(7):921

Adger WN (2003) Social capital, collective action, and adaptation to climate change. Econ Geogr 79(4):387–404

Adger WN, Vincent K (2005) Uncertainty in adaptive capacity. Comptes Rendus Geosci 337(4):399–410. doi:10.1016/j.crte.2004.11.004

Adger WN, Arnell NW, Tompkins EL, Dessai S, Lu X, Risbey JS, Conway D, Thomas DSG, Twyman C, Noess LO, Bang G, Eriksen S, Vevatne J, Brooks N, Kelly PM, Haddad BM (2005) Adaptation to climate change: perspectives across scales. Glob Environ Change 15(2):77–176

Barnett MN, Duvall R (2005) Power in international politics. Int Org 59:39–75

Biermann F, Betsill MM, Gupta J, Kanie N, Lebel L, Liverman D, Schroeder H, Siebenhüner B, Zondervan R (2010) Earth system governance: a research framework. Int Environ Agreem 10(4):277–298

Bourne L, Walker DHT (2005) Visualising and mapping stakeholder influence. Manag Decis 43(5/6):649–660

Bryson JM (2004) What to do when stakeholders matter: a guide to stakeholder identification and analysis techniques. Public Manag Rev 6(1):21–53

Cash D, Adger WN, Berkes F, Garden P, Lebel L, Olsson P, Pritchard L, Young OR (2006) Scale and cross-scale dynamics: governance and information in a multilevel world. Ecol Soc 11(2):8

Churchman CW (1968) The systems approach. Dell, New York

Churchman CW (1971) The design of inquiring systems: basic concepts of systems and organisation. Basic Books, New York

Churchman CW (1974) Philosophical speculations on systems design. Int J Manag Sci 2:451–465

Churchman CW (1979) The systems approach and its enemies. Basic Books, New York

Clegg SR (1989) Frameworks of power. Sage, London

Coleman JS (1986) Social theory, social research, and a theory of action. Am J Sociol 91(6):1309–1335. doi:10.2307/2779798

Dulal HB, Brodnig G, Thakur HK, Green-Onoriose C (2010) Do the poor have what they need to adapt to climate change? A case study of Nepal. Local Environ 15(7):621–635

Eden C, Ackermann F (1998) Making strategy: the journey of strategic management. Sage Publications, London

Emirbayer M (1997) Manifesto for a relational sociology. Am J Sociol 103(2):281–317. doi:10.1086/231209

Ferguson J (1990) The anti-politics machine: development, depoliticization, and bureaucratic power in Lesotho. Cambridge University Press, Cambridge, New York

Flood RL, Romm NRA (1996) A typology of power supporting intervention. Systems Practice 9(4):339–355

Gibson C, Ostrom E, Ahn TK (2000) The concept of scale and the human dimensions of global change: a survey. Ecol Econ 32(2):217–239

Government of Nepal (2010) National adaptation programme of action (NAPA). Kathmandu, Nepal

Guston DH (2001) Boundary organizations in environmental policy and science: an introduction. Sci Technol Human Values 26:399–408

Håkansson H (ed) (1982) International marketing and purchasing of industrial goods: an interaction approach. Wiley, Chichester

Helfgott A (2011) Resilience, adaptation and development. University of Oxford, Oxford

Hitch C (1953) Suboptimisation in operations problems. Oper Res 1:87–99

Kant I (1781) Critique of pure reason (trans: Kemp SN). Macmillan, London

Knoke D, Yang S (2008) Social network analysis, quantitative applications in the social sciences, 2nd edn. Sage Publications, Thousand Oaks, CA

Lebel L (2006) Reflections on power. USER breifing BN-2006-10. Unit for Social and Environmental Research, Chiang Mai

MacKinnon D (2011) Reconstructing scale: towards a new scalar politics. Prog Hum Geogr 35(1):21–36

Matthews D (2008) Metadecision making: rehabilitating interdisciplinarity in the decision sciences. Syst Res Behav Sci 25:157–179

Mattsson L-G (1984) An application of a network approach to marketing: defending and changing market positions. In: Dholakia N, Arndt J (eds) Changing the course of marketing: alternative paradigms for widening marketing theory. JAI Press, Greenwich, CT, pp 263–288

Mayers J, Vermeulen S (2005) Stakeholder influence mapping. Power tools. International Institute for Environment and Development (IIED), London

Mendelow A (1991) Stakeholder mapping. In: Proceedings of the 2nd international conference on information systems, Cambridge, MA

Midgley G (1992) The sacred and profane in critical systems thinking. Systems Practice 5:5–16

Midgley G (2000) Systemic intervention: philosophy, methodology. Practice Kluwer Academic, New York

Midgley G, Munlo I, Brown M (1998) The theory and practice of boundary critique: developing housing services for older people. J Oper Res Soc 49(5):467–478. doi:10.2307/3009885

Oliga J (1996) Power, ideology, and control. Plenum, New York

Oliver C (1990) Determinants of interorganizational relationships: integration and future directions. Acad Manag Rev 15(2):241–265. doi:10.2307/258156

Paliwoda SJ, Thomson P (1986) Industrial product class and market behavior: a study in the French packaging market. In: Turnbull PW, Paliwoda SJ (eds) Research in international marketing. Croom Helm, London, pp 326–354

Prosser J (2011) Visual methodology: toward more seeing in research. In: Denzin NK, Lincoln YS (eds) Handbook of qualitative researth, 4th edn. Sage, Thousand Oaks, CA, pp 479–495

Rittel HWJ, Webber MM (1973) Dilemmas in a general theory of planning. Policy Sci 4:155–169

Ritter T, Gemünden HG (2003) Interorganizational relationships and networks: an overview. J Bus Res 56(9):691–697. doi:10.1016/S0148-2963(01)00254-5

Sabatier PA, Jenkins-Smit H (1993) Policy change and learning: an advocacy coalition approach. Westview, Boulder, CO

Sova CA, Chaudhury AS (2013) State of agricultural climate change adaptation policy in Nepal. CGIAR research program on Climate Change, Agriculture and Food Security (CCAFS), Working Paper No. 44. Copenhagen, Denmark

Thornton TF, Comberti C (2013) Synergies and trade-offs between adaptation, mitigation and development. Clim Change 2013:1–14

Thornton TF, Manasfi N (2010) Adaptation—genuine and spurious: demystifying adaptation processes in relation to climate change. Environ Soc 1(1):132–155. doi:10.3167/ares.2010.010107

Tracy SJ (2013) Qualitative research methods: collecting evidence, crafting analysis, communicating impact. Wiley-Blackwell, Hoboken

Ulrich W (1983) Critical heuristics of social planning: a new approach to practical philosophy. Paul Haupt, Bern, Switzerland

Ulrich W (1987) Critical heuristics of social systems design. Eur J Oper Res 31:276–283

van Gigch JP (2003) Metadecisions: rehabilitating epistemology. Kluwer, New York
Acknowledgments
This research was conducted under the CGIAR Research Program on Climate Change, Agriculture and Food Security (CCAFS), which is a strategic partnership of CGIAR and Future Earth. Academic support was provided by the Environmental Change Institute (ECI), School of Geography and the Environment, University of Oxford.
About this article
Cite this article
Sova, C.A., Helfgott, A., S. Chaudhury, A. et al. Multi-level Stakeholder Influence Mapping: Visualizing Power Relations Across Actor Levels in Nepal's Agricultural Climate Change Adaptation Regime. Syst Pract Action Res 28, 383–409 (2015). https://doi.org/10.1007/s11213-014-9335-y
Keywords
Climate change

Adaptation

Agriculture

Nepal

Power

Influence

Mapping