Abstract
The public sector is presently immersed in a modernization process that requires the development and incorporation of new techniques and tools designed to improve management and facilitate this transformation. Cost accounting is one of the most popular tools used in the local governments. However their successfully implementation is far from being achieved in some areas at local level such as public sport services, which have important necessities of improve and update their financial management. This research examines the implementation of a cost accounting system in eight public sports organizations at local level in Spain. Through action research and multiple case study, we analyzed the starting situation, the cost study course, conditions for success, barriers encountered and the real utility of cost accounting. A need for simplicity and clarity, both of the cost analysis system and the information provided, was identified as a key factor for successful implementation along with a need to define the sports facilities and sport activities as core factors. The main problem identified during the implementation process was the poor quality of starting information related to the consumption and allocation of resources. Finally, our findings highlight the usefulness of a comprehensive cost accounting study for tasks as important as fixing prices or planning the sports activities to be offered.
This is a preview of subscription content, log in to check access.
Access options
Buy single article
Instant access to the full article PDF.
US$ 39.95
Price includes VAT for USA
Subscribe to journal
Immediate online access to all issues from 2019. Subscription will auto renew annually.
US$ 99
This is the net price. Taxes to be calculated in checkout.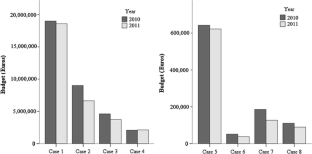 References
Aberbach JD, Christensen T (2005) Citizens and consumers: an NPM dilemma. Public Manag Rev 7(2):225–246

Andrew DPS, Pedersen PM, McEvoy CD (2011) Research methods and design in sport management. Human Kinetics, Champaign

Arnaboldi M (2013) Consultant-research in public sector transformation: an evolving role. Fin Acc Manag 29:140–160

Arnaboldi M, Lapsley I (2003) Activity based costing, modernity and the transformation of local government. Public Manag Rev 5(3):345–375

Benito B, Solana J, Moreno MR (2012) Assessing the efficiency of local entities in the provision of public sports facilities. Int J Sport Fin 7(1):46–72

Bjornenak T (2000) Understanding cost differences in the public sector-a cost driver approach. Manag Acc Res 11(2):193–211

Bowerman M, Amanda B, Graham F (2001) Benchmarking as a tool for the modernisation of local government. Fin Acc Manag 17(4):321–329

Boyne G, Martin S, Walker R (2004) Explicit reforms, implicit theories and public service improvement. Public Manag Rev 6(2):189–210

Brown T (2007) Coercion versus choice: citizen evaluations of public service quality across methods of consumption. Public Adm Rev 67(3):559–572

Burillo P, Barajas Á, Gallardo L, García-Tascón M (2011) The influence of economic factors in urban sports facility planning: a study on Spanish regions. Eur Plan Stud 19(10):1755–1773

Gallardo L (2007) Censo Nacional de Instalaciones Deportivas de España-2005. Consejo Superior de Deportes. Ministerio de Educación y Ciencia, Madrid

Gallardo L, Burillo P, García-Tascón M, Salinero JJ (2009) The ranking of the regions with regard to their sports facilities to improve their planning in sport: the case of Spain. Soc Indic Res 94(2):297–317

García-Ferrando M, LLopis-Goig R (2011) Encuesta sobre los hábitos deportivos en España 2010. Ideal democrático y bienestar personal. Consejo Superior de Deportes. Centro de Investigaciones Sociológicas, Madrid

Hood C (1991) A public management for all seasons? Public Adm 69(1):93–109

Jönsson S, Lukka K (2007) There and back again: doing interventionist research in management accounting. In: Chapman CS, Hopwood AG, Shields MD (eds) Handbook of management accounting research, vol 1. Elservier, Amsterdam, pp 373–397

Kaplan RS (1998) Innovation action research: creating new management theory and practice. J Manag Acc Res 10:89–119

Kluvers R, Tippett J (2011) The view of councillors and managers on accountability in local government: an empirical study in Australia. Int J Manag 28(2):519–527

Lapsley I, Pallot J (2000) Accounting, management and organizational change: a comparative study of local government. Manag Acc Res 11(2):213–229

Liu YD (2009) Implementing and evaluating performance measurement initiative in public leisure facilities: an action research project. Syst Pract Action Res 22(1):15–30

Liu YD, Taylor P, Shibli S (2009) Sport equity: benchmarking the performance of English public sport facilities. Eur Sport Manag Q 9(1):3–21

Malmi T, Granlund M (2009) In search of management accounting theory. Eur Acc Rev 18(3):597–620

Ministerio de Educación Cultura y Deportes (2013) Anuario de estadísticas deportivas 2013. Secretaría General Técnica del Ministerio de Educación. Cultura y Deportes, Madrid

Navarro-Galera A, Ortiz-Rodríguez D, López-Hernández AM (2008) Identifying barriers to the application of standardized performance indicators in local government. Public Manag Rev 10(2):241–262

Ripoll V, Urquidi A (2010) Different tools of accounting management used in the managerial practice: a critical review of the theoretical and empirical literature. Acad-Rev Latinoam Adm 44:1–20

Sanger MB (2008) From measurement to management: breaking through the barriers to state and local performance. Public Adm Rev 68(S1):70–85

Susman GI, Evered RD (1978) An assessment of the scientific merits of action research. Adm Sci Q 23:582–603

Ter Bogt HJ, Van Helden GJ (2011) The role of consultant-researchers in the design and implementation process of a programme budget in a local government organization. Manag Acc Res 22(1):56–64

Van Helden GJ, Northcott D (2010) Examining the practical relevance of public sector management accounting research. Fin Acc Manag 26(2):213–240

Van Helden GJ, Aardema H, Ter Bogt HJ, Groot TLCM (2010) Knowledge creation for practice in public sector management accounting by consultants and academics: preliminary findings and directions for future research. Manag Acc Res 21(2):83–94

Walker RM, Brewer GA, Boyne GA, Avellaneda CN (2011) Market orientation and public service performance: new public management gone mad? Public Adm Rev 71(5):707–717

West J, Oldfather P (1995) Pooled case comparison an innovation for cross-case study. Qual Inq 1(4):452–464

Yetano A (2009) Managing performance at local government level: the cases of the city of Brisbane and the city of Melbourne. Aust J Public Adm 68(2):167–181

Yin R (1994) Case study research. Design and methods. Sage, London
Acknowledgments
The authors acknowledge the financial contribution from the Spanish National Sports Council (Consejo Superior de Deportes) (039/UPB10/12).
About this article
Cite this article
García-Unanue, J., Felipe, J.L. & Gallardo, L. Using Action Research to Achieve the Implementation of Cost Accounting: The Case of the Public Sports Organizations at Local Level. Syst Pract Action Res 28, 111–123 (2015). https://doi.org/10.1007/s11213-014-9322-3
Keywords
Sport management

Management accounting

Sport facilities

Public management

Action research