Abstract
Competency-based management is a strategic approach for Human Resources Management and organizational change. Additionally, in business environment, information technologies competencies are a significant factor to organizational success (Bharadwaj, MIS Q 24(1):169–196, 2006). However the implementation of a model of competency-based management in business environment is difficult and complex (Lawler, J Organ Behav 15(1):3–15, 1993). In this context, Information systems are a suitable tool to manage individual and organizational knowledge (Alavi and Leidner, MIS Q 25(1):107–136, 2001; Bowman, Inf Syst Manag 19(3):32–40, 2002). This paper introduces a dynamic approach to a competency-based model through IT. We validate such approach through an action research project in RTVE, the largest company and reference public corporation of radio and television in Spain. The action research process in this organization is presented, and the findings highlight the potential benefits of the proposed model, and may be used in facilitating organizational change.
Access options
Buy single article
Instant access to the full article PDF.
US$ 39.95
Tax calculation will be finalised during checkout.
Subscribe to journal
Immediate online access to all issues from 2019. Subscription will auto renew annually.
US$ 79
Tax calculation will be finalised during checkout.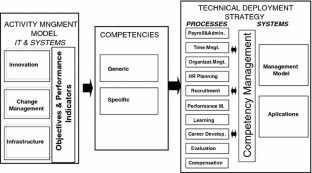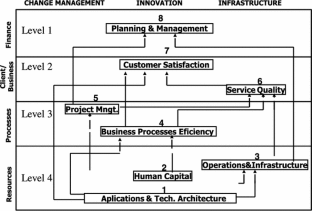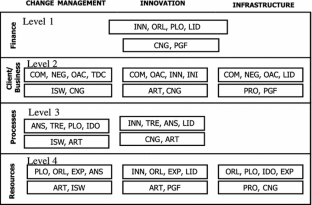 References
Abel A (2006) Knowledge and information management (K&IM) specific competencies framework. The TFPL K & IM Competency Dictionary, Dublin

Ackoff R (1995) Return on human resources. Syst Pract Action Res 8(1):3–4

Alavi M, Leidner DE (2001) Review: Knowledge management and knowledge management systems: conceptual foundations and research issues. MIS Q 25(1):107–136

Baskerville R, Wood-Harper A (1998) Diversity in information systems action research methods. Eur J Inf Syst 7(2):90–107

Berardine T (1997) Human resource information systems improve management decision-making. Can Manag 22(4):17–18

Bergenhenegouwen GJ, Ten Horn HFK, Mooijman EAM (1996) Competence development—a challenge for HRM professionals: core competences of organizations as guidelines for the development of employees. J Eur Ind Train 20(9):29–35

Bharadwaj AS (2006) A resource based perspective on information technology capability and firm performance: an empirical investigation. MIS Q 24(1):169–196

Blain J, Dodd B (ASAP Internacional Group) (1999) Administering SAP R/3: the HR-human resources module. QUE, Indiana

Bowman B (2002) Building knowledge management systems. Inf Syst Manag 19(3):32–40

Boyatzis R (1982) The competent manager: a model for effective performance. Wiley, New York

Campbell A, Sommers Luchs K (1997) Core competency-based strategy. Thomson, London

Cantrel S, Benton J, Laudal T, Thomas R (2006) Measuring the value of human capital investment: the SAP case. Vine J Inf Knowl Manag Syst 34(2):43–52

Chartered Institute of Personnel and Development (2008) Learning and development: annual survey report 2008. CIPD, London. http://www.cipd.co.uk/surveys. Accessed 10 Oct 2010

Chartered Institute of Personnel and Development (2011) Learning and talent development 2011, survey report. CIPD, London. http://www.cipd.co.uk/hr-resources/survey-reports/. Accessed 10 Oct 2010

Cseh M (2003) Facilitating learning in multicultural teams. Adv Dev Hum Resour 5(1):26–40

Davenport T, Prusak L (1998) Working knowledge. How organizations manage what they know. Harvard Business School Press, Boston

Davison R, Martinsons M, Kock N (2004) Principles of canonical action research. Inf Syst J 14:65–86

Dawes S, Helbig N (2006). Building government IT workforce capacity: a competency framework. In: Proceedings of the 8th annual international digital government research conference, Center for Technology in Government, Albany, NY

Dearden J (1987) The withering away of the IS organization. Sloan Manag Rev 28(4):87–91

Draganidis F, Mentzas G (2006) Competency based management: a review of systems and approaches. Inf Manag Comput Secur 14(1):51–64

Grzeda M (2005) In competence we trust: addressing conceptual ambiguity. J Manag Dev 24(6):530–545

Hagan C (1996) The core competence organization: implications for human resource practices. Hum Resour Manag Rev 6(2):147–164

Kaplan R, Norton D (1996) Using the balanced scorecard as a strategic management system. Harv Bus Rev, January/February: 75–85

Lawler E (1993) From job-based to competency-based organizations. J Organ Behav 15(1):3–15

Lengnick-Hall M, Lengnick-Hall C (2003) Human resource management in the knowledge economy: new challenges, new roles, new capabilities. Berrett-Koehler Publishers, San Francisco

Lengnick-Hall M, Lengnick-Hall C, Andrade L, Drake B (2009) Strategic human resource management: the evolution of the field. Hum Resour Manag Rev 19:64–85

Lindgren R (2005) Adopting competence systems in fast growing knowledge intensive organizations. J Inf Knowl Manag 4:1–13

Lindgren R, Stenmark D, Ljungberg J (2003) Rethinking competence systems for knowledge based organizations. Eur J Inf Syst 12(1):18–29

Mansfield B (2004) Competence in transition. J Eur Ind Train 28(2/3/4):296–309

McClelland D (1973) Testing for competencies rather than intelligence. Am Psychol 28(1):1–14

Mitrani A, Dalziel M, Fitt D (1992) Competency based human resource management. Kogan Page, London

Nadler D, Tushman M (1999) The organisation of the future: strategic imperatives and core competencies for the 21st century. Organ Dyn 27(1):45–58

Nordhaug O (1993) Human capital in organizations. Scandinavian University Press, Oslo

Pereda S, Berrocal F (2001) Técnicas de Gestión de Recursos Humanos por Competencias. Centro de Estudios Ramón Areces, Madrid

Ravarini A, Moro J, Tagliavini M, Guimaraes T (2001) Exploring the impact of CIO competencies on company performance. In: 2001 International conference on Information Resources Management Association, Toronto, Canada

Reich B, Nelson K (2003) In their own words: CIO visions about the future of in-house IT organizations. Data Base Adv Inf Syst 34(4):21–44

Sagi-Vela L (2004) Gestión por Competencias: El reto compartido del crecimiento personal y de la organización. ESIC Editorial, Madrid

SAP (2011) SAP ERP human capital management. http://www.sap.com/solutions/business-suite/erp/hcm/index.epx. Accessed 10 Oct 2010

Sicilia M (2005) Ontology-based competency management: infrastructures for the knowledge intensive learning organization. In: Lytras M, Naeve A (eds) Intelligent learning infrastructure for knowledge intensive organizations: a semantic web perspective, idea group. Information Science Publishing, Hershey, pp 302–324

Stiroh K (2000) I s there a new economy? Challenge 42(4):175–191

Totty P (2001) Human resource information systems. Credit Union Mag 67(8):53–55

Urquiza A (2007) Creación de un Marco de Competencias para la evaluación del rendimiento de los gestores de Sistemas de Información en las grandes Organizaciones. Ph.D. Thesis, University of Alcalá

Ward J, Aurum A (2004). Knowledge management in software engineering: describing the process. In: Proceedings of the 2004 Australian software engineering conference (ASWEC'04), pp 137–146

Yang B, Wu B, Shu P, Yang M (2006) On establishing the core competency identifying model: a value-activity and process oriented approach. Ind Manag Data Syst 106(1):60–80
About this article
Cite this article
Rejas-Muslera, R., Urquiza, A. & Cepeda, I. Competency-Based Model Through It: An Action Research Project. Syst Pract Action Res 25, 117–135 (2012). https://doi.org/10.1007/s11213-011-9213-9
Keywords
Human Resources Management

Competency-based model

Competency Frameworks

Information systems

Organizational change

Action research