Abstract
One of the current debates in action research concerns the quality of these practices. Up to now, many contributions have focused on defining specific criteria based on action research epistemology. This article sustains (1) that prior to dealing with these questions, it is necessary to define for what purpose and for whom we are making the evaluation; (2) that this leads us to make a distinction between different evaluation models; and (3) that the quality strategies and criteria will be different for each model. In particular, the article confronts an academic evaluation model as a form of external control over the quality of action research and an internal, participatory evaluation model as a quality strategy aimed at establishing feedback for the process. Final considerations are given about the implications of both models for academia.
Access options
Buy single article
Instant access to the full article PDF.
USD 39.95
Price excludes VAT (USA)
Tax calculation will be finalised during checkout.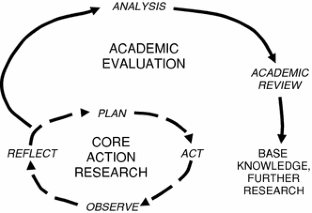 References
Anderson GL, Herr K, Nihlen AS (1994) Studying your own school: an educator's guide to qualitative practitioner research. Sage, Thousand Oaks

Avison D, Baskerville R, Myers M (2001) Controlling action research projects. Inform Tech People 14(1):28–45

Bradbury H, Reason P (2001) Conclusion: broadening the bandwidth of validity: issues and choice-points for improving the quality of action research. In: Reason P, Bradbury H (eds) Handbook of action research: participatory inquiry and practice. Sage, London, pp 447–455

Campbell DT, Stanley JC (1963) Experimental and quasi-experimental designs for research on teaching. In: Gage NL (ed) Handbook of research on teaching. Rand McNally, Chicago, pp 171–246

Castellà C, Jorba L (2005) Evaluación de las experiencias participativas en la gestión local de Cataluña: potencialidades y amenazas. Gestión y análisis de políticas publicas 32:79–100

Champion D, Stowell F (2003) Validating action research field studies: PEArL. Syst Pract Act Res 16(1):21–36

Chandler D, Torbert B (2003) Transforming inquiry and action by interweaving 27 flavors of action research. Action Res 1(2):133–152

Checkland P, Holwell S (1998) Action research: its nature and validity. Syst Pract Act Res 11(1):9–21

Cochran-Smith M, Lytle S (1993) Inside/outside: teacher research and knowledge. Teachers College Press, New York

Cousins JB, Earl LM (1995) Participatory evaluation in education: studies of evaluation use and organizational learning. Falmer, London

Dewey J (1941) Propositions, warranted assertibility and truth. J Philos 38(7):169–186

Elliot J (1991) Action research for educational change. Open University Press, Philadelphia

Fals Borda O (1994) El problema de cómo investigar la realidad para transformarla por la praxis, Tercer Mundo, Bogotá

Fals Borda O (2001) Participatory (action) research in social theory: origins and challenges. In: Reason P, Bradbury H (eds) Handbook of action research: participative inquiry and practice. Sage, Thousand Oaks, pp 27–37

Feldman A (2007) Validity and quality in action research. Educ Action Res 15(1):21–32

Fetterman DM (2001) Foundation of empowerment evaluation. Sage, Thousand Oaks

Greenwood DJ (2007) Teaching/learning action research requires fundamental reforms in public higher education. Action Res 5(3):249–264

Greenwood DJ, Levin M (1998) Introduction to action research: social research for social change. Sage, Thousand Oaks

Guba EG, Lincoln YS (1981) Effective evaluation: improving the usefulness of evaluation results through responsive and naturalistic approaches. Jossey-Bass, San Francisco

Heikkinen HLT, Huttunen R, Syrjälä L (2007) Action research as narrative: five principles for validation. Educ Action Res 15(1):5–19

Heron J (1996a) Quality as primacy of the practical. Qual Inq 2(1):41–56

Heron J (1996b) Co-operative inquiry: research into the human condition. Sage, London

Herr K, Anderson GL (2005) The action research dissertation: a guide for students and faculty. Sage, Thousand Oaks

Hope KW, Waterman HA (2003) Praiseworthy pragmatism? Validity and action research. J Adv Nurs 44(2):120–127

Kandlbinder P (2004) Reconstructing educational technology: a critical analysis of online teaching and learning in the university. Unpublished doctoral thesis, University of Sydney, Sydney

Kvale S (1995) The social construction of validity. Qual Inq 1(1):19–40

Lapassade G (1971) L'Analyseur et l'Analyste. Gauthiers-Villars, Paris

Lather P (1986) Issues of validity in openly ideological research: between a rock and a hard place. Interchange 17:63–84

Lincoln Y (1995) Emerging criteria for quality in qualitative and interpretive research. Qual Inq 1(3):275–289

Lincoln Y, Guba E (1985) Naturalistic inquiry. Sage, Thousand Oaks

Losito B, Pozzo G, Somekh B (1998) Exploring the labyrinth of first and second order inquiry in action research. Educ Action Res 6(2):219–240

Martí J (2008) From local practices to public knowledge: action research as scientific contribution. Review Essay [online]. Forum Qual Soc Res, 9(2), art. 2. Available at http://nbn-resolving.de/urn:nbn:de:0114-fqs080320 (Date of access: 10 November 2008)

McTaggart R (1998) Is validity really an issue for participatory action research? Cult Organ 4(2):211–236

O'Sullivan RG (2004) Practicing evaluation: a collaborative approach. Sage, Thousand Oaks

O'Sullivan RG, O'Sullivan JM (1998) Evaluation voices: promoting evaluation from within programs through collaboration. Eval Program Plan 21(1):21–29

Patton MQ (1981) Practical evaluation. Sage, Newbury Park

Patton MQ (2002) Qualitative research and evaluation methods, 3rd edn. Sage, Thousand Oaks

Reason P (2006) Choice and quality in action research practice. J Manag Inq 6(15):187–203

Santos BS (2002) Para uma sociologia das ausências e uma sociologia das emergências. Revista Crítica de Ciências Sociais 63:237–280

Santos BS (2003) Crítica de la razón indolente. Contra el desperdicio de la experiencia. Desclée de Brouwer, Bilbao

Schwandt TA (1996) Farewell to criteriology. Qual Inq 2(1):58–72

Stake R (ed) (1975) Evaluating the arts in education: a responsive approach. Merrill, Columbus

Stake R (1994) Case studies. In: Denzin NK, Lincoln YS (eds) Handbook of qualitative research. Sage, Thousand Oaks, pp 236–247

Stevenson RB (2002) Judging the quality of participatory action research. Paper presented at ISA Conference, Brisbane

Stringer ET (2007) Action research. Sage, Thousand Oaks

Torbert WR (2000) Transforming social science: integrating quantitative, qualitative, and action research. In: Sherman F, Torbert WR (eds) Transforming social inquiry, transforming social action. Kluwer, Boston, pp 67–92

Turnock C, Gibson V (2001) Validity in action research: a discussion on theoretical and practice issues encountered whilst using observation to collect data. J Adv Nurs 36(3):471–477

Villasante TR (2006) Desbordes creativos, Los Libros de la Catarata, Madrid

Villasante TR, Garrido J (2001) Methodologies for the participant construction of knowledge. Syst Pract Act Res 14(4):483–493

Watkins KE (1991) Validity in action research. Paper presented at the Annual Meeting of the American Educational Research Association (Chicago, 3–7 April 1991)

Zuber-Skerritt O, Fletcher M (2007) The quality of an action research thesis in social sciences. Qual Assur Educ 15(4):413–436
About this article
Cite this article
Martí, J., Villasante, T.R. Quality in Action Research: Reflections for Second-Order Inquiry. Syst Pract Action Res 22, 383–396 (2009). https://doi.org/10.1007/s11213-009-9136-x
Published:

Issue Date:

DOI: https://doi.org/10.1007/s11213-009-9136-x
Keywords
Quality

Validity

Evaluation

Second-order inquiry