Abstract
In this article, we explore the associations of people's valuations of universal healthcare with risk exposure and humanitarianism across diverse institutional contexts. We argue that both micro-level factors increase the valuations. Furthermore, interactions between material interests and humanitarians are expected. This work also hypothesizes that institutional contexts with employment-independent healthcare systems should modify the effect of risk exposure. Following a comparative framework, we test the expectations by using the International Social Survey Programme 2011 health module for 28 developed and developing countries. Results suggest opposite effects for the factors under analysis. While risk exposure decreases the willingness to pay taxes for the provision of universal healthcare, humanitarianism strongly fosters the valuation. Furthermore, we find statistical significant interactions between material interests and humanitarianism. Results also suggest substantive cross-level interactions between risk exposure and healthcare systems. Findings are robust to different modeling strategies that control for standard micro-level variables (income and egalitarianism), individual factors and observed and unobserved country characteristics. The article lays out implications of these findings.
Access options
Buy single article
Instant access to the full article PDF.
US$ 39.95
Tax calculation will be finalised during checkout.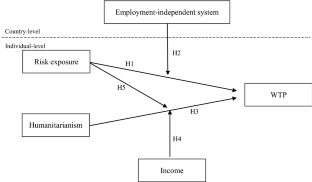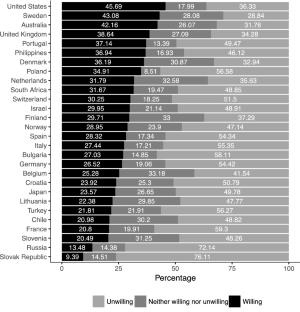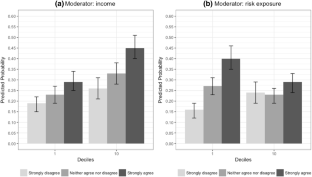 Notes
1.

See Rehm (2016) for an updated review of the literature about micro-sources of redistributive preferences.

2.

For implications of the insurance mechanism at the macro-level, see Rehm et al. (2012).

3.

We thank a reviewer of a previous version of our article for this insightful idea.

4.

Hacker (2004) classified employment-independent healthcare systems as hierarchical institutional models. These systems depend on a single-payer model in which the state is the central purchaser or provider of healthcare. For example, Canada presents centralized financing coupled with decentralized decision-making. Notice that the core feature of Gingrich and Ansell's typology is the kind of employment-benefits association, not the number of payers.

5.

The low-cost hypothesis appeared originally in the context of contemporary German sociology and has inspired a large quantity of empirical studies and theoretical discussion in this academic community. For an overview, see Best and Kroneberg (2012).

6.

We analyze only data for Belgium-Flanders.

7.

To evaluate problems of sample selections, we estimate the probability of being in our analytical sample by using a logistic regression with an indicator for people with information on occupation and several socio-demographic predictors. Most of the predictors present significant associations with the dependent variable. To correct for these differences, we conducted further sensitivity analysis by estimating our core model (model 4 in Table 2) with inverse probability weights. These estimates are consistent with the findings presented in the paper.

8.

The effective sample presents 21,652 cases with complete information for all variables used in the analysis.

9.

Because the middle value is neutral, the dependent variable perhaps produces some imprecisions in regression models. We evaluated alternative codifications (e.g., binary dependent variable with a value of 1 for the alternatives "very willing" and "fairly willing"), and the findings are consistent with estimations that use the outcome with the five-point scale. Furthermore, this binary variable is a solution for measurement problem due to variation of reference points across persons and countries. Following Cavaille and Marshall (2018), we anchor the binary variable around a reference point that is likely to be interpreted similarly by respondents across nations. In doing so, we assume that individuals who offer response 1 express support to improve the level of healthcare for all people.

10.

The unemployment rate for an occupation j was computed as [(number of people unemployed in j)/(number of people unemployed in j + number of people employed in j)]*100.

11.

For some countries, we used data from different years. Data from 2011 were used for Chile and Israel; for the Philippines, we used information from 2011; for Russia and South Africa, averages for 2010–2011 were computed. Due to lack of information, occupational unemployment rates of France and Japan were computed for 2012. Sensitivity analysis that does not consider these countries does not substantively modify our results. Estimations of Australia and the USA do not use ILO information: Labour Force Survey (Australian Bureau of Statistics) for Australia and Labor Force Statistics from the Current Population Survey for the United States.

12.

Occupational unemployment rates can be computed at different levels of ISCO-88 classification and differentiating by gender or not. We used nine different values (ISCO88-1d, without differences by gender) because ILO data only provide this classification. In spite of these limitations, Rehm (2016) indicated that more detailed typologies yield similar results.

13.

Due to lack of data, we used only a single item to measure humanitarianism. Future research should consider multidimensional measures.

14.

We also considered the ordinal scale of the variables by using polychoric correlation, being 0.121 in the pooled data.

15.

ISSP health module contains variables that show low correlations with WTP taxes but may affect humanitarianism. They are items about government involvement into specific areas (preventive medical checkups and organ transplants). Following an instrumental variable procedure, we estimated predicted humanitarianism on the basis of these items and we used these predicted values as independent variable in our WTP equations. In doing so, we use the variance of humanitarianism that is low correlated with WTP taxes to identify the effect of this value. The findings confirm our results. However, they must be considered with caution because we cannot argue that items of government involvement are good instruments, insofar as exogeneity of them is hardly credible.

16.

In ISSP's information about household income differs across countries, for example, whether the survey asked for income before or after tax and in what currency. However, we fix this kind of problem for cross-national comparison by including country dummies in our regression models. Following studies of redistributive preferences (Alt and Iversen, 2017; Bady and Bostic, 2015; Barnes, 2015; Rehm, 2016; Cusack et al., 2006; Dimick et al., 2018), our measure of income does not adjust for equivalence scales.

17.

Australia, Spain and Portugal present significant private insurance sectors. However, Gingrich and Ansell classified these countries as employment-independent because the public system provides uniform benefits at the national or state level in these nations. We test the sensitivity of our results to the exclusion of these countries. Though efficiency decreases, empirical findings are consistent with the main results of the present research.

18.

The following countries of our effective sample are not considered in the typology: Bulgaria, Chile, Croatia, Lithuania, the Philippines, Poland, Russia, Slovak Republic, Slovenia, South Africa and Turkey. These countries are not classified by Gingrich and Ansell (2012).

19.

The rest of developing countries of our effective sample also present mixtures of diverse healthcare models, and, thus, it is difficult to isolate the influence of particular institutional models (Haggard & Kaufman, 2008).

20.

Polychoric correlation between our measures of egalitarianism and humanitarianism was only 0.10, suggesting that these indicators measure different constructs.

21.

Pearson correlations among welfare state's measures are lower than 0.40, especially for expenditures (ρ = − 0.12).

22.

In regression models, we specified humanitarianism and egalitarianism as continuous variables. We also estimated alternative models with both constructs included with sets of dummy variables. The findings are consistent with results of our main specifications.

23.

Country fixed effects were estimated but not shown in Table 2.

24.

In comparison with fixed effects regressions, models of Table 4 do not control for unobserved country level characteristics.

25.

Results of regressions used for full interacted models are available upon request with authors.

26.

We estimated separate models for risk exposure and humanitarianism to avoid problems of multicollinearity. However, a single model with both interaction terms does not substantively modify the results.

27.

Findings of fully interacted models confirm patterns illustrated by Fig. 3.

28.

These additional models are also robust to two additional topics. First, fixed effect estimates in ordered logit models can be inconsistent, but we confirmed with OLS fixed effects regressions our results. Second, the middle category of WTP taxes is neutral. In binary logistic regressions, we avoid this problem by modeling the propensity to support the alternatives of very willing/fairly willing (value of 1 vs. the rest of the alternatives). All robustness analyses are available under request with authors.
References
Adams, A. M., Ahmed, S. M., & Evans, T. G. (2018). Universal health care in Bangladesh-promises and perils. The Lancet Global Health, 6(1), e10–e11. https://doi.org/10.1016/S2214-109X(17)30470-9.

Alt, J., & Iversen, T. (2017). Inequality, labor market segmentation, and preferences for redistribution. American Journal of Political Science, 61(1), 21–36. https://doi.org/10.1111/ajps.12264.

Andress, H.-J., & Heien, T. (2001). Four worlds of welfare state attitudes? A comparison of Germany, Norway, and the United States. European Sociological Review, 17(4), 337–356.

Azar, A., Maldonado, L., Castillo, J., & Atria, J. (2018). Income, egalitarianism and attitudes towards healthcare policy: A study on public attitudes in 29 countries. Public Health, 154, 59–69.

Bansak, K., Hainmueller, J., & Hangartner, D. (2016). How economic, humanitarian, and religious concerns shape European attitudes toward asylum seekers. Science, 354, 217–222.

Barnes, L. (2015). The size and shape of government: Preferences over redistributive tax policy. Socio-Economic Review, 13(1), 55–78.

Bartels, L. M. (2016). Unequal democracy: The political economy of the new gilded age. Princeton: Princeton University Press.

Best, H., & Kroneberg, C. (2012). Die low-cost-hypothese. KZfSS Kölner Zeitschrift Für Soziologie Und Sozialpsychologie, 64(3), 535–561.

Blekesaune, M., & Quadagno, J. (2003). Public attitudes toward welfare state policies: A comparative analysis of 24 nations. European Sociological Review, 19, 415–427.

Brady, D., & Bostic, A. (2015). Paradoxes of social policy: Welfare transfers, relative poverty, and redistribution preferences. American Sociological Review, 80(2), 268–298.

Brady, D., & Finnigan, R. (2014). Does immigration undermine public support for social policy? American Sociological Review, 79(1), 17–42.

Brand, J. E. (2015). The far-reaching impact of job loss and unemployment. Annual Review of Sociology, 41, 359–375.

Brookshire, D. S., & Coursey, D. L. (1987). Measuring the value of a public good: An empirical comparison of elicitation procedures. The American Economic Review, 77, 554–566.

Burgard, S. A., Brand, J. E., & House, J. S. (2009). Perceived job insecurity and worker health in the United States. Social Science and Medicine, 69(5), 777–785.

Cavaille, C., & Marshall, J. (2018). Education and anti-immigration attitudes: Evidence from compulsory schooling reforms across Western Europe. American Political Science Review, 1–10. https://doi.org/10.1017/S0003055418000588.

Cusack, T., Iversen, T., & Rehm, P. (2006). Risks at work: The demand and supply sides of government redistribution. Oxford Review of Economic Policy, 22(3), 365–389.

Cygan-Rehm, K., Kuehnle, D., & Oberfichtner, M. (2017). Bounding the causal effect of unemployment on mental health: Nonparametric evidence from four countries. Health Economics, 26(12), 1844–1861. https://doi.org/10.1002/hec.3510.

Diekmann, A., & Preisendörfer, P. (2003). Green and greenback: The behavioral effects of environmental attitudes in low-cost and high-cost situations. Rationality and Society, 15(4), 441–472.

Dimick, M., Rueda, D., & Stegmueller, D. (2018). Models of other-regarding preferences, inequality, and redistribution. Annual Review of Political Science, 21, 441–460.

Ebbinghaus, B., & Naumann, E. (2018). Introduction: Analysing organized interests and public opinion towards welfare reforms. In B. Ebbinghaus & E. Naumann (Eds.), Welfare state reforms seen from below: Comparing public attitudes and organized interests in Britain and Germany (pp. 1–23). Cham: Springer International Publishing. https://doi.org/10.1007/978-3-319-63652-8_1.

Emmenegger, P., & Klemmensen, R. (2013). What motivates you? The relationship between preferences for redistribution and attitudes toward immigration. Comparative Politics, 45(2), 227–246.

Fairbrother, M. (2017). When will people pay to pollute? Environmental taxes, political trust and experimental evidence from Britain. British Journal of Political Science, 49(2), 1–22.

Feldman, S., & Steenbergen, M. R. (2001). The humanitarian foundation of public support for social welfare. American Journal of Political Science, 45(3), 658–677.

Ferrie, J. E., Shipley, M. J., Stansfeld, S. A., & Marmot, M. G. (2002). Effects of chronic job insecurity and change in job security on self reported health, minor psychiatric morbidity, physiological measures, and health related behaviours in British civil servants: The Whitehall II study. Journal of Epidemiology and Community Health, 56(6), 450–454.

Festinger, L. (1954). A theory of social comparison processes. Human Relations, 7(2), 117–140. https://doi.org/10.1177/001872675400700202.

Gelissen, J. (2000). Popular support for institutionalised solidarity: A comparison between European welfare states. International Journal of Social Welfare, 9(4), 285–300.

Gevers, J., Gelissen, J., Arts, W., & Muffels, R. (2000). Public health care in the balance: Exploring popular support for health care systems in the European Union. International Journal of Social Welfare, 9(4), 301–321.

Gingrich, J., & Ansell, B. (2012). Preferences in context: Micro preferences, macro contexts, and the demand for social policy. Comparative Political Studies, 45(12), 1624–1654. https://doi.org/10.1177/0010414012463904.

Green, D. P. (1992). The price elasticity of mass preferences. American Political Science Review, 86(1), 128–148.

Hacker, J. S. (2004). Dismantling the health care state? Political institutions, public policies and the comparative politics of health reform. British Journal of Political Science, 34(4), 693–724.

Hacker, J. S., Rehm, P., & Schlesinger, M. (2013). The insecure American: Economic experiences, financial worries, and policy attitudes. Perspectives on Politics, 11(1), 23–49.

Haggard, S., & Kaufman, R. R. (2008). Development, democracy, and welfare states: Latin America, East Asia, and Eastern Europe. New Jersey: Princeton University Press.

Huber, E., & Stephens, J. D. (2001). Development and crisis of the welfare state: Parties and policies in global markets. Chicago: The University of Chicago Press.

Iversen, T., & Goplerud, M. (2018). Redistribution without a median voter: Models of multidimensional politics. Annual Review of Political Science, 21, 295–317.

Iversen, T., & Soskice, D. (2001). An asset theory of social policy preferences. American Political Science Review, 95(4), 875–894.

Jaeger, M. M. (2006). What makes people support public responsibility for welfare provision: Self-interest or political ideology? Acta Sociologica, 49(3), 321–338.

Jasso, G. (1990). Methods for the theoretical and empirical analysis of comparison processes. Sociological Methodology, 20, 369. https://doi.org/10.2307/271091.

Jensen, C., & Naumann, E. (2016). Increasing pressures and support for public healthcare in Europe. Health Policy, 120(6), 698–705.

Jensen, C., & Petersen, M. B. (2017). The deservingness heuristic and the politics of health care. American Journal of Political Science, 61(1), 68–83.

Jordan, J. (2010). Institutional feedback and support for the welfare state: The case of national health care. Comparative Political Studies, 43(7), 862–885.

Jordan, J. (2013). Policy feedback and support for the welfare state. Journal of European Social Policy, 23(2), 134–148.

Jordan, J. (2018). Political awareness and support for redistribution. European Political Science Review, 10(1), 119–137.

Kangas, O. E. (1997). Self-interest and the common good: The impact of norms, selfishness and context in social policy opinions. The Journal of Socio-Economics, 26(5), 475–494. https://doi.org/10.1016/S1053-5357(97)90010-X.

Karaeva, O. G. (2015). Perceptions of fairness and effectiveness in the health-care systems of different countries (according to ISSP data). Sociological Research, 54(2), 91–120.

Korpi, W., & Palme, J. (1998). The paradox of redistribution and strategies of equality: Welfare state institutions, inequality, and poverty in the Western Countries. American Sociological Review, 63(5), 661–687.

Krug, G., & Eberl, A. (2018). What explains the negative effect of unemployment on health? An analysis accounting for reverse causality. Research in Social Stratification and Mobility, 55, 25–39. https://doi.org/10.1016/J.RSSM.2018.03.001.

Kulin, J., & Meuleman, B. (2015). Human values and welfare state support in Europe: An east–west divide? European Sociological Review, 31(4), 418–432.

Kumlin, S. (2007). The welfare state: Values, policy preferences, and performance evaluations. In R. J. Dalton & H.-D. Klingemann (Eds.), The oxford handbook of political behavior (pp. 362–382). New York: Oxford University Press.

Lall, R. (2016). How multiple imputation makes a difference. Political Analysis, 24(4), 414–433. https://doi.org/10.1093/pan/mpw020.

Lee, E.-W., & Park, J.-H. (2015). Egalitarian health policy preference and its related factors in Korea: National representative sample survey. Journal of Korean Medical Science, 30(6), 676–681.

Lü, X., & Scheve, K. (2016). Self-centered inequity aversion and the mass politics of taxation. Comparative Political Studies, 49(14), 1965–1997.

Luttmer, E. F., & Singhal, M. (2014). Tax morale. Journal of Economic Perspectives, 28(4), 149–168.

Lynch, J., & Gollust, S. E. (2010). Playing fair: Fairness beliefs and health policy preferences in the United States. Journal of Health Politics, Policy and Law, 35(6), 849–887.

Marcus, J. (2013). The effect of unemployment on the mental health of spouses—Evidence from plant closures in Germany. Journal of Health Economics, 32(3), 546–558. https://doi.org/10.1016/J.JHEALECO.2013.02.004.

Mboi, N. (2015). Indonesia: On the way to universal health care. Health Systems and Reform, 1(2), 91–97. https://doi.org/10.1080/23288604.2015.1020642.

Meltzer, A. H., & Richard, S. F. (1981). A rational theory of the size of government. Journal of Political Economy, 89(5), 914–927.

Missinne, S., Meuleman, B., & Bracke, P. (2013). The popular legitimacy of European healthcare systems: A multilevel analysis of 24 countries. Journal of European Social Policy, 23(3), 231–247.

Moene, K. O., & Wallerstein, M. (2001). Inequality, social insurance, and redistribution. American Political Science Review, 95, 859–874.

Moran, M. (1999). Governing the health care state: A comparative study of the United Kingdom, the United States, and Germany. Manchester: Manchester University Press.

Naumann, E. (2014). Increasing conflict in times of retrenchment? Attitudes towards healthcare provision in Europe between 1996 and 2002. International Journal of Social Welfare, 23(3), 276–286.

Newman, B. J., Hartman, T. K., Lown, P. L., & Feldman, S. (2015). Easing the heavy hand: Humanitarian concern, empathy, and opinion on immigration. British Journal of Political Science, 45(3), 583–607.

OECD. (2017). Tackling wasteful spending on health. Paris: OECD Publishing. Retrieved from/content/book/9789264266414-en.

Pierson, P. (1996). The new politics of the welfare state. World Politics, 48(2), 143–179.

Popic, T., & Schneider, S. M. (2018). An East-West comparison of healthcare evaluations in Europe: Do institutions matter? Journal of European Social Policy, 28, 517–534.

Rehm, P. (2009). Risks and redistribution: An individual-level analysis. Comparative Political Studies, 42(7), 855–881.

Rehm, P. (2016). Risk inequality and welfare states: Social policy preferences, development, and dynamics. Cambridge: Cambridge University Press.

Rehm, P., Hacker, J. S., & Schlesinger, M. (2012). Insecure alliances: Risk, inequality, and support for the welfare state. American Political Science Review, 106(2), 386–406.

Reichert, A., & Tauchmann, H. (2011). The causal impact of fear of unemployment on psychological health (Ruhr Economic Paper No. 266). Bochum, Germany. https://doi.org/10.2139/ssrn.1880938.

Roosma, F., van Oorschot, W., & Gelissen, J. (2014). The preferred role and perceived performance of the welfare state: European welfare attitudes from a multidimensional perspective. Social Science Research, 44, 200–210.

Rosenbaum, P. R. (2005). Heterogeneity and causality: Unit heterogeneity and design sensitivity in observational studies. The American Statistician, 59(2), 147–152.

Rubinstein, A., Zerbino, M. C., Cejas, C., & López, A. (2018). Making universal health care effective in Argentina: A blueprint for reform. Health Systems and Reform, 4(3), 203–213. https://doi.org/10.1080/23288604.2018.1477537.

Rueda, D. (2018). Food comes first, then morals: Redistribution preferences, parochial altruism, and immigration in Western Europe. The Journal of Politics, 80(1), 225–239.

Schmitz, H. (2011). Why are the unemployed in worse health? The causal effect of unemployment on health. Labour Economics, 18(1), 71–78. https://doi.org/10.1016/J.LABECO.2010.08.005.

Schnittker, J. (2015). The politics of health beliefs: Cross-national evidence. In J. Kronenfeld (Ed.), Education, social factors, and health beliefs in health and health care services (pp. 17–42). Emerald: Bingley. https://doi.org/10.1108/S0275-495920150000033002.

Schwartz, S. H. (1994). Are there universal aspects in the structure and contents of human values? Journal of Social Issues, 50(4), 19–45.

Scruggs, L., Detlef, J., & Kuitto, K. (2017). Comparative welfare entitlements dataset 2. Version 2017-09. Connecticut: University of Connecticut.

Sears, D. O., & Funk, C. L. (1991). The role of self-interest in social and political attitudes. In Advances in experimental social psychology (Vol. 24, pp. 1–91). Elsevier: Amsterdam.

Sun, L.-Y., Lee, E.-W., Zahra, A., & Park, J.-H. (2015). Should non-citizens have access to publicly funded health care? A study of public attitudes and their affecting factors. Public Health, 129(9), 1157–1165.

Svallfors, S. (2012). Public attitudes. In F. G. Castles, S. Leibfried, J. Lewis, H. Obinger, & C. Pierson (Eds.), The oxford handbook of the welfare state (pp. 241–251). Oxford: Oxford University Press.

Torgler, B. (2007). Tax compliance and tax morale: A theoretical and empirical analysis. Cheltenham: Edward Elgar Publishing.

Van Buuren, S., & Groothuis-Oudshoorn, K. (2011). mice: Multivariate imputation by chained equations in R. Journal of Statistical Software, 45(3), 1–68.

Van Oorschot, W., & Meuleman, B. (2012). Welfarism and the multidimensionality of welfare state legitimacy: Evidence from The Netherlands, 2006. International Journal of Social Welfare, 21(1), 79–93.

Von dem Knesebeck, O., Vonneilich, N., & Kim, T. J. (2016). Are health care inequalities unfair? A study on public attitudes in 23 countries. International Journal of Equity in Health, 15(1), 61.

Wendt, C., Kohl, J., Mischke, M., & Pfeifer, M. (2010). How do europeans perceive their healthcare system? Patterns of satisfaction and preference for state involvement in the field of healthcare. European Sociological Review, 26(2), 177–192. https://doi.org/10.1093/esr/jcp014.
Acknowledgements
This project was supported by CONICYT/FONDECYT REGULAR/1160921, CONICYT/POSTDOCTORADO/3160705, CONICYT/FONDAP/15130009, CONICYT/FONDAP/15110017 and UC/VRI INICIO/I1704/2017.
Ethics declarations
Conflict of interest
All authors declare that they have no conflict of interest.
Ethical Approval
All procedures performed in studies involving human participants were in accordance with the ethical standards of the institutional and/or national research committee and with the 1964 Helsinki declaration and its later amendments or comparable ethical standards.
Additional information
Publisher's Note
Springer Nature remains neutral with regard to jurisdictional claims in published maps and institutional affiliations.
About this article
Cite this article
Maldonado, L., Olivos, F., Castillo, J.C. et al. Risk Exposure, Humanitarianism and Willingness to Pay for Universal Healthcare: A Cross-National Analysis of 28 Countries. Soc Just Res 32, 349–383 (2019). https://doi.org/10.1007/s11211-019-00336-6
Keywords
ISSP

Public attitude

Risk

Humanitarianism

Cross-national comparisons

Institutional contexts