Abstract
The purpose of this paper is to gain empirical footing on the mechanisms that drive and mitigate global warming, which is a topic of growing significance to themes of social justice. Using components of the ecological footprint, we construct a measure of each nation's relative contributions to carbon dioxide emissions after accounting for the amount sequestered by domestic forestlands. We refer to this measure as the "climate footprint," and construct a structural equation model to test key theorizations in the environmental sociology literature. We add to this body of work by incorporating and empirically testing ecofeminist positions that the status of women is a cause and an effect of environmental conditions. Results suggest women and the environment are interconnected dimensions of exploitation, as ecological losses weaken women's status in nations. We also find that nations with greater female representation in governing bodies have lower climate footprints, controlling for domestic (urbanization, production) and global (world-system integration) drivers. Conclusions point to the potential for gender equality and improving the status of women worldwide to curtail climate change. Other theoretical and empirical implications are treated, including the benefits of bringing women into theories of the environment and the utility of structural equation techniques for testing hypotheses that specify direct and indirect connections among relevant predictors and the outcome.
Access options
Buy single article
Instant access to the full article PDF.
USD 39.95
Price excludes VAT (USA)
Tax calculation will be finalised during checkout.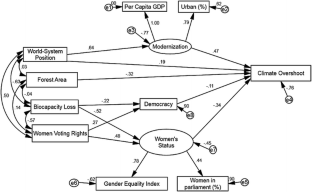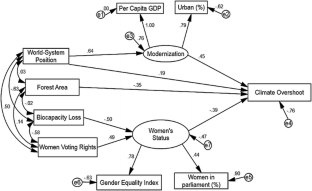 Notes
Forest land calculations include demands on forest materials (e.g., food, fiber, fuelwood) as well as the forest area needed to absorb the carbon dioxide gases generated from the burning of fossil fuels.

These values are offered so readers may compare the climate footprint of countries. To ease interpretation of the analysis, these values were multiplied by negative one such that larger values on the outcome variable indicate the generation of carbon dioxide that accelerates global warming.

We note the internal debate across "essentialist" versus "social constructivist" strands of ecofeminist approaches (Buckingham, 2004; Warren, 1987). The former attributes the relationship between women and nature to biological origins (e.g., Daly, 1978); the latter traces the relationship to social and economic structures (e.g., Rocheleau, Thomas-Slayter, & Wangari, 1996). Although engaging this debate falls beyond the scope of this paper, we note that our presentation is more consonant with the social constructivist logic.

One anonymous reviewer referred us to the work of Ehrlich and Ehrlich (2013) that touts the potential for reducing footprints by extending full rights, education, and opportunities to women as a means to foster reductions in fertility.

To ease interpretation, we remind readers that higher values for climate footprints are indicative of unsustainable demands on nature.

To quote Bollen (1989:vi), "Structural equation models are not very helpful if you have little idea about the subject matter. To begin the fitting process, the analysts must draw upon their knowledge to construct a multiequation system that specifies the relations between all latent variables, disturbances, and indicators. Furthermore they must turn to substantive information when respecifying models and when evaluating the final model. Empirical results can reveal that initial ideas are in error or they can suggest ways to modify a model, but they are given meaning only within the context of a substantively informed model." We have had the same experience of Bollen (1989:vi), who states, "I frequently have found that the beginning model does not adequately describe the data. Respecification is often necessary."

Although longitudinal methods can be, and have been, applied to assess claims of causality, we are cautious of doing so in this particular context for a few reasons. First, emerging scholarship deeply cautions against the use of repeated measures designs, particularly in the context of quantitative macro-comparative research (see e.g., Babones, 2013). Second, the ecological footprint and biocapacity data from which we draw are subject to transformations based on the annual average productivity yields for each respective year. Thus, year-to-year fluctuations capture changes in consumption dynamics and resource stocks, in addition to spikes in productivity that result from technological advances, gains in efficiency, and ecosystem management differentials. In sum, comparing these data overtime is complicated in the extreme (see e.g., Haberl, Erb, & Krausmann, 2001; Kitzes et al., 2009). Finally, the relatively under-explored nature of the dynamics analyzed makes the SEM estimation a sensible first step.

In order to perform logarithmic transformation, a constant first had to be added to eliminate negative values. The constant is calculated as the absolute value of smallest number plus one. This preserves the distribution of the data while allowing for logging techniques to meet assumptions of normality.

Following Nugent and Shandra (2009), the year women received full voting rights is subtracted from 2004 to indicate the number of years that women have had full recognition. The five nations included in the analysis (United Arab Emirates, Oman, Qatar, Saudi Arabia, and Serbia) in which women have not yet received full voting rights are given a value of '0' for this variable.

The POLITY2 score is used in the analysis, which removes special codes: "−66" (foreign occupation), "−77" (collapse of centralized authority), and "−88" (transitional government) and treats them as system missing, "0", and prorated polity scores across transition periods, respectively. We refer readers to Marshall, Gurr, and Jaggers (2013) for full details on dataset construction.

In an alternative specification, we included squared terms of the modernization indicators to assess the plausibility of an Environmental Kuznet's Curve (results available upon request). This modification produced unacceptable fit statistics and essentially uninterpretable results.
References
Agarwal, B. (2010). Does women's proportional strength affect their participation? Governing local forests in South Asia. World Development, 38(1), 98–112.

Aguilar, L., Araujo, A., & Quesada-Aguilar, A. (2010). Gender and climate change. The World Conservation Unit. Accessed March 31, 2015. https://www.gdnonline.org/resources/IUCN_FactsheetClimateChange.pdf

Agyeman, J., Evans, R., & Bullard, R. (2003). Just sustainabilities: Development in an unequal world. London: Earthscan Publications.

Babones, S. J. (2013). Methods for quantitative macro-comparative research. Thousand Oaks, CA: Sage Publications.

Bäckstrand, K., & Lövbrand, E. (2006). Planting trees to mitigate climate change: Contested discourses of ecological modernization, green governmentality and civic environmentalism. Global Environmental Politics, 6(1), 50–75.

Barrett, G. W., & Odum, E. R. (2000). The twenty-first century: The world at carrying capacity. BioScience, 50(4), 363–368.

Bell, S. E., & Braun, Y. A. (2010). Coal, identity, and the gendering of environmental justice activism in central Appalachia. Gender and Society, 24(6), 794–813.

Bollen, K. (1989). Structural equations with latent variables. New York, NY: Wiley.

Bonds, E., & Downey, L. (2012). "Green" technology and ecologically unequal exchange: The environmental consequences of ecological modernization in the world-system. Journal of World-Systems Research, 18(2), 167–186.

Bord, R. J., & O'Connor, R. E. (1997). The gender gap in environmental attitudes: The case of perceived vulnerability to risk. Social Science Quarterly, 78(4), 830–840.

Buckingham, S. (2004). Ecofeminism in the twenty-first century. The Geographical Journal, 170(2), 146–154.

Buckingham, S. (2010). Call in the women. Nature, 468(7323), 502.

Buckingham, S., Reeves, R., & Batchelor, A. (2005). Wasting women: The environmental justice of including women in municipal waste management. Local Environment, 10(4), 427–444.

Bulkeley, H., Carmin, J., Broto, V. C., Edwards, G. A. S., & Fuller, S. (2013). Climate justice and global cities: Mapping the emerging discourses. Global Environmental Change, 23, 914–925.

Bunker, S. G. (1985). Underdeveloping the Amazon: Extraction, unequal exchange and the failure of the modern state. Urbana, IL: University of Illinois Press.

Burnet, J. E. (2011). Women have found respect: Gender quotas, symbolic representation, and female empowerment in Rwanda. Politics and Gender, 7(3), 303–334.

Burns, T. J., Kick, E. L., & Davis, B. L. (2003). Theorizing and rethinking linkages between the natural environment and the modern world-system: Deforestation in the late 20th century. Journal of World-Systems Research, 9(2), 357–390.

Byrne, B. N. (2009). Structural equation modeling with AMOS. New York: Routledge.

Catton, W. R. (1980). Overshoot. Urbana, IL: University of Illinois Press.

Chatterton, P., Featherstone, D., & Routledge, P. (2013). Articulating climate justice in Copenhagen: Antagonism, the commons, and solidarity. Antipode, 45(3), 602–620.

Clark, B., & York, R. (2005). Carbon metabolism: Global capitalism, climate change, and the biospheric rift. Theory and Society, 34(4), 391–428.

Commoner, B. (1971). The closing circle. New York: Bantam Books.

Daly, M. (1978). Gyn/ecology: The metaethics of radical feminism. Boston, MA: Beacon Press.

Dankelman, I. (Ed.). (2010). Gender and climate change: An introduction. London: Earthscan Ltd.

Davidson, D. J., & Freudenburg, W. R. (1996). Gender and environmental risk concerns a review and analysis of available research. Environment and Behavior, 28(3), 302–339.

Derman, B. B. (2014). Climate governance, justice, and transnational civil society. Climate Policy, 14(1), 23–41.

Dietz, T., & Rosa, E. A. (1994). Rethinking the environmental impacts of population, affluence and technology. Human Ecology Review, 1(1), 277–300.

Dunaway, W. A. (2001). The double register of history: Situating the forgotten woman and her household in capitalist commodity chains. Journal of World-Systems Research, 7(1), 2–29.

Dunaway, W. A., & Macabuac, M. C. (2007). 'The Shrimp Eat Better than We Do': Philippine subsistence fishing households sacrificed for the global food chain. Review, 30(4), 313–337.

Ehrhardt-Martinez, K., Crenshaw, E. M., & Jenkins, J. C. (2002). Deforestation and the environmental Kuznets curve: A cross-national investigation of intervening mechanisms. Social Science Quarterly, 83(1), 226–243.

Ehrlich, P. R., & Ehrlich, A. H. (2013). Can a collapse of global civilization be avoided? Proceedings of the Royal Society of London B: Biological Sciences, 280(1754), 1–9.

Ergas, C., & York, R. (2012). Women's status and carbon dioxide emissions: A quantitative cross-national analysis. Social Science Research, 41(4), 965–976.

Figueiredo, P., & Perkins, P. E. (2013). Women and water management in times of climate change: Participatory and inclusive processes. Journal of Cleaner Production, 60, 188–194.

Foster, J. B. (2009). The ecological revolution. New York: Monthly Review Press.

Foster, J. B. (2012). The planetary rift and the new human exemptionalism: A political-economic critique of ecological modernization theory. Organization and Environment, 25(3), 211–237.

Foster, J. B., Clark, B., & York, R. (2010). The ecological rift: Capitalism's war on the earth. NYU Press.

Global Footprint Network. (2010). "Ecological Footprint and Biocapacity, 2007." Based on National Footprint Accounts 2010. www.footprintnetwork.org/atlas

Grace, J. B., Anderson, T. M., Olff, H., & Scheiner, S. M. (2010). On the specification of structural equation models for ecological systems. Ecological Monographs, 80(1), 67–87.

Gustafson, P. E. (1998). Gender differences in risk perception: Theoretical and methodological perspectives. Risk Analysis, 18(6), 805–811.

Haberl, H., Erb, K. H., & Krausmann, F. (2001). How to calculate and interpret ecological footprints for long periods of time: the case of Austria 1926–1995. Ecological Economics, 38(1), 25–45.

Hornborg, A. (2001). The power of the machine. Walnut Creek, CA: Altamira Press.

Kenworthy, L., & Malami, M. (1999). Gender inequality in political representation: A worldwide comparative analysis. Social Forces, 78(1), 235–268.

Kick, E. L., McKinney, L. A., McDonald, S., & Jorgenson, A. (2011). A multiple-network analysis of the world system of nations, 1995–1999. In J. Scott & P. Carrington (Eds.), Sage handbook of social network analysis (pp. 311–327). Thousand Oaks, CA: Sage Publications.

Kitzes, J., Galli, A., Bagliani, M., Barrett, J., Dige, G., Ede, S., et al. (2009). A research agenda for improving national ecological footprint accounts. Ecological Economics, 68(7), 1991–2007.

Marshall, M.G., Gurr, T.R. & Jaggers, K. (2013). "Polity IV Project: Dataset Users' Manual." Center for Systemic Peace. http://www.systemicpeace.org/inscr/p4manualv2012.pdf

McCright, A. M. (2010). The effects of gender on climate change knowledge and concern in the American public. Population and Environment, 32(1), 66–87.

McKinney, L. A. (2014). Gender, democracy, development, and overshoot: A cross-national analysis. Population and Environment, 36(2), 193–218.

McKinney, L. A., Kick, E. L., & Fulkerson, G. M. (2010). World-system, anthropogenic, and ecological threats to bird and mammal species: A structural equation analysis of biodiversity loss. Organization and Environment, 23(1), 3–31.

Mies, M. (1998). Patriarchy and accumulation on a world scale: Women in the international division of labor. London: Zed Books.

Mies, M., & Shiva, V. (1993). Ecofeminism. New York: Zed Books.

Misra, J. (2000). Gender and the world system: Engaging the feminist literature on development. In T. D. Hall (Ed.), A world-systems reader (pp. 105–127). Lanham, MD: Rowman & Littlefield Publishers Inc.

Mol, A. P. J. (1995). The refinement of production: Ecological modernization theory and the chemical industry. Utrecht: International Books.

Mol, A. P. J., Spaargaren, G., & Sonnenfeld, D. A. (2014). Ecological modernization theory: Taking stock, moving forward. In S. Lockie, D. A. Sonnenfeld, & D. R. Fisher (Eds.), Handbook of social and environmental change (pp. 15–30). London: Routledge.

Norgaard, K., & York, R. (2005). Gender equality and state environmentalism. Gender and Society, 19(4), 506–522.

Nugent, C., & Shandra, J. M. (2009). State environmental protection efforts, women's status, and world polity: A cross-national analysis. Organization and Environment, 22(2), 208–229.

Parks, B. C., & Roberts, J. T. (2006). Globalization, vulnerability to climate change, and perceived injustice. Society and Natural Resources, 19(4), 337–355.

Paxton, P., Hughes, M. M., & Green, J. L. (2006). The international women's movement and women's political representation, 1893–2003. American Sociological Review, 71(6), 898–920.

Paxton, P., & Kunovich, S. (2003). Women's political representation: The importance of ideology. Social Forces, 82(1), 87–113.

Pillarisetti, J. R., & van den Bergh, J. C. (2010). Sustainable nations: What do aggregate indexes tell us? Environment, Development and Sustainability, 12(1), 49–62.

Polity IV Project. (2010). Polity IV Project: Political regime characteristics and transitions. College Park, MA: University of Maryland. http://www.bsos.umd.edu/cidcm/inscr/polity/index.htm

Resurrección, B. P. (2013). Persistent women and environment linkages in climate change and sustainable development agendas. Women's Studies International Forum, 40, 33–43.

Rice, J. (2007). Ecological unequal exchange: Consumption, equity, and unsustainable structural relationships within the global economy. International Journal of Comparative Sociology, 48(1), 43–72.

Roberts, J. T., & Parks, B. C. (2007). A climate of injustice: Global inequality, north–south politics, and climate policy. Cambridge, MA: The MIT Press.

Rocheleau, D., Thomas-Slayter, B., & Wangari, E. (1996). Feminist political ecology: Global issues and local experiences. New York: Routledge.

Salleh, Ariel. (1997). Ecofeminism as politics: Nature, marx and the postmodern. New York: Zed Books.

Schnaiberg, A., & Gould, K. A. (1994). Environment and society: The enduring conflict. New York, NY: St. Martin's Press.

Stern, P. C., Dietz, T., & Kalof, L. (1993). Value orientations, gender, and environmental concern. Environment and Behavior, 25(5), 322–348.

Terry, G. (2009). No climate justice without gender justice: An overview of the issues. Gender and Development, 17(1), 5–18.

United Nations Educational, Scientific and Cultural Organization (UNESCO). (2013). Tracking key trends in biodiversity science and policy. Paris: UNESCO. Accessed March 31, 2015. http://unesdoc.unesco.org/images/0022/002205/220530E.pdf

Wackernagel, M., Monfreda, C., Schulz, N. B., Erb, K., Haberl, H., & Krausmann, F. (2004). Calculating national and global ecological footprint time series: Resolving conceptual challenges. Land Use Policy, 21(3), 271–278.

Wackernagel, M., & Rees, W. (1996). Our ecological footprint: Reducing human impact on the earth. Gabriola Island, BC: New Society Publishers.

Wallerstein, I. (1974). The modern world system. New York, NY: Academic Press.

Ward, K. B. (1984). Women in the world system: Its impact on status and fertility. New York: Praeger.

Ward, K. B. (1993). Reconceptualizing world system theory to include women. In P. England (Ed.), Theory on gender/feminism on theory (pp. 43–67). New York: Walter de Gruyter Inc.

Warren, K. J. (1987). Feminism and ecology: Making connections. Environmental Ethics, 9(1), 3–20.

Warren, K. J. (1990). The power and the promise of ecological feminism. Environmental Ethics, 12(2), 125–146.

World Bank. (2010). World development indicators. Data for various years. www.worldbank.org

York, R., & Rosa, E. A. (2003). Key challenges to ecological modernization theory. Organization and Environment, 16, 273–288.

York, R., Rosa, E., & Dietz, T. (2003a). Footprints on the earth: The environmental consequences of modernity. American Sociological Review, 68(2), 279–300.

York, R., Rosa, E., & Dietz, T. (2003b). A rift in modernity? Assessing the anthropogenic sources of global climate change with the STIRPAT Model. International Journal of Sociology and Social Policy, 23(10), 31–51.

York, R., Rosa, E., & Dietz, T. (2010). Ecological modernization theory: Theoretical and empirical challenges. In M. R. Redclift & G. Woodgate (Eds.), The international handbook of environmental sociology (2nd ed., pp. 77–90). Northampton, MA: Edward Elgar.
Appendix
Appendix
See Table 2.
About this article
Cite this article
McKinney, L.A., Fulkerson, G.M. Gender Equality and Climate Justice: A Cross-National Analysis. Soc Just Res 28, 293–317 (2015). https://doi.org/10.1007/s11211-015-0241-y
Published:

Issue Date:

DOI: https://doi.org/10.1007/s11211-015-0241-y
Keywords